Myth Makers: Comic Creators On Black Panther - Part 4
Mar 11, 2018
by Troy-Jeffrey Allen
"Myth Makers: Comic Creators on Black Panther" is a 4-part exploration of Marvel's Black Panther with the comic creators who helped build the legend of Black Panther. We now continue with a look at the 2000s up to the present. You can read part one HERE, part two HERE, and part three HERE.
BONUS: Be sure to scroll past the end of the article for original artwork provided by Shawn Martinbrough, Francesco Francavilla, and Ken Lashley.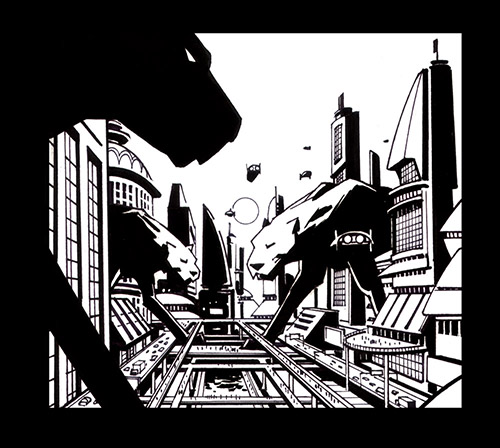 A new millennium meant a new Black Panther, and that's exactly what comic fans received with Reginald Hudlin and John Romita, Jr.'s 2005 Black Panther series. Hudlin's story was an uprooting of sorts, a Dark Knight Returns-esque political satire that built its own continuity from the character's previous 39 years in print. "They were promoting a new Panther now, ReggiePanther, and having that other stuff out there would split an audience they were trying to build," Christopher Priest, the Black Panther writer who preceded Hudlin, said back in 2011. "[Marvel editor Axel Alonso] and Reggie did what needed to be done and did so brilliantly." But Hudlin's six-issue story was only the beginning. Once the book was extended from mini-series to ongoing an arguably even bigger continuity reshuffling was around the corner for Black Panther.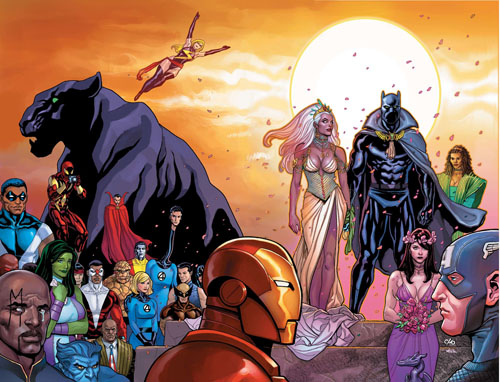 By the time Reginald Hudlin's time on Black Panther had reached its second year, the Wakandan king had thwarted a massive invasion by Deathloks, been absorbed into an alternate reality, assisted in the Hurricane Katrina clean-up effort with Luke Cage, and slew an undead army alongside Blade. For his next task, Marvel's royal was going to marry the comic company's most regal superwoman: Storm of the X-Men. "That was Reggie," former Marvel Editor-In-Chief Axel Alonso says, referring to Reginald Hudlin. "He viewed Storm and T'Challa as two very important characters in the Marvel Universe. He was very convincing when it came to why their marriage made sense. It also just came down to them both being characters that organically had that connection from previous stories."

T'Challa and Storm had already established a romantic interest in each other decades prior. It happened in the pages of Marvel Team-Up #100 (1980) where writer Chris Claremont and artist John Byrne provided a flashback of their first meeting. In that short story, Ororo (a.k.a Storm) and T'Challa would fall for each other (albeit, off-panel) after a brief skirmish with South African slavers. This chance encounter had been tapped by later writers but, for the most part, seemed to have been forgotten until Reginald Hudlin came along. Still, when it came time to tie the knot, the fan response was mixed. "As I recall our decision to marry [Storm and Black Panther] was greeted by both cheers and boos, but what isn't," says Axel Alonso. "X-Men fans can be very territorial sometimes about the way their characters are treated, and the decision of any writer or editor is controversial. At the end of the day, we were heartened by the overall response." Of those cheering on the matchmaking of Marvel's two most prominent Black superheroes was New York Times best-selling novelist Eric Jerome Dickey. He released the mini-series Storm (2006) around the same time as the wedding issue (2006's Black Panther #18). Storm would go into more detail about the rendezvous from Marvel Team-Up, adding credibility to the coming nuptials.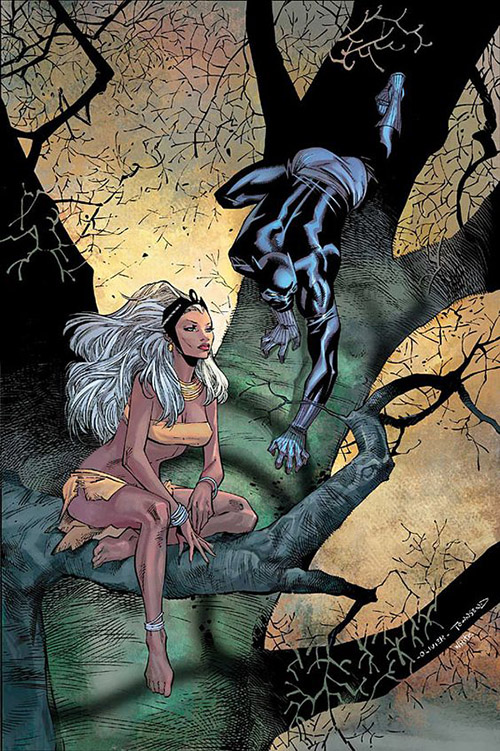 "Having T'Challa married to Storm was a total pain in the ass," says David Liss, writer of 2010's Black Panther: The Man Without Fear. "Every time we were doing story planning, we had to try and figure out what to do about Storm, and we never came up with a good answer." Liss was not alone. Other creators quickly recognized that Storm's presence created problems for a book titled Black Panther. "Storm's powers are stronger by an order of magnitude [when compared to T'Challa's]," explains Maberry, who took on the main book once Hudlin moved on. Maberry created a plot point to fix the imbalance between husband and wife without discrediting either character. "I had to find a way to limit her powers within the 'Power' and 'Doomwar' storylines. It allowed me to tap into her roots as a street thief and her cunning as a leader among the X-Men." Six years after the wedding, Marvel would end up axing the relationship during 2012's Avengers vs. X-Men event. Churlishly but not totally out of character, T'Challa annulled the marriage after Prince Namor -- one of the X-Men's own and an on-again, off-again rival of Panther's -- destroyed Wakanda by flood. "The fact is it creates opportunities for new stories," Alonso offers. "So the question is, what is that story and how do you tell it? Are you opening up new opportunities for something cool or are you shutting down opportunities? That's something you think about, whether marrying T'Challa and Storm or destroying Wakanda."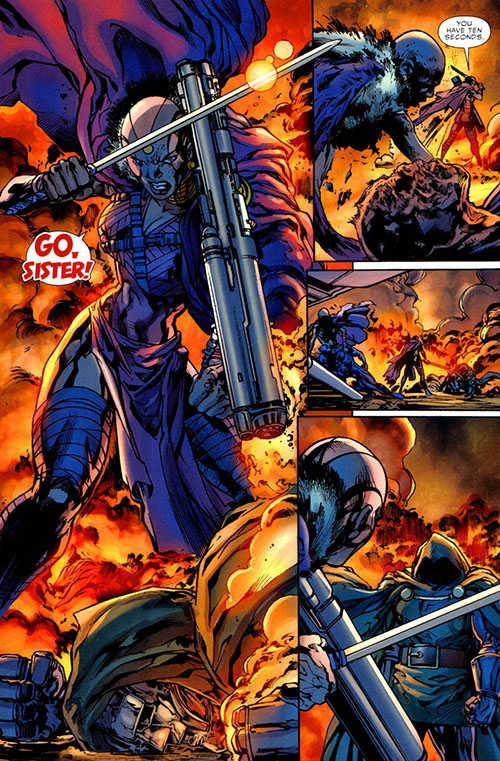 Within that six-year timespan, Hudlin would begin to conclude his time at Marvel with a mini-series titled Captain America/Black Panther: Flags Of Our Fathers (alongside artist Denys Cowan) and one more notable shake-up to the Black Panther mythos. He'd see to it the mantle be passed on to another family member: T'Challa's sister Shuri. Knowingly titled "Deadliest of Species", the story really calls upon the cinematic background of Hudlin while artist Ken Lashley provides dynamic, filmic action throughout. This is the story that proves Black Panther would one day work as a movie. "Deadliest of Species" kicks things off early with an explosive battle between the more than formidable Doctor Doom and T'Challa. Our hero has the Dora Milaje, his towering bodyguards, backing him up every step of the way, but Panther still falls during the fiery showdown (above). This quickly brings into question who will now be Wakanda's protector. At that moment, it is the long denied Shuri who steps up. "Apart from the opening arc, that is one of my favorite stories that Reggie did," Axel Alonso says about "Deadliest of Species". "It really deepened Shuri. She had to run a gauntlet and prove herself like never before. I personally love that story, especially the pathos behind the way Panther goes down." Penciller Lashley, a veteran draftsman who has worked for Lucasfilm, was tasked with designing Shuri's Panther costume. "I still have the designs in my office," he told PREVIEWSworld. "I started thinking about it and it was pretty evident that you can't really go too far away from the traditional costume, but it had to have flair that is her own. I thought beads and a fur collar would work well. Her eyes would be visible to add a touch of being different. I also added some tribal bands on her legs and arms."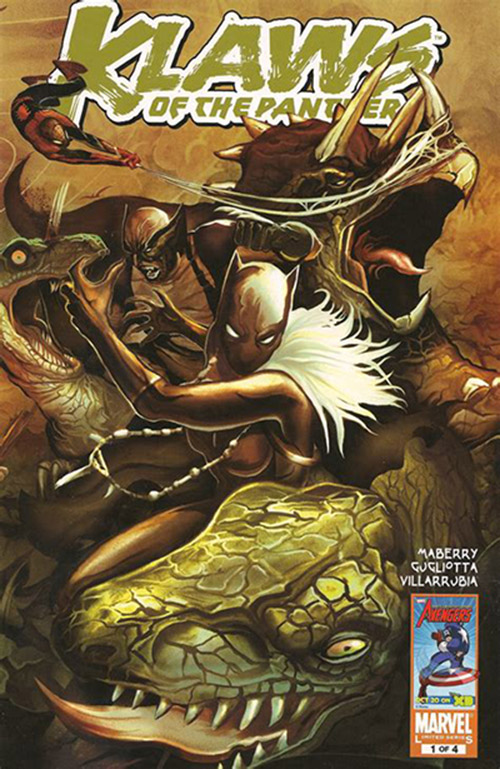 Shuri's role as Black Panther would extend beyond "Deadliest of Species." "It was always Axel Alonso's intention to have me take over the book once Shuri took over for T'Challa," recalls Maberry. After the initial story arc set the stage, he officially came on to write for the series starting with a storyline called "Power" (Black Panther #8, 2009). Maberry's objective: To prove to fans, and even Shuri herself, that she was a worthy heir. That meant putting her in direct conflict with Doctor Doom, the monarch who took down her brother. "I am probably more proud of that storyline than any other comics I've done," Maberry says about his penultimate "Doomwar" adventure. "I got to show Shuri emerging from the shadow of her brother and becoming a hero in her own right; while also expanding the scope of T'Challa's brilliance, nobility, and power." Yes, T'Challa survives his earlier near-death encounter with Doom. Maberry would see to it that the once and future king got his revenge on the evil doctor…but at a cost. "At the end of 'Doomwar', T'Challa uses my made-up science of 'shadow physics' to alchemically transform all Wakandan vibranium into an inert substance," he says, explaining how T'Challa protected Wakanda by taking its greatest resource off the table and out of Doom's hands. "I took a hell of a risk by destroying the Wakandan vibranium – which, weirdly, got some pushback from people who thought I was somehow racist in doing so. Um, no. My take was then, and remains now, that the Black Panther and the people of Wakanda are not defined by their mineral resources." T'Challa's desperation move does cripple his country's economy, creating a schism between him and his people. T'Challa would be forced to relinquish the role of Black Panther once more. However, as Alonso reminds us during his interview, "In comics, you always know the story is not over."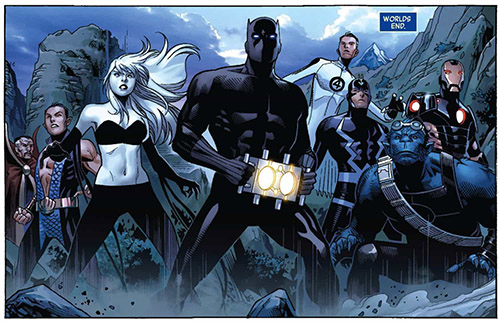 Throughout the millennium, the Black Panther has become more and more of a prominent fixture in the Marvel Universe. From defending Wakanda against shape-shifter attacks (2005's Black Panther #41) to preventing universes from colliding (2013's New Avengers) to thwarting a terrorist uprising within his own borders (Ta-Nehisi Coates's "A Nation Under Our Feet"), Black Panther has become highly visible and a force to be reckoned with. "I think we're going to see T'Challa continue to operate at the highest echelons of the Marvel Universe in comics, movies, and other mediums," says Evan Narcisse, the co-writer of Rise of the Black Panther. Narcisse's book is being released in the midst of a landmark event for the hero-king. As of this writing, Marvel's Black Panther, T'Challa's cinematic debut, has crossed the $1 billion mark worldwide. "The days where he could be easily dismissed are gone," Narcisse notes. Al Ewing, the writer behind the Panther-led The Ultimates, agrees: "Black Panther's not just a superhero, he's not just a fictional monarch of a fictional country – he's a bonafide global cultural force in the Marvel Universe. And now, in our own. It's T'Challa's world, we just watch his movie in it."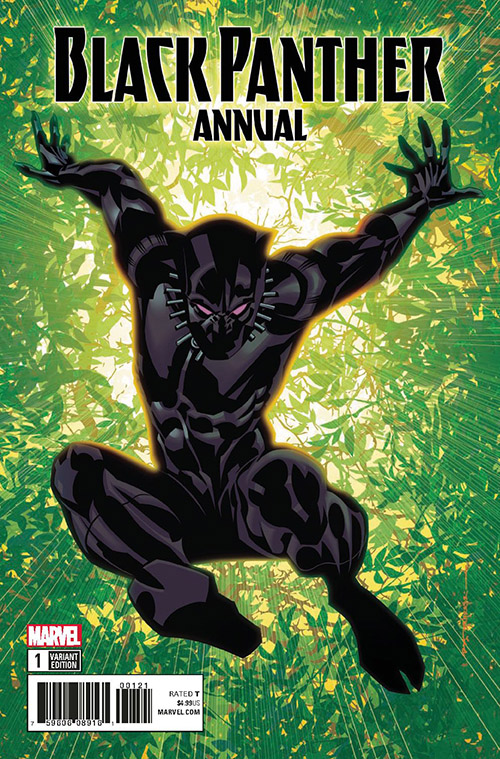 But who is the Black Panther? When PREVIEWSworld kicked off this article series, we looked to those creators who helped build his mythology for their take. Not surprisingly, we received myriad answers, some that overlapped each other and some that came at the character from another perspective. "Well, first and foremost, he's king of the Wakandans," explains former Avengers scribe Kurt Busiek. "He's a monarch, and that runs through everything he does, whether it's his personal bearing or his responsibilities to his people." "Noblesse oblige," adds former Marvel Editor-in-Chief Roy Thomas. "To me, he was one of Marvel's noble heroes." Jonathan Maberry backs the idea of nobility being a defining characteristic. "The Black Panther has always been about nobility and integrity. He never needed gimmicks, gadgets, or even vibranium to be one of Marvel's most inspiring heroes," he says. David Liss agrees that adornments don't define T'Challa. "Readers who stuck with the run found out that I wasn't hobbling the character, but showing how he didn't need the trappings of kingship and superpowers to still be the most dangerous man alive," he says. Evan Narcisse sees T'Challa as both a mystery and fully-formed , however. "In his first story in Fantastic Four, T'Challa says he's been planning for years. That line works in so many ways: as a signifier of his grief over losing his father, as an indication of what Wakandan kings had to do, and as a testament to the realm's suspicion of the outside world," Evan explains. "He straddles intersections between the known and the unknown – something that the Kirby run kind of unintentionally homes in on – and it's a great trait for a superhero character to have."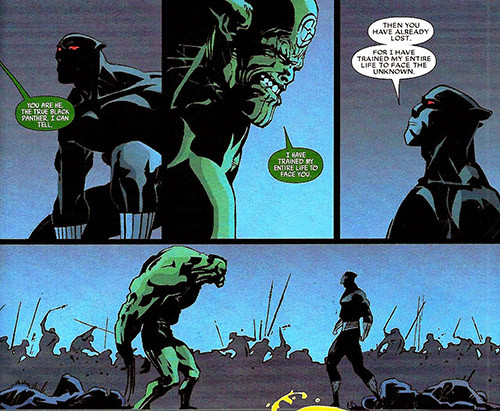 Within all that is our answer. Nobility is definitely a recurring characteristic for Black Panther, something that was established from the moment he literally leaped onto the scene in 1966. Be that as it may, that sense of honor that has been instilled in T'Challa since his first appearance has been occasionally shaken, forcing the character to find himself again. Which is what makes him compelling. He's complex and multi-faceted. He's an extraordinary figure shackled by the monotony of governing. A superhero who rarely finds himself confined by the genre. A team member from an isolationist kingdom. A product of the 1960s who matters even more in 2018. Black Panther is...Black Panther. And during a time when the comics industry seems to be in conflict over "politics" and "representation", here's a character that encompasses both. It turns out that maybe "Black Panther" is the answer for a lot of things.
**
Special thanks to Jason Aaron, Chelsea Hilton, Francesco Francavilla, David Liss, Steve Englehart, Jason Pearson, Axel Alonso, Evan Narcisse, Jonathan Maberry, Al Ewing, B. John Holmes, Shawn Martinbrough, Ken Lashley, Kurt Busiek, Ashley-Dior Thomas, Roy Thomas, the folks over at SuperMegaMonkey.net, and every creator who has contributed to the mythos of Black Panther over the decades.
***
Original artwork from Black Panther: The Man Without Fear by Francesco Francavilla
"The story asked for a street level, vigilante kind of look, so we tried to make it as functional and realistic as we could. T'Challa doesn't have his vibranium gadgets in this story, so we gave him a bulletproof jacket, pouches where he can store things useful for the missions, etc. I think that even if it wasn't the classic look, he still looked pretty bad-ass." - Francesco Francavilla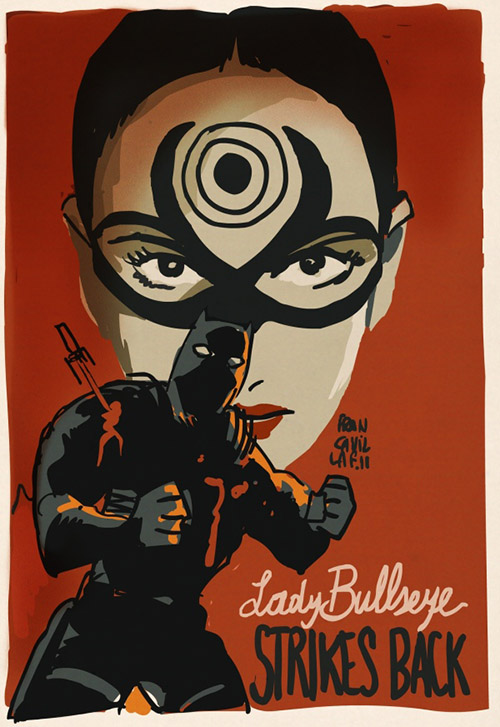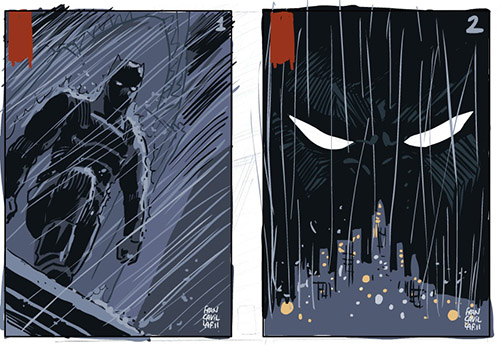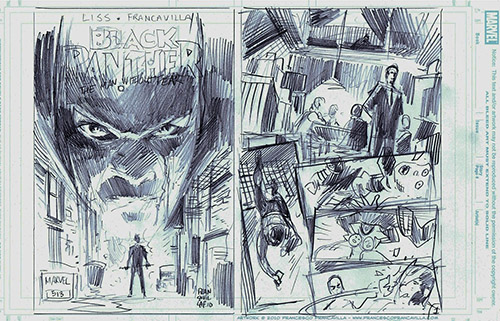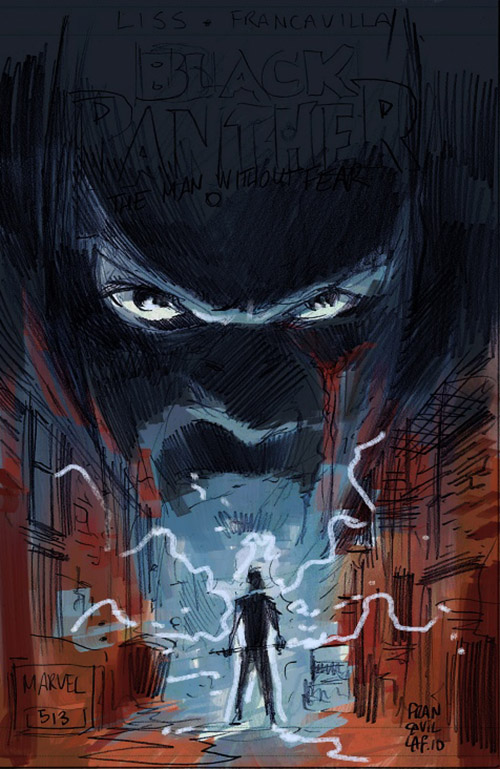 Original artwork from Black Panther: The Most Dangerous Man Alive by Shawn Martinbrough
" I'm really happy with the first issue of the series. It was full of great character moments and intense scenes. A great extended action scene with the Black Panther saving a woman from The Hand in a hospital [and] a dramatic introduction of the Kingpin. I also enjoyed choreographing the climactic, no holds barred fight between Black Panther and the kingpin in a weight room." - Shawn Martinbrough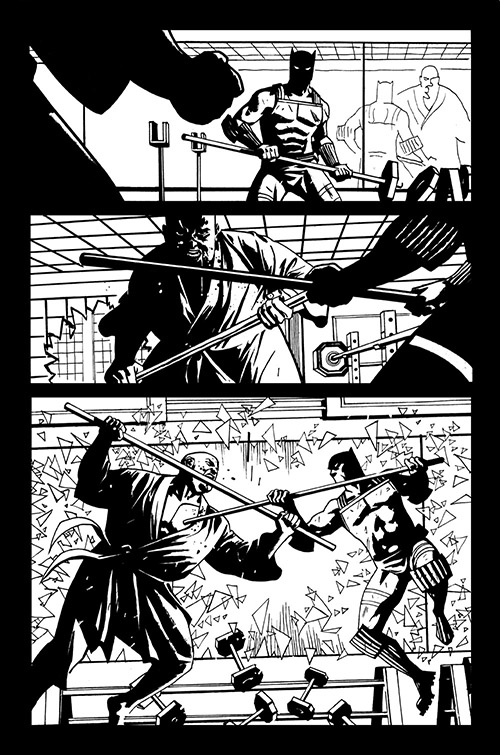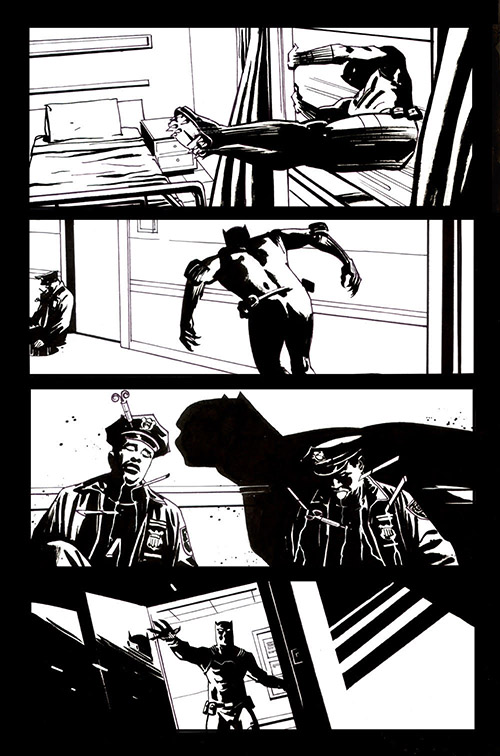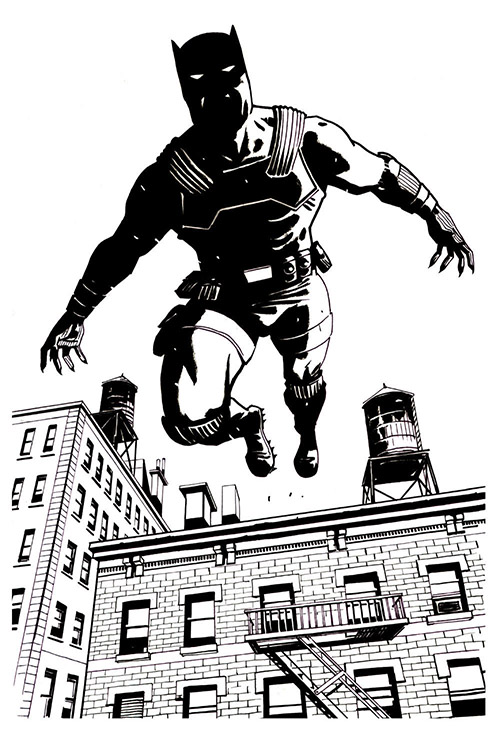 Original artwork by Ken Lashley for Black Panther

"[Writer Reginald Hudlin] is a fun person to work with. Not every day do you work with people that are creative as well as kind souls. I got pages that had my skill set in mind and that's a blessing. I do remember one time getting a description of a scene that required miles and miles of demons. That was a long night. I'm sure he could hear me cussing from Canada. - Ken Lashley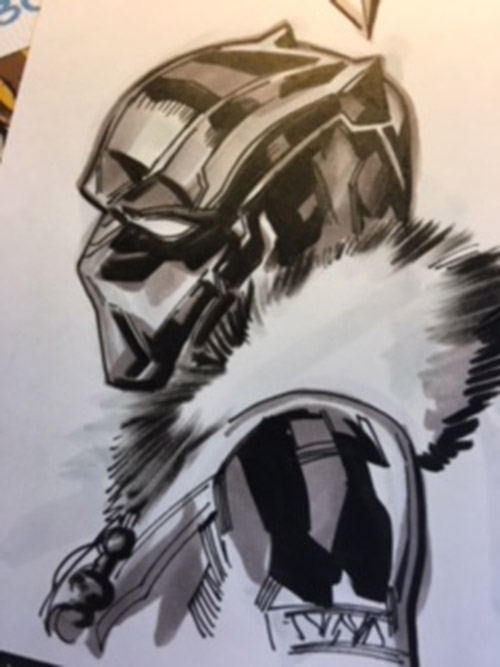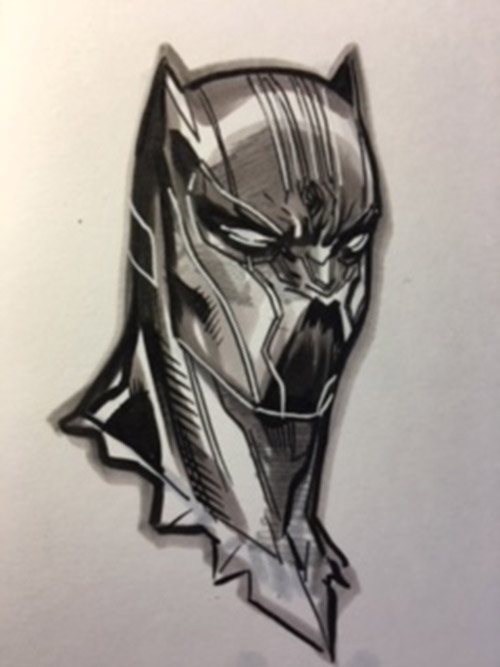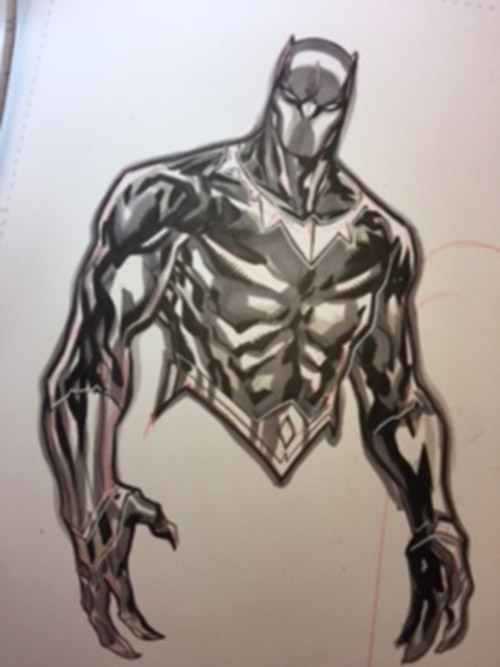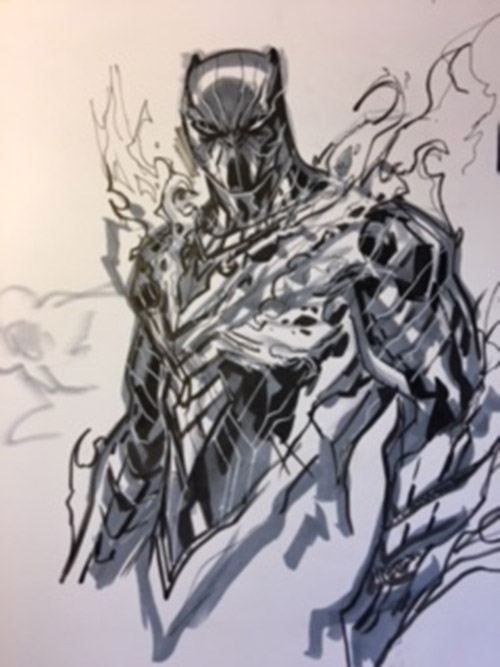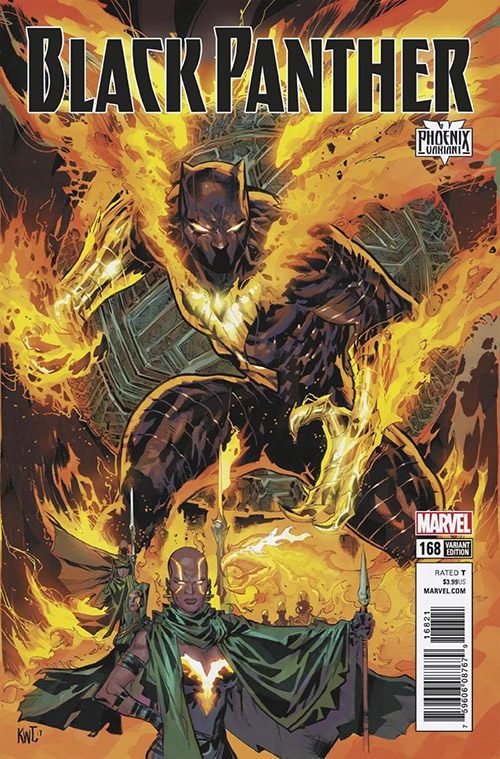 ****
Troy-Jeffrey Allen is the Consumer Marketing Digital Editor for PREVIEWSworld.com and Diamond's pop culture network of sites. His comics work includes BAMN, Fight of the Century, and the Harvey Award-nominated District Comics.