'Hendrix' Interview: Requiem For A Rock God!
Feb 28, 2023
Interview by Troy-Jeffrey Allen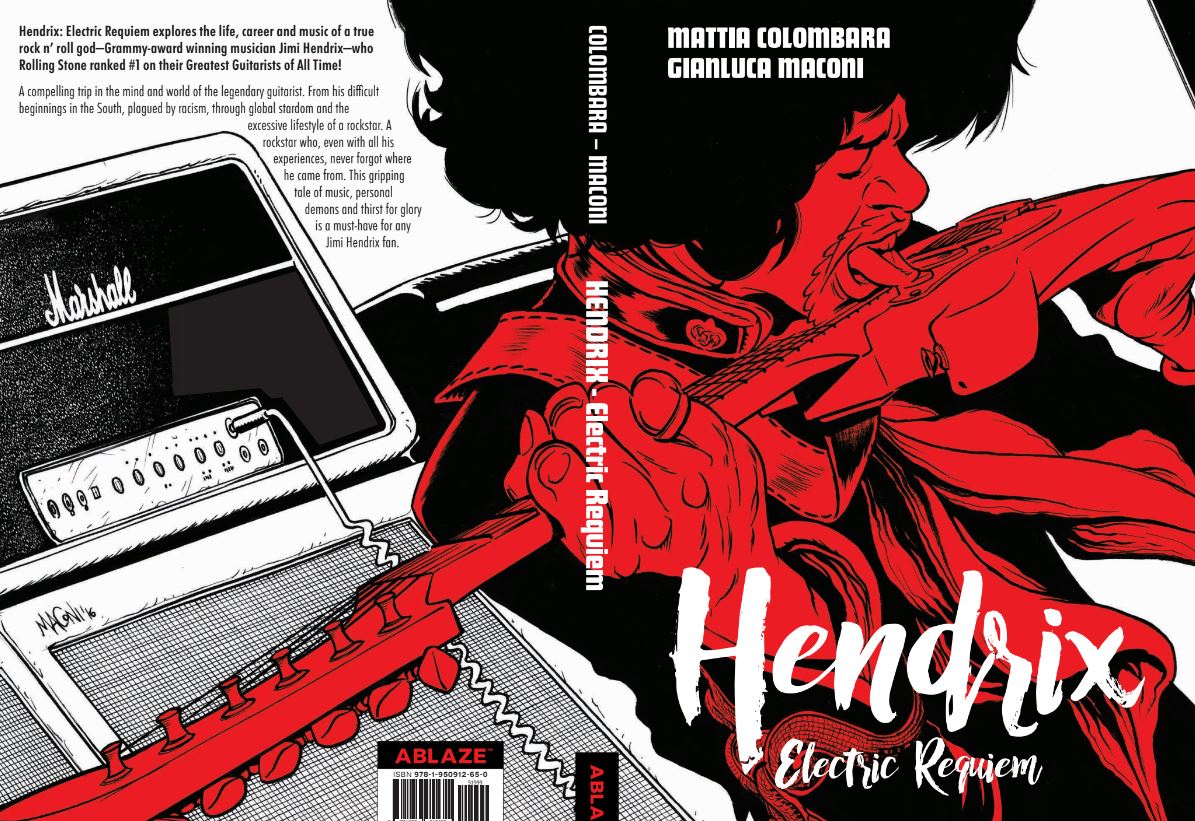 A true rock n' roll god, a Grammy award-winner...the greatest guitarist of all-time! Get ready for a "bio-graphic" journey through the life and times of Jimi Hendrix! This is Hendrix: The Electric Requiem from Ablaze.
In the following interview, artist and co-writer Gianluca MacOni takes us beyond "Electric Ladyland" for a truly psychedelic, mind-altering take on Hendrix's career. Keep reading...!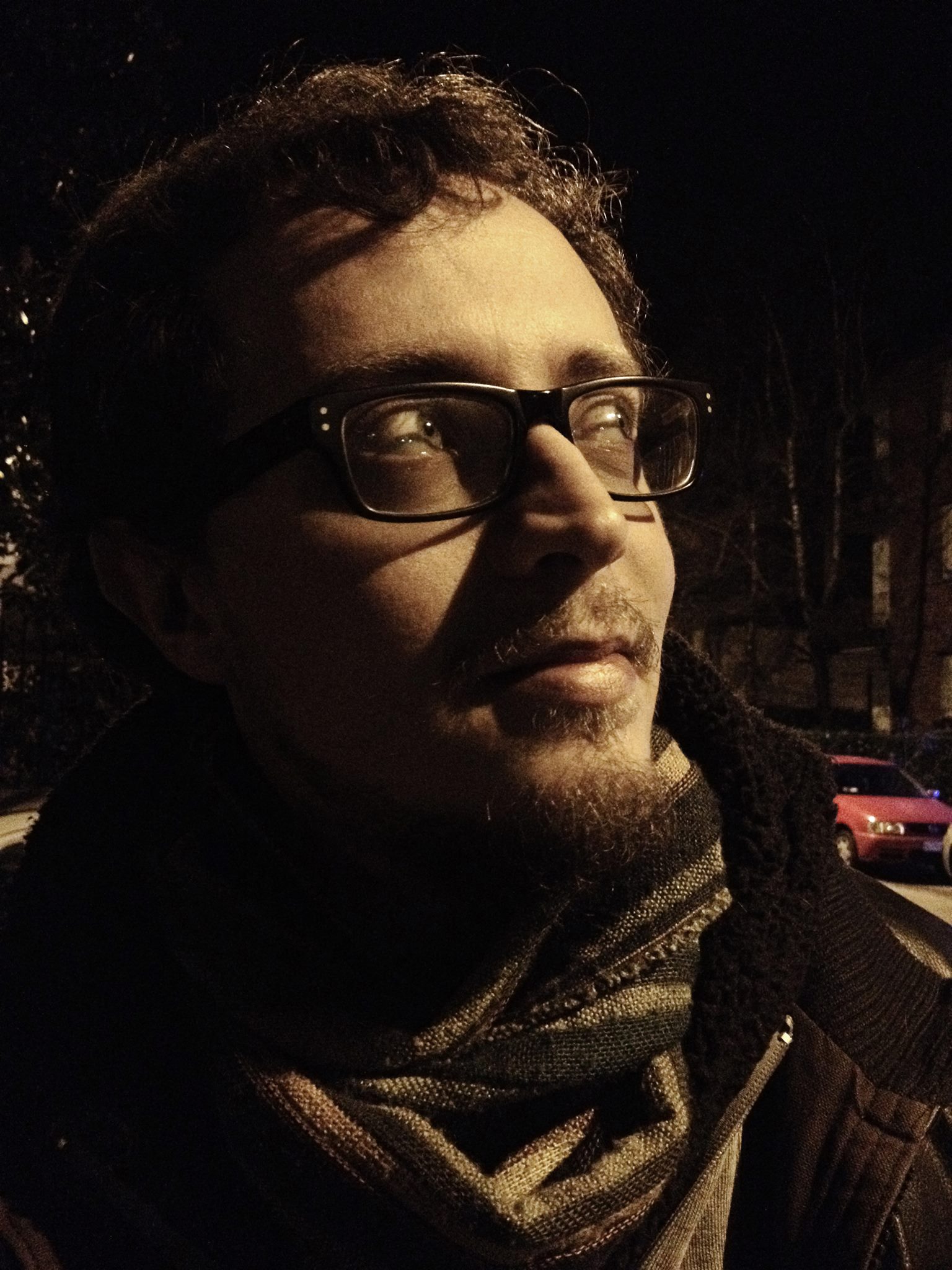 PREVIEWSworld: Tell us about Electric Requiem. What's it about?
Gianluca Maconi: Electric Requiem is a biography of Jimi Hendrix, written as if it were a concept album. Individual themes lead back to the main macro-theme, to tell the story of an amazing musician and with him a historical period full of controversy, horrors, and wonders.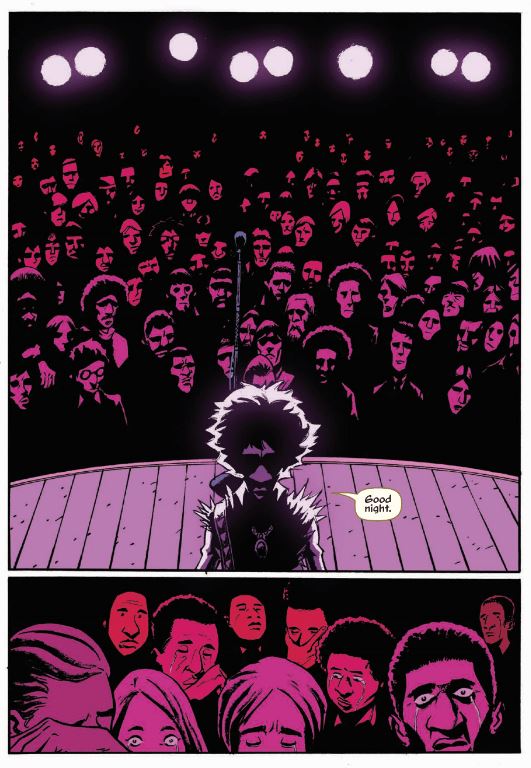 PREVIEWSworld: What made you want to focus on Jimi's life story?
Gianluca Maconi: Beyond the music, our interest was to tell the story of Jimi's character, always considering the environment that surrounded him, his origins, and some of the things that formed him...racism, the roots of the music, the power derived from success, naivety, etc. While also trying to maintain a tone throughout that is accessible to everyone.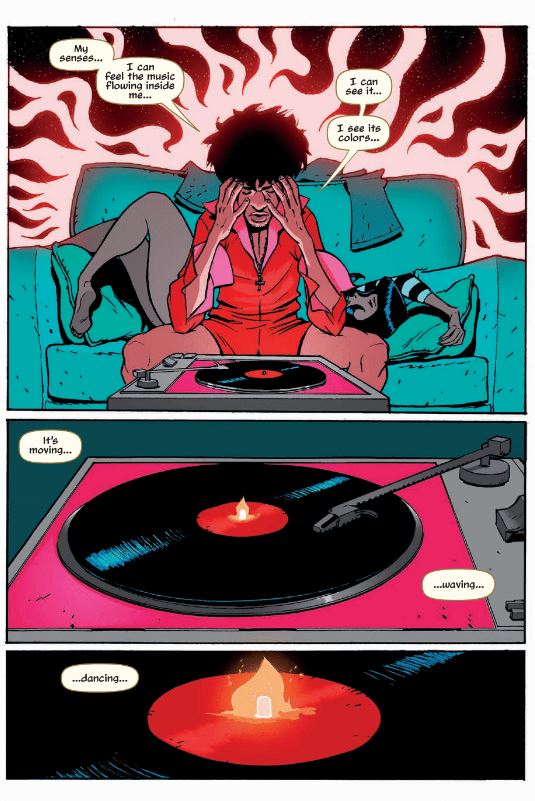 PREVIEWSworld: When did you first discover Hendrix?
Gianluca Maconi: We both discovered his music when we were very young, in our middle school years...and it has always remained there. We are both very passionate about music.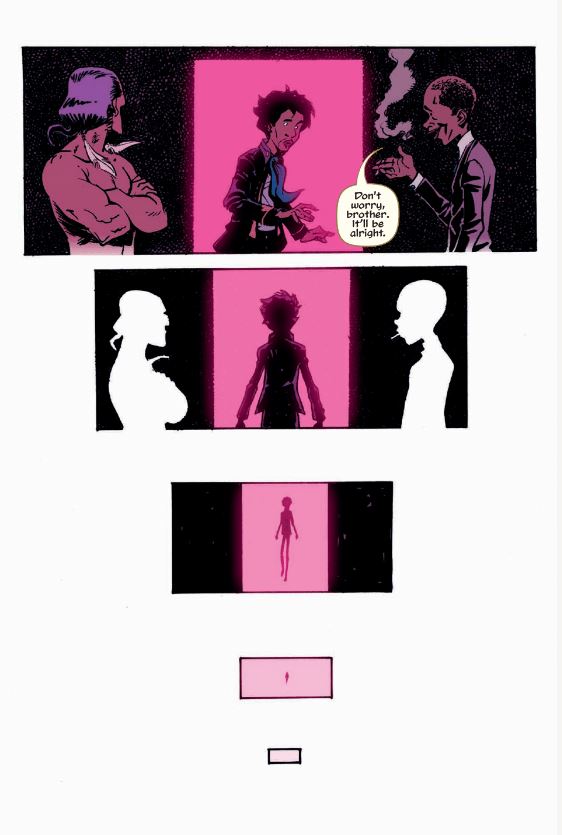 PREVIEWSworld: How did that project come together?
Gianluca Maconi: The funny thing is that initially, we had approached the original publisher of the book to propose a biography on Frank Zappa. After a series of consultations, the publisher, a Hendrix fanatic, asked us if we could be interested in working with him on that project, and we accepted with enthusiasm. Then due to a series of things the book on Zappa didn't happen. However, once we started on Hendrix, we maintained the structure that we had initially thought of, that is to work on the book as if it were a concept album, with the chapters forming autonomous songs, linked by a single common thread.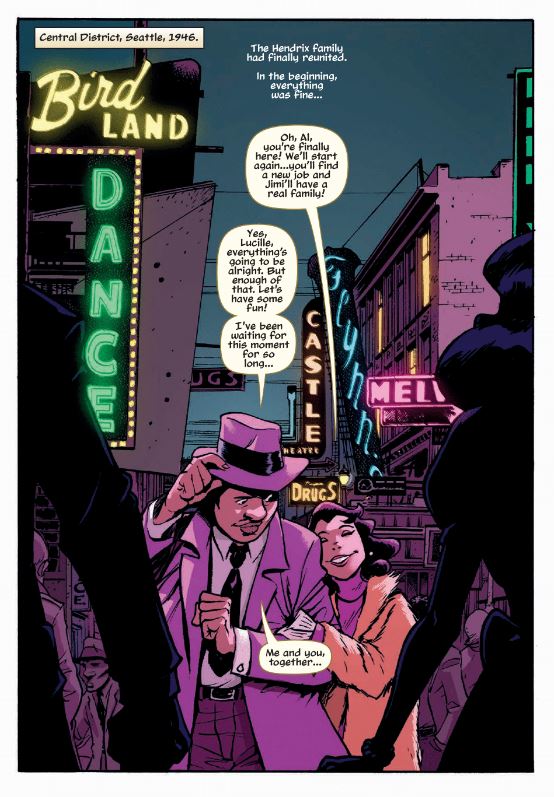 PREVIEWSworld: How long was the research portion of the project before you started making the actual book?
Gianluca Maconi: It involved a re-reading of all the biographies we already had in our libraries. Deepened by further research, especially iconographic. And then try to reconstruct as best as possible a reality which for us, although rather influenced by American culture, is rather distant both in space and in time.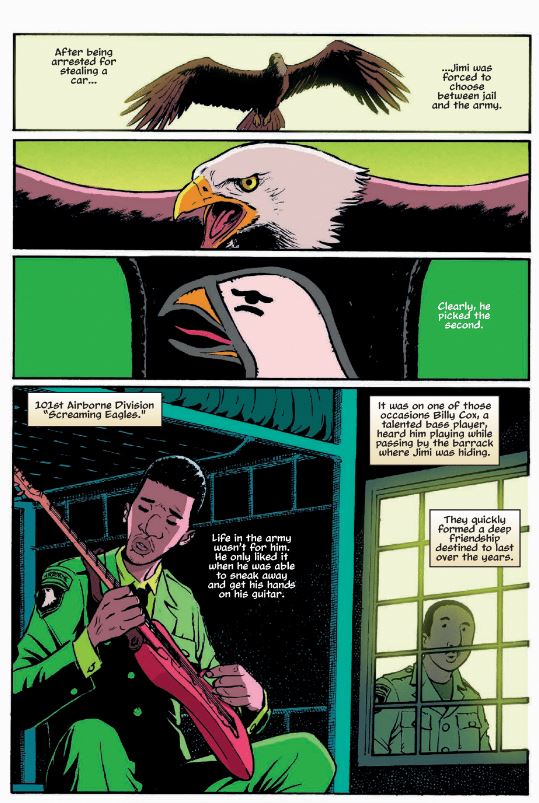 PREVIEWSworld: What do you hope people take away from Electric Requiem?
Gianluca Maconi: This is a bit difficult to answer. We want to provide entertainment, of course, and to honor an artist we love, but above all to tell an engaging story, which offers some food for thought here and there. We hope that people enjoy reading it as much as we enjoyed making it.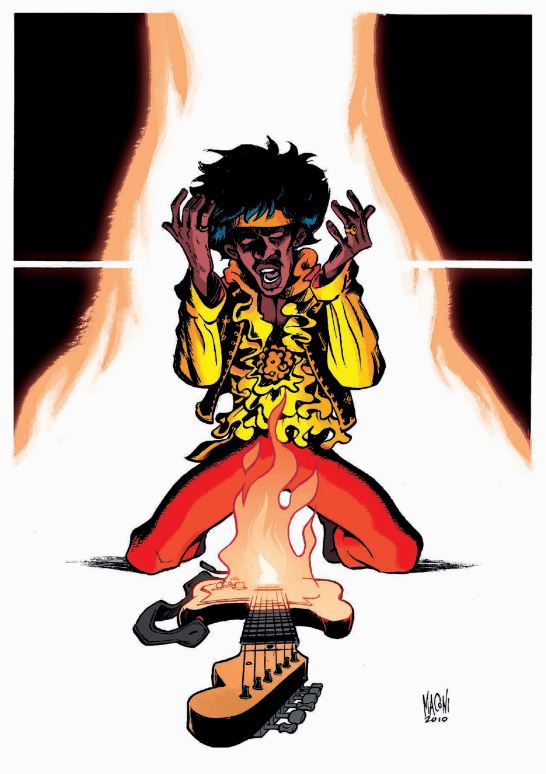 Hendrix: Electric Requiem is available to order now at your local comic shop. Reserve your copy with PREVIEWSworld Pullbox.
Keep an eye on PREVIEWSworld.com's Twitter, Facebook, YouTube, or Instagram for more!
ABLAZE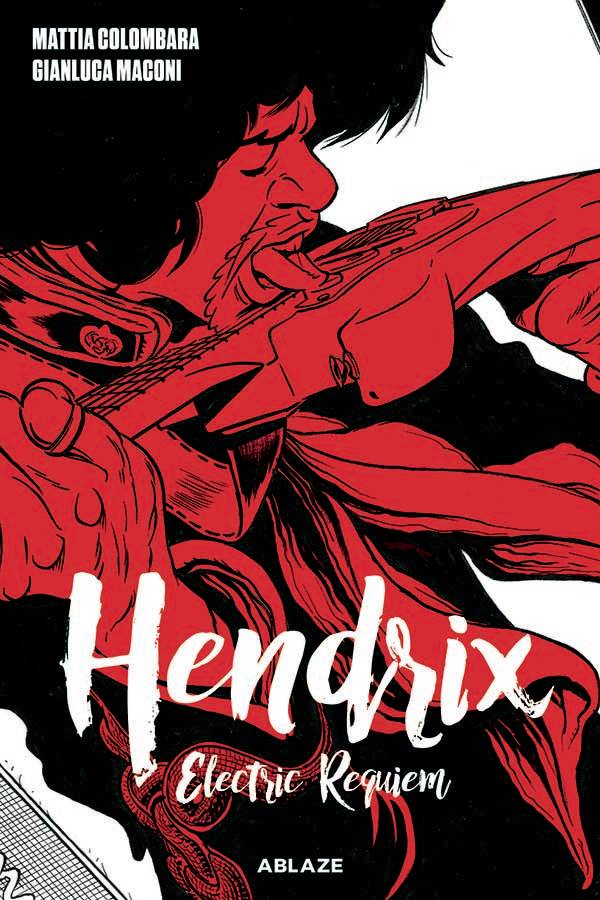 (W) Gianluca MacOni, Mattia Colombara (A/CA) Gianluca MacOni
Hendrix: Electric Requiem explores the life, career and music of a true rock n' roll god--Grammy-award winning musician Jimi Hendrix---who Rolling Stone ranked #1 on their Greatest Guitarists of All Time!
A compelling trip into the mind and world of Jimi Hendrix. Electric Requiem is an exhilarating ride, from Jimi's difficult beginnings in the South, plagued by racism, through his global stardom and triumph at Woodstock, and the excessive lifestyle of a rockstar. A rockstar who, even with all his experiences, never forgot where he came from. Skillfully illustrated by artist Gianluca Maconi, this gripping tale of music, personal demons and thirst for glory is a must-have for any Jimi Hendrix fan. Includes bonus material on Hendrix's life. Continues Ablaze's bio-graphic novel series of historical individuals and events.
In Shops: Aug 24, 2022
SRP: $24.99
PREVIEWS Page #234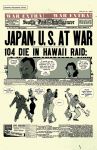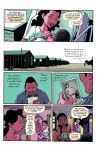 Click to View

****
Troy-Jeffrey Allen is the producer and co-host of PREVIEWSworld Weekly. His comics work includes MF DOOM: All Caps, Public Enemy's Apocalypse '91, Fight of the Century, the Harvey Award-nominated District Comics, and the Ringo Awards-nominated Magic Bullet.