Flashback Friday: A Nightmare of a Villain
Oct 15, 2021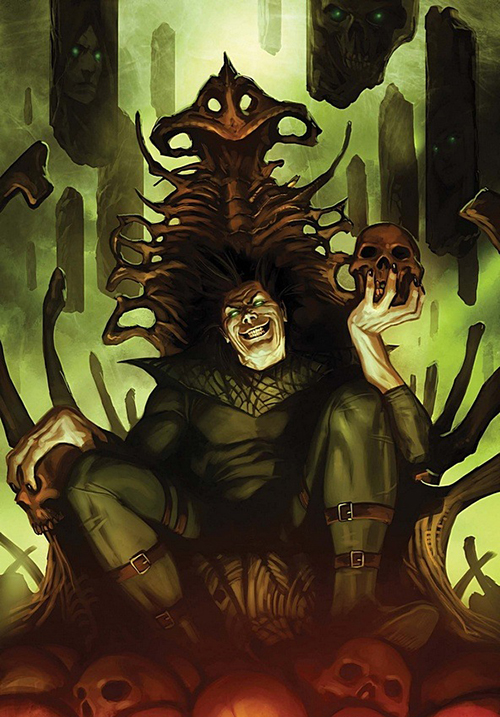 Names carry a lot of significance for comic characters, so with a guy called Nightmare, it's safe to assume that he has some scary powers.
Nightmare is a Stan Lee and Steve Ditko creation who is both a conceptual entity and part of all existence. Introduced in Strange Tales #110 (April 1963), the character can capture a sleeping person's astral form, then take them to his realm where they are tortured, or he can possess people. Though he can't directly affect people when they are awake, his images and creations can still haunt them. He can summon lower beings from his realm and use them to do his bidding.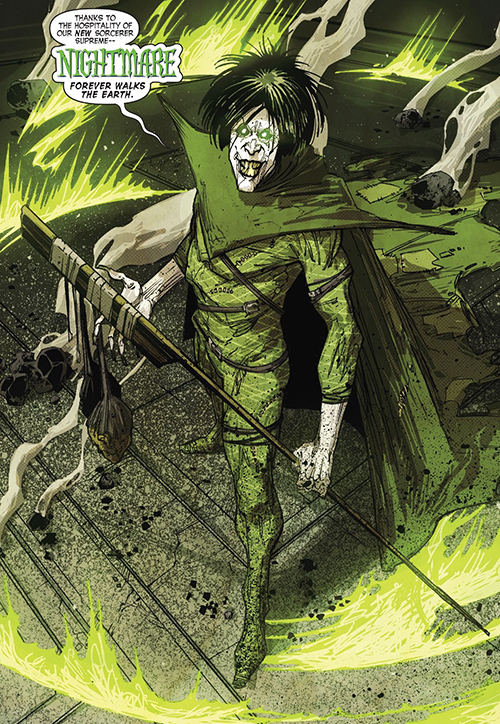 He played a significant role in the 2011 Fear Itself crossover event. Once the Serpent War had ended, fear energy from the Asgardian god of fear had infected many people, including Kid Loki. Nightmare started targeting the infected sleepers with the plan of funneling their fear energies into a crown that he could use to channel more power into himself.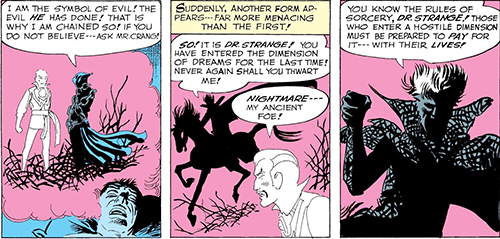 On the hunt, he found a lot of fear energy in Loki, but the god of mischief woke up before Nightmare could harvest it. Discovering what Nightmare was up to, Loki enlisted Hellstrom and Leah to reach infected sleepers and destroy the fear energies before Nightmare could take them. Exhausted by how hard it was to stop Nightmare, Loki offered to give Nightmare his fear energies to spare anymore innocent people.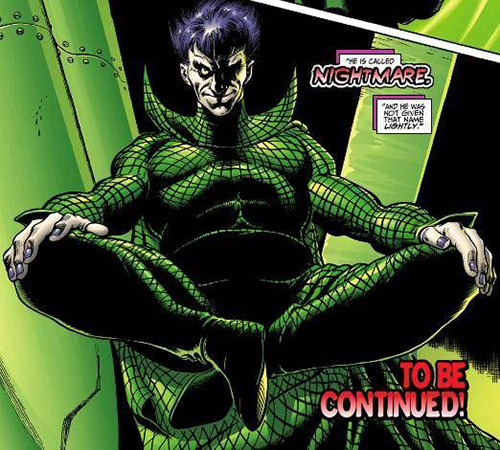 After draining Loki, Nightmare had enough fear energies to go to the dream dimension and create the Fear Crown. As this was happening, Loki alerted the other Fear Lords about what Nightmare was doing and they engaged Nightmare in battle for the crown. Mephisto entered the fray and absconded with the crown, then Kid Loki sacrificed himself to end the crown's existence.
Keep an eye on PREVIEWSworld.com's Twitter, Facebook, YouTube, or Instagram for more character profiles! And if you're interested in more from character profiles, head to your local comic shop and check out the following...
MARVEL COMICS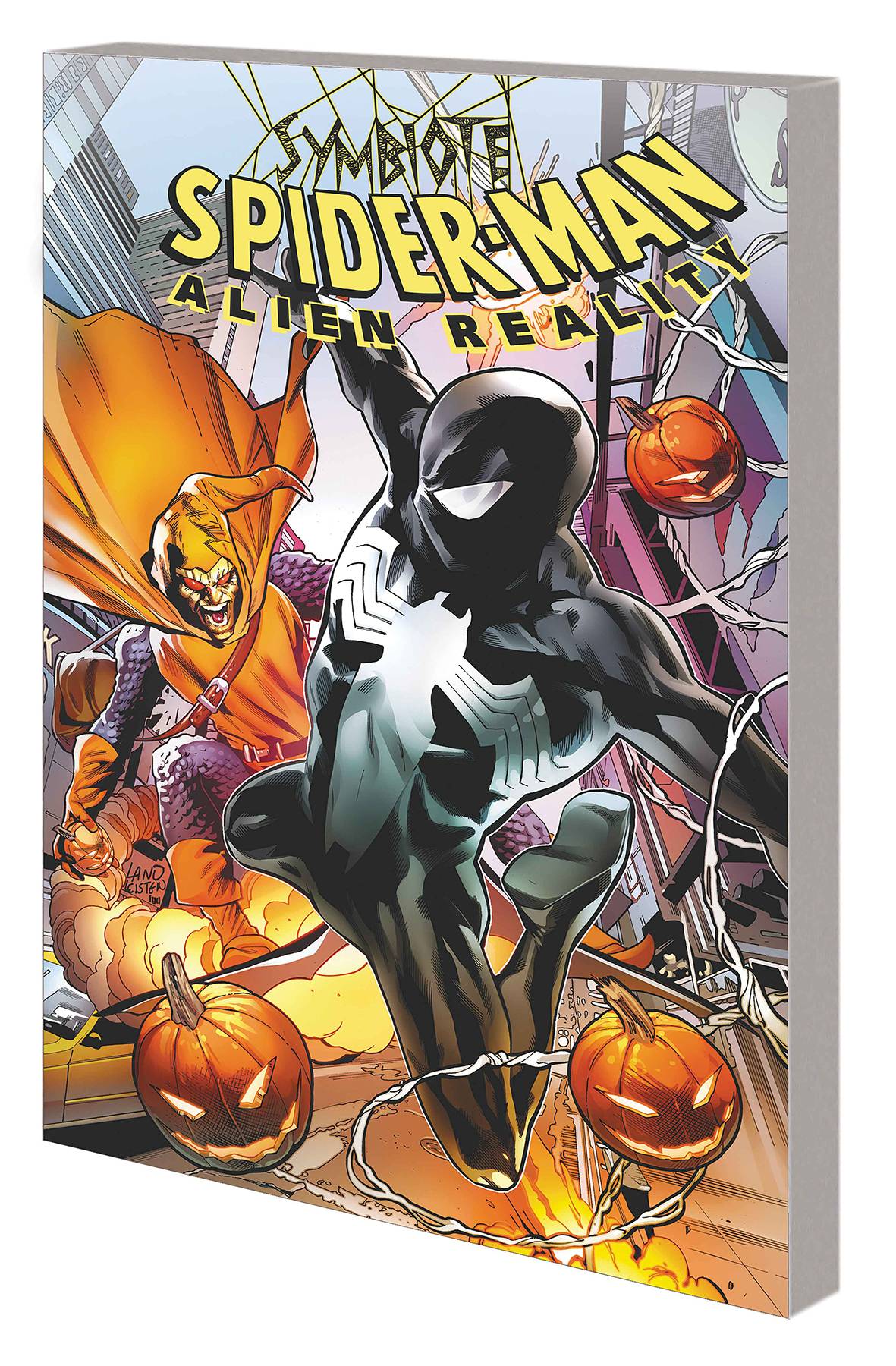 (W) Peter David (A/CA) Greg Land
Turn back the clock to the days before Spider-Man discovered his symbiote suit's true nature! Years ago, Peter Parker returned from the Beyonder's Battleworld sporting a sleek, new black costume - with a dark and sinister secret! The "costume" was alive, an alien symbiote that would one day become Venom - but even these stylish new duds won't protect him when the Hobgoblin, deadlier than ever, strikes! But where did Hobby get these uncanny new powers? Hopefully Doctor Strange can answer that question - because reality itself depends on it! Dread nightmares await as the mystery deepens and Peter's world unravels - and the fate of the future lies in the hands of the Symbiote Spider-Man! Peter David and Greg Land return for the next thrilling installment woven between the classic issues of the Alien Costume Saga! Collecting SYMBIOTE SPIDER-MAN: ALIEN REALITY #1-5.
Rated T
In Shops: Aug 12, 2020
SRP: $15.99
MARVEL PREVIEWS Page #122
MARVEL COMICS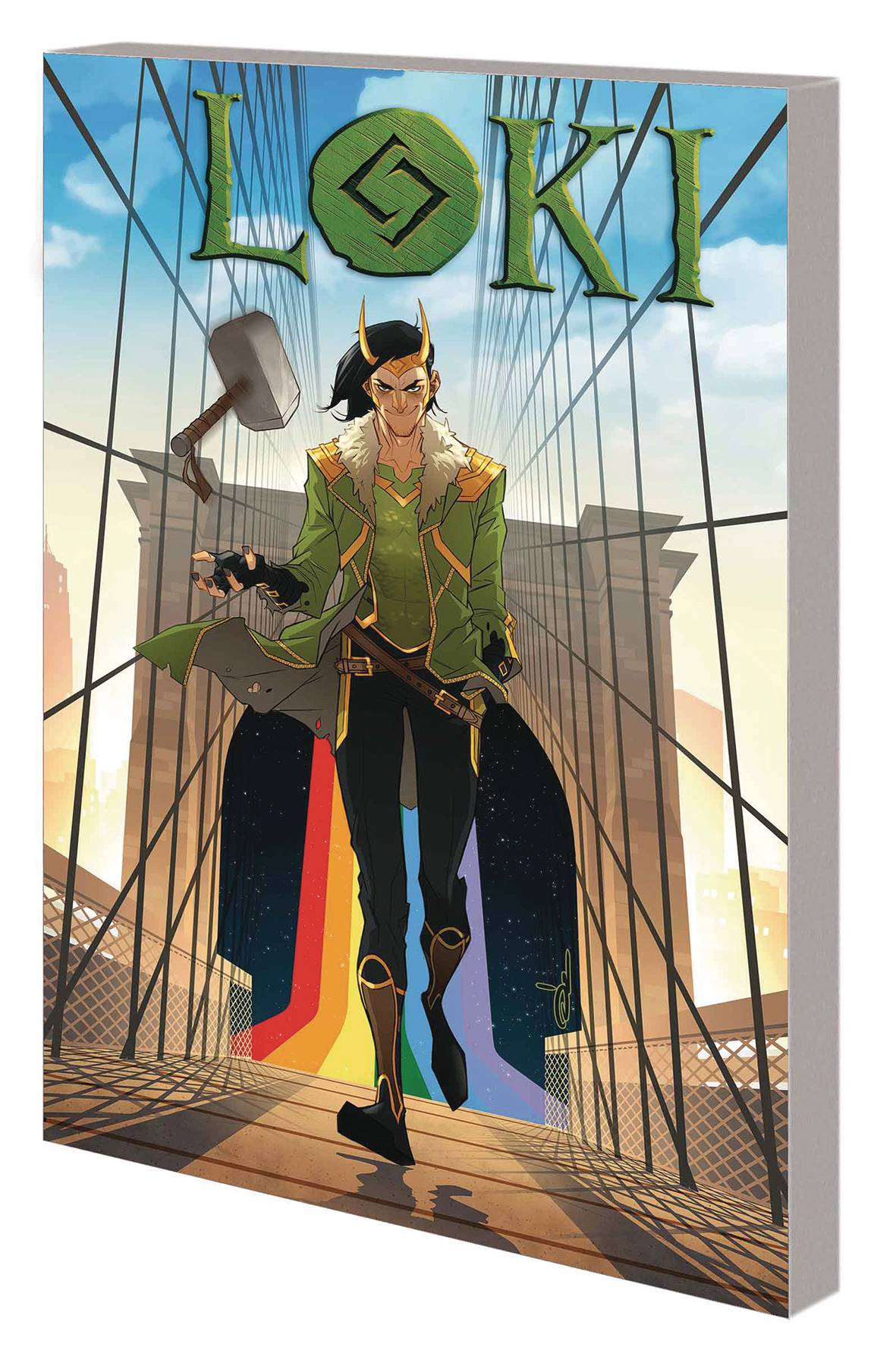 (W) Daniel Kibblesmith (A) Oscar Bazaldua (CA) Ozgur Yildirim
Loki is...Earth's Mightiest Hero?! After dying a grisly death in WAR OF THE REALMS, the reborn Trickster learned a valuable lesson in warmongering: Don't get caught. But now Loki has a whole new set of responsibilities - and his brother Thor isn't about to let him walk away from them. Restless with his new duties, Loki seeks out the advice of the closest thing Midgard has to a king - Tony Stark, the invincible Iron Man! Close enough, right? But it turns out that Shellhead isn't too happy to see Loki on account of all that stuff he did in the past. Now the God of Mischief/Stories/Evil/Chaos has to outsmart the cleverest man on Earth - or die (again) trying. Meanwhile, could Thor be hatching a mischievous plot of his own? Collecting LOKI (2019) #1-5 and material from WAR OF THE REALMS: OMEGA.
Rated T+
In Shops: Jan 08, 2020
SRP: $17.99
MARVEL PREVIEWS Page #135
MARVEL COMICS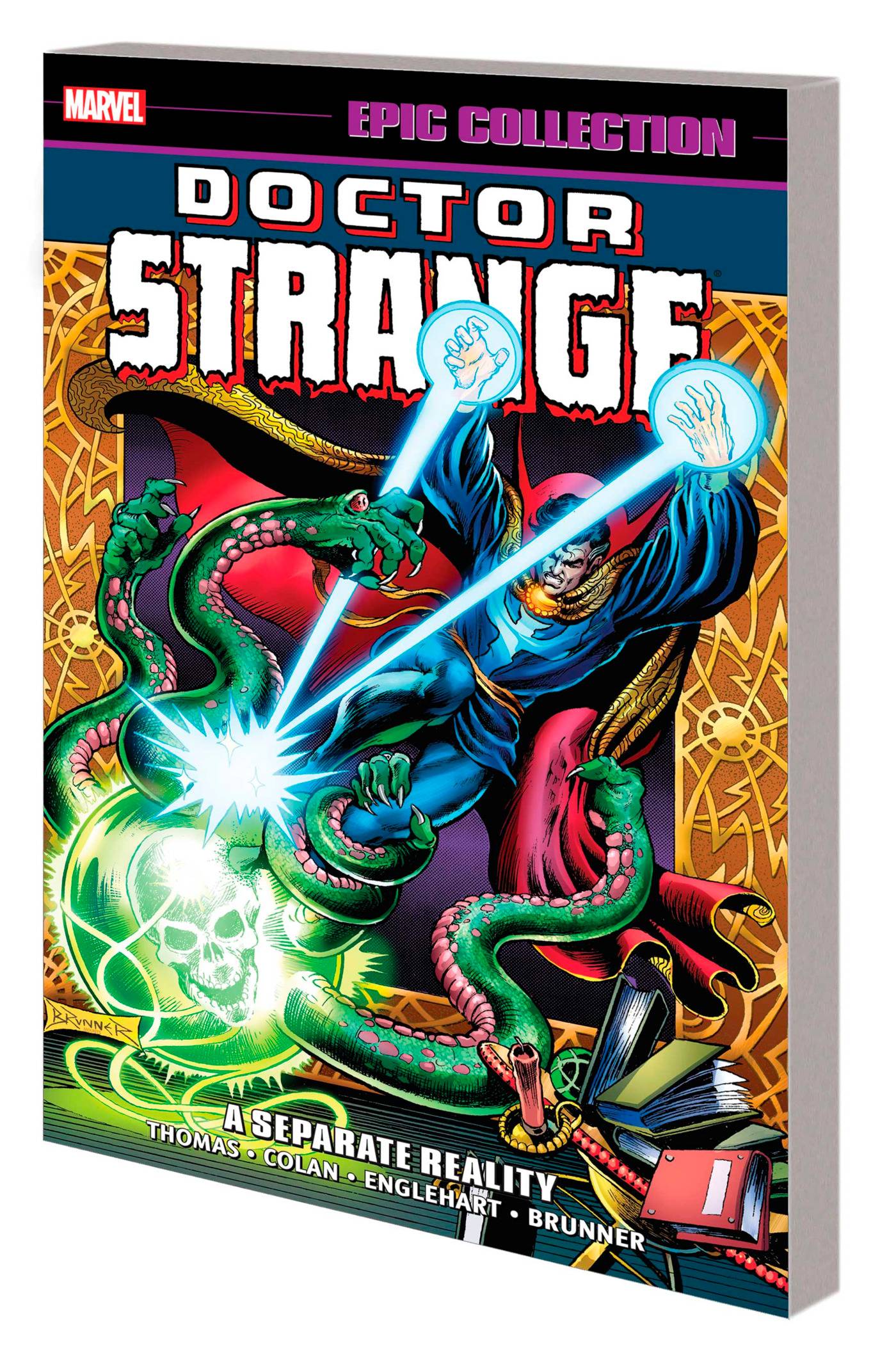 (W) Roy Thomas, More (A) Gene Colan, More (CA) Frank Brunner
It's Doctor Strange at his very best, brought to you by a host of top-flight creators including Roy Thomas, Gene Colan, Stan Lee and Barry Windsor-Smith! They'll take you on a trip to the dark side of the Marvel Universe and bring you before the Undying Ones, Baron Mordo, the cosmic threat of Eternity and the eldritch horror of Shuma-Gorath! Then, Steve Englehart and Frank Brunner break new boundaries of cosmic consciousness and other-dimensional adventure. Their all-time classic "Sise-Neg Genesis" and "Silver Dagger" sagas are strikingly personal epics featuring deliriously lush art and stories that plumb the depths of Strange's soul! Also, witness the death of the Ancient One and Doctor Strange's ascension to Sorcerer Supreme! Collecting DOCTOR STRANGE (1968) #180-183, SUB-MARINER (1968) #22, INCREDIBLE HULK (1968) #126, MARVEL FEATURE (1971) #1, MARVEL
PREMIERE #3-14 and DOCTOR STRANGE (1974) #1-5.
Rated T
In Shops: Dec 22, 2021
SRP: $44.99
PREVIEWS Page #114
This article originally appeared in Gemstone Publishing's e-newsletter Scoop.
****
Amanda Sheriff is Gemstone Publishing's Associate Editor, serving as the writer/editor of the e-newsletter, Scoop. She is the author of The Overstreet Guide to Collecting Movie Posters, The Overstreet Guide to Collecting Concert Posters, and The Overstreet Guide to Collecting Horror, and co-author of The Overstreet Price Guide to Star Wars Collectibles and The Overstreet Price Guide to Batman.