Flashback Friday: The Shapeshifting Introduction of Miss Martian
Sep 10, 2021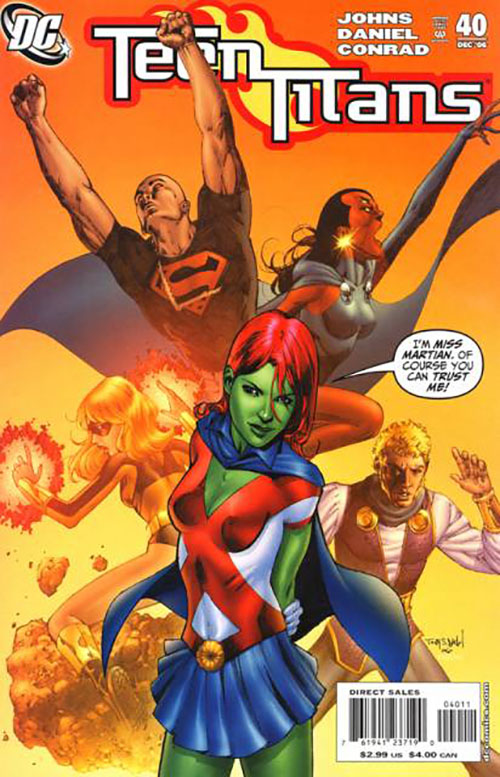 Miss Martian, aka M'gann M'orzz (who also goes by Megan Morse), is a White Martian who travels to Earth and becomes a superhero. She has similar abilities to Martian Manhunter, including shapeshifting, telepathy, telekinesis, and superstrength. The character is still relatively new to DC continuity, having made her first appearance in Teen Titans #37 (August 2006).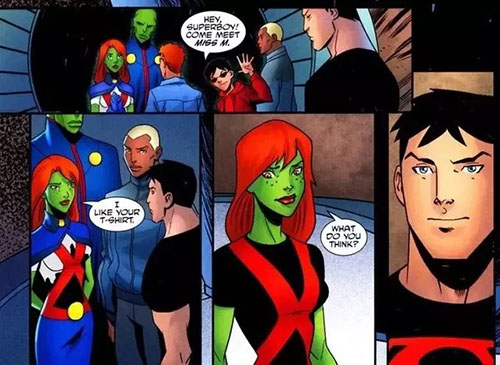 Created by Geoff Johns and Tony S. Daniel, Miss Martian was a member of the Teen Titans during Infinite Crisis and One Year Later. M'gann traveled by rocket from Mars to the Vega system in an effort to escape the civil war between the White and Green Martians. When she came to Earth, M'gann pretended to be a Green Martian-like Martian Manhunter.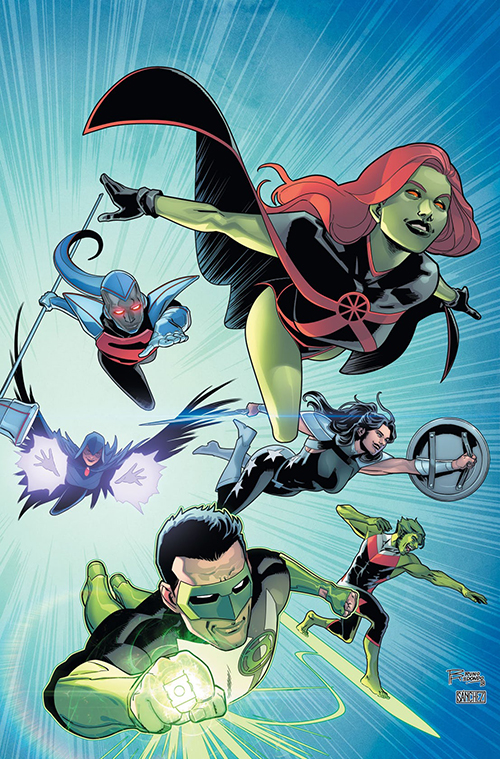 She joined the Teen Titans, but after they treated her insensitively, she left the team and traveled to Australia. The Titans suspected that Miss Martian was a traitor, only to learn that Bombshell, her accuser, was the real traitor. Once Miss Martian helped the team defeat Bombshell, she was asked to rejoin the Titans.
Keep an eye on PREVIEWSworld.com's Twitter, Facebook, YouTube, or Instagram for more character profiles! And if you're interested in more from Rogue, head to your local comic shop and check out the following.
DC COMICS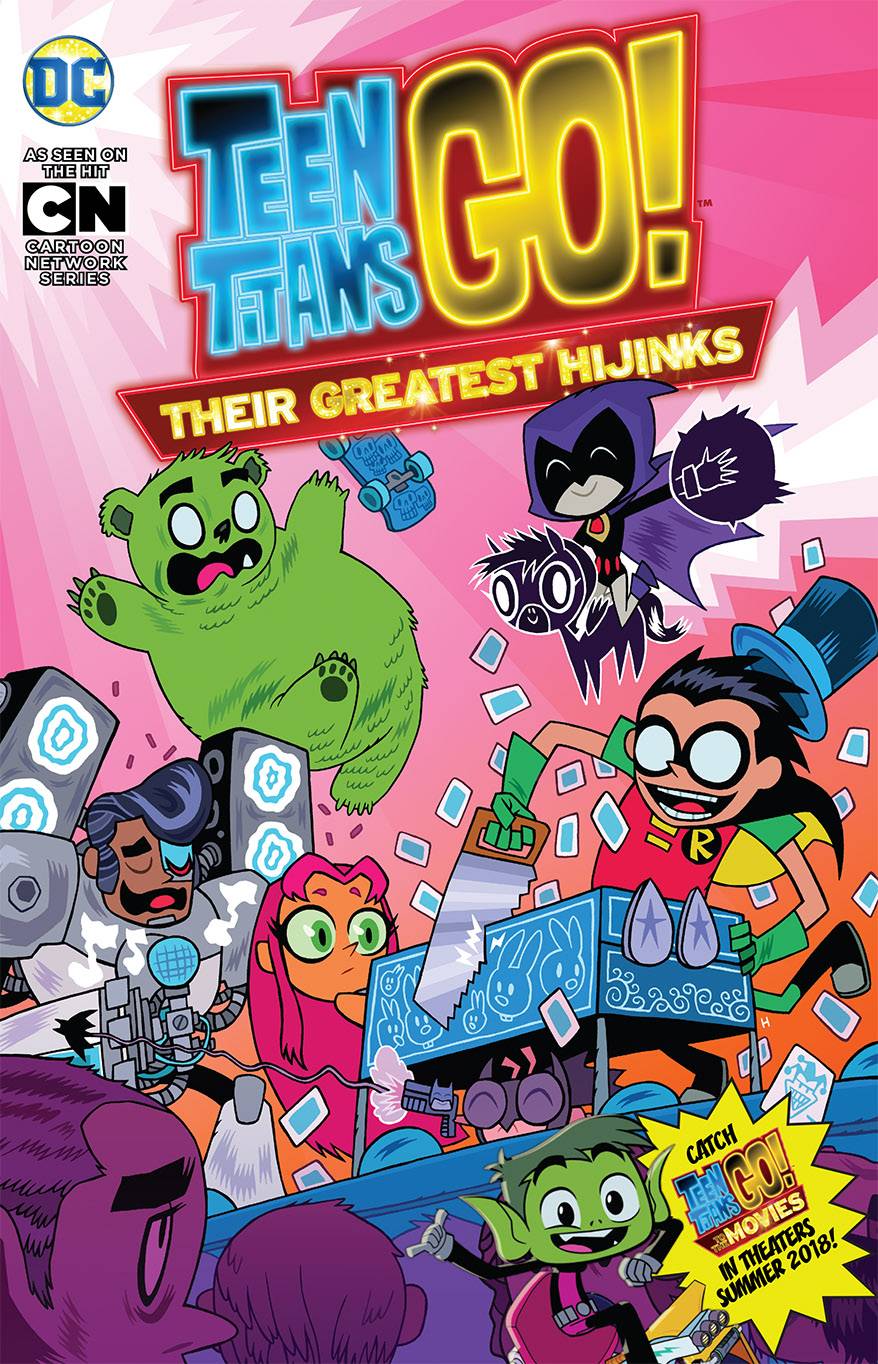 (W) Sholly Fisch, Merrill Hagan, Amy Wolfram, Heather Nuhfer (A) Marcelo Di Chiara, Dario Brizuela, Jorge Corona, Ben Bates, Jeremy Lawson (CA) Dan Hipp
Spinning off of the hit Cartoon Network animated series Teen Titans Go!, Robin, Starfire, Beast Boy, Cyborg and Raven take over the big screen in their first-ever movie! But before you catch them in theaters, catch up with the Titans in this new title featuring their greatest comics stories! Whether it's taking down their arch-foes or a few dozen pizzas, the world's best teenage heroes put together some of the funniest adventures on the stands today!
In Shops: Jun 13, 2018
SRP: $9.99
DC PREVIEWS Page #141
DC COMICS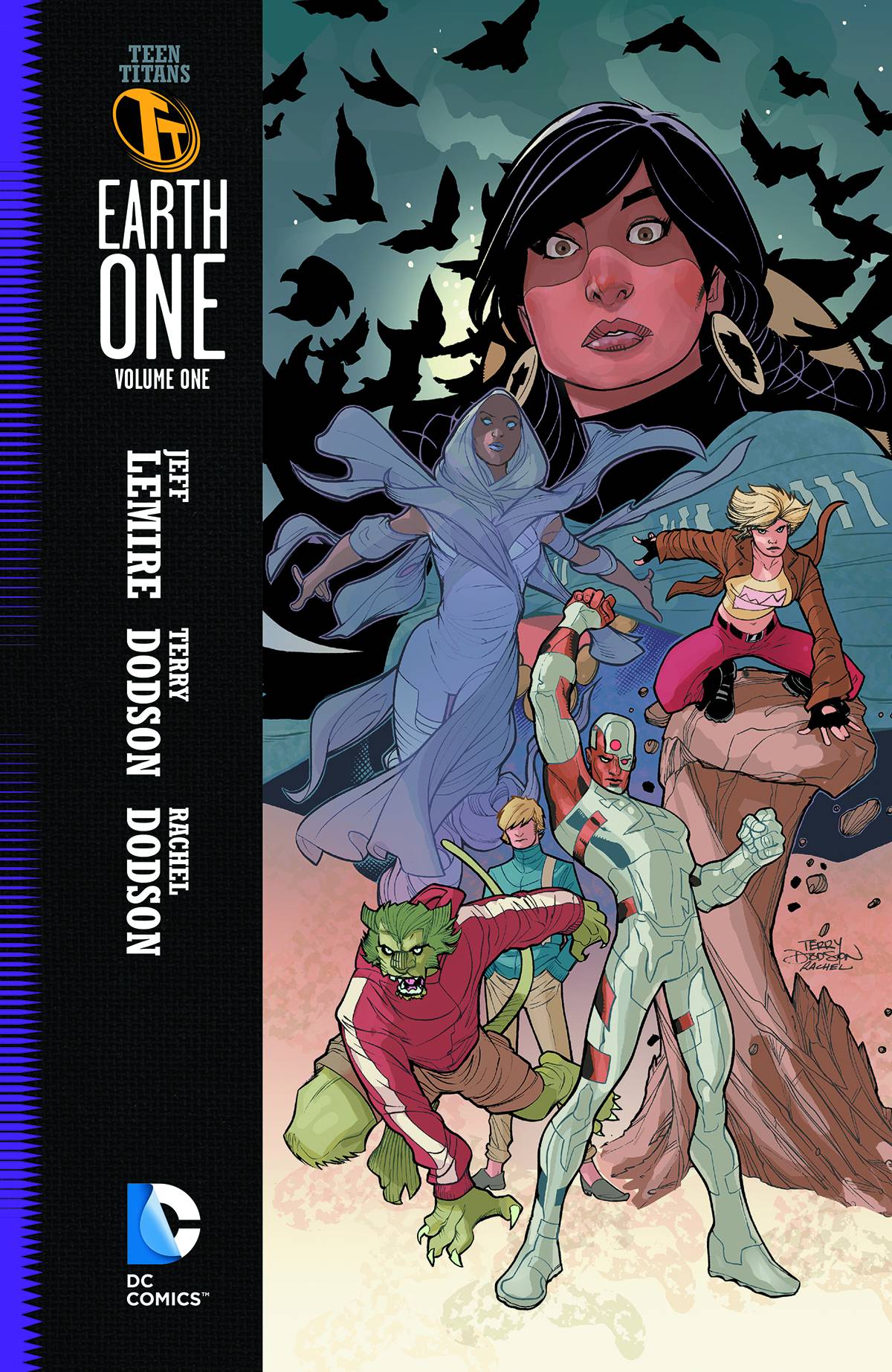 (W) Jeff Lemire (A) Cam Smith (A/CA) Terry Dodson, Rachel Dodson
In this new, original graphic novel, the young heroes of the Teen Titans never felt like normal kids...but they had no idea how right they were. Their seemingly idyllic Oregon upbringing hides a secret - one that will bring killers, shamans, and extraterrestrials down on their heads, and force them into an alliance that could shake the planet to its foundations!
The superstar team of writer Jeff Lemire (ANIMAL MAN, GREEN ARROW) and artist Terry Dodson (WONDER WOMAN, HARLEY QUINN) reinvent DC's youngest heroes, with an all-new mythos in an all-new world!
In Shops: Nov 19, 2014
SRP: $22.99
DC PREVIEWS Page #92
DC COMICS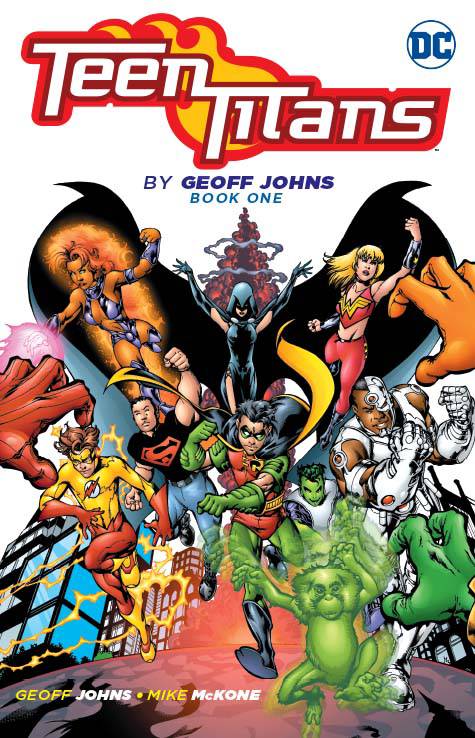 (W) Geoff Johns, Judd Winick (A) Marlo Alquiza, Tom Grummett, Norm Rapmund, Kevin Conrad, Ivan Reis, Carlo Barberi, Marco Campos (CA) Lary Stucker (A/CA) Mike McKone
Superboy, Kid Flash, Robin, Wonder Girl, Cyborg and many more join together to fight iconic super-villains like Deathstroke and Ravager! With inner demons rising, can the team save one of their own-or will they succumb to darkness? This new title collects TEEN TITANS #1/2 and #1-12 plus TEEN TITANS/OUTSIDERS SECRET FILES 2003 #1.
In Shops: Mar 29, 2017
SRP: $29.99
DC PREVIEWS Page #127
DC COMICS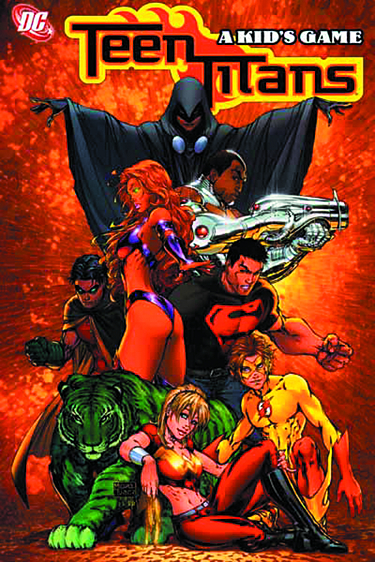 (W) Geoff Johns (A) Tom Grummett, Mike McKone
Written by Geoff Johns; Art by Mike McKone, Marlo Alquiza, Tom Grummett, Nelson DeCastro and Kevin Conrad; Cover by Michael Turner

Witness the dawn of a new era in TEEN TITANS: A KID'S GAME, a 192-page trade paperback collecting the best-selling TEEN TITANS #1-7, written by the fan-favorite Geoff Johns with art by Mike McKone and Marlo Alquiza, additional art by Tom Grummett, Nelson DeCastro and Kevin Conrad, and a cover by Michael Turner!

Witness the gathering of a new team of Teen Titans and their initial battle against an old, familiar foe: Deathstroke! The reasons behind his actions prove shocking to the team, and before the teen heroes can even get their feet on the ground, they must reencounter the cult of Brother Blood. Plus, an introduction by Johns and Profile Pages from TEEN TITANS/OUTSIDERS SECRET FILES #1!
SRP: $16.99
DC COMICS (W) Marv Wolfman (A) Various (CA) George Perez
Written by Marv Wolfman; Art by George P rez, Dick Giordano, Mike DeCarlo, and Romeo Tanghal; Cover by P rez

They were Earth's teenage defenders - unbeatable and unstoppable. Riding high, they took an eighth member - a young girl - into their ranks.

She was their downfall.

In the '80s, THE NEW TEEN TITANS was DC's most popular title and a huge sales success. The series reached a high point with the multi-part storyline now reprinted in this new edition featuring the epic that played on comics readers' expectations and offered shocking revelations and surprising twists at every turn. Included are THE NEW TEEN TITANS (Volume One) #39 and 40, TALES OF THE TEEN TITANS #41-44 and ANNUAL #3.

THE JUDAS CONTRACT is by the fan-favorite team of writer Marv Wolfman (CRISIS ON INFINITE EARTHS) & penciller and cover artist George P rez (Avengers, WONDER WOMAN), with inkers Dick Giordano, Mike DeCarlo and Romeo Tanghal.

From the retirement of Robin and Kid Flash, to the birth of Nightwing and the introduction of Jericho, to the ultimate betrayal of a Titan - "The Judas Contract" kept readers positively riveted during its initial run and still has fans talking today.

Discover for yourself one of the most exciting times in comics history!

SRP: $19.99
DC COMICS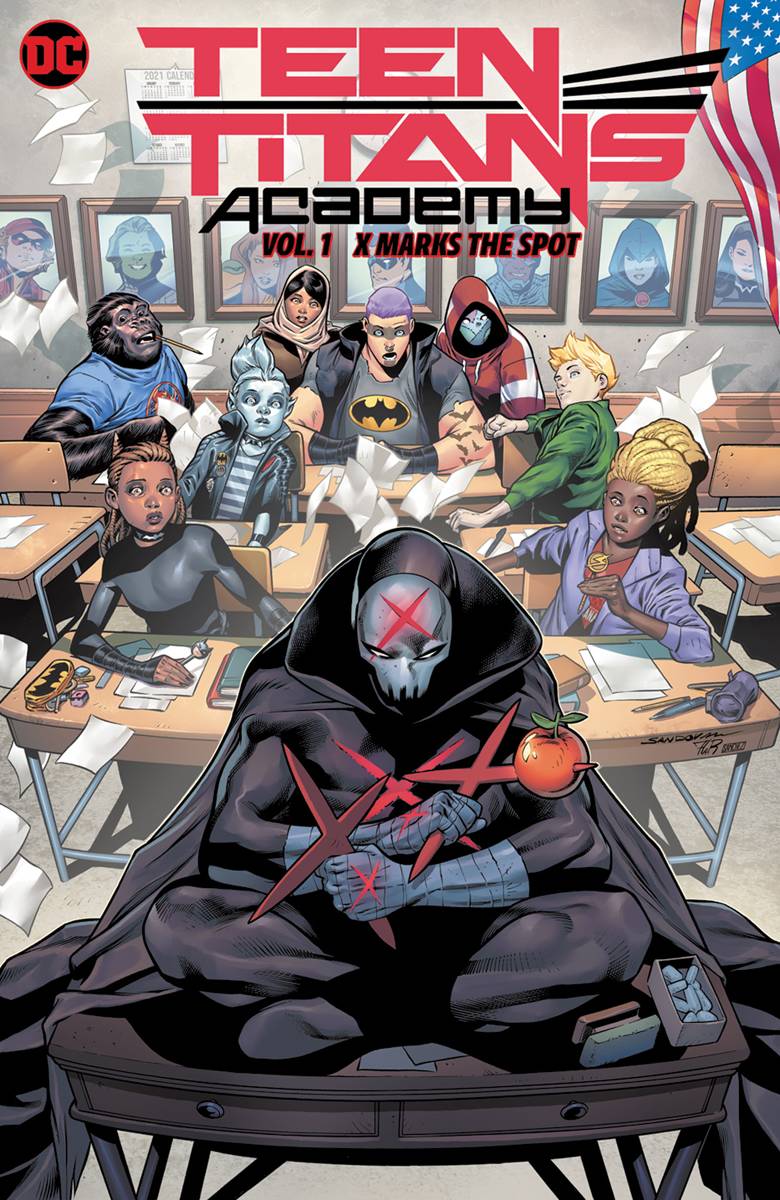 (W) Tim Sheridan (A/CA) Rafael Sandoval
Packed with both new super-powered teens and numerous dark secrets, Teen Titans Academy's student body includes Shazam; a new Australian speedster; a trio of Goth(am) teen expatriates obsessed with Batman-and one member of this first class will become the deadly Red X.
In Shops: Jan 04, 2022
SRP: $29.99
This article originally appeared in Gemstone Publishing's e-newsletter Scoop.