The Trek Through 'Monster Hunter World' Continues At Your Local Comic Shop
Aug 25, 2020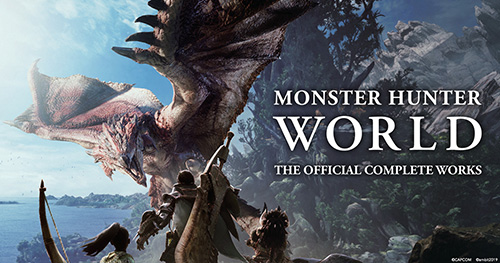 Monster Hunter: World is a smash hit and a best-selling game, with over 15.5 million copies sold as of earlier this year. The latest entry in a series that began in 2004, World sends players to an all-new setting in the Monster Hunter universe, one full of dangers both intimidatingly familiar and frighteningly new. Each player is a Hunter, someone who tracks monsters to help develop this New World. The Hunter is assisted by the Handler, who collects information and researches things in the field, and a Palico, a type of sentient, bipedal cat with impressive skills of its own. The land you explore is enormous and diverse, with a wide variety of climates and even wider variety of monsters to track, trap, and hunt.
It's no wonder that World became a smash hit all across the globe and across several video game platforms. There's a ton of stuff to do, and more than that, the game itself is beautiful to experience. If you'd like to wander around pick flowers for a while, that's a viable choice. If you'd rather get straight to hunting the biggest and baddest creatures around, you can do that, too. In fact, if you'd like to team up with lower-level players and help them through their hunts, leveraging your experience and impressive armor to dominate the monsters that used to terrify you...you can do that too.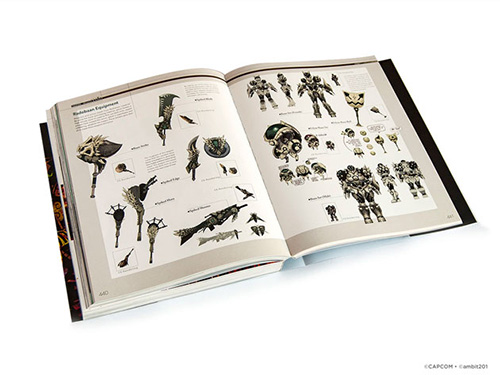 A big game deserves a big book, and Monster Hunter: World - Official Complete Works more than delivers. It tips the scale at 560 pages, and within those pages are everything a Monster Hunter fan could want. The goal was to create a book that contained and explained all of the minutiae, details, secrets and background materials that turned Monster Hunter: World into a hit, and one glance through its pages will show that it was a wild success.
Monster Hunter: World introduces a lot of characters, because there's no way to explore a whole New World without a ton of help. There are blacksmiths, scholars, scientists, merchants and more in Astera, the headquarters of this endeavor, each with their own personalities, designs and specialties. The Official Complete Works also dives into the duties and interests of the cast, introducing them one-by-one and giving you insight on who they are and where they came from.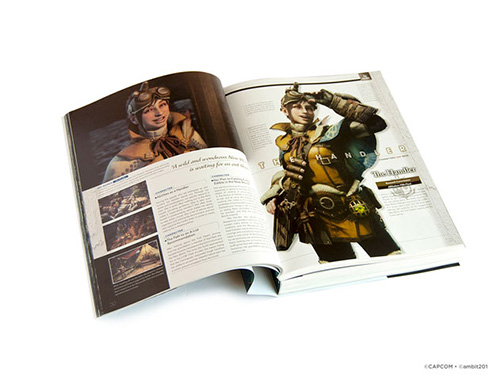 The New World itself is a focus, too, of course. Dozens of pages detail the intricacies and vagaries of each locale, pointing out areas that players may have missed and suggesting tactics or alternate routes for hunters to try out. Beautiful, high resolution shots of the environments demonstrate the care the developers put into making the game, and the fun they had, too. The settings are not just beautiful—they're genuine ecosystems where everything lives in concert with everything else. Each setting is logical and consistent, and that's something that makes beautiful things even more so.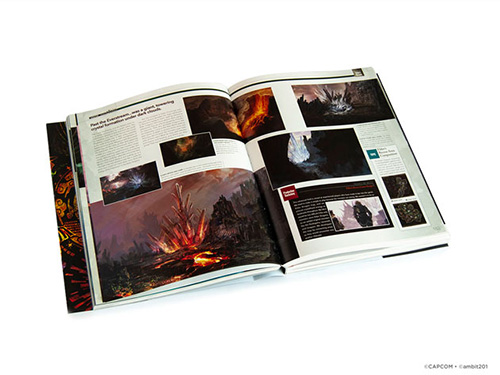 It wouldn't be Monster Hunter without some larger-than-life beasts like Anjanath and Rathalos, and the monsters are pored over in fine detail in the Official Complete Works. Find out which monsters made the trip from the Old World to the New World and eventually evolved into variants of their forebears, and which monsters are brand new and eager to devour an unsuspecting Hunter. You can check out their designs and anatomy at your leisure or read up on how their differing mating habits and approaches to parenting influences their attack patterns and abilities.
In other words, this book has everything, including a detailed retelling of the story of Monster Hunter: World and art galleries featuring the weapons, creatures, adventurers and locales you'll come to know intimately over the course of playing the game. There's even a lengthy interview with a few of the core minds behind Monster Hunter: World as they discuss what happened in the year after the game's release, as it became clear that it was going to become a sales juggernaut and change the face of the franchise forever.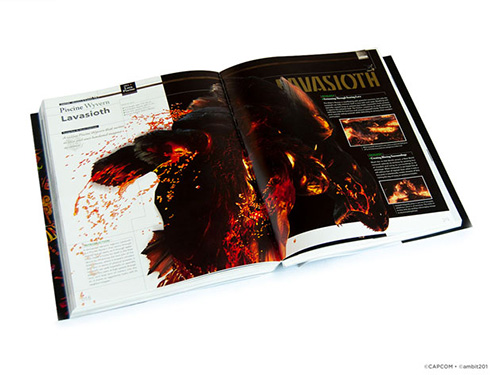 Monster Hunter: World - Official Complete Works is a massive beast of a book, both a perfect complement to the game it draws from and an impressive accomplishment on its own. It's thick enough to be physically imposing and jammed full of so much information it'll take you ages to digest it. If you've ever been curious about Monster Hunter, or just want a closer look at a well-loved game, the Official Complete Works is the book for you.
For more from Viz and the world of Monster Hunter, keep an eye on PREVIEWSworld.com's Twitter, Facebook, YouTube, or Instagram.
{FULLDETAIL-JUN201573}