The Culture of Comics: Cartoonists Kayfabe Inspires 'Wizard' Fanzine
Oct 13, 2020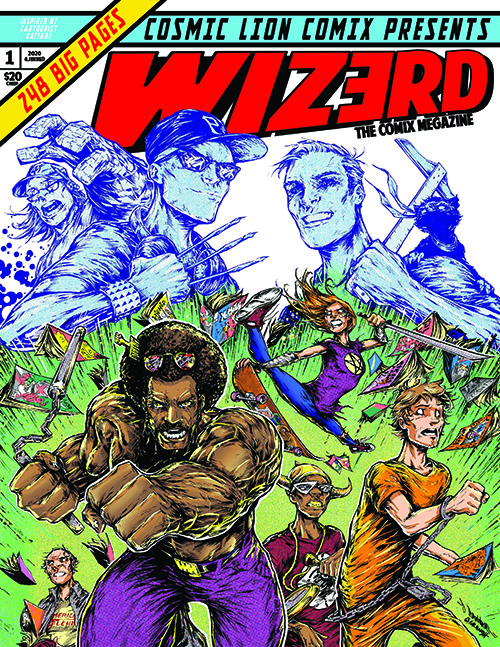 by Troy-Jeffrey Allen
Throughout the industry and culture of comics, artist, writers, fans, and YouTubers alike are finding ways to combat cabin fever as a result of the worldwide pandemic. Earlier, we showed you how YouTube's Comic Book Girl 19 invited viewers to experience Jonathan Hickman's Powers of X and House of X with her. Today, we're introducing you to a fan intiative to revisit WIZARD magazine. This is...WIZERD: The Comics Megazine.
Inspired by Cartoonists Kayfabe's series of deep dives into Wizard: The Guide to Comics, WIZERD is a love letter to the 1990s publication "Wizerd is a comics MegaZine in the style of Wizard made by the fans of Cartoonist Kayfabe," Editor, organizer, and publisher Eli Schwab explains. "I wanted to create a space to show off all the talent in our group and provide a calling card that shows off Cartoonist Kayfabe's incredibly smart and talented fanbase." "I found that the fanbase was incredibly talented and I figured, why not harness that into our own version of Wizard."
Just like the Wizard magazines of your youth, this fanzine to end all fanzines features exposés, and price guide, and more. "We have comix, interviews, ads, an indy price guide, Eclipse Comics checklist, and tons more amazing stuff," says Schwab. "It was really about finding a creative way to get all this talent in front of as many eyes as possible. I wasn't always looking for brand new comics, like an anthology. I wanted to show off what the creators already had and how to get it. I wanted everyone to see what I see, amazing creators and amazing comics!"
Needless to say, if you're experieincing a bit of free time right now then you should check out the flipthrough below. Then, go and get yourself a digital and physical versions of WIZERD: The Comics Megazine HERE (available now)! And, as always, once you've discovered what the world of indie comics can offer, be sure to support you local comic shop and find out how you can get your hands on the titles featured inside.
Thanks Eli and the contributors of WIZERD for doing their part to #CreateComicsCulture.
****
Troy-Jeffrey Allen is the Consumer Marketing Digital Editor for PREVIEWSworld.com and Diamond's pop culture network of sites. His comics work includes BAMN, Fight of the Century, and the Harvey Award-nominated District Comics.