Your First Look at Firefly: The Outlaw Ma Reynolds #1 From BOOM! Studios
Dec 12, 2019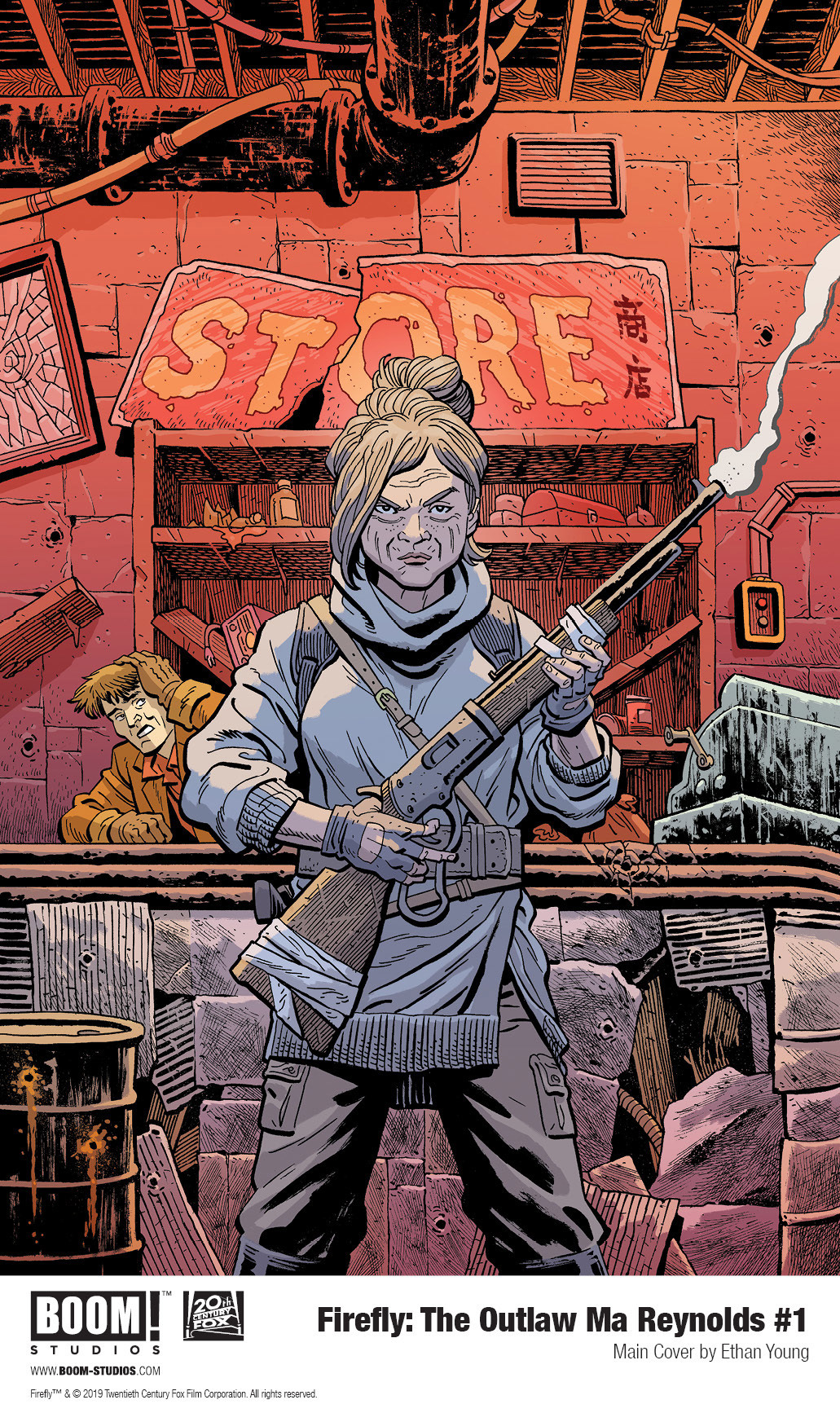 BOOM! Studios, in partnership with 20th Century Fox, today revealed a first look at Firefly: The Outlaw Ma Reynolds, an oversized special one-shot written by acclaimed writer Greg Pak (Ronin Island), artists Davide Gianfelice (Nightwing) and George Kambadais (The Black Ghost), colorist Joana Lafuente (Jim Henson's Labyrinth), and letterer Jim Campbell (Abbott, Coda), about the singular person who shaped Captain Malcolm Reynolds into the fearsome Browncoat and fearless leader he is today—his mother.
Captain Malcolm Reynolds—thief, smuggler, resistance fighter, and now captain of a crew of outcasts all the way on the farthest reaches of the 'verse—wasn't born an outlaw but he comes by it honestly. Turns out, his mother, the infamous Maude Reynolds, is at the top of the Alliance's Most Wanted, and if Mal doesn't get to her first, the Alliance will! Kicking off a new year of Firefly, discover the secret history of Mal and his mother, what that will mean for the rest of the 'verse...and a new brewing war to end all wars.
Firefly: The Outlaw Ma Reynolds #1 features a main cover by award-winning artist Ethan Young (Nanjing: The Burning City) and variant covers by artists Ming Doyle (The Kitchen) and Michael Walsh (Black Hammer/Justice League).
Created by Whedon and set 500 years in the future in the wake of a universal civil war, Firefly centers on the crew of Serenity, a small transport spaceship that doesn't have a planet to call home. Captain Malcolm "Mal" Reynolds, a defeated soldier who opposed the unification of the planets by the totalitarian Alliance, will undertake any job — legal or not — to stay afloat and keep his crew fed. Thrust together by necessity but staying together out of loyalty, these disparate men and women are seeking adventure and the good life, but face constant challenges on the new frontier, such as avoiding capture by the Alliance, and evading the dangers you find on the fringes of the 'verse.
Firefly: The Outlaw Ma Reynolds #1 (NOV191233) is available January 15, 2020 at your local comic shop!
Available now, Firefly: Legacy Edition Book One (SEP181293) collects previously released Serenity comics for the first time under one cover in a new value-priced format as Mal & the crew ride again in these official sequels to the critically acclaimed Firefly television series and Serenity film.