Gail Simone To Write New "Death-Defying 'Devil" Mini-Series For Dynamite
May 16, 2019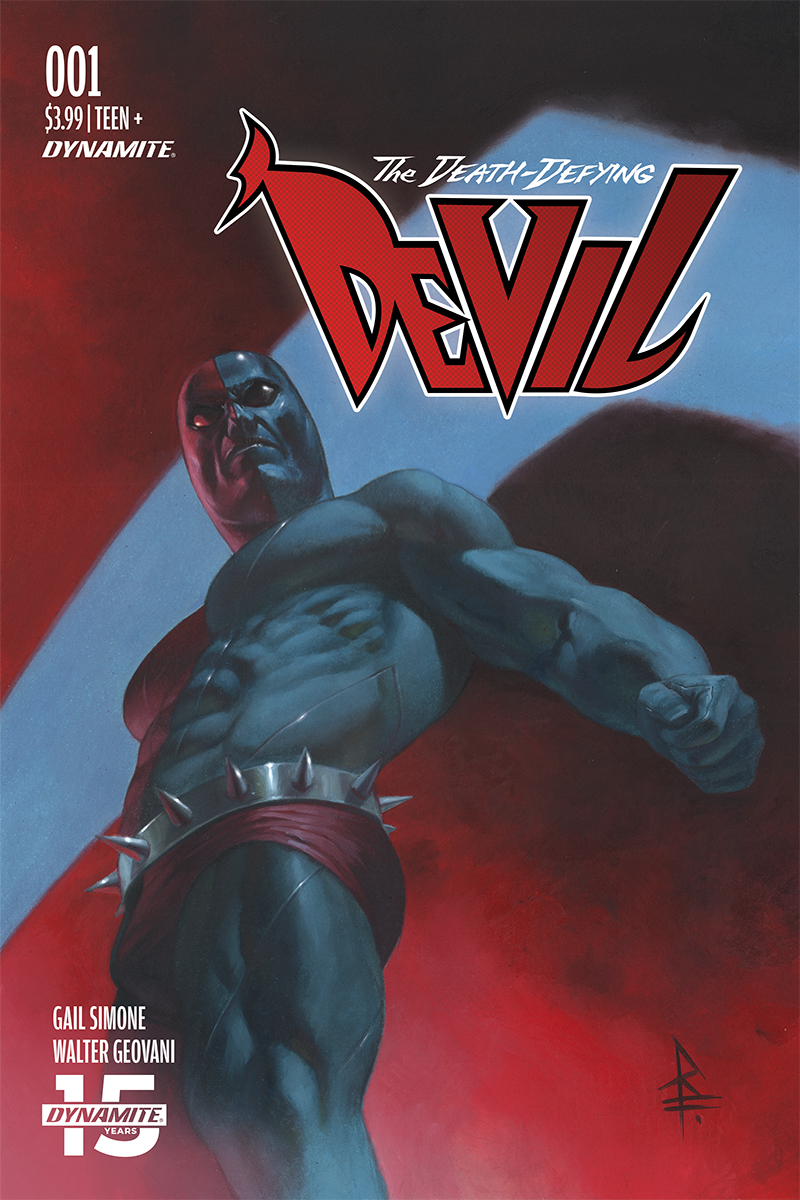 Fwoosh! What sound effect does a boomerang make? Find out this August when Dynamite releases THE DEATH-DEFYING 'DEVIL #1 by Gail Simone and Walter Geovani! The Master of Courage returns!

The nearly 80-year-old legendary superhero returns in a miniseries from Eisner-nominated writer Gail Simone (Birds of Prey, Wonder Woman, Domino) and her longtime artistic collaborator Walter Geovani (Red Sonja, Clean Room). Colorist Adriano Augusto (Red Sonja/Tarzan, KISS: Blood & Stardust) and prolific letterer Simon Bowland (Red Sonja, The Boys) round out the cast.

In this yarn inspired by Rod Serling, Bronze Age horror/mystery anthologies, and modern street-level heroics, the 'Devil finds himself beaten and bloodied in the backyard of a ramshackle apartment building. The diverse cast of tenants take him in and across each issue they are explored in-depth. Each has their own unique problems, while a strange force also menaces the building as a whole. The 'Devil makes it his mission to solve all of these puzzles, even when he learns that one of his new neighbors is a traitor.

A whole legion of painterly artists are contributing covers to this blockbuster series. Riccardo Federici (Aquaman, Dark Nights Metal: Dark Knights Rising) leads the pack, Tyler Kirkham (Deathstroke, Green Lantern, Teen Titans) has some fun with a spray effect, Ben Oliver (American Carnage) turns in a playing card-inspired cover featuring the villain Deadly Dreaded Dragon, while fan-favorites Lucio Parillo (Vampirella, Red Sonja) and In-Hyuk Lee (Black Order, Spider-Geddon) strike iconic heroic poses. As a throwback for Project Superpowers fans, a special incentive "Carve Out" cover features Alex Ross's history-making depiction.

"I have been fascinated by the Death Defying 'Devil since I first saw him on the cover of Jim Steranko's History of Comics. I had no idea who he was, but something about him looked menacing and compelling," said writer Gail Simone. "Later, I got to read more of the stories and they feel like a precursor to the modern street-level heroes we have today. The guy throws razor boomerangs, how cool is that? And I love working with Walter, he's one of my most trusted artists. He can draw anything, but superheroes are his favorite and he's never gotten to draw them!"

Echoing that enthusiasm is artist Walter Geovani, "This is my very first superhero comic! Working with Gail is always a pleasure and an honor to me. The story is fantastic and she created interesting characters that I´m loving drawing."

"The Death Defying 'Devil is the only person who has ever made that metal-spiked belt really work. Usually, it's just someone at a punk show in in a suburban basement, scratching the hell out of their bass," said editor Kevin Ketner. "So I am really looking forward to getting a lot deeper into this character and defying a little death with Gail and Walter."

"The Death-Defying 'Devil is one of my most favorite characters that we've ever published. We knew we had to wait for a writer of Gail's boundless caliber before launching a new series," said Nick Barrucci, Dynamite CEO and Publisher. "To reunite her with Walter and debut his first ever superhero work just sealed the deal on what will be an exciting series for fans!"
THE DEATH-DEFYING 'DEVIL #1 will be solicited in Diamond Comic Distributors' June 2019 PREVIEWS catalog, the premier source of merchandise for the comic book specialty market, and slated for release in August 2019. Comic book fans are encouraged to preorder copies with their local comic book retailers.