Mangapedia: Kids Manga—Pokémon
May 13, 2019

For as long as Pokémon has been a popular video game franchise and a pop culture phenomenon in America, VIZ has been publishing fun Pokémon comics, manga and books.
Of the many Pokémon books VIZ has published, the most notable is the Pokémon Adventures series. Originally titled Pocket Monster Special in Japan, Pokémon Adventures is a manga series that debuted in CoroCoro Magazine in 1997 and has covered every arc of the Pokémon video game series — from Red and Blue to Sun and Moon and beyond!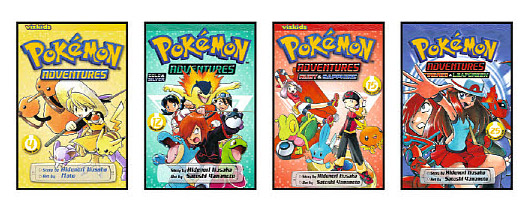 Pokémon Adventures writer Hidenori Kusaka has a unique take on the Pokémon universe and has taken many liberties on interpreting which trainers and gym leaders are good and bad, injecting character into the silent Pokémon video game protagonists and also creating original romantic storylines between those characters. If there is one manga series for a diehard Pokémon fan to enjoy, it would be the long-running, and now legendary, Pokémon Adventures series.
Second to the Pokémon video game series, most fans have learned to love the world of Pokémon through the Pokémon animated television series and movies. VIZ has published several manga adaptations of the Pokémon movies, which take all of the action and adventure of the movies and portray it through excellent manga art.
In addition to manga, VIZ has also published a wide array of children's books featuring fan-favorite Pokémon. The most popular of the Pokémon children's books have been the Pokémon Pocket Comics which are full-color, pocket-sized books containing quirky four-panel Pokémon comics, quizzes and trivia. Another great Pokémon children's book is the Let's Find Pokémon book, a hardcover collection of Pokémon illustrations in which readers must find select Pokémon, a book that follows the spirit of the Where is Waldo books.
With over one hundred Pokémon books in VIZ's catalog, there is much Pokémon fun to be had by kids and kids-at-heart alike!