Ten Exciting Comics To Look Out For In 2019
Jan 05, 2019
by Troy-Jeffrey Allen
Happy New Year, PREVIEWSworld!
2019 is here! And with it comes a very real need to reshuffle your pull at your local comic shop. Well, your friends at PREVIEWSworld can sympathize, which is why I'm here to put you onto TEN comics arriving in 2019 that you HAVE to add to your list.
Why listen to me? Well, because my prediction powers are unsurpassed. Just take a look at my picks from 2018. I guarantee more than one of those ten titles made your pull list last year.
But onward and upward (as a great man once said)! Here's what's destined to blow the roof off of your local comic shop in the New Year.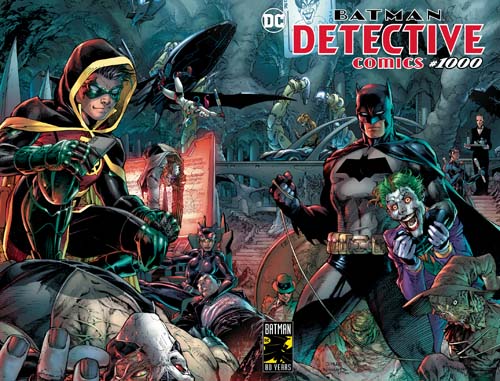 10. Detective Comics # 1,000
When's it drop? March 27th
After eighty years, how does Bruce Wayne still look so young? Maybe we'll find out inside Detective Comics #1,000 (JAN190542), a landmark issue that not only celebrates eight decades of caped crusading but also celebrates the cultural milestone that is DC Comics' namesake.
Join Jim Lee, Warren Ellis, Greg Capullo, Scott Snyder, Kevin Smith, Paul Dini, and a slew of other talents from Batman's history as they give the Dark Knight Detective a birthday to remember!
(For the record, we think Wayne's skincare secret is bat guano.)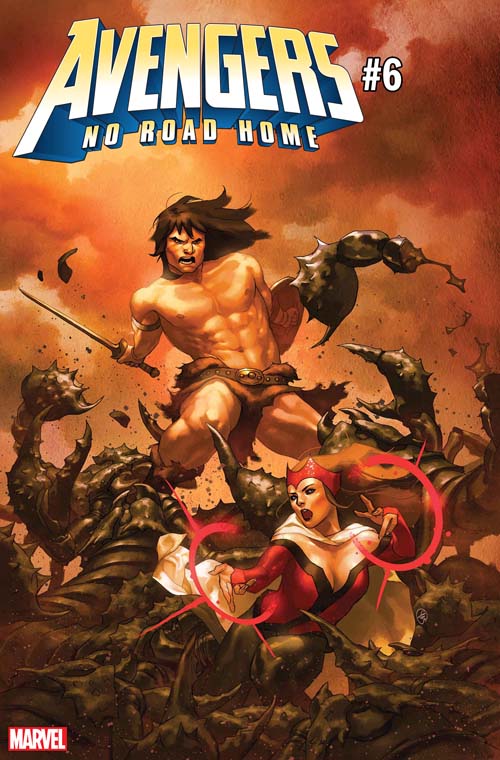 9. Marvel's Conan The Barbarian
When's it drop? Now
Conan coming to Marvel was already eventful in itself. Conan written by Jason Aaron turned that event into a must-buy. But what if I told you that Conan is also going to play inside the Marvel Universe? Well, you'd likely step back and scratch your head (you might even toss out a "What the @#$%?"), but it's real and it begins with Avengers: No Road Home (DEC180831). A weekly event where Robert E. Howard's pulp icon encounters Earth's Mightiest Heroes. It might give you a bit of a pause, but with proven talent like Al Ewing (The Ultimates), Paco Medina (Deadpool), Jim Zub (Samurai Jack), and Mark Waid (Kingdom Come) executing this weekly epic...it's more than worth a look.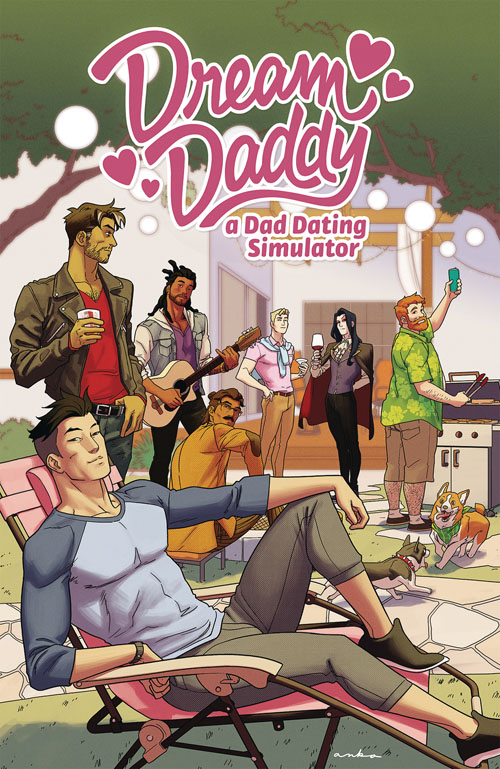 8. Dream Daddy: A Dad Dating Simulator
When's it drop? May 15th
Apparently, a lot of you are in the market for a "Dream Daddy."
Based on the insanely popular dating series of the same name, the multiplatform sim gets its very own anthology comic in the spring. And for those purists out there, don't worry. The game's co-creators are co-signing the five standalone stories inside the Dream Daddy (JAN192024) trade paperback. Each focusing on the backstories of your favorite Dads.
If you count yourself among Dream Daddy's 200,000+ players then you'll be on the hunt for this one when it hits comic shops in the summer.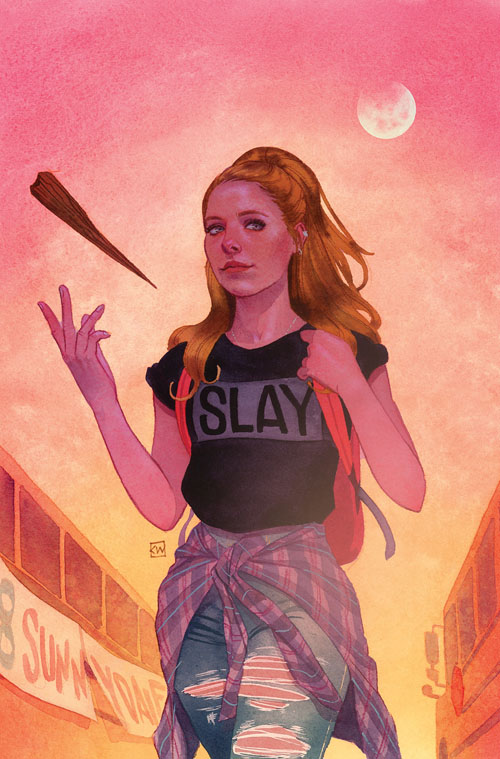 7. Boom! Studios' Buffy The Vampire Slayer
When's it drop? January 23rd
Into every generation, a slayer is born, and 2018 requires a Buffy that speaks to this generation. Writer Jordie Bellaire and artist Dan Mora brings the Hellmouth out of the 1990s and into the 21st century in Buffy The Vampire Slayer (NOV181302).
Overseeing this "reimagining" is series creator Joss Whedon. so expect the heart of Buffy to remain intact. Er, even when she's staking vamps in theirs.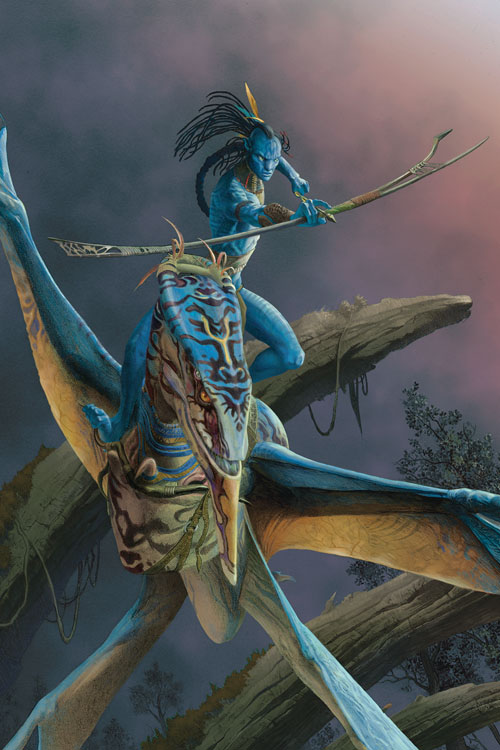 6. Dark Horse Comics' Avatar
When's it drop? January 16th
Return to Pandora starting this month.
The story of James Cameron's chart-topping blockbuster continues in Avatar: Tsu Tey's Path #1 (NOV180209). This first series is part of an upcoming line of Avatar focused adventures from Dark Horse Comics, each unpacking elements of the sci-fi/fantasy epic that became one of the highest grossing movies in the world.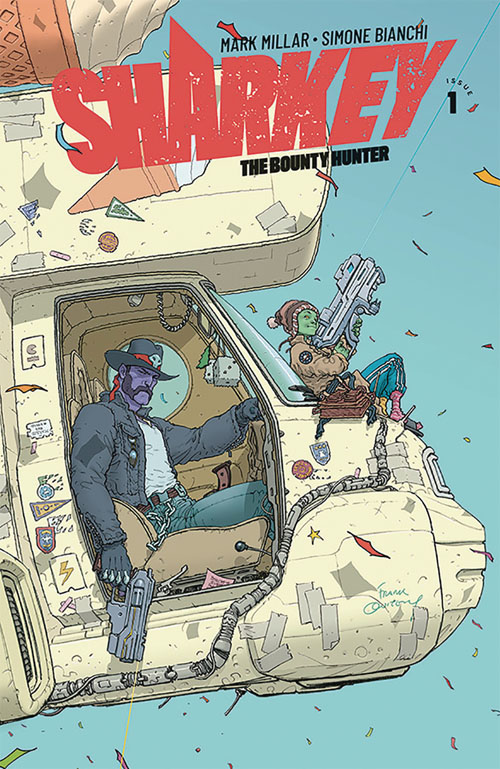 5. Sharkey: The Bounty Hunter
When's it drop? February 20th
From Mark Millar (Kingsman: The Secret Service) and Simone Bianchi (Thanos Rising) comes a tale of a bounty hunter and his rocket-powered ice cream truck.
Sharkey: The Bounty Hunter (DEC180050) is Netflix and Millarworld's warning shot for an entirely new sci-fi universe. Why do I say "warning shot?" Because with Mark Millar at the helm, you can expect unrestrained excitement, relentless action, and plenty of colorful characters spouting colorful dialogue.
4. Shredder in Hell!
When's it drop? January 16th
If anyone is insane enough to take on the hordes of hell, it's Oroku Saki A.K.A. "The Shredder" -- arch-nemesis of the Teenage Mutant Ninja Turtles.
With Shredder In Hell (NOV180656), fav-favorite Mateus Santolouco brings his eye-popping art back to the world of TMNT. If you enjoyed his Secret History of the Foot Clan, then take another dance with evil as one of the most infamous villains in comics goes to HELL!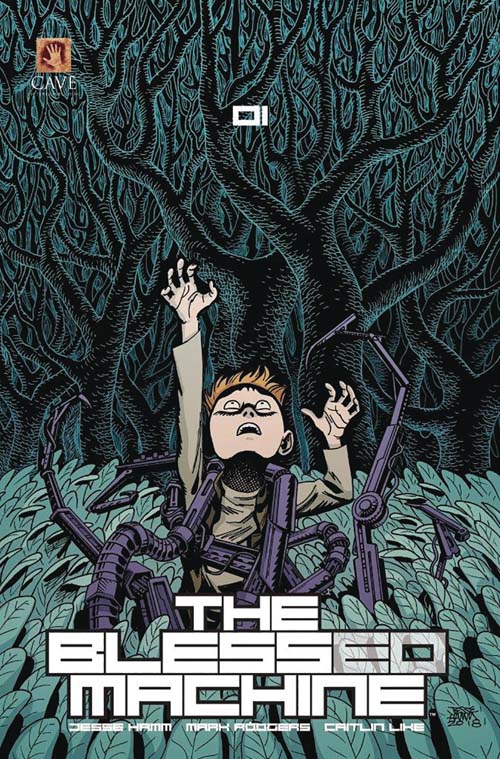 3. The Blessed Machine
When's it drop? March 27th
That wonderfully creep-tastic cover aside, the premise behind The Blessed Machine (JAN191785) premise is destined to suck you in: "Jacob, son of Administrator Anna A3644, is revisited by the recurring dreams that plagued his youth. He believes the dreams indicate that the earth's surface, once rendered uninhabitable by a horrific malfunction of the Large Hadron Collider, is now safe."
This one comes from Cave Pictures Publishing, whose mission statement is to create comics that "speak to the soul." So expect something profound and affecting from this dark sci-fi concept.
2. Dial H for Hero
When's it drop? March 27th
Brian Michael Bendis fronts DC Comics' Wonder Comics imprint. And the classic series, Dial H for Hero (JAN190556), is getting a Wonder Comics update! Even cooler, it comes from writer Sam Humphries (Harley Quinn) and Joe Quinones (Captain Marvel), which means you can expect high-adventure and unadulterated joy issue to issue.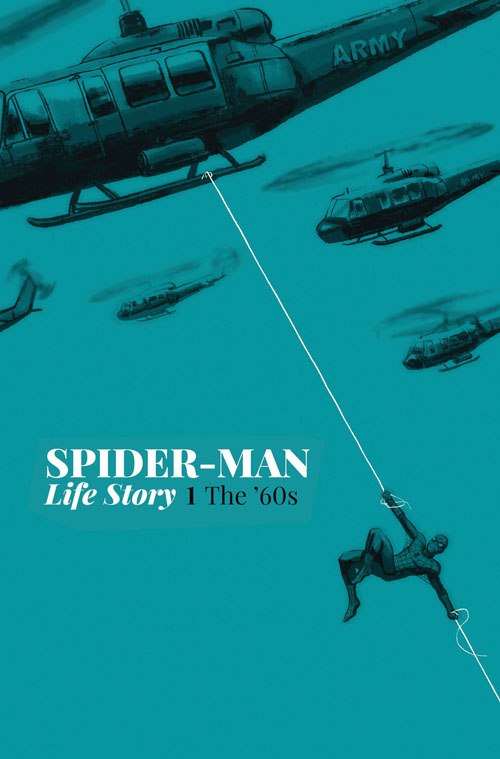 1. Spider-Man: Life Story
When's it drop? March 20th
When writer Chip Zdarsky exited his fan-favorite run on Spectacular Spider-Man in 2018, many Spidey fans were left wondering why. It turns out that Zdarsky was working on an even bigger Spider-Man story -- an opus, in fact.
Spider-Man: Life Story #1 (JAN190927) encompasses the ENTIRE HISTORY of Peter Parker, from that radioactive spider-bite in Amazing Fantasy #15 to his twilight years as The Amazing Spider-Man. This is a sort of biography of everyone's favorite wall-crawler, and his life will be penciled by the artist responsible for some of Spidey's most defining moments...Mark Bagley!
Of course, that's not all coming out in 2019. These are just a few of the titles worth keeping an eye on in the coming months. I've tried my best to give you a cheat sheet for the New Year, but you already have the greatest tool for discovering what your comic shop has to offer. I'm talking about PREVIEWSworld.com/catalog. The source for anything and everything at your LCS. Be sure to keep an eye on our catalog page month-to-month for more.
****
Troy-Jeffrey Allen is the co-host and producer of PREVIEWSworld Weekly. His comics work includes BAMN, Fight of the Century, the Harvey Award-nominated District Comics, and the Ringo Award-nominated Magic Bullet.