Zorro Returns To Comics With Supernatural Terror Tales
Apr 18, 2018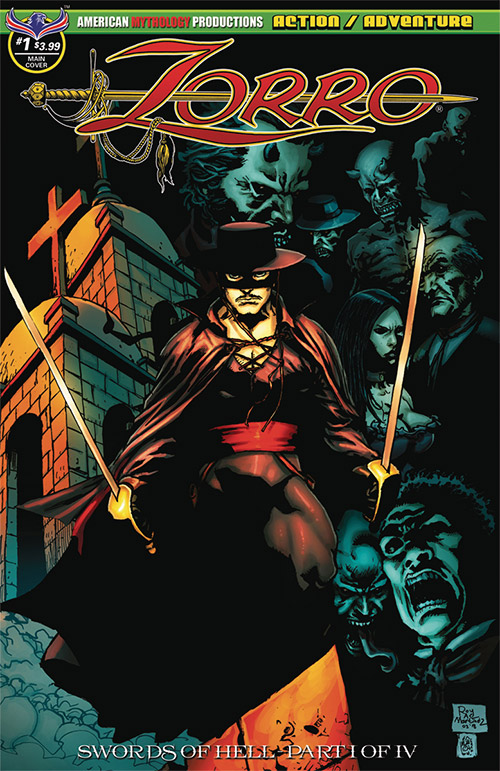 In advance of next year's landmark 100-year anniversary of the character, American Mythology is proud to announce that Zorro – the swashbuckling adventurer of literature and film – will return to comics in August 2018 with a bold and unexpected twist:, the Zorro tales will have a supernatural bent, pitting the famed hero against demons, vampires, and all forms of paranormal evil. Zorro: Swords of Hell, the first miniseries of the Maryland-based publisher's thrilling new western horror direction, will be written by David Avallone (Bettie Page, Twilight Zone: The Shadow), illustrated by Roy Allan Martinez (House of M, Immortal Iron Fist), and colored by Enrica Angiolini (Warhammer 40,000, Eternal Thirst of Dracula).

John Gertz, President of Zorro Productions, Inc. stated: "For decades we have utilized a fresh, innovative approach with top talent to enhance the Zorro's universe of characters, the Zorro brand & franchise." Gertz continued: "Our relationship with American Mythology is yet another example of our commitment to our fans and Zorro!".

In Swords of Hell #1, wealthy playboy Don Diego de la Vega celebrates the defeat of his nemesis, the villainous Alcalde Quintero, by his secret alter-ego Zorro with a joyous celebration at his hacienda… but unknown to de la Vega and his beloved Lolita, his actions have set a terrible vengeance in motion. A dark power has risen in Alta California, an unstoppable horde of demonic horsemen intent on bringing Hell to Earth, and Zorro – the defender of the people – must use every weapon, every skill, every ounce of strength and resolve to bring this infernal incursion to heel.

Writer David Avallone says, "I've been a big fan of Zorro since I was a kid, when my father sat me down to watch one of his very favorite movies: the 1940 Tyrone Power Mark of Zorro. It became one of my favorites, too… and still is! I was thrilled when American Mythology asked me to write such an iconic pulp hero; the guy who showed the Shadow and Batman how it's done. And as a long-time resident of Los Angeles, it's a kick to visit my beloved city 200 years ago, and play off what it was then and what it was fated to become."

Avallone, an expert in pulp storytelling, having worked with such icons as Doc Savage, Vampirella, The Shadow, and Bettie Page, relished at the prospect of exploring a western horror direction for the hero. "I'm excited to confront Zorro with supernatural foes. We've all seen him swashbuckling his way through armies of Spanish Empire troops, but the 'Swords of Hell' are the greatest challenge he's ever faced," says Avallone. "Zorro will have to dig deep into his bag of tricks, and ride down some unfamiliar roads to free Los Angeles from their demonic yoke of oppression."

Editor-in-Chief Mike Wolfer says, "As with our Edgar Rice Burroughs titles (Carson of Venus, The Land That Time Forgot, The Moon Maid, Pellucidar), American Mythology sets out to develop new stories set in fan-favorite worlds firmly-established over 100 years ago… so rest assured, our Zorro comics will respect the hero as everyone knows and loves him to be. But when considering the hundreds of Zorro comics that have come before, we needed a twist to make our new tales unique – and we all immediately agreed that our new American Mythology stories would all have supernatural horror overtones. We might not have seen those elements in many previous Zorro comics, but that doesn't mean that such stories didn't happen. Maybe in the past, those adventures were just too horrifying to tell, but now, they will be told!"

The debut issue of Zorro: Swords of Hell features a wide selection of cover variants, providing fans and retailers with the freedom of choice:

• Main Cover by interior artist Roy Allan Martinez
• "Demon Fury" Variant by S.L. Gallant (G.I. Joe, Marvel Adventures: The Avengers)
• "Classic Nostalgia" Variant by Jon Pinto (Stargate Atlantis)
• "Visions of Zorro" Limited Edition Variant, by cartooning legend Alex Toth (Super Friends, The Herculoids), limited to a print run of only 450 comics
• "Blank Sketch" Variant, perfect for professional and aspiring artists to illustrate

See all the variants you can preorder here!
Zorro, "The Fox," was created in 1919 by the writer Johnston McCulley for his serialized novel The Curse of Capistrano. This story was the first of 65 immensely popular prose tales in which the romantic hero fought injustice in Spanish California's Pueblo de Los Angeles. In the century since, Zorro has been an omnipresent figure in pop culture, the star of novels, comic books, cartoons, television, and feature films.

Zorro: Swords of Hell #1 (MAY181327) will be advance solicited in Diamond Comic Distributors' May 2018 PREVIEWS catalog, the premier source of merchandise for the comic book specialty market, and slated for release in August. Comic book fans are encouraged to reserve copies with their local comic book retailers.