Pussycats Misprint Becomes Chase Variant
Mar 25, 2018
E-Comix's Pussycats: The End of Everything #1 (JAN181641) became a self-fulfilling prophecy on Friday March 2 when office copies sent to the publisher arrived on time but with one major problem: part of the series' title had dropped off of the cover.
"It wasn't pretty," said Pussycats creator/writer Vince Brusio. "I was in the middle of filming an update for our Kickstarter supporters when I pulled out the first copy to see what would amount to a week without sleep, and a lot of emails."
Diamond's warehouses were immediately contacted the following Monday, and all in-stock copies were ordered destroyed. With a new first printing ordered, Pussycats: The End of Everything #1 was rescheduled for shipping to comic shops March 28.
"It was touch-and-go for a while, and we originally thought April 4th was going to be the new in-store date," Brusio adds. "But the people at Diamond's warehouses are machines, and they rocked it. We're good for the 28th, and I couldn't be happier. It's good news for the retailers."
As for the damaged copies that were first sent to E-Comix's home office?
"We're creating chase variants," Brusio added. "We don't see them as misprints. We're calling 'em 'misfits.' And just like Santa Claus stopped by the island of Misfit Toys to give all those forgotten toys a home, we're doing the same with our misfit copies of The End of Everything #1 (JAN181641 / JAN181642). We commissioned our artists — Mats Engesten and Ivica Sretenovic — to draw exclusive risqué prints that we'll hand-number and sign to manually insert into the hand-numbered and signed misprinted covers — both the photo cover and the illustrated variant. The print that goes with the photo cover is titled "Girls Just Wanna Have Guns," and it features Viper and Foxglove in a lover's embrace. For the illustrated "Dead Girl" variant, Ivica created a sexy-themed "666" print that shows Mother Superior, Cowgirl Cathy, and Schoolgirl Suzie each holding a six shooter. From tragedy comes titillating chase variants that we now have on hand, and which we'll also have for sale at this year's Baltimore Comic Con, where we'll be set up at a booth September 29-30, with cover model and Playboy Playmate Kristy Ann cosplaying as Powerhouse Pam on Saturday, and new model Sarah Richelle debuting as Schoolgirl Suzie on Sunday."
IN SHOPS MARCH 28: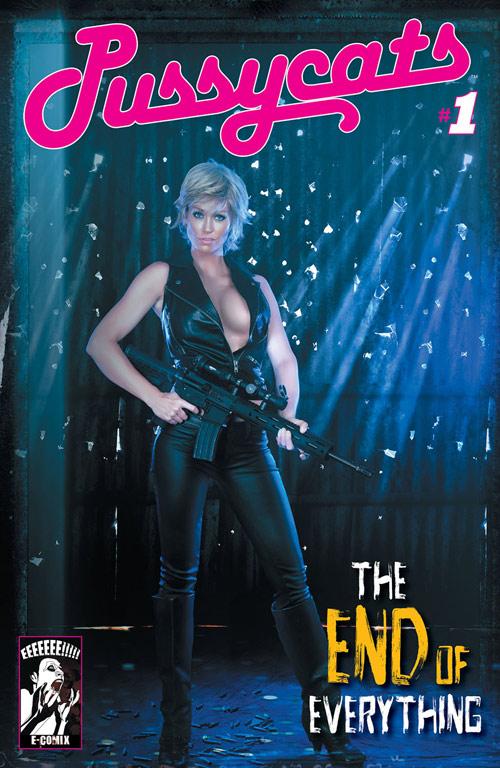 Playboy Playmate Elle Johnson models as "Viper" on the photo cover.