2017 Ringo Awards Nominees Announced
Jul 31, 2017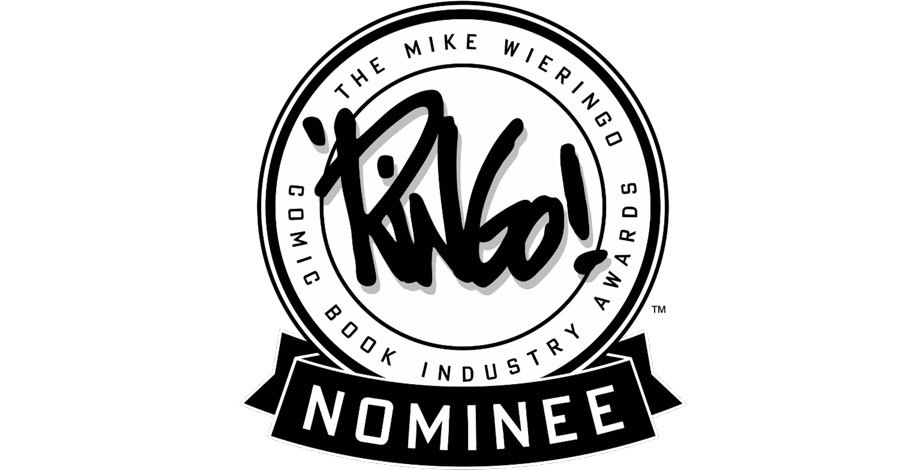 As part of The Baltimore Comic-Con – taking place on September 22-24, 2017 – the Mike Wieringo Comic Book Industry Awards will be presented on September 23. After extending the deadline for the nomination process, inclusive of fans and comic book professionals alike, the results are finally in! Voting on the Final Ballot is restricted to those in the comic book industry creative community, namely anyone involved in and credited with creating comics professionally. Comic pros can head over to www.ringoawards.com to submit their final vote.
In addition to Final Ballot categories, both Fan-Only Favorites from the nomination ballot and Hero Initiave Awards (The Hero Initiative Lifetime Achievement Award and The Dick Giordano Humanitarian Award) will be presented at the ceremony.
"This process has been so gratifying. We were optimistic that the Ringos would be well-received, because we knew how people felt (and still feel) about Mike, and we thought we did a good job of structuring the awards overall, but it has exceeded our wildest expectations for our first year. We hope every comic book writer and editor and penciller and letterer and plotter and colorist and painter and inker and cartoonist and scripter who has worked in our industry will take a few minutes to cast a ballot. It will be really interesting to see the results come September," shared Marc Nathan, Baltimore Comic-Con promoter.
Here are the results for the inaugural Mike Wieringo Comic Book Industry Awards Final Ballot.
Best Series
Faith (Valiant Entertainment)
Paper Girls (Image Comics)
Saga (Image Comics)
Spectrum (Automatic Pictures)
Vision (Marvel Comics)
Best Single Issue or Story
Deadly Hands of Criminal (Image Comics)
DC Universe Rebirth#1 (DC Comics)
Emancipation Day (www.redistrictedcomics.com)
Faith #1 (Valiant Entertainment)
Locke & Key: Small World (IDW Publishing)
Best Original Graphic Novel
Ghosts (Scholastic/Graphix)
March: Book III (Top Shelf Productions)
Patience (Daniel Clowes, Fantagraphics)
Tetris: The Games People Play (First Second)
Wonder Woman: The True Amazon (DC Comics)
Best Anthology
Dark Horse Presents (Dark Horse Comics)
Island (Image Comics)
Love is Love (DC Comics/IDW Publishing)
ReDistrictedComics.com (www.redistrictedcomics.com)
Wonder Woman 75th Anniversary Special (DC Comics)
Best Humor Comic
Adventures of God (Line Webtoons)
Blue Chair (Line Webtoons)
Giant Days (BOOM! Studios)
I Hate Fairyland (Image Comics)
Jughead (Archie Comics)
Unbeatable Squirrel Girl (Marvel Comics)
Best Non-Fiction Comic Work
Cooking Comically (www.cookingcomically.com)
Dark Night, A True Batman Story (DC Comics)
March: Book Three (Top Shelf)
ReDistrictedComics.com (www.redistrictedcomics.com)
Rolling Blackouts (Drawn and Quarterly)
Tetris: The Games People Play (First Second)
Best Presentation in Design
Aliens 30th Anniversary: The Original Comic Series (Dark Horse Comics)
Al Williamson's Star Wars: The Empire Strikes Back Artist Edition (IDW Publishing)
Britannia (Valiant Entertainment)
Legacy of Luther Strode (Image Comics)
Mike Mignola's Screw-On Head and Other Curious Objects: Artist's Edition Hardcover (IDW Publishing)
Moebius Library: The World of Edena (Dark Horse Books)
The ODY-C: Cycle One Hardcover (Image Comics)
Spectrum (Automatic Pictures)
Best Comic Strip or Panel
Bloom County (Berkeley Breathed, Universal Uclick)
Dick Tracy (Joe Staton and Mike Curtis, Tribune Media Services)
Foxtrot (Bill Amend, Universal Press Syndicate)
Mutts (Patrick McDonnell, King Features Syndicate)
Pearls Before Swine (Stephan Pastis, Universal Uclick)
Best Webcomic
Best Cartoonist (Writer/Artist)
Daniel Clowes
Steve Conley
Hernandez Brothers
Aydin Anh Huynh (Snailords)
Kaitlyn Narvaza (instantmiso)
Skottie Young
Best Writer
P.J. Haarsma
Alan Tudyk
Jody Houser
Tom King
Robert Kirkman
Jeff Lemire
Alan Moore
Mark Waid
David Walker
Gerard Way
Best Artist or Penciller
Kaare Andrews
Cliff Chiang
Rafael de Latorre
Mitch Gerards
Jason Johnson
Jason Latour
Dustin Nguyen
Fiona Staples
Best Inker
Mark Brooks
Jeremy Freeman
Jonathan Glapion
Jason Latour
Jae Lee
Danny Miki
Sean Murphy
Victor Olazaba
Best Letterer
Clayton Cowles
Taylor Esposito
Todd Klein
Troy Peterl
John Workman
Best Colorist
Jordie Bellaire
Tamra Bonvillain
Elizabeth Breitweiser
Laura Martin
Rico Renzi
Sarah Stone
Matt Wilson
Best Cover Artist
Frank Cho
Mike Del Mundo
J.G. Jones
Phil Noto
Ryan Sook
Fiona Staples
Sana Takeda