Zomben #1 Rushed Back To Print With New Cover
May 01, 2017
Due to overwhelming customer demand, TITAN1STUDIOS is pleased to announce ZOMBEN #1 is being rushed back to print!
ZOMBEN is the debut series from breakout Irish writer Mike Heneghan (Sayyida) and artist Abel Cicero (Mask), with colours by Manoli Martinez (Sayyida) and letters by Aditya Bidikar (Motor Crush). The 4-part series titled 'DEADUCATION' launches the MULTIPOCALYPSE UNIVERSE, a NEW all-ages trans-media story platform consisting of comics, mobile gaming, animation, and live experiences.
WHY THE CRITICS ARE RAVING ABOUT ZOMBEN!
"Zomben is a fun original take on the Zombie apocalypse (or in this case Zombie/Tentacle/Robot?!). Cicero's artwork captures the youthfulness of the characters while Heneghan's writing nicely contrasts tragic circumstances with the lightheartedness of being in grade school. I can't wait to see what happens next." —Chris Campbell, Comicosity
"Mike and Abel have managed to breathe new life into a genre that is completely over saturated. They made an interesting and unique zombie story, the likes which I have never read, and it ABSOLUTELY worked!" —The Comic Hunter
"If they can maintain the eccentric story-telling with an ominous nuance so neatly achieved in the first issue, then Zomben will give itself every chance of being a walker that stands out among the shambling horde." —Geek Ireland
"I've seen humans pretend to be zombies, but I haven't seen all too many zombies pretend to be human. This should be an interesting story, and if the first issue got your attention as much as it did mine, you're going to want to keep up with this series!" —ComicWOW!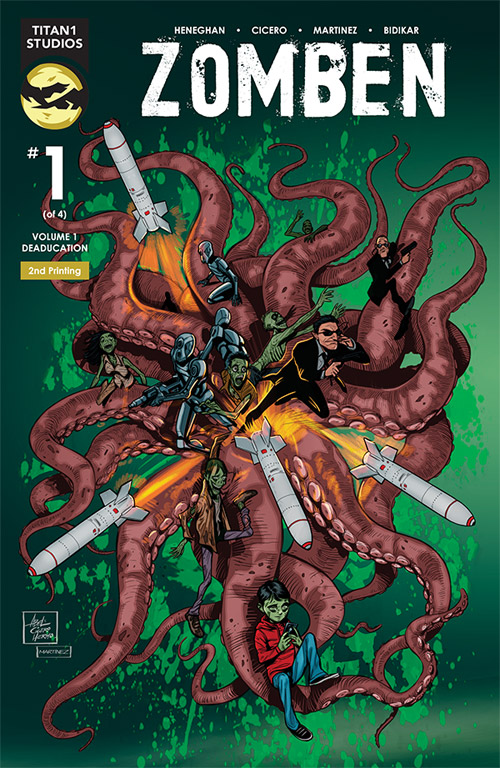 ZOMBEN #1: MEAT-BAG CUTE (SECOND PRINTING)
MAR178526
Ben has many problems. Being undead is just one of them. After surviving the 'Multipocalypse', Ben tries to live a normal life, hiding the fact that he is infected with a zombie plague. His new friends have just found out … and they think it's kind of cool. Together, they'll face killer robots, missing moms and the threat of new apocalypses. Plural.

See more about Zomben here!