Life and After-Death Comes To Riverdale
Jul 15, 2014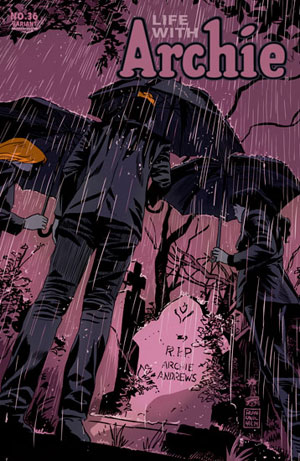 Archie Comics rocked the comic world when it announced its most famous character would be meeting an abrupt end. Now readers won't have to wait any longer as Life With Archie #36 reveals the fate of Archie Andrews. Fans will also get a chance to see what life is like in Riverdale after Archie is gone in Life With Archie #37, a story set one year after his death.
To mark this historic comic occasion, both stories will be collected in an over-sized Life With Archie #36 magazine and in a forthcoming trade paperback that will collect the entire story (featuring writing by Paul Kupperberg and interior artwork by Pat Kennedy, Tim Kennedy, and Fernando Ruiz). Both issues are being sold in comic shops during the month of July and feature a number of variant covers by some of the most acclaimed artists working in comics today, including: Mike Allred (MAY141012, $4.99), Cliff Chiang (MAY141017, $4.99), Tommy Lee Edwards (MAY141018, $4.99), Francesco Francavilla (MAY141013, $4.99), Adam Hughes (MAY141014, $4.99), Ramon Perez (MAY141015, $4.99), Alex Ross (MAY141019, $4.99), Walt Simonson (MAY141020, $4.99), Fiona Staples (MAY141016, $4.99), and Jill Thompson (MAY141021, $4.99).
Archie and the Riverdale gang have been entertaining comic lovers the world over for seven decades, but fans need not worry, as our hero's tragic demise hardly spells doom and gloom for the Archie series. Rather, this event marks a new beginning in the revitalization of the Archie comic franchise initiated by publisher and co-CEO Jon Goldwater.
"The Death of Archie is the biggest story in Archie Comics history—and a major milestone for comics, period. It's the one thing everyone wants to talk about—with good reason. Life With Archie presents a possible future for the character, and this issue is a fitting end to that story. Archie dies as he lived—a hero, representing the best in all of us. The fact that he's saving Kevin, the most important new character in Archie lore since Archie, Betty & Veronica, Jughead and Reggie—is a metaphor for the rebirth this company has experienced over the last five years. This is truly a new Archie Comics: unafraid, daring, progressive and on the cusp of greatness."