Pictures For A Thousand Words: Autism At Face Value
May 22, 2014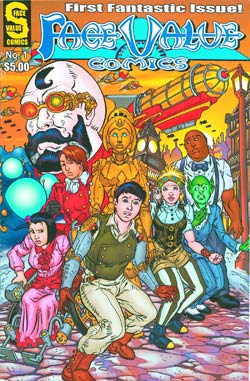 Dave Kot spends a lot of his time working with people that have special needs, and teaching how non-verbal facial expressions relate to communication is at the core of what he stresses in therapy. It occurred to him eventually that what he did for his day job could translate into sequential storytelling. And with that in mind, he set out to create Face Value #1 (JUN140911), a comic book that he believed could help children with autism. In this PREVIEWSworld interview, Dave explains how the project unfolded.
Available in the June issue of the PREVIEWS catalog, you can order Face Value #1 from your local comic shop.
**********
PREVIEWSworld: Please tell us a little bit about yourself and why you started Face Value Comics.
Dave Kot: I've been working for years on my Ph.D. in Psychology, working on non-verbal facial expression and communication primarily for autistic and special needs persons. I've been working for years as a professional therapist and had a lot of autistic clients.
I envisioned myself turning the same simple drawings that I had used with clients as part of my research into a small social story that would be presenting a really good consistent storyline.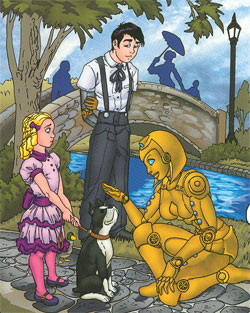 I thought if I could get a decent story, a good message, and a good illustrator, then I could provide this to my clients and just maybe tell a fun story as well. We chose the idea of steampunk, because it's a little bit different and it's simple science fiction. It's a little mainstream in that there are science fiction elements, and we do try to leave in some scientific jargon and language to help it be educational, as well as entertaining.
PREVIEWSworld: What are the issues that this comic hopes to address?
Dave Kot: We can stop cancer, we can solve economic problems, world hunger, and other things of that magnitude, but the one thing we still fight against is prejudice and misunderstanding. We've still got problems getting along with each other, even though we can entertain welcoming aliens from outer space. I want to address how we still have to fight against misunderstanding our own people.
PREVIEWSworld: How do you expect the comic to help its readers better understand autism? Is there something in the book that is specifically targeted for autistic readers?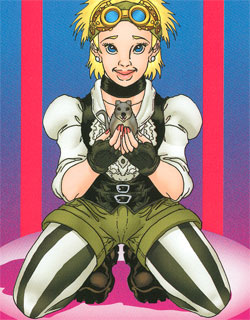 Dave Kot: When I was doing therapy sessions, I taught my kids that different facial expressions are universal and multicultural. An angry face in Argentina looks like an angry face in Australia and looks like an angry face in Alaska. What makes those people angry differs contextually across the board, but an angry face looks like an angry face for male or female, boy or girl, young or old. Using the facial features in a story and making Michael autistic helps readers identify that sometimes learning other emotions helps people become more empathic and more compassionate.
One common misunderstanding is that people with autism lack empathy, because the perception is that they're not paying attention. Freezing the frame on a character's face on a static page allows readers to go back in their own time to see a situation that they may commonly deal with at school or at home or in the communities. It allows them to go back to that again to see what the facial expressions are like, realize the language associated with the thought bubbles, speech bubbles, or text, and place that whole situation in context for their own experiences.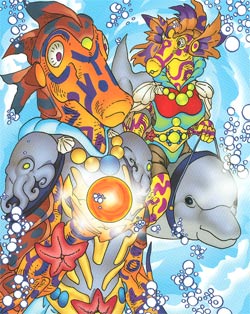 Michael's story is a futuristic and a fun one with different aliens and robots, but he also experiences a lot of different things, like test anxiety and pre-teen romance. Hopefully kids can identify with these things, as well as the fantastic adventures that he and his friends go on. We made Michael and we made the comic books because we think all kids need and watch heroes like themselves.
PREVIEWSworld: How did you come up with the idea for this book?
Dave Kot: It wasn't something I just kind of came up with one day. I saw a preventative need for replicating the kind of therapy work I was doing with clients and thought, this is a lot like a comic book. I did a little more research, and found out that there are no genuine super-heroes with autism. And I wondered…why?
In doing more research, I found that Marvel's official wiki page lists autism as a mental health weakness. Well, that's not a good projection. For DC, I guess the poster boy would be Black Manta, who was "cured" of his autism. That's not a poster child for autism, so I wondered who could best represent that. I'm sure other big leaders in the comic book industry could make a character with autism.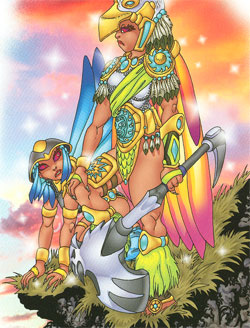 PREVIEWSworld: How did you develop the characters in this book?
Dave Kot: We wanted to have our characters portrayed with a sense of dignity and respect, thinking about if the big name companies could have done this, they would have. The target audience is a growing one, but the amount of information available for kids to understand what they may be going through, whether they're autistic or not, is very limited.
Let's face it: kids are not prolific readers like they were a few generations ago. A comic book is something that's slightly entertaining, slightly fun, and combining those two together provides a resource that kids or parents or teachers can be proud of. Plus, it gives comic books a good name to help people feel a little bit better about themselves and their community.
PREVIEWSworld: Did you by chance model those characters after people you may have known or still do know in real life? Or are they modeled after maybe some characters that stayed with you while you were reading comic books while growing up?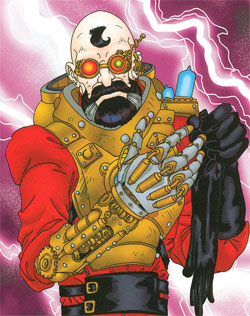 Dave Kot: A little bit of both. Regarding the name Michael, I was talking to a client whose brother did something very brave, and made a very strong personal statement about who he was, despite criticism from his peers. He's a very well-liked and popular young man, and coming out was a very challenging thing and he risked a lot. For me, I don't know anyone braver than that young man. So our main character is named Michael for that reason. I wanted him to be brave, no matter what anybody may say about him being autistic; he knows who he is and celebrates that.
As far as the other characters go, I really enjoyed Spider-Man: his humility, yet biting sarcasm. I wanted that sense of honor and family and the kind of responsibility that Peter Parker had, while still wanting to have fun as a young person would. That's what I wanted Michael to do: I wanted him to be studying hard for his tests and still go on an adventure in the woods to find a spaceship. I wanted him to have good qualities, wholesome qualities so that kids and parents could read the comic book together. That there wouldn't be objectionable material, they'll be an actual code of conduct, ethical guidelines that we try to uphold from the now antiquated comic book code authority. All of our characters are based off of clinical diagnoses for this comic book authority. I had never written a script like this, so I didn't know how to make a character, so I went with what I knew, and that was clinical diagnostics.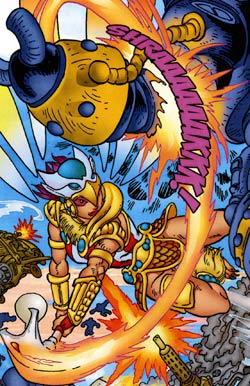 PREVIEWSworld: With all of your characters based off of various diagnostics, do you think that there is a possibility they could be misunderstood?
Dave Kot: Sometimes in the comic book, and even in issue 1, you'll see Michael is kind of flapping his arms when he is overwhelmed by something. And people may find that objectionable and think that it's belittling or mocking what autism is. By no means is that the case. I think that they might be missing the point; what we are trying to do is draw attention to the fact that some clinical diagnostics involve flapping of the arms. Michael will never be everybody's autism. He will not be the definition of most people. Autism is a spectrum disorder; therefore Michael's experiences are going to be unique. However, I'm trying to write him with some of my own experiences, and also with some diagnostic challenges.
PREVIEWSworld: Is there anything specific that your readers should be looking out for in these characters?
Dave Kot: A lot of our characters have little "Easter Eggs" in them. Dr. Mobius, for example, is named after the real world diagnosis of Mobius syndrome. It's a facial paralysis where one cannot express emotions. So we thought one person who would be the best to be against facial expression or showing problems like this would be the evil Dr. Mobius. We also play a little bit around with time and space because we wanted to make him an ageless enemy.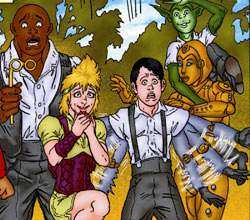 PREVIEWSworld: What is the main message you want people to take away from this comic?
Dave Kot: For kids with autism, I want them to see Michael, and later on see him as Zephyr, as a hero like themselves. Someone who has experiences they may be having or can't express to other people in a way that Michael or maybe Zephyr could. Because of their experiences, they may be able to associate and simply understand and internalize even if they're non-verbally communicating.
For other readers, I would just want them to find an entertaining story. Hopefully they'll learn something along the way, or better understand somebody who is autistic. Just how people express themselves tells a lot about a person's character and their motivation, and that's what we're trying to help build: better social understanding and better empathy, so we can all get along a little bit better.