Arrow Returns February 26th
Feb 17, 2014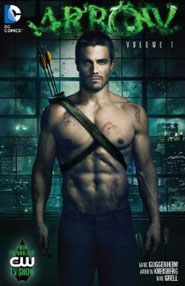 On the CW Network, Arrow returns with the Clock King harassing Starling City!
The show kicks into high gear when Oliver brings Sara into the Arrow team. William Tockman, a.k.a. The Clock King, is a formidable foe, and Oliver won't have much down time as the villain is a master at using computer technology to hack into his bank of choice.
The real trick, however, is how Oliver is supposed to counter the threat while he's also tied up throwing Sara a welcome home party!
Set your DVR recorder now!
And check out the Arrow Volume 1 TP from DC Comics that you can now order from your local comic shop!