Behind the Scenes of No'madd from Battle Quest Comics
May 10, 2022
Interview by Justin Zimmerman, Media Director for Battle Quest Comics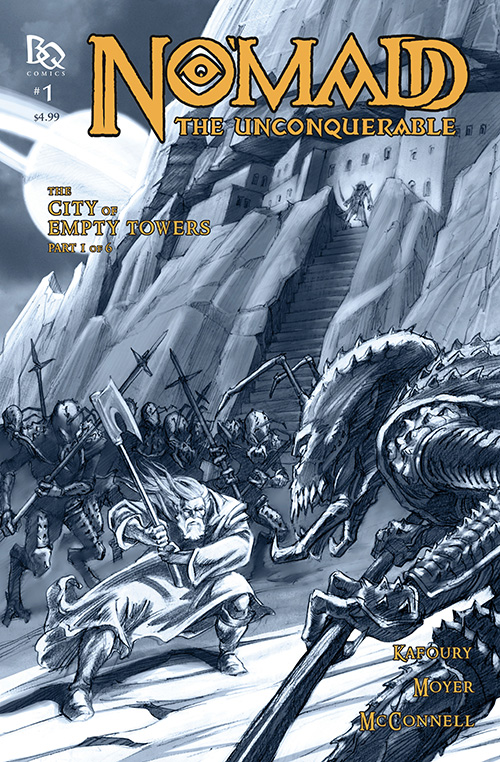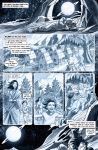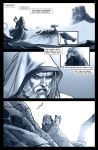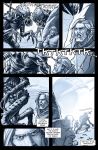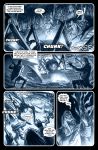 Click to View

A strange ship falls from the night sky and Tyon, Goddess of the moon, sends No'madd to confront her enemies - mysterious beings from the stars.
Who are these ravagers? What do they want? And how can No'madd hope to defeat them alone? All can be answered within the pages of Battle Quest Comics' NO'MADD by writer Andrew Kafoury, artists Aaron McConnell and Lee Moyer, and letterer/editor Tom Orzechowski. In the following behind-the-scenes article, Battle Quest Comics media director Justin Zimmerman hangs out with the creative team to find out more.
Keep reading...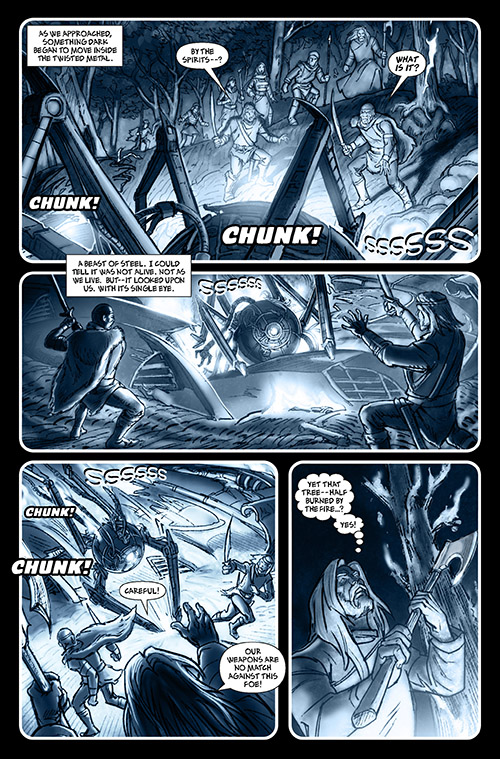 Andrew Kafoury
Before creating Battle Quest Comics and signing with Diamond Comics Distributors, Andrew Kafoury wrote and published successful independent comics for over a decade.
Andrew: I created NO'MADD because I wanted to bring something I felt was missing to the world of comics: modern mythology. Stories help us understand the mystery of what makes us human, and NO'MADD is pure mythology. The hero on a journey is arguably the single most important factor in how we've survived as a species. And what a team to bring NO'MADD's journey to life!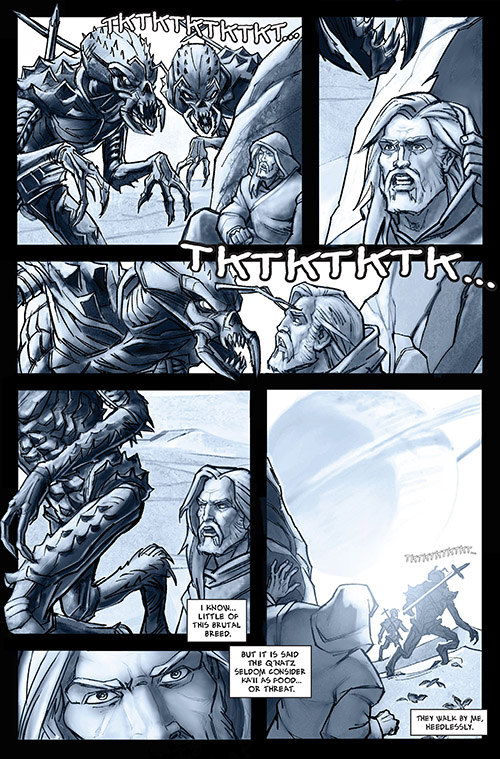 Tom Orzechowski
Tom Orzechowski has lettered a whole lot of comics over a great many years. He was born in Detroit, and began reading comics at age 5. He learned pen and ink lettering while creating zines, leading to work in the Marvel bullpen in 1973. Other clients have included Last Gasp, Viz, DC, Dark Horse, Image, and Archie. He's been recognized by The Guinness Book of Records for lettering the most issues of a single series (Spawn, 301 issues and counting).
Tom: Drew is a dynamo. He has a real vision, and he knows exactly what he wants. He brings a unique quality to his work… there's a fearlessness on his part. And NO'MADD is such a great character. I like him because he's older and he has dogged determination. It's his duty – his mission – to fight the odds and make sure good things happen to others. The book is irresistible to me, and I've been lettering for almost 50 years!
Andrew: Well, working with Tom is like having the guitarist for the Doors rocking out with your garage band. His work is iconic, and he's a great collaborator. Which brings us to…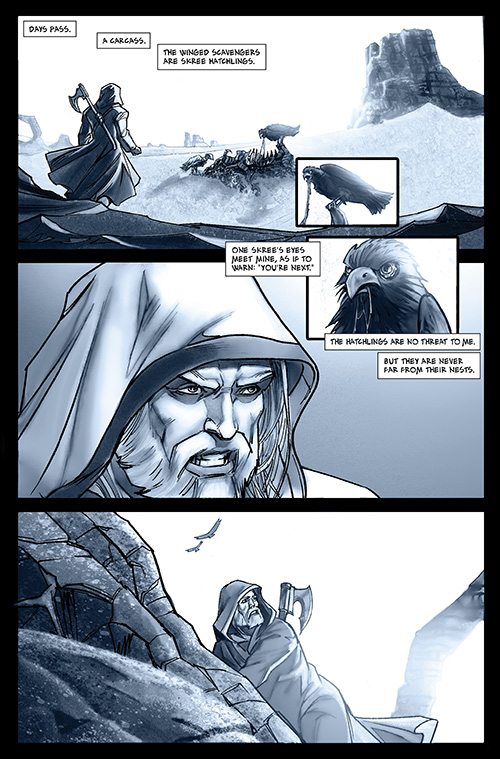 Aaron McConnell
Prior to being a regular artist for Battle Quest Comics, Aaron McConnell illustrated the New York Times Best Seller The Comic Book Story of Beer for Ten Speed Press, The Gettysburg Address: A Graphic Adaption for William Morrow and comic stories for Dark Horse Comics and Boom Studios. He also contributed art for the roleplaying game 13th Age.

Aaron: NO'MADD's stories are classic in ways I've always been attracted to. They have a primal energy. You can almost get lost in this imagined world. Add in great action, exciting adventure and it brings me back to reading Joe Kubert comics – pure momentum. I'm not as his level, of course, but it gives me the opportunity to work in that realm.
Andrew: He's too humble. He's one of the best artists in the industry and an incredible storyteller. He bridges the gap between how I see the stories and how they'll visually appeal to readers. He almost effortlessly creates characters that are both powerful and likeable.
Aaron: And then, of course, I get to work with Lee. It's so rare to have that creative synchronicity with someone. NO'MADD brings that out in us, absolutely.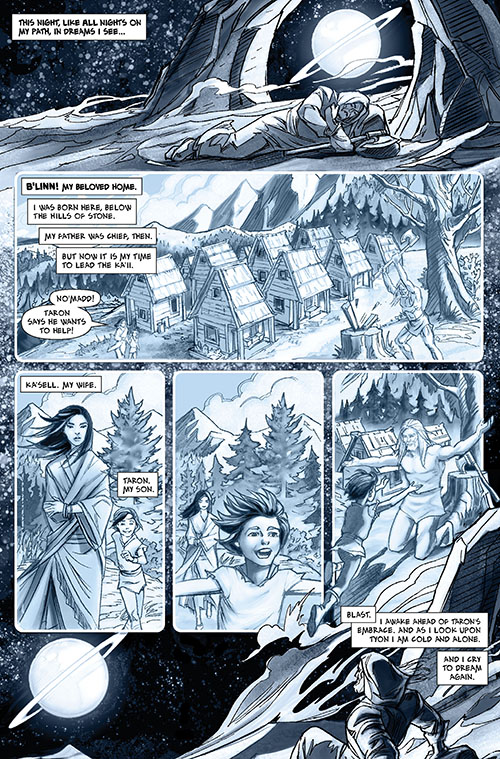 Lee Moyer
Lee Moyer's award-winning work has been exhibited in NY, LA, London and Helsinki - as well as in China's Top Artist magazine. He was a docent at the Smithsonian's Natural History Museum, Art Director for EA, Lead Artist for Dungeons & Dragons, and co-creator of games 13th Age and Cursed Court. Lee illustrated book covers for Seanan McGuire, Kim Newman, and Iain Banks, as well as world-premiere posters for Stephens Sondheim and King, Tori Amos, six Laurel & Hardy films and many more.
Lee: Aaron and I go way back. We've been collaborators for years. On NO'MADD, his natural sense of architecture, perspective, character, all of it… his decisions are perfect. And Drew is almost uniquely open to the fact that the best idea in the room is the best idea for the team, period. It's an incredibly exciting environment to work. I initially made the logo, and from there, I just was impressed by the richness and depth of the world. It's been exciting to help shape the book through maps, color and design.
Andrew: Lee cares consummately about the quality of the work, and telling the story right. He brings fantasy to life, which reaches people and improves the quality of their lives. He completes the perfect team.
Tom: I'm just along for the ride! I just want to keep working on NO'MADD, because there's no telling where it'll go next, which I love.
Aaron: To me, it's just pure genre fantasy storytelling of the highest caliber.
Andrew: But that's what readers can expect from NO'MADD… and Battle Quest Comics.
Tom: That's right. Our books are gutsy, fun and special!
Lee: I'd also add exciting, interesting and personal.
Justin: Couldn't have said it better myself. And that, my friends, is a wrap!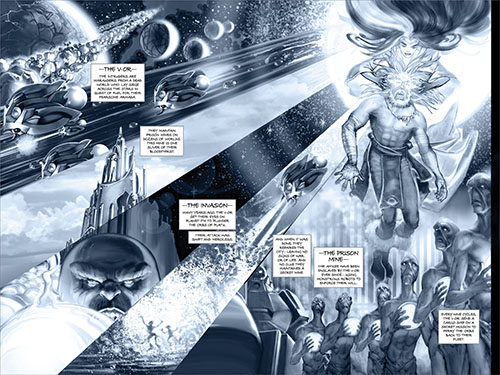 No'madd (MAY221255) hits comic shops on July 6, 2022, at comic shops. Reserve your copy today using PREVIEWSworld Pullbox!
Keep an eye on PREVIEWSworld.com's Twitter, Facebook, YouTube, or Instagram for more from Battle Quest Comics.
BATTLE QUEST COMICS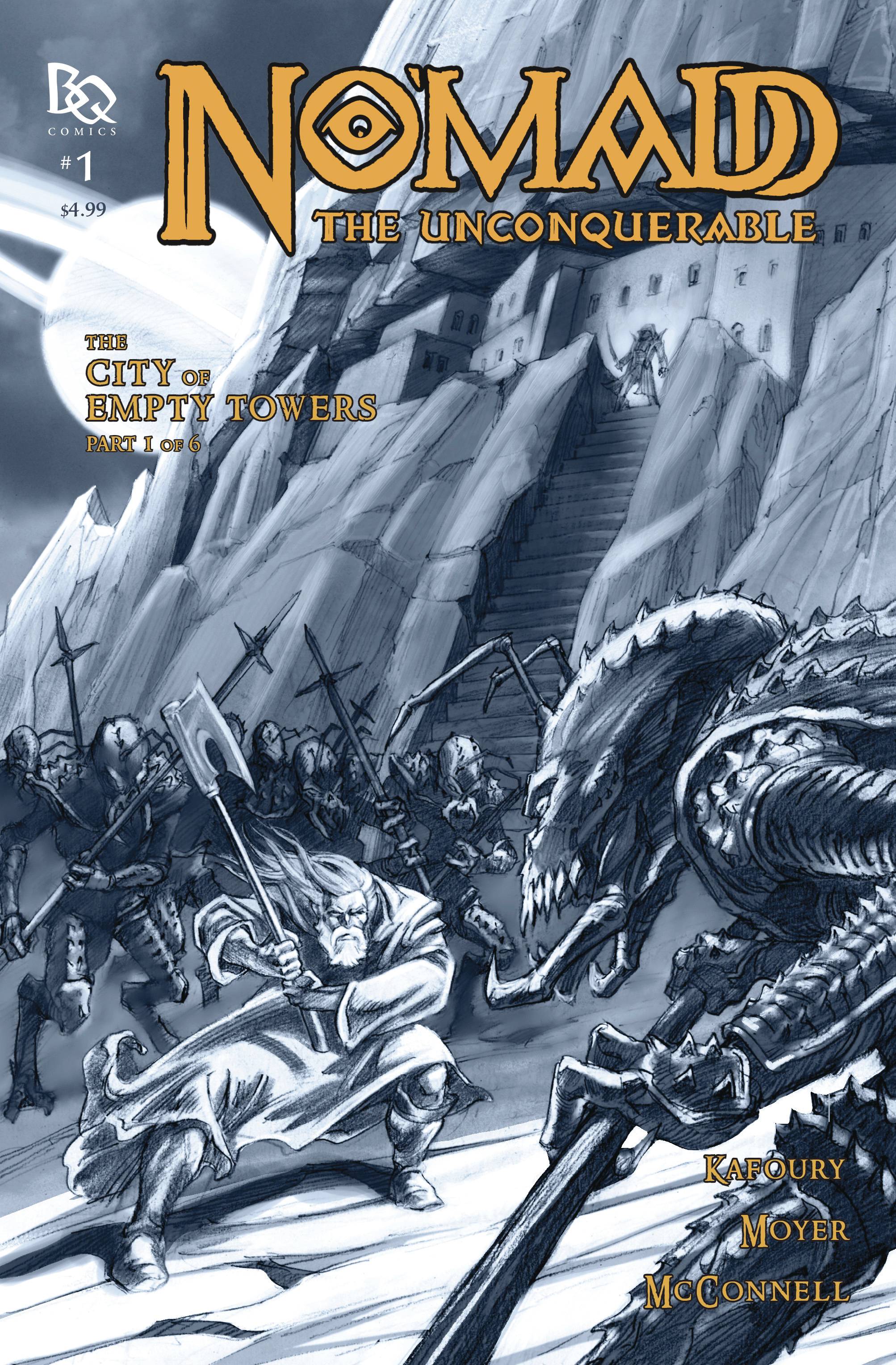 (W) Andrew Kafoury (A/CA) Aaron McConnell, Lee Moyer
A strange ship falls from the night sky and Tyon, Goddess of the moon, sends No'madd to confront her enemies - mysterious beings from the stars. Who are these ravagers? What do they want? And how can No'madd hope to defeat them alone?
In Shops: Jul 06, 2022
SRP: $4.99
PREVIEWS Page #274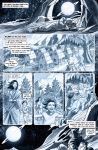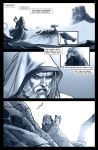 Click to View

***
Justin Zimmerman, MFA in Film, is a nationally recognized comic writer, director and professor. His narrative and documentary work has appeared in almost 200 film festivals across the globe and has been broadcast on national public television, where he won two international television awards. He's also been the recipient of multiple grants and fellowships, he contributed a story to the Eisner Award-winning graphic novel Love Is Love, and his script and comic work has been optioned on multiple occasions.