Flashback Friday: Fin Fang Foom, the Alien/Dragon/Invader/Chef...?
Oct 08, 2021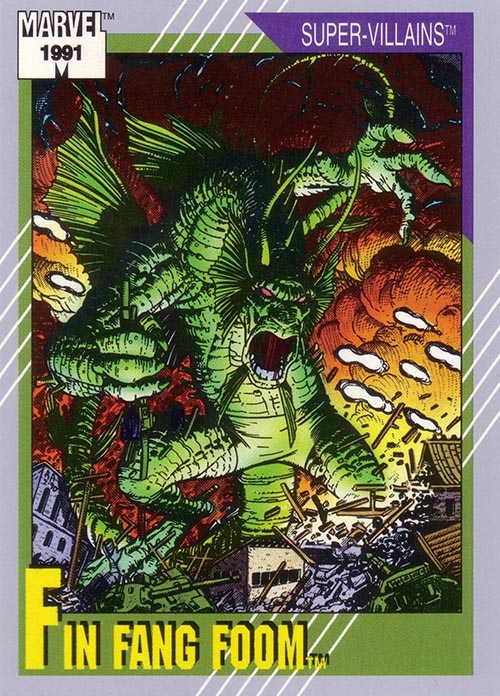 Dragons are usually considered part of the fantasy genre, but Stan Lee and Jack Kirby created at least one for science fiction and superheroes. Fin Fang Foom is an alien creature that resembles a dragon, who has super strength, enhanced healing, and telepathy, he can fly at supersonic speeds, can shoot acid mist, and he has advanced alien technology.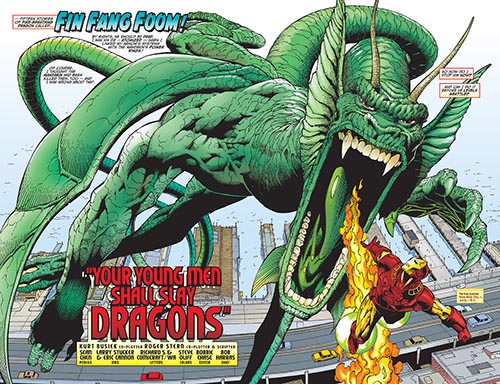 He was introduced 60 years ago in Strange Tales #89 (October 1961) as part of an alien race from the planet Kakaranathara who landed in China with others of his kind. Possessing shapeshifting powers, they took human form to infiltrate society for the study and eventual conquest. Fin Fang Foom was the exception, put in a catatonic state and hidden inside a tomb for future use.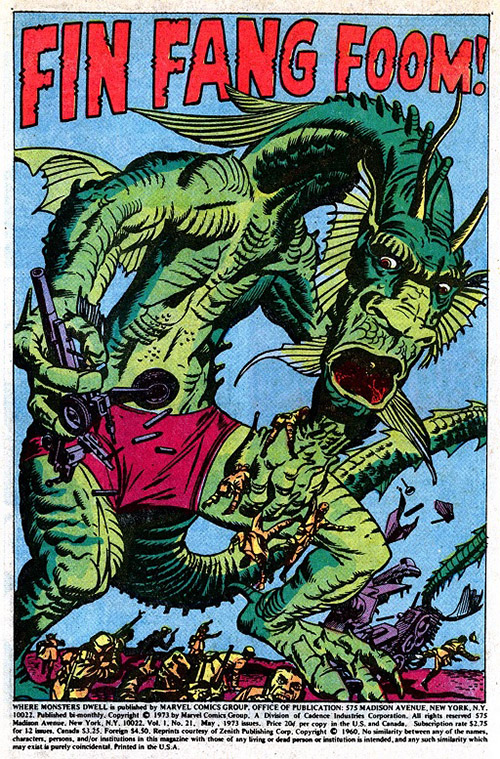 He was awakened by Chan Liuchow when Taiwan was being invaded by Communist Chinese forces. Chan got Fin Fang Foom to destroy the invaders then lured him back to the tomb and used a rare herb to put the dragon-like creature back to sleep.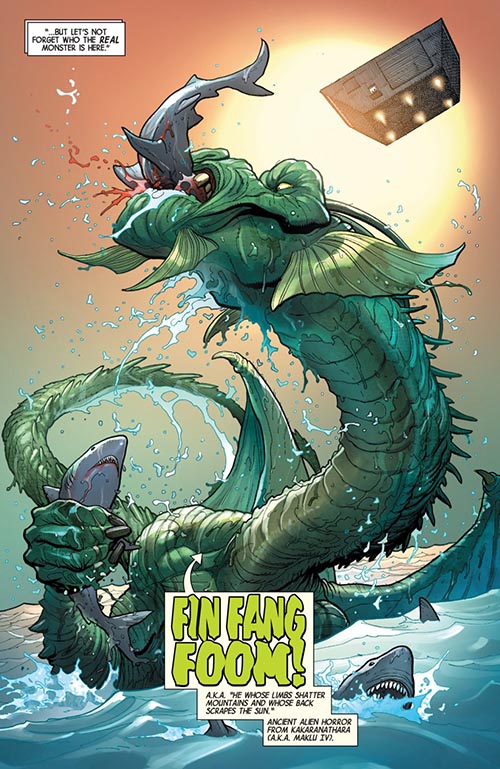 A man found the ship his people used for their journey to Earth and stole 10 rings from it, becoming the Mandarin. The villain was directed to Fin Fang Foom's tomb by a man named Chen Hsu, then he used Foom to threaten the Chinese government. Fin Fang Foom helped the Mandarin gain power over a portion of China, then Chen revealed that he was actually the captain of Foom's ship. Together, they started summoning the rest of the crew, who had been living as humans for centuries. The Mandarin realized he had been tricked into helping the aliens regroup, so he sought Iron Man's help in stopping them.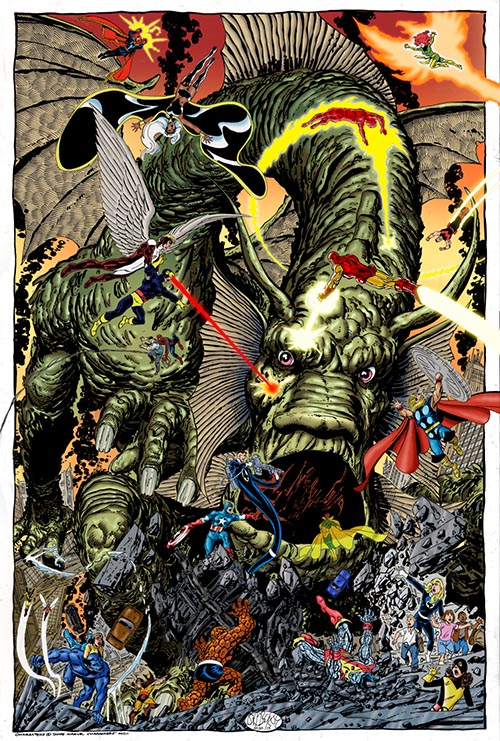 Fin Fang Foom's body had been destroyed during the battle, but his soul was able to latch onto a small statue of a dragon. After trying to take over a teenager's body, he was banished to Monster Isle. Since then, he has converted to Buddhism, seeking rehabilitation for his past, and even became the head chef in a Chinese restaurant at the Baxter Building.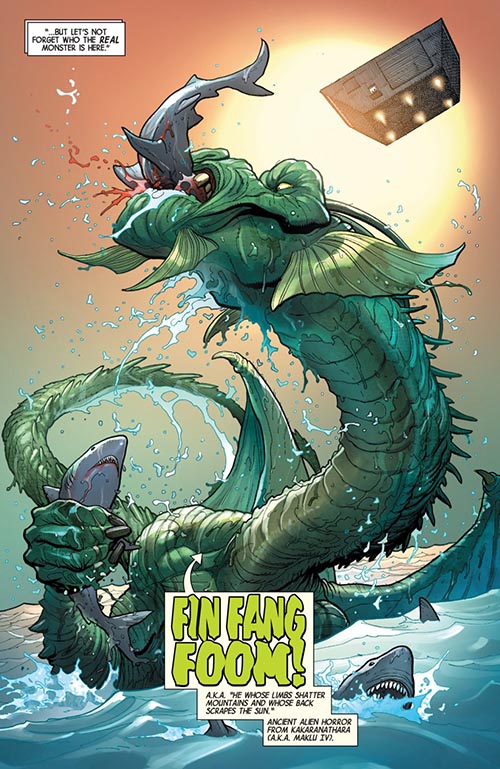 Keep an eye on PREVIEWSworld.com's Twitter, Facebook, YouTube, or Instagram for more character profiles! And if you're interested in more from the world of Valiant, head to your local comic shop and check out the following.
MARVEL COMICS
(W) Paul Pope, Peter Bagge, Molly Crabapple, John Leavitt, Junko Mizuno, Dash Shaw, James Kochalka, Johnny Ryan, Michael Kupperman, Nick Bertozzi, Jason, Nicholas Gurewitch (A) Paul Pope, Peter Bagge, Molly Crabapple, John Leavitt, Junko Mizuno, Dash Shaw, James Kochalka, Johnny Ryan, Michael Kupperman, Nick Bertozzi, Nicholas Gurewitch, Jason (CA) Chip Kidd
Written and Drawn by
PETER BAGGE, NICK BERTOZZI, MOLLY CRABTREE, JOHN LEAVITT, NICHOLAS GUREWITCH, JASON, JAMES KOCHALKA, MICHAEL
KUPPERMAN, JUNKO MIZUNO, PAUL POPE, JOHNNY RYAN, DASH SHAW, MAX CANNON, JACOB CHABOT, JONATHAN HICKMAN, R. KIKUO JOHNSON, MATT KINDT, TONY MILLIONAIRE, JIM RUGG, BRIAN MARCUA, JOHONEN VASQUEZ, JEFFREY BROWN, CHRIS CHUA, BECKY CLOONAN, PAUL HORNSCHEMEIER, JONATHAN JAY LEE, COREY LEWIS, STAN SAKAI & JAY STEPHENS
Cover Design by CHIP KIDD
Marvel is proud to present an oversized hardcover of this hotly anticipated anthology showcasing Marvel's greatest
characters re-imagined by the best and brightest talents working in independent comics today. Don't miss what's sure to be one of the most exciting collections of comics short stories ever produced! Packed with a stunning array of the best, most
exciting cartoonists on the planet-showcasing the Marvel Heroes as you've never seen them before! Featuring the long-awaited Peter Bagge "Incorrigible Hulk." Collecting STRANGE TALES #1-3, THE MEGALOMANIACAL SPIDER-MAN and material from ALL SELECT COMICS 70TH ANNIVERSARY SPECIAL.
200 PGS./Parental Advisory ...$29.99

In Shops: Mar 03, 2010
SRP: $29.99
MARVEL PREVIEWS Page #97
MARVEL COMICS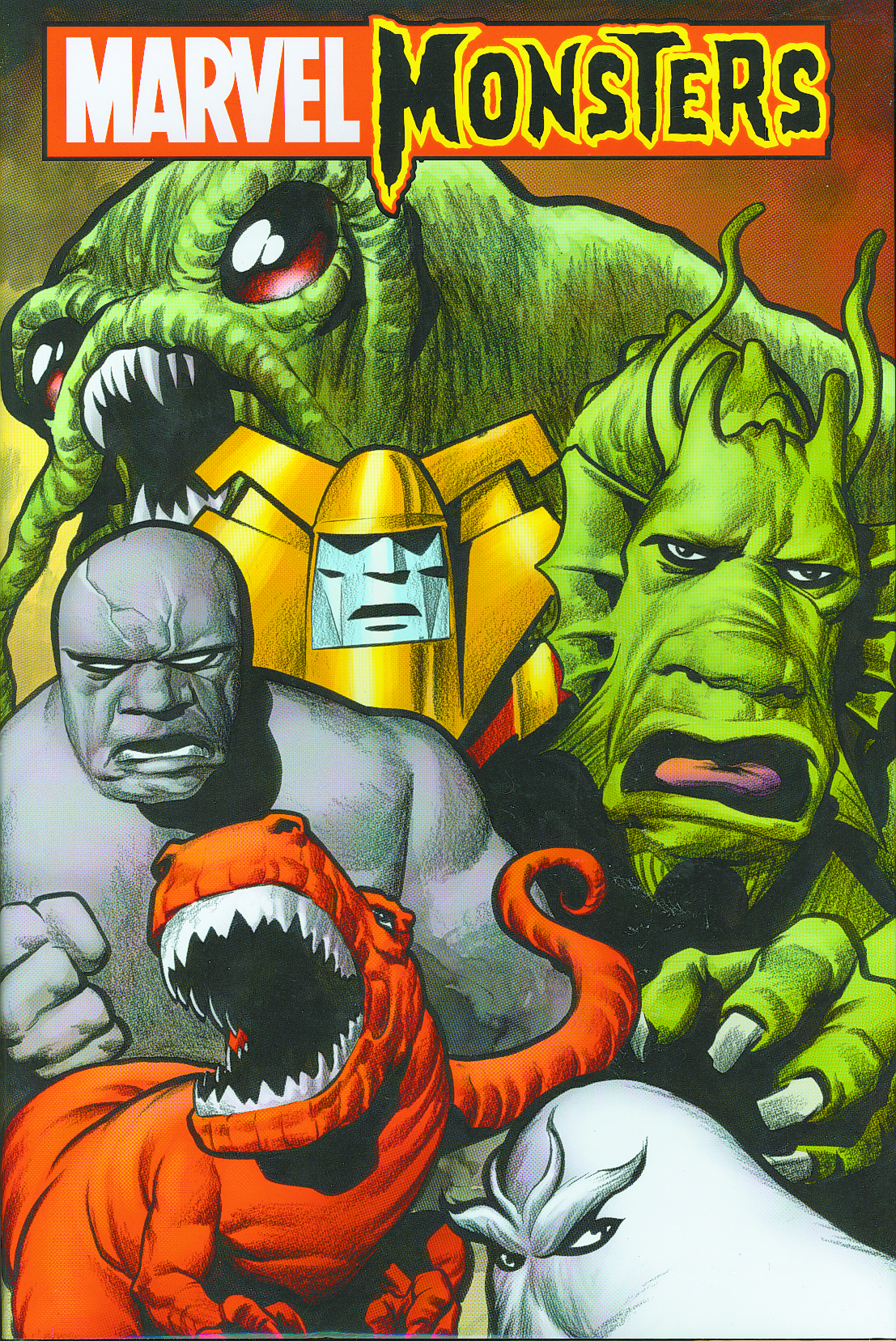 (W) Steve Niles, Various (A) Various (CA) Eric Powell
Written by STEVE NILES, ERIC POWELL, TOM SNEIGOSKI,
ROGER LANGRIDGE, MICK GRAY, PETER DAVID, JEFF PARKER
& KEITH GIFFEN
Penciled by DUNCAN FEGRADO, ERIC POWELL, MARK FARMER,
ROGER LANGRIDGE, ARNOLD PANDER, RUSSELL BRAUN
& KEITH GIFFEN
Cover by ERIC POWELL
Marvel's monsters unleashed in four timeless tales by today's hottest creators! In MONSTERS ON THE PROWL, it's the Hulk, the Thing, Giant-Man and the Beast vs. a tidal wave of classic creatures when the Collector inadvertently lets loose Droom, Grogg, Goom, Rombuu, Grattu and more on New York City! In DEVIL DINOSAUR, two young Celestials debate prehistoric Earth's superior life form. But when the ferocity of Devil Dinosaur proves no match for the opposition, a savage from the future is brought back for a battle you thought you'd never see: Hulk vs. Devil Dino! In FIN FANG FOUR, four giant monsters - incarcerated for years for their crimes against humanity - now find themselves shrunk to human size and working at the home of the very people who captured them: the Fantastic Four! Meet Googam, Son of Goom; Elektro; Gorgilla; and Fin Fang Foom! But when Goom's mad plan to rescue his father goes awry, the quartet must put aside their differences and become - the Fin Fang Four! And in WHERE MONSTERS DWELL, witness the terror of Monstrollo, the horror of Manoo and the fright of Bombu! Also collects classic stories from TALES TO ASTONISH #1, JOURNEY INTO MYSTERY #62, STRANGE TALES #89 and TALES TO ASTONISH #10 - and the MARVEL MONSTERS: FROM THE FILES OF ULYSSES BLOODSTONE (AND THE MONSTER HUNTERS) handbook!

In Shops: Feb 08, 2006
SRP: $20.99
MARVEL PREVIEWS Page #84
MARVEL COMICS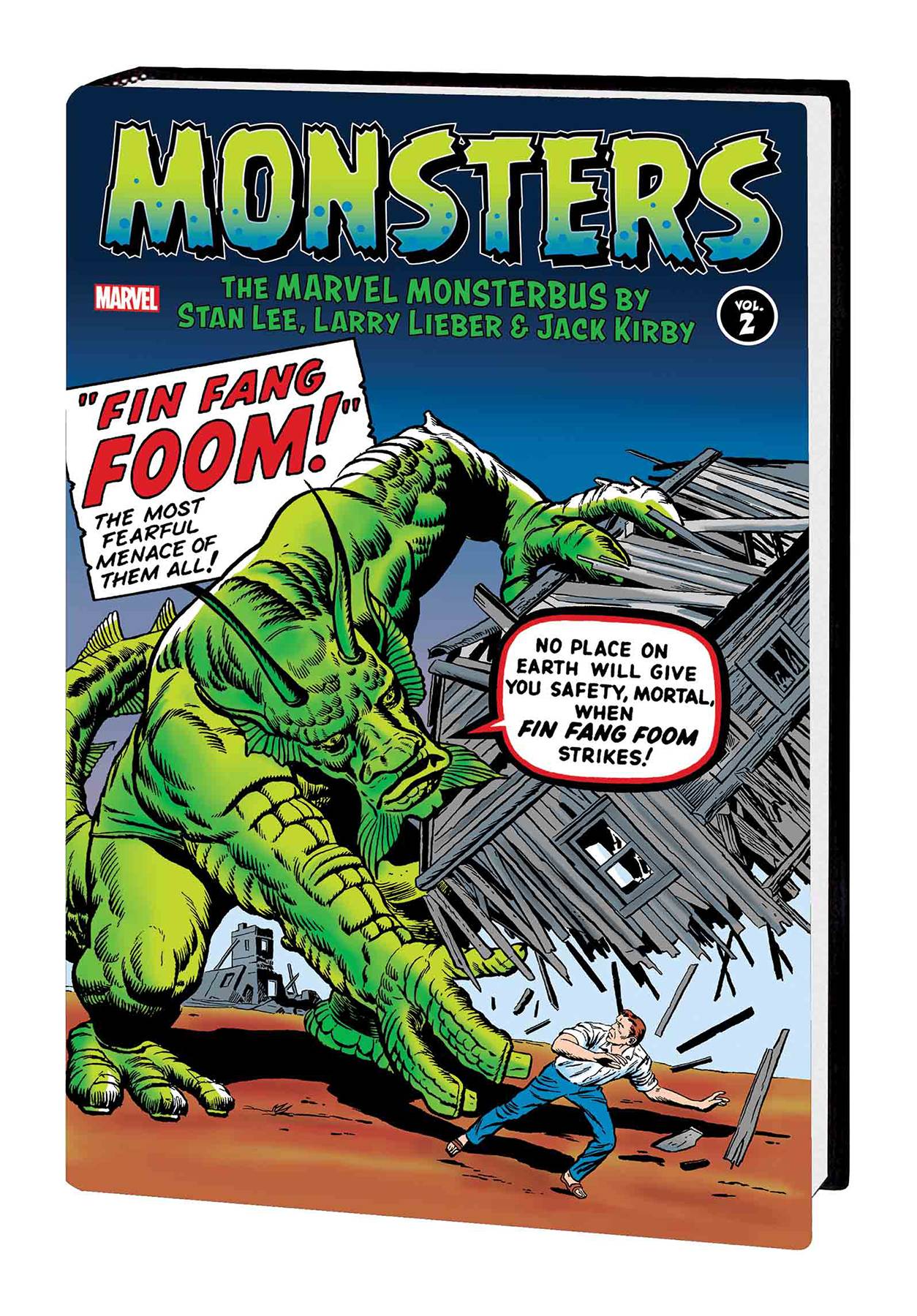 (W) Stan Lee, Steve Lieber, Jack Kirby (A/CA) Jack Kirby
Comicdom's famous monsters are on the loose! Marvel presents the concluding volume in our complete collection of Stan Lee, Larry Lieber and Jack Kirby's Marvel Monster saga. Marvel's late 1950s/early 1960s comics were famous for their twist-ending tales, their alien invaders and especially their towering monster menaces - and no one drew giant monsters like Jack "The King" Kirby! It's page after page of Grogg, Ogg, the Creature from Krogarr, Fin Fang Foom and more! These stories aren't just a fun atomic romp, they're the training ground where Stan Lee and Jack Kirby honed their creative partnership, learning each other's strengths and building an unmatched rapport. In these pages, you'll find out that the mother of the Marvel Age of Comics was...a monster! Collecting material from STRANGE TALES (1951) #87-100 and ANNUAL #1, JOURNEY INTO MYSTERY (1952) #71-82, TALES TO ASTONISH (1959) #20-34, TALES OF SUSPENSE #20-38, AMAZING ADVENTURES (1961) #1-6, and CHAMBER OF DARKNESS #4-5.
All Ages
In Shops: Aug 02, 2017
SRP: $100.00
MARVEL PREVIEWS Page #104
MARVEL COMICS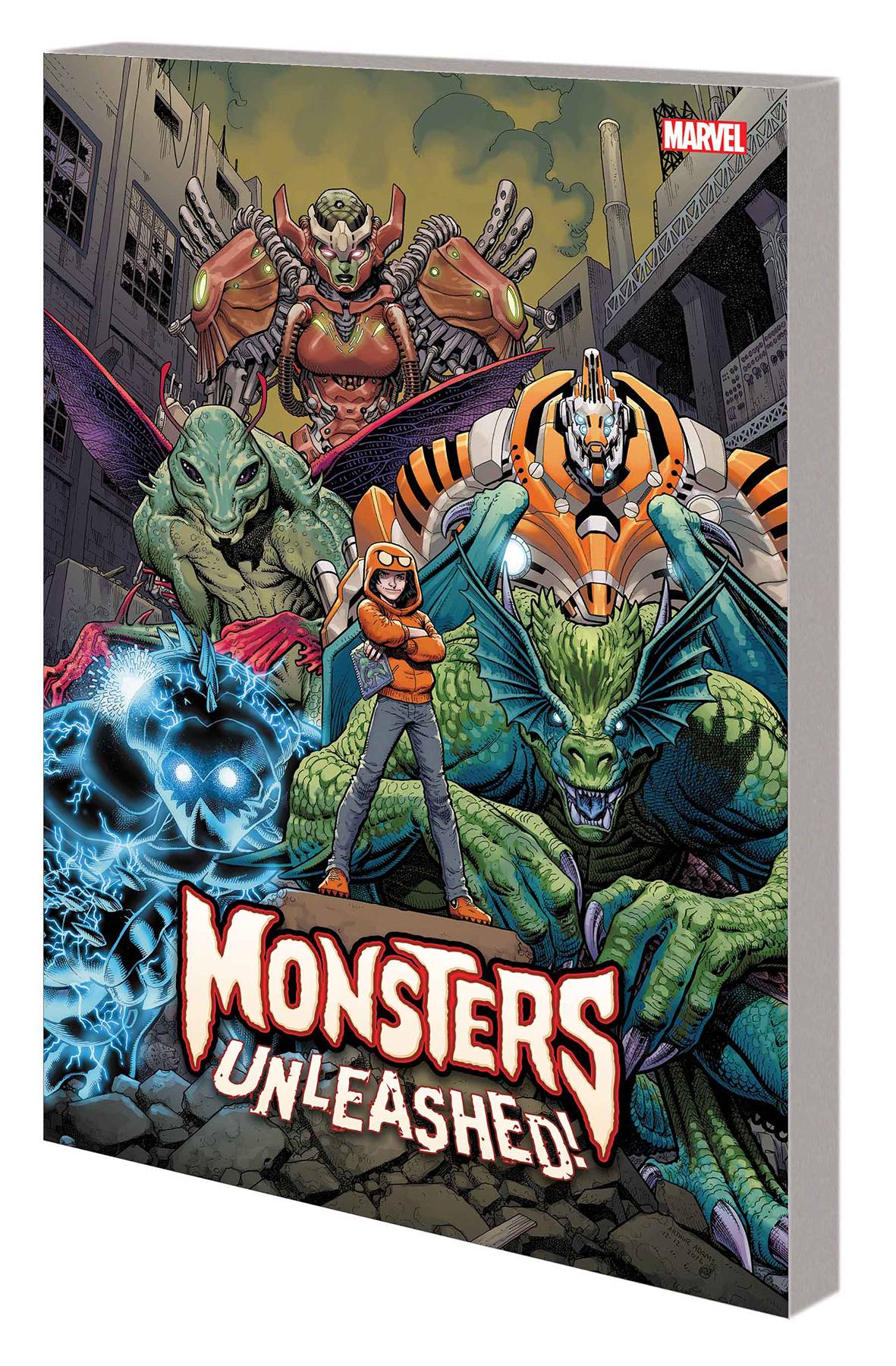 (W) Cullen Bunn (A) David Baldeon (CA) Arthur Adams
Unleash the monsters once again! Smashing out of the blockbuster event that terrorized the Marvel Universe comes a high-action sci-fi series starring a group of massively monstrous (and monstrously massive) do-gooders: Aegis, Slizzik, Scragg, Mekara and Hi-Vo! Together with monster-masher Kid Kaiju and monster-hunter Elsa Bloodstone, they'll take on gargantuan creatures and protect the planet from ruin and disaster. But will the rest of Earth's heroes allow them to help - or will they also be deemed dangerous? The villains have their eyes on this new team as well - but who are the new Intelligencia, and why are they obsessed with Kid Kaiju and his oversized friends? Can Elsa protect them? And whose side is Lady Hellbender on? Brace yourself for an all-out brawl! Collecting MONSTERS UNLEASHED (2017B) #1-5.
Rated T
In Shops: Nov 29, 2017
SRP: $15.99
MARVEL PREVIEWS Page #111
MARVEL COMICS
(W) Cullen Bunn, Justin Jordan (A) Andrea Broccardo, Francesco Gaston, Bachan, Alex Arizmendi (CA) R. B. Silva
Kei Kawade thinks he knows what his powers can do, but he has no idea of his own potential! Now, as the dangers of the Savage Land threaten the safety of the entire planet, can Kei and his monster army - Aegis, Slizzik, Scragg, Hi-Vo and Mekara - protect its borders? Or will he need reinforcements? And when he accidentally summons a Poison Fin Fang Foom from the fearsome Venomverse, what will that mean for his world? And as if all that weren't enough, here comes a swarm of giant bees! When Kei's mentor Elsa Bloodstone goes missing, he'll have to use all of his wits - and his knowledge of monster lore - to track her down and save the day. But why have Karnak and Lockjaw of the Inhumans taken Kid Kaiju to the moon? Collecting MONSTERS UNLEASHED (2017B) #6-12.
Rated T
In Shops: May 23, 2018
SRP: $19.99
MARVEL PREVIEWS Page #104
This article originally appeared in Gemstone Publishing's e-newsletter Scoop.
****
Amanda Sheriff is Gemstone Publishing's Associate Editor, serving as the writer/editor of the e-newsletter, Scoop. She is the author of The Overstreet Guide to Collecting Movie Posters, The Overstreet Guide to Collecting Concert Posters, and The Overstreet Guide to Collecting Horror, and co-author of The Overstreet Price Guide to Star Wars Collectibles and The Overstreet Price Guide to Batman.