'Dejah Thoris vs. John Carter' Interview: All's Fair In Love and Mars
Jul 13, 2021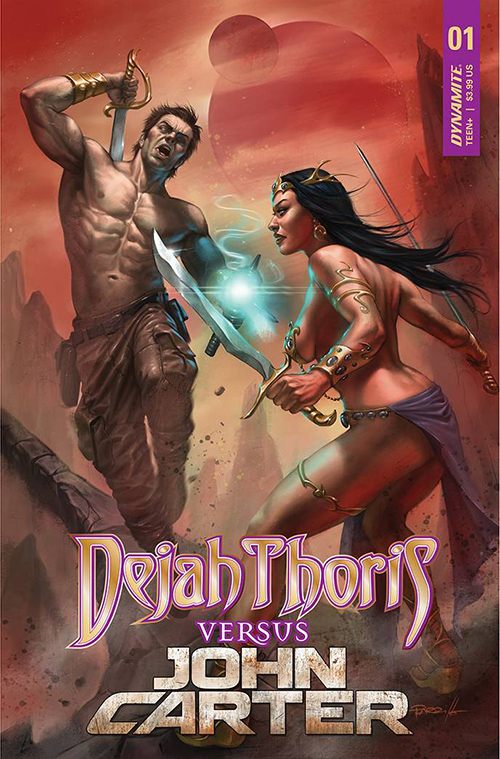 On July 21, 2021, get ready for an epic adventure, reuniting fiction's greatest lovers: Dejah Thoris from Barsoom, and John Carter from Earth! But their reunion is short-lived...THE LONGBORN, an ancient and mysterious race of immortal "gods" have arrived to reclaim what is theirs: MARS!
In the following interview, we got to talk with Dejah Thoris vs. John Carter of Mars writer Dan Abnett (Guardians of the Galaxy) and artist Alessandro Miracolo (Red Sonja) as they take us to beautiful Barsoom...only to paint the sands of Mars even redder! Keep reading...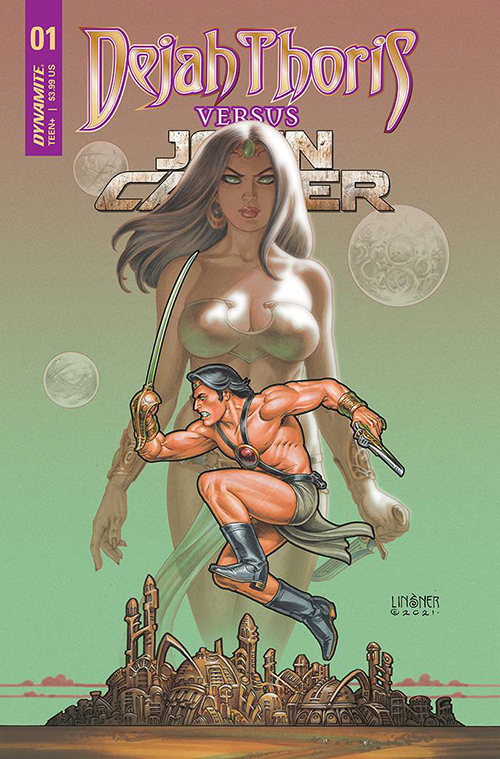 PREVIEWSworld: John Carter is here! The Barsoom saga is so much about both members of this iconic couple. How exciting is it to reunite them in this series?
Dan: It's just fantastic. To me, there's always a danger of the super-human John eclipsing Dejah, and demoting her to "damsel in distress" duties. In writing Dejah's own series, I deliberately kept John out of it so she could be showcased, and his absence turned into an intriguing mystery. This brings him back so we can present them together again, and resolve that mystery.
Alessandro: When [editor] Nate Cosby asked me to work on Dejah Thoris and John Carter, written by Dan Abnett, I said "Wow!! Is it real!?? Sure Dude, when can I start ?!!!" I am very excited; I can't wait to bring together these two iconic characters of sci-fi created by the great Edgar Rice Burroughs.
PREVIEWSworld: This epic event-style series follows from your year-long run on Dejah Thoris. We're guessing fans can jump right into this one though, right? They can also be on the lookout for the graphic novel reprints. But for those who want a little bit of 101, how would you quickly summarize that series spoiler-free to catch fans up?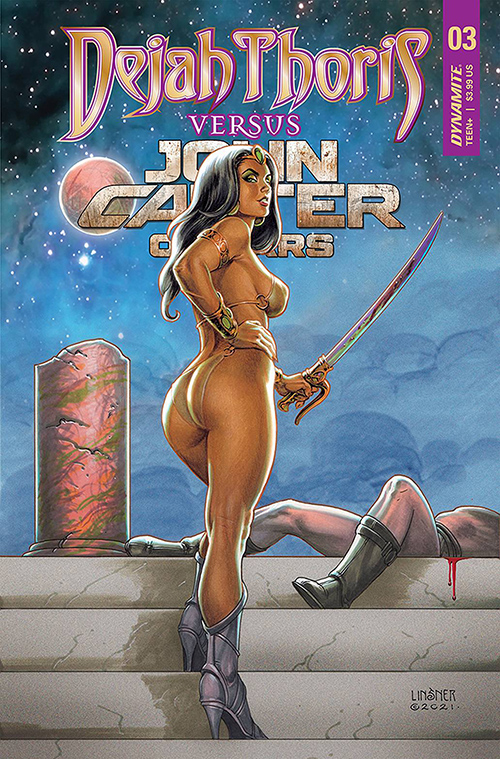 Dan: I don't think I'd be doing my job right if I just assumed readers would be up to speed. I'll be doing plenty in the opening of this series to get everyone "in the right place" so they understand what's going on. Having said that, picking up those trades and reading what's gone before will add flavor and texture - and will entertain you!
But for those who want a catch up... For the last year or more, Barsoom has been in crisis, with freak weather and unprecedented conflict between tribes and nations. There's a growing sense of apocalypse. John Carter's missing, and no one knows where he is, while Dejah has been working alone to try and work out what the hell's going wrong with her world. With the help of many allies, both the likely Kantos Kan, Tars Tarkas, Llana of Gathol, and the unlikely, she has finally discovered that Barsoom - and all planets in the Solar System - are facing an extinction level threat from a race of very ancient "space gods" called the Longborn. They are the ones orchestrating the chaos on Barsoom. In her series, Dejah has wrested control of Helium, defeated opportunistic tyrants and sorceresses who had risen to power in the crisis, and finally found John... who was not missing at all. He had been captured and magically turned into an adversary. As this series starts, Dejah is gearing up to take on the Longborn themselves, with John at her side… unless his time spent on "the dark side" has changed him too much.
PREVIEWSworld: Artist Alessandro Miracolo now joins you in this series, journeying over from a stint on Red Sonja. We're thinking his kinetic style will be perfect for the action across the red planet. How has it been collaborating with him so far?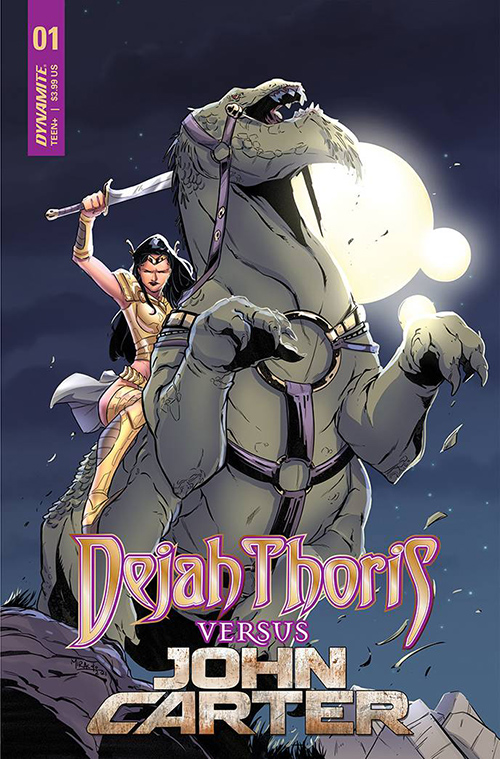 Dan: His work is amazing, and I'm so happy to have him on board. His designs so far have been jaw-dropping, and I agree, he'll be perfect for this.
PREVIEWSworld: What can you tell us about the new threat of the Longborn?
Dan: Now the main villains come to the fore, this is going to be the biggest story yet. They are immensely powerful and mysterious creatures - even the super-human John Carter is easily over-matched. They are also extra-dimensional, there is a hint that they may have been the original architects of life in the Solar System, and that Barsoom is the way it is thanks to their handiwork. They are coming back to reclaim the worlds they believe belong to them and intend to wipe them clean and start over. They are not going to be easy to stop!
PREVIEWSworld: Alessandro, how are you approaching this series differently from Red Sonja? Are there artists or styles you are looking to for inspiration?
Alessandro: It is very different. Those are two completely opposite characters and settings, going from the Hyborian Age era, to the beautiful and desolate lands of Barsoom, with strange creatures and green aliens with 4 arms - a big challenge! This is a big responsibility, these characters have previously been drawn by great artists like Frank Frazzeta, Frank Cho, Boris Vallejo, J. Scott Campbell, and my friend Pasquale Qualano. But more than any other influence, I was able to recover some of my father's drawings when he enjoyed painting the old stories of Burroughs. There is not a single style I get inspiration from. I watch movies and read illustration books, I try to combine the Arabic architectural style with some Art Nouveau details and sci-fi. I'm having a ton of fun. See You soon on Barsoom, folks!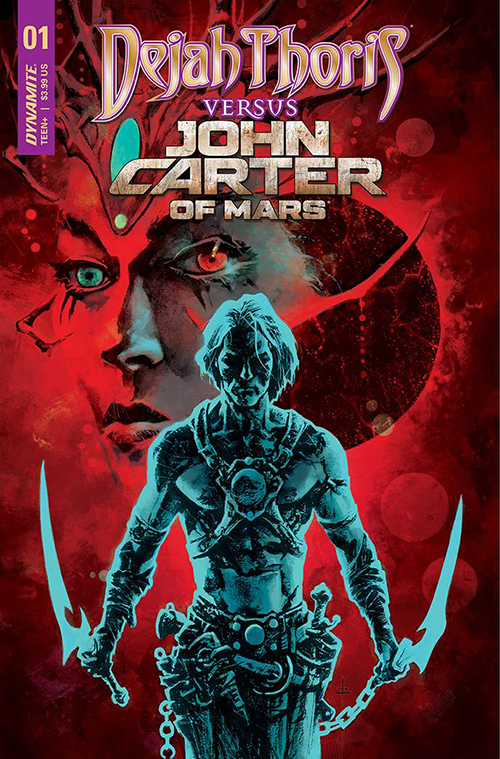 Dejah Thoris vs. John Carter of Mars #1 (MAY210778) is available on July 21, 2021, at your local comic shop.
For more from Dynamite Entertainment keep an eye on PREVIEWSworld.com's Twitter, Facebook, YouTube, or Instagram.