The PREVIEWS Exclusive Jumbo Galactus Funko POP! is Back for Seconds with a New Look!
Jul 08, 2021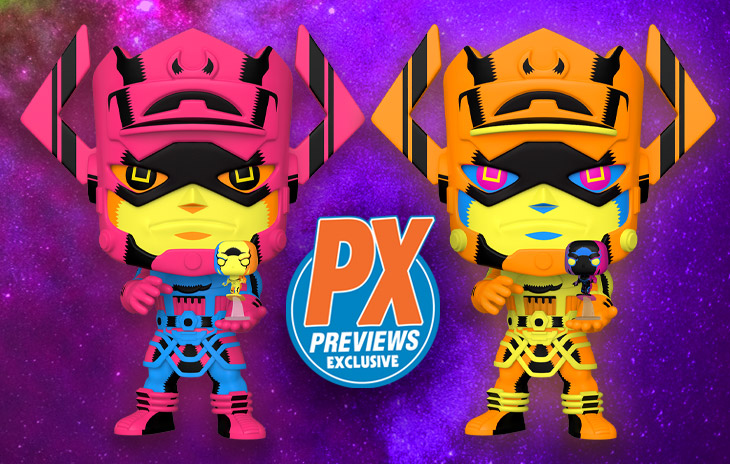 Not satiated by all the planets he gobbled up in the last Jumbo POP! release, Galactus is back for seconds with this PREVIEWS Exclusive Limited Edition Blacklight Reactive Comic-Shaded Marvel Galactus Jumbo POP! 10" Vinyl Bobble-Head Figure with Silver Surfer and Rare Lifebringer Chase Variant (JAN219197, SRP: $45.99), and it's available to pre-order or wishlist now via PULLBOX!
Featuring classic square pupils, a vibrant pink helmet and comic-shaded neon purple armor, complete with a classic comic accurate paint job. The iconic Galactus and his herald, the Silver Surfer, are sure to loom over any collection, seeking out and consuming worlds at will. Place Galactus in a room with a black light and watch it emit an eerie cosmic glow just like Kirby intended!
This collectible 10" tall POP! Bobble-Head Figure will be produced in limited quantities and comes packaged in a window box, perfect for display. Plus, be on the lookout for a rare chase variant of Galactus the Lifebringer and The Fallen One, also sporting a blacklight deco but in a brilliant orange!
Galactus scheduled to arrive in early October. Don't miss out, pre-order now at your local comic shop!
INVALID ITEM
Other PX Marvel POPs Now Available to Order: