G.I. Joe Preproduction Items in Hake's Auction
Jun 18, 2021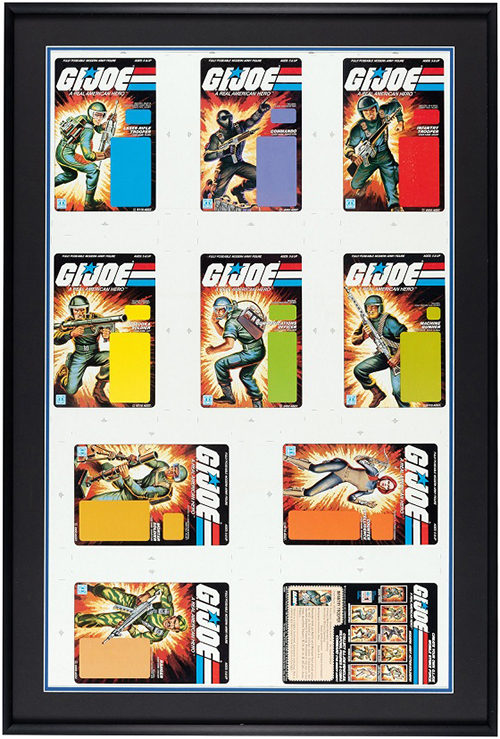 Real American heroes populate Hake's Auction #232 with the Bill Byers Preproduction G.I. Joe Collection. This section of the auction contains many preproduction pieces, including proof sheets, prototypes, proof cards, and other rarities.
One of the centerpieces from the Bill Byers Preproduction G.I. Joe Collection is the Series 1 9-back (first version) framed uncut proof sheet from 1982. The uncut proof sheet in a 27-3/4" x 41-1/8" frame includes the first nine 9-back cards and one card back. The cards feature Laser Rifle Trooper (Code Name: Flash), Commando (Code Name: Snake Eyes), Infantry Trooper (Code Name: Grunt), Bazooka Soldier (Code Name: Zap), Communications Officer (Code Name: Breaker), Machine Gunner (Code Name: Rock 'N Roll), Mortar Soldier (Code Name: Short-Fuze), Counter Intelligence (Code Name: Scarlett), and Ranger (Code Name: Stalker). This great piece of G.I. Joe preproduction history is Near Mint as framed.
Another item likely to grab bidder attention is the Sgt. Slaughter Series 5 2-up hardcopy paint master prototype. This 8-1/2" tall hand-painted hard resin prototype is for the figure that was issued exclusively with the Triple-T Tank starting in 1986. It was the second G.I. Joe Sgt. Slaughter figure issued and the first one that wasn't a mail-order exclusive. The non-articulated figure has individual components glued together and is painted similar to how the produced figure was rendered.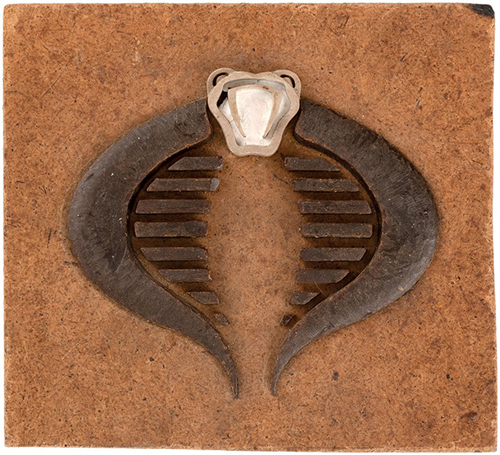 Action figures in the auction include the Cobra (swivel arm – final engineering pilot) Series 1.5 20-back CAS 85 on an unpunched card, and unpainted first shot prototype Series 1 (straight arm) figures of Hawk and Cobra Officer – both graded AFA 85 NM+.
Leading the proof cards is the Cobra Trooper Series 1.5 32-back CAS 90+ from Hasbro's 1983 toy line. Proof cards also include a Gung-Ho (marine dress blues) Series 6 front/back CAS pair, Dial-Tone Communications Series 5 36-back AFA 90 NM+/Mint, Cobra Anti-Armor Specialist Scrap-Iron Series 3 34-back CAS 90+, and a Jungle Trooper Recondo Series 3 32-back AFA 95 Mint.
The G.I. Joe Series 1 11-back Cobra Trooper and Cobra Officer (red emblem) uncut proof sheet is in 21-3/8" x 28-3/8" frame. It features the 11-back front and back cards that depict the Cobra Officer on both sides of the card with the red Cobra chest emblem.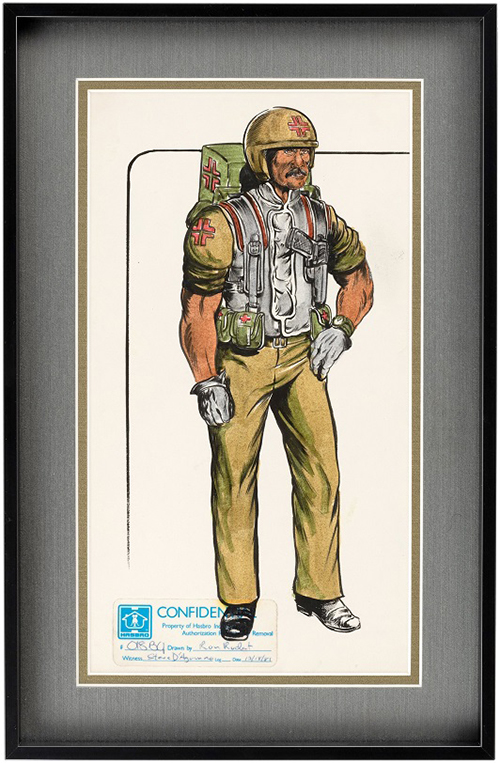 Another interesting lot is the Cobra emblem master pattern prototype 4-1/2" x 5" piece of Masonite board with hand-carved Cobra emblem made of Bondo. This master pattern was used internally by the model shop to make the emblems on Cobra vehicles.
Rounding out the top lots from this collection is the G.I. Joe Doc concept original art by Ron Rudat. Housed in a 10-3/4" x 16-3/8" frame, the mixed media art is an early design of the G.I. Joe medic who was first produced for Series 2 in 1983. It features a more detailed look with Doc in a vest that has various pouches and pistol holster, and he bears various Red Cross symbols, including on his battle helmet.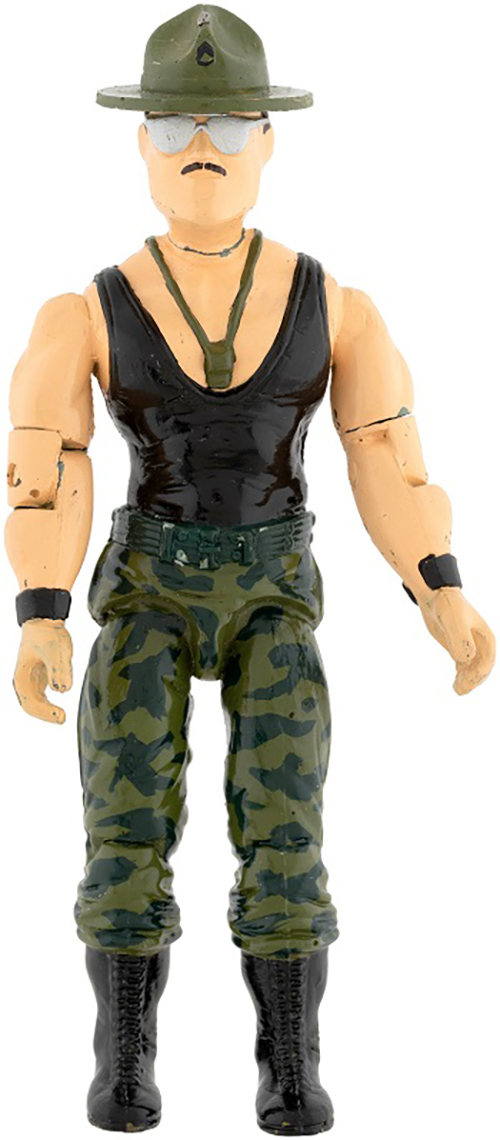 The Bill Byers Preproduction G.I. Joe Collection is open for bids now at hakes.com. The auction closes on June 29-30, 2021.
Keep an eye on PREVIEWSworld.com's Twitter, Facebook, YouTube, or Instagram for more character profiles! And if you're interested in more of from the world of GI Joe, head to your local comic shop and check out the following.
This article originally appeared in Gemstone Publishing's e-newsletter Scoop.