Ani-Mia's Got It Covered: Embodying Bettie Page
May 09, 2022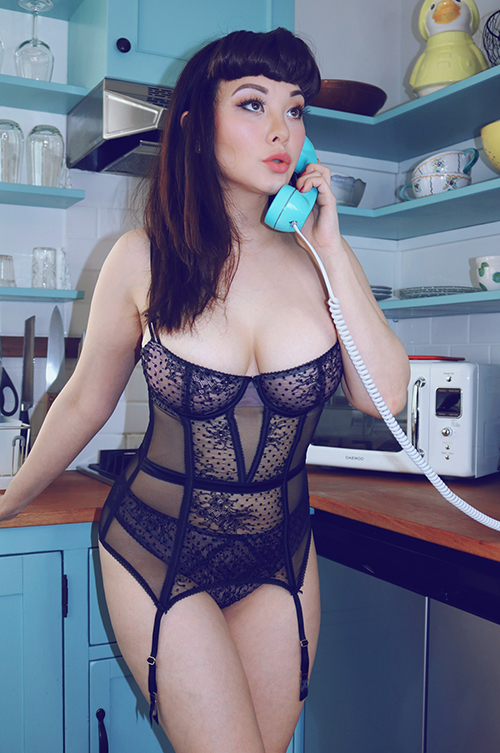 by Troy-Jeffrey Allen
"The same coworker who introduced me to anime conventions was the person to give me my nickname," cosplay model Ani-Mia begins, describing how she adopted her playful moniker. "Even before I cosplayed, she had given me the name 'Ani-Mia' since we were the only two people at our workplace that loved anime." "When I went to my first [anime convention], I saw cosplayers running around and they seemed to be having the best time. On top of that, they got to dress up and become some of my favorite characters. Once I saw cosplay, I knew I wanted to do it too."
Ani-Mia ("Mia" for short) is, quite possibly, one of the nerd world's most decorated cosplayers. Pun intended. Since 2008, she has made television appearances highlighting her craft, written about costuming for numerous online and print publications, judged cosplay competitions, made an uncredited appearance in Wonder Woman 1984, and been a featured guest at hundreds of conventions internationally. (Oh, and she also makes weekly appearances on PREVIEWSworld's "What's @ Comic Shops.") Seemingly inexhaustible and always enterprising, Mia will next grace the cover of Bettie Page and the Curse of the Banshee #1, Dynamite Comic's spy adventure starring the pin-up and fetish world's beau ideal...the notorious Bettie Page.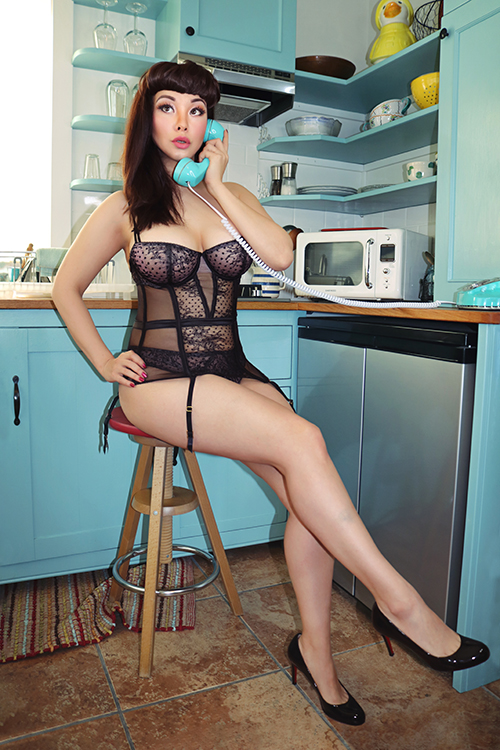 "I knew of Bettie Page before this but didn't know as much as I do now," Ani-Mia admits to PREVIEWSworld. "Doing the photoshoot really got me more into her. Not only as the person that she was but also the character that Dynamite has created. Dynamite has really turned her from a bombshell into a bombshell that actually kicks ass as this international spy!"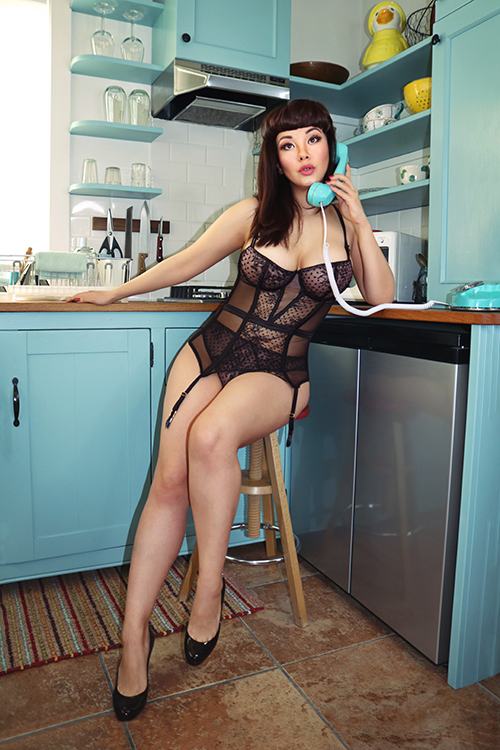 Bettie Page and the Curse of the Banshee tells the "never before told thrilling chapter" of monster hunting specialist Bettie Page. This two-fisted, piece of pulp fiction is the latest in an expanding line of books that takes the real-life Page and inserts her into the world of the supernatural. This sort of mythologizing is actually nothing new. From the moment she came onto the scene in the 1950s, her very presence began fueling the fantasies of men and women. Long before her death in 2008, the Nashville-born model's trademark could be found on everything from tattoos to car decals and action figures. Page may have vanished from the limelight by the late 1950s, but the public's fascination with her persists. Seven decades later, Ani-Mia has now found herself in the midst of that demand.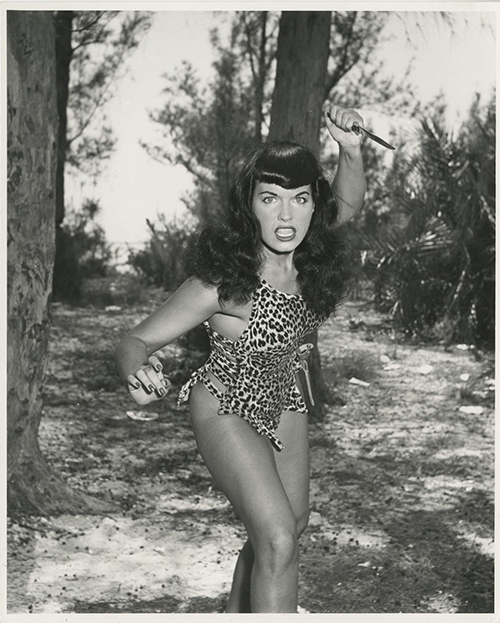 "I had previously done a cover for Vampirella with Dynamite," Ani-Mia explains. "So I'd had the experience working with them before. I had gotten interested in doing a Bettie Page pin-up shoot and after I posted a photo from the photoshoot, someone suggested that I submit one of the photos for a cover. Next thing you know, I'm on the cover of a comic."
By design, the approach to a pin-up shoot is meant to look simple. Even when it's not. To create the illusion of simplicity, some pin-up photographers will just go for solid color studio backgrounds. Likely out of necessity and fear of scrutiny, Bettie Page's most synonymous photographer, Paula Klaw, set up shoot sessions at her brother's home. An approach that Mia leaned into for her own photoshoot. "I really wanted to shoot Bettie in a very 50's kind of setting. I ended up purchasing a vintage phone and painting it to match a cute tiny house AirBnb that I found near me. It had the perfect kitchen to shoot Bettie in," she notes before adding that the tiny house did provide some complications. "Trying to do a shoot in a tiny home is a bit of a challenge. It was a great little space to rent. For the cost of a regular hotel room, there was access to an entire home, but really the kitchen was the only space that fit the theme. Trying to figure out lighting and angles in a small enclosed area was tricky but ended up helping recreate the bright flash photography used in some of Bettie's actual photoshoots."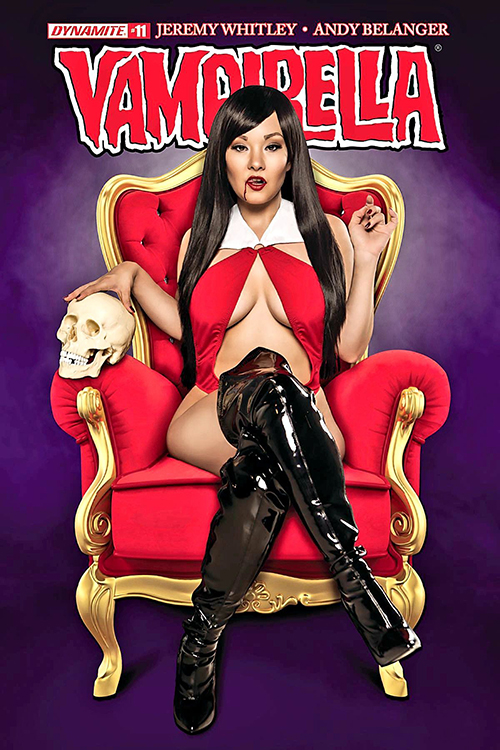 Mia's dedication to her craft doesn't just stop there. While credit for editing the photos goes to So Say We All Photography, Mia actually was the photographer for her cover as well. "I gave Dynamite a few options on different photos from the shoot to use," she says, "but I think they chose [the cover they chose] because it best encapsulates the theme of the comic."
And the Bettie Page legacy lives on through Mia. This isn't the last you'll see of her as the notorious Bettie Page, either. She is already scheduled to do more covers with Dynamite. Starting with Bettie Page and the Curse of the Banshee #3 in August. Stay tuned.
Bettie Page and the Curse of the Banshee (APR211039) is available in comic shops June 2, 2021.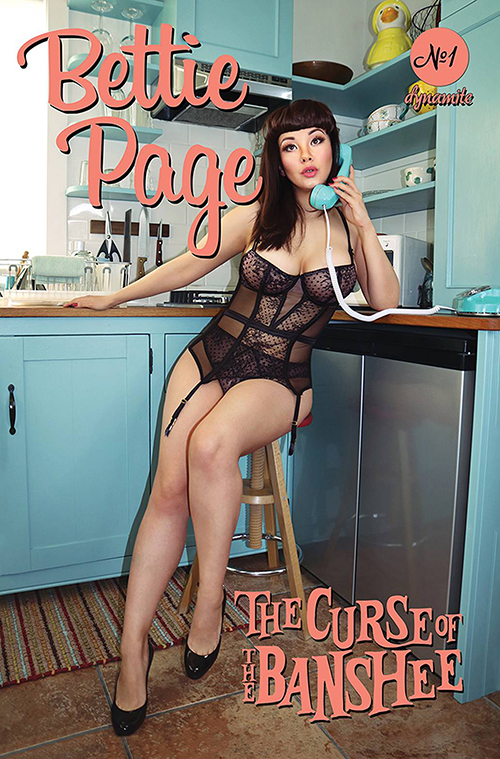 More about Bettie Page and the Curse of the Banshee:
****
Troy-Jeffrey Allen is the producer and co-host of PREVIEWSworld Weekly. His comics work includes BAMN, Fight of the Century, the Harvey Award-nominated District Comics, and the Ringo Awards-nominated Magic Bullet.