Miles Morales Gets His Own 'Clone Saga'
Jan 12, 2021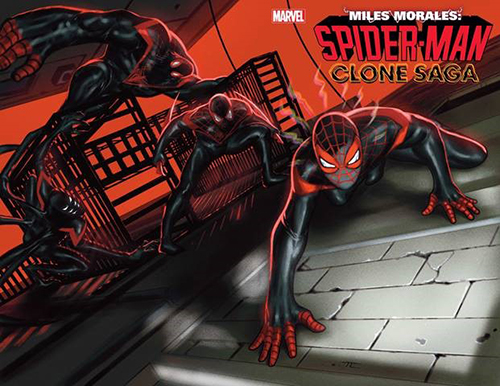 Writer Saladin Ahmed's acclaimed run on MILES MORALES: SPIDER-MAN will hit a new highpoint this April with the CLONE SAGA, a new arc that promises to be Mile Morales' most thrilling adventure yet. One of the most talked about comic book storylines of the nineties, the mega-popular "Clone Saga" took over the pages of Amazing Spider-Man, shocking readers month after month. Now, this iconic saga will be—Miles Morales-style—beginning in a special oversized anniversary issue: MILE MORALES: SPIDER-MAN #25.
After months of buildup, the Clone Saga will be the culmination of many of the ongoing story threads that have been haunting Miles since the very beginning of Ahmed's run. Readers will finally see the full extent of the Assessor's meddling as his clone creations run rampant through Brooklyn. Designed by superstar artist and Marvel Stormbreaker Carmen Carnero, prepare to meet three distinct Miles clones, each one destined to turn Miles' super hero career upside down.
"When Peter Parker faced his own 'Clone Saga' years ago, he was taking part in what was already one of the most iconic traditions in comics - the hero battling a version of themselves. Since the very first issue of MILES MORALES: SPIDER-MAN, I've known that I wanted put Miles through that iconic wringer in his own distinctive way," Ahmed said. "Miles' CLONE SAGA is a story that has been months, even years, in the making. We've been planting its seeds throughout the series, from the horrors of being abducted by the Assessor to the confrontations and sacrifices of the Ultimatum epic. Moments from the past will come back to haunt Miles, and the events of the story will ensnare everyone from his baby sister to Peter Parker (who knows a thing or two about dealing with clones). The ramifications will be felt for years, and it all starts in April!"
"If you thought the first 'Clone Saga' was controversial, wait until you read what Saladin and Carmen do," Editor Nick Lowe said.
You can find out more about Mile Morales by keeping an eye on PREVIEWSworld.com's Twitter, Facebook, YouTube, or Instagram.
MARVEL COMICS
(W) Saladin Ahmed (A) Javi Garron (CA) Brian Stelfreeze
Miles Morales swings back into the spotlight! When the rampaging Rhino and a cadre of mysterious criminals start plaguing Brooklyn, things take a dark turn for the young Spider-Man! What mystery lurks under the surface of this newest villainous uprising? Why does the Rhino have minions? And who is the new antagonist who may just become Miles' most dangerous foe? Maybe Captain America has the answers! Then, get ready for...Miles Morales' day off! Vice Principal Drutcher is determined to figure out the reason for his student's tardiness and absences, so Miles, Judge and Barbara must stay one step ahead by playing hooky - while our hero tries to keep his secret safe from all of them! Plus: the quiet-but-deadly Tombstone! And introducing...Starling! Is she friend or foe? And is she single? Collecting MILES MORALES: SPIDER-MAN #1-6.
Rated T
In Shops: Jul 17, 2019
SRP: $17.99
MARVEL PREVIEWS Page #119
MARVEL COMICS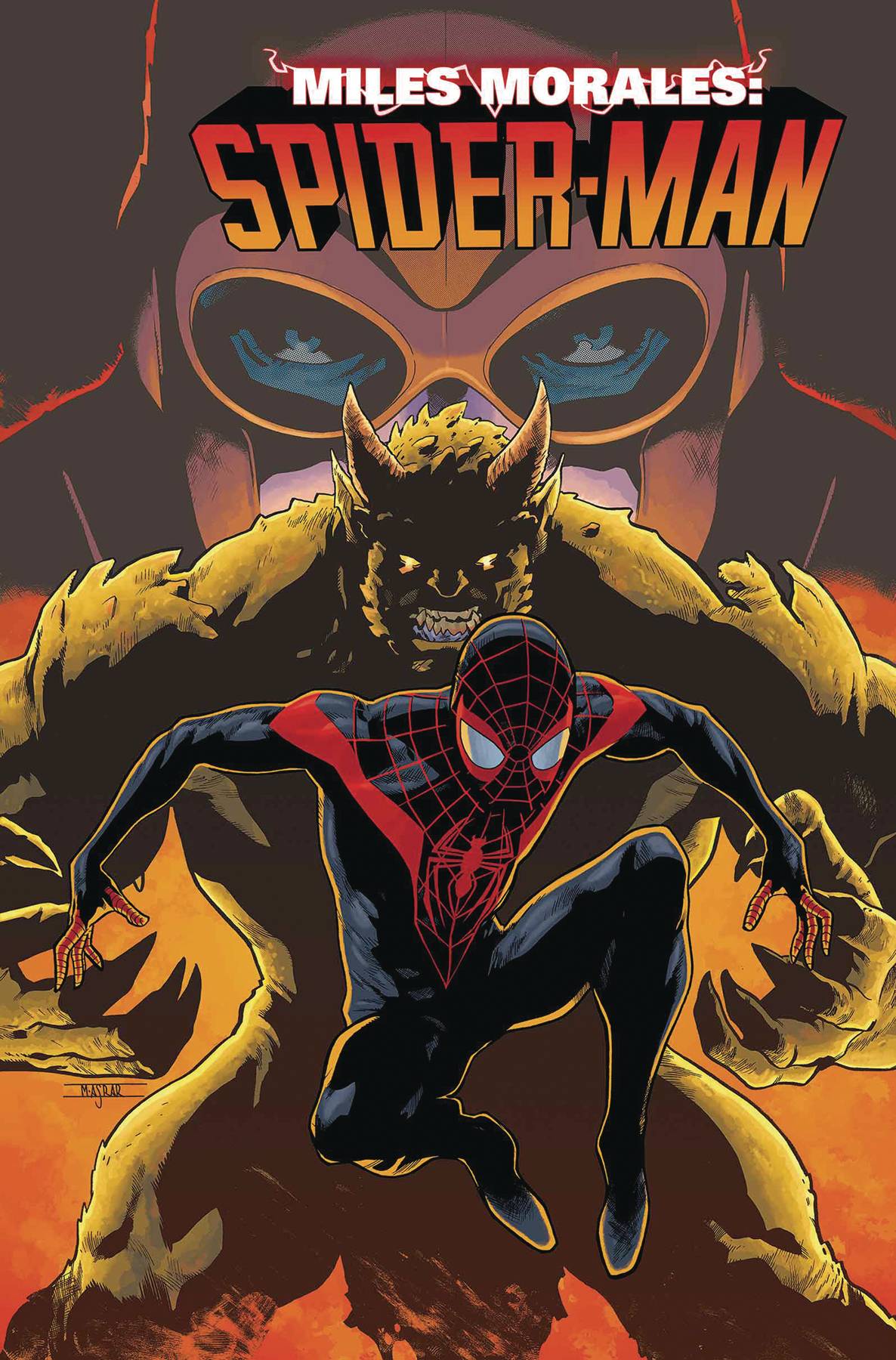 (W) Saladin Ahmed, Tom Taylor (A) Alitha Martinez, More (CA) Mahmud Asrar
It's time for Miles Morales to slow down and take stock! What do the young web-slinger's parents and friends, particularly Bombshell, think of all of that's happened? Miles may never get to learn the answers - he's about to be captured, tested and observed like a bug under glass by an unknown assailant! Miles will need help to escape this one. Good thing his dad's a former Agent of S.H.I.E.L.D.! And there's no price Jefferson Davis wouldn't pay to get his son back. But the decisions this father-and-son duo make may come back to haunt them when one of the most formidable foes that Miles has ever faced returns! Prepare for a mystery dating back all the way to Miles' first appearance! Collecting MILES MORALES: SPIDER-MAN #7-10 and material from FREE COMIC BOOK DAY 2019 (SPIDER-MAN/VENOM).
Rated T
In Shops: Jan 01, 2020
SRP: $15.99
MARVEL PREVIEWS Page #130
BEAST KINGDOM CO., LTD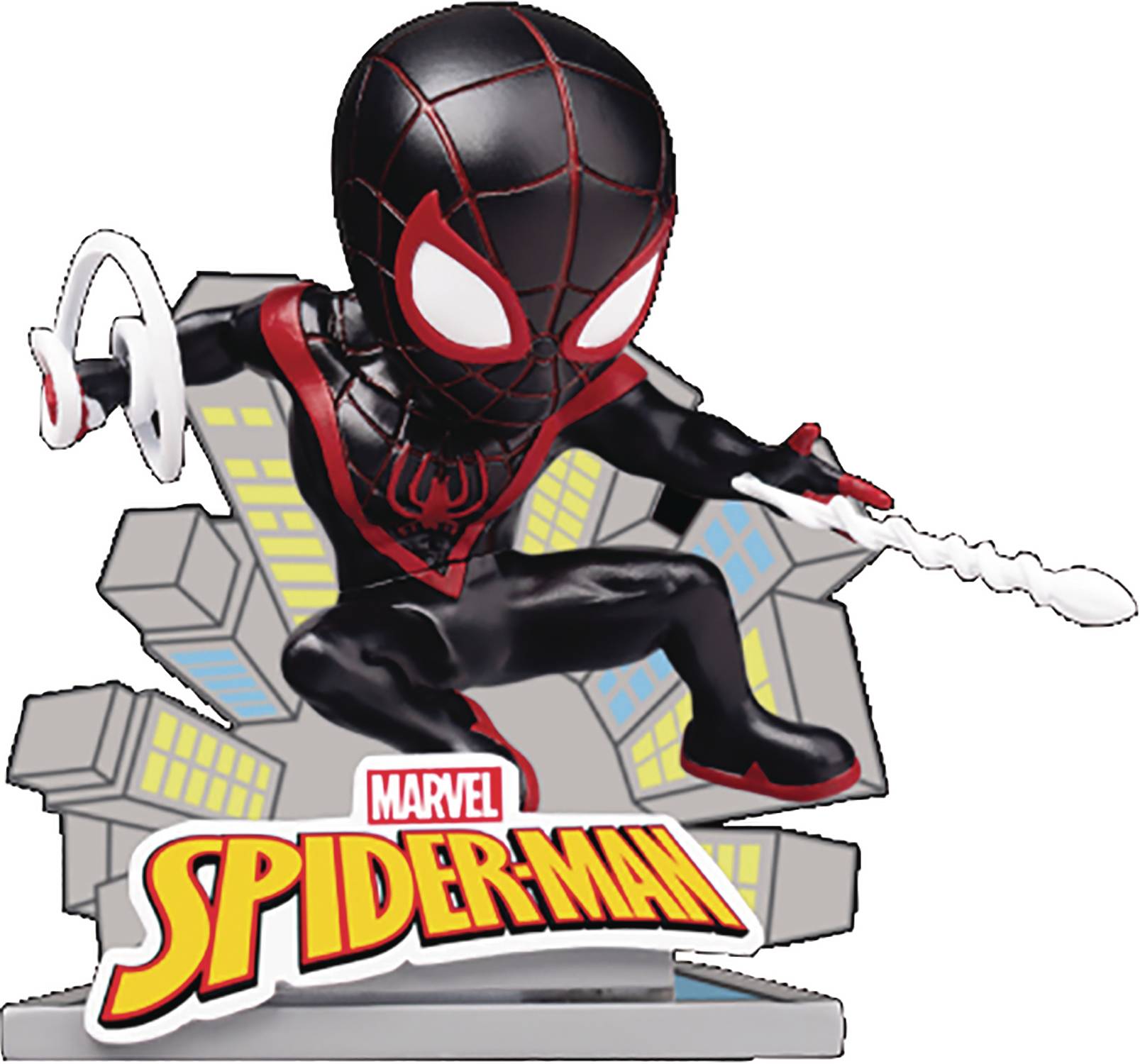 From Beast Kingdom. A PREVIEWS Exclusive! With summer officially in full-swing, why not take home some seriously fun swinging action from the new Marvel Comics: Spider-Man Mini Egg Attack series, brought to you exclusively by Beast Kingdom! Arguably the most well-known character in Marvel's Comic universe, the friendly neighborhood Spider-Man is now joined with the multiverse's Spider-Gwen and Miles Morales, as well as the infamous anti-hero; Venom!Each character recreates their classic comic poses using three-dimensional recreations. Added extras to each piece such as colorful building backdrops, and bases with 3D logos creates the ultimate in comic collectability. Cute and small they may be, yet with delicate painting, each tabletop statuette is sure to be a head turner.
In Shops: Aug 12, 2020
SRP: $12.99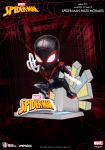 Click to View

MARVEL COMICS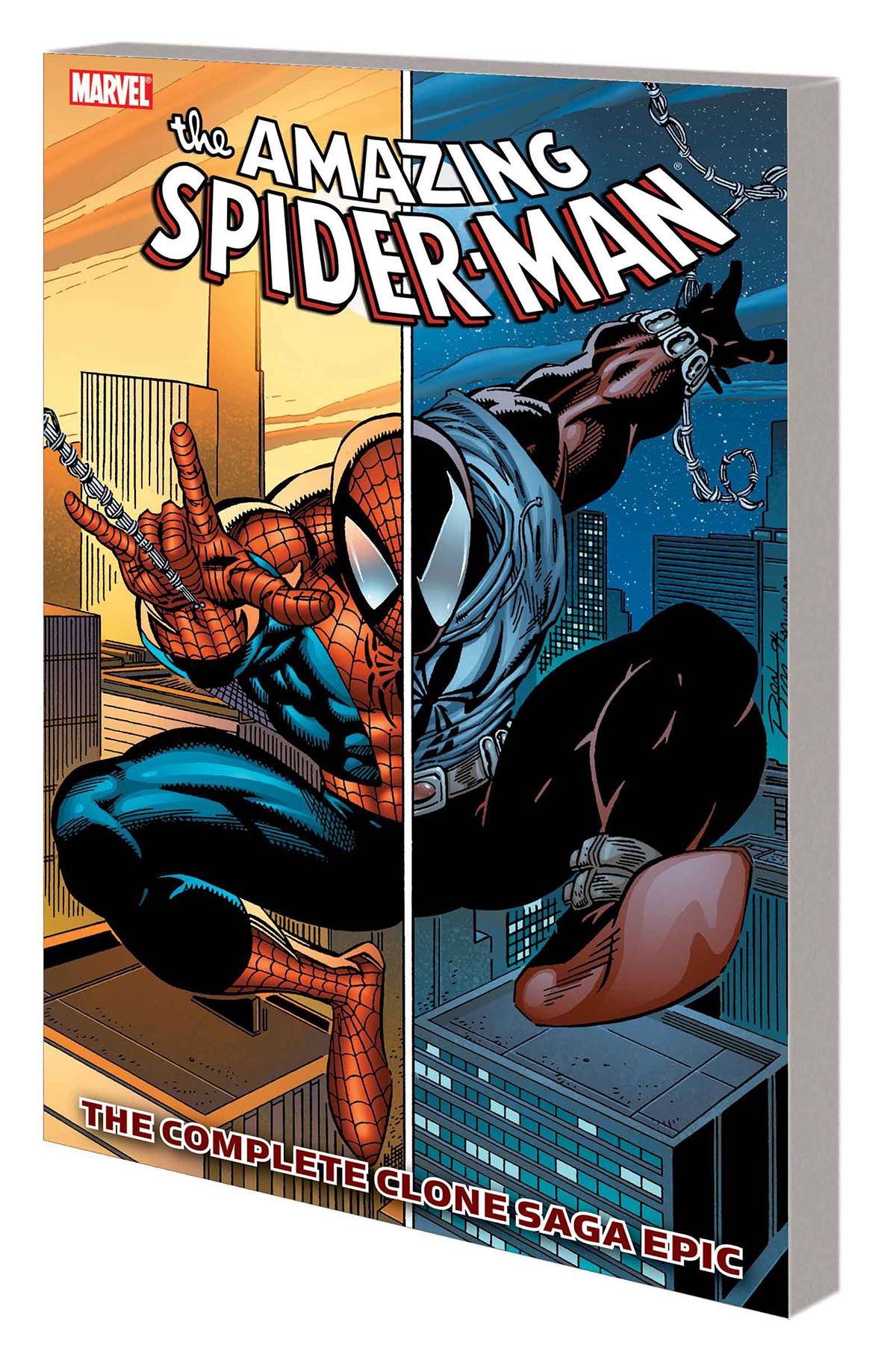 (W) Various (A) Various (CA) Ron Lim
Spider-Man's clone is back - and the real Spidey is beside himself! Peter thought his clone was long dead, but where has Ben Reilly been for the last five years? Why has he returned? Is he Peter Parker's dark side...or his better half? And does Miles Warren, the unbalanced Jackal, have anything to do with it? Everyone wants answers, and the cloaked killer Kaine is ready to rip them out of whoever has them! Plus: Venom and Vermin! Carnage and Chameleon! New allies, new enemies and a new crimefighting identity! No other Spider-storyline was as innovative or infamous as the 1990s Clone Saga, and you can follow it right from the start! Collecting SPIDER-MAN: THE LOST YEARS #0-3, WEB OF SPIDER-MAN (1985) #117-119, AMAZING SPIDER-MAN (1963) #394, SPIDER-MAN (1990) #51-53, SPECTACULAR SPIDER-MAN (1976) #217 and material from SPIDER-MAN UNLIMITED (1993) #7.
Rated T
In Shops: Sep 28, 2016
SRP: $34.99
MARVEL PREVIEWS Page #128