Best of 2020 Interview: The Editors of 'Heavy Metal' Revisit Their Epic 300th Issue
Dec 29, 2020
Interview by Troy-Jeffrey Allen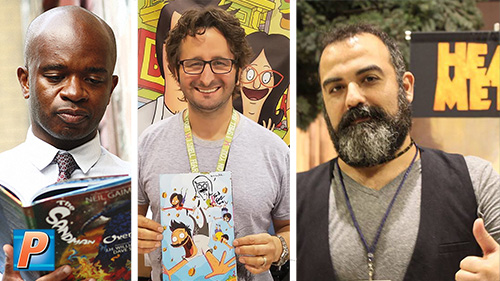 Heavy Metal Magazine isn't just a publication...it's an institution! So, when the "adult illustrated fantasy magazine" turned 300 this year, it was a shining moment in an otherwise rough 12 months.
But who are the criminally deranged individuals responsible for commemorating 300 issues of unhinged and unfiltered sci-fi/fantasy? They go by the names of Frank Forte (Editor), R.G. Llarena (Managing Editor), and Joseph Illidge (Executive Editor). And while they weren't alone in their planetary party plans, they are more than equipped to explain to us just how much Taarakian blood, sweat, and tears went into Heavy Metal 300.
Keep reading...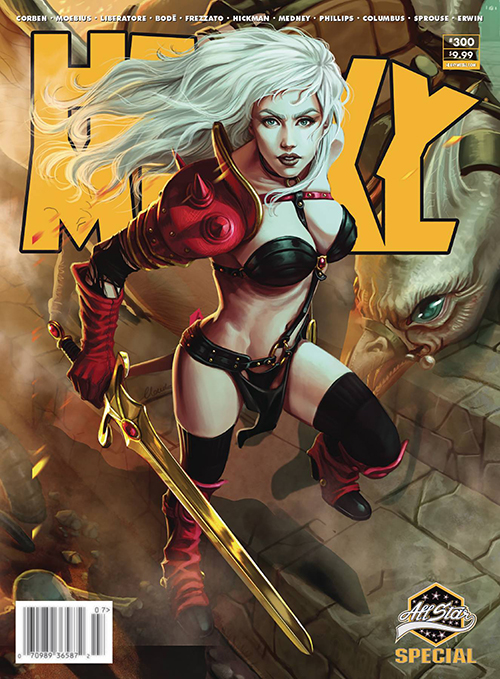 PREVIEWSworld: What's your role at Heavy Metal? What does it entail?
R.G. Llarena: I'm currently Managing Editor. My main role is to help with the flow of information and content in the magazine and Virus imprint. I also edit some comics which have begun to appear or will appear soon on the magazine like "Dark Wing", "The Adventures of Adrienne James" or some European/South American licenses.
Joseph Illidge: I'm the Executive Editor of the Heavy Metal company. In that role, I'm responsible for maintaining the quality and integrity of original ideas and intellectual properties owned and co-owned by Heavy Metal. A good part of that responsibility requires being the editor or co-editor on various monthly series and serials within Heavy Metal magazine, as well as bringing amazing creators to the Heavy Metal family. Right now, I'm the editor of the "Taarna" series starring the company's flagship character, the "Suneater" series, both of the upcoming "Cold Dead War" and "Entropy" series launching in 2021, and the serial "The Rise". Along with Tim Seeley, Heavy Metal's Editor-in-chief, I'm co-editing "Starward", our first young adult serial, and various other stories.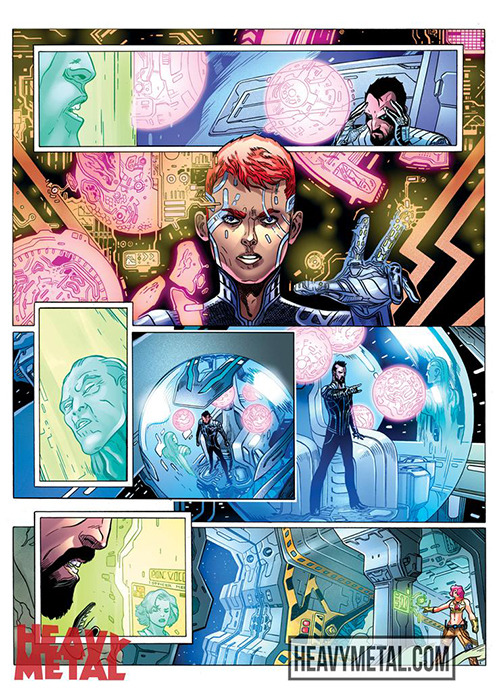 Frank Forte: My role as editor is to find short stories and serializations for the magazine. Sometimes I find completed shorts from creators who write, draw, and color, and other times it's from creative teams. When a pitch comes through as a written pitch, I help shepherd the process from script to art to final delivery.
Llarena: I'm extremely fortunate because, although most of the time my job revolves around the Content department, from time to time I collaborate with Admin and Marketing/Sales, so I have the opportunity to see how things work "behind the curtain" in areas where us editors are not normally part of.
PREVIEWSworld: How did you get involved with Heavy Metal?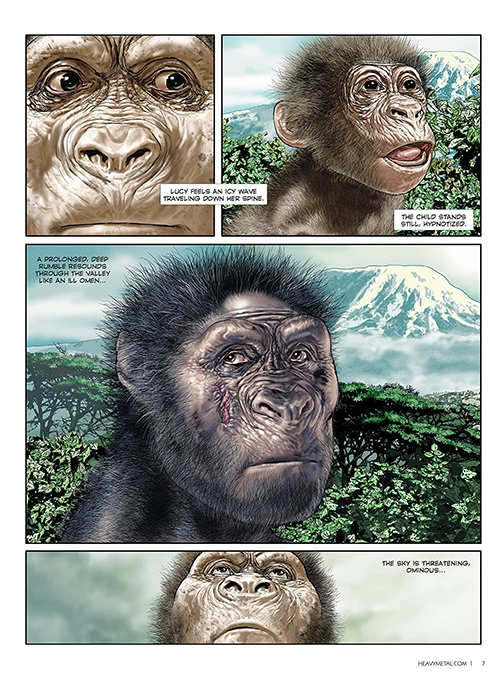 Llarena: My first involvement with Heavy Metal was way back in 2007. I pitched a short comic to the then Publisher/Owner of the company, Kevin Eastman. He published it and from there on I began to semi-frequently appear in the pages of the magazine, writing short stories. Then in 2015 Kevin really opened the door for me when he gave me the opportunity to become the guest editor of issue 275, the first issue ever of HM to be translated and also published in Spanish. From there on, I joined the editorial team.
Illidge: When David Erwin, my former colleague from our days at DC Comics, became the Publisher and CCO at Heavy Metal, he told me the company was looking for a seasoned editor with experience working on high-profile characters to join their ranks and introduced me to Matthew Medney, our CEO. Matt and I hit it off immediately, and after hearing the vision he and David had for the future of Heavy Metal, I was in for a penny, in for a pound.
Forte: I got my first story published in the pages of HM in 2008. Once I had a few stories in the mag, Kevin Eastman asked me to guest edit and issue which was HM #271 the "Asylum Press Special." This was a fan favorite, as I curated it to be inspired by the magazine in the 70s and 80s. I was then asked to guest edit HM #277 the "Horror Special", and from there I remained as a content editor and sometimes creator.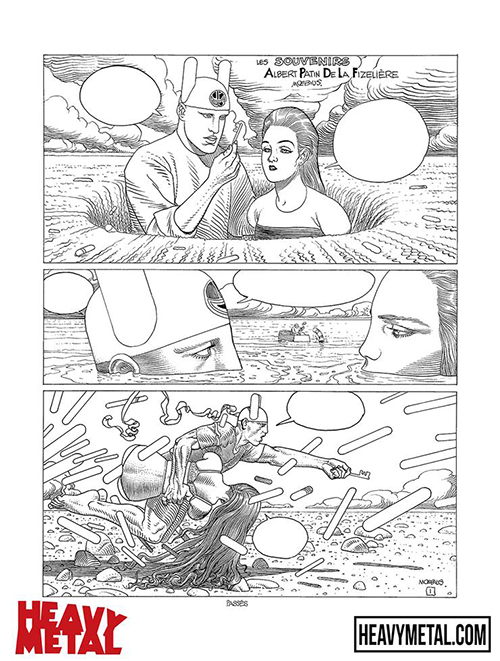 PREVIEWSworld: What was the editorial strategy going into Heavy Metal 300? Was there a plan to set a new standard? Hit all the familiar trappings of the publication? Or just kick the brakes off?
Llarena: We wanted to both celebrate Heavy Metal's rich history, but we also wanted to share with our readers glimpses of what Matt Medney (CEO), David Erwin (Publisher) and Tim Seeley (Editor in Chief) have planned for the company for the near future.
Illidge: The strategy was to do all three things you stated, and to give our entire staff and creators due credit, we achieved all of those goals starting with issue #300, which is basically the world's one-way ticket to the future of high-quality storytelling in science fiction, fantasy, and horror.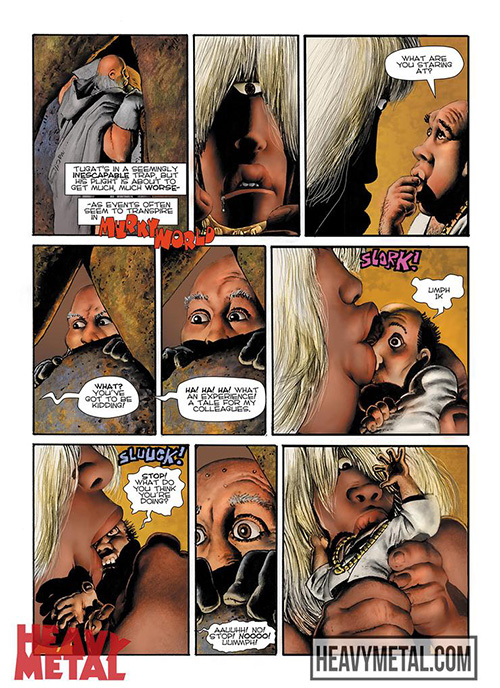 Forte: We wanted to celebrate the entire history of HM as well as introduce new talent and stories and highlight the new direction of the mag. I was able to find a yet unpublished (In English) Moebius story, which was really difficult to do. We also got Mark Bode to do a piece and he gave us some unpublished works of his father Vaughn Bode. The Richard Corben serial Murky World was still running through HM #300 so we got lucky there. Moebius, Bode, and Corben were all featured in HM #1 and all through the 70s and 80s. Tanino Liberatore came in with Lucy, so we hoped that would satisfy all the RanXerox fans. Plus we brought Taarna (from the Hm film) into the mag and debuted a number of new creators to the mag like Brendan Columbus, Dylan Sprouse, Duke Mighten, and Blake Northcott.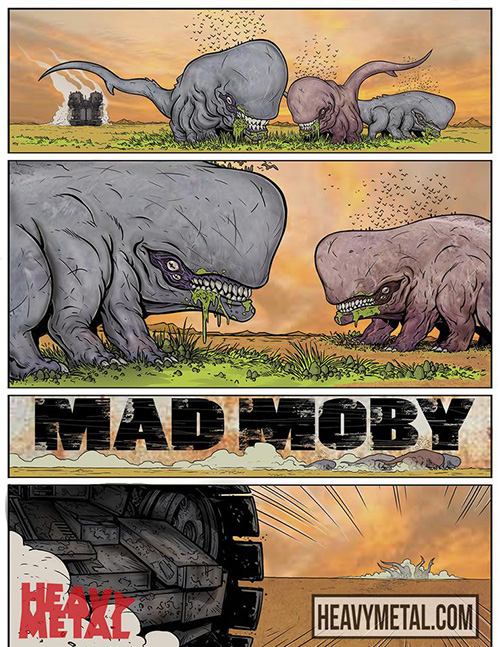 Illidge: We knew it was crucial to respect the legacy of the magazine and its loyal fans by having legendary artists in the anniversary issue while inviting new readers and some of the industry's best creators to the party.
Llarena: I could describe it as a marvelous and violent clash of styles and ideas. Beautiful chaos!
PREVIEWSworld: What was the major challenge putting issue 300 together?
Illidge: Honestly, finding great creators and letting them cut loose on stories for the anniversary issue of one of the world's most respected magazines isn't a challenge, it's a joy.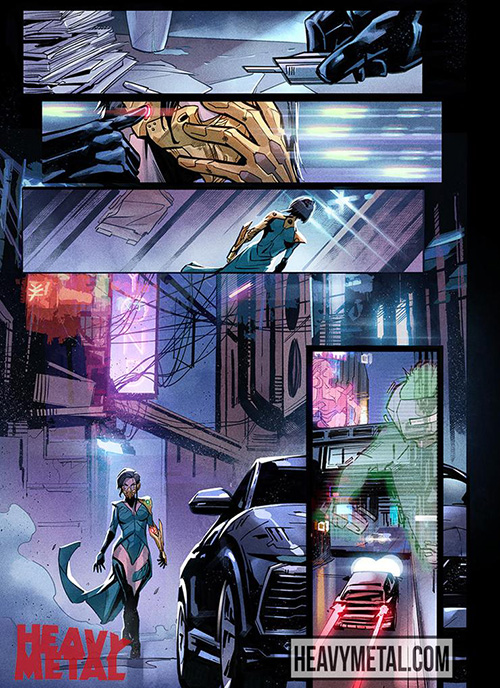 Llarena: Perhaps the idea of finding new voices for the magazine - for 300 and onwards - that could swiftly combine with established ones and form a harmonious chorus.
Forte: Some of the older creators have passed away, so there wasn't any new work. We had to go digging. It was great to have modern day creators like Kelley Jones and Glenn Fabry in the book, so finding a break in their schedules was also a challenge.
Illidge: All of us at Heavy Metal knew we had to reach for the sky, and we did that enthusiastically!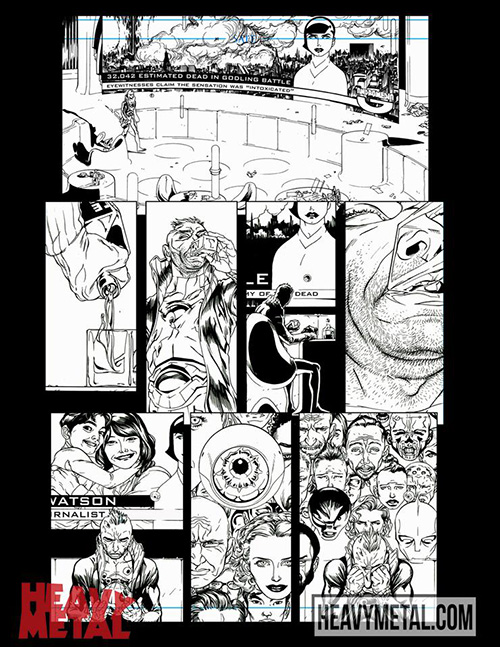 PREVIEWSworld: As an editor, what was a highlight working on Heavy Metal 300?
Illidge: Shepherding the relaunch of Taarna would be at the top of the list. Everyone who knows Heavy Metal through the magazine or the 1981 animated film knows and loves Taarna, including myself, so working on that story and getting the amazingly talented Claudia Ianniciello to illustrate the main cover with Taarna was the best way I could have imagined working on the 300th issue.
Forte: I think, as a fan, I always loved the magazine, so to be involved in HM #300 was a dream come true. I grew up reading Moebius, Richard Corben, and Vaughn Bode, so to be able to curate an issue with all of them in it was amazing. It was also great to work with the other editors to see who they thought would be a great addition to such a landmark issue.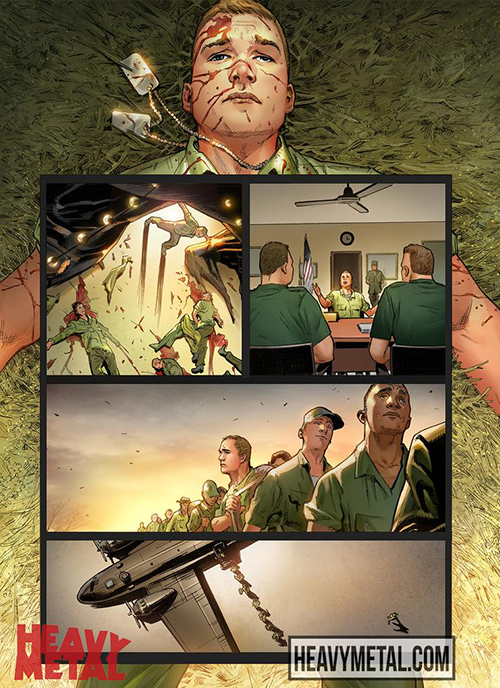 Llarena: We live in a world bent on building walls – ideologically speaking - and where it seems that the march of the monoculture is unstoppable so being part of HM 300, and trying to stay true to what the HM represents, felt like fighting against impossible odds but still somehow managing to prevail. So yeah, still processing that feeling.
Illidge: Every day I wake up in 2020 reinforces for me the responsibility to uplift creators and give them the opportunity to build our future through story. We have lost too many everyday heroes and genius minds, and story is our tribute to their lives and their contributions.
PREVIEWSworld: How have the events of the year impacted your job as an editor?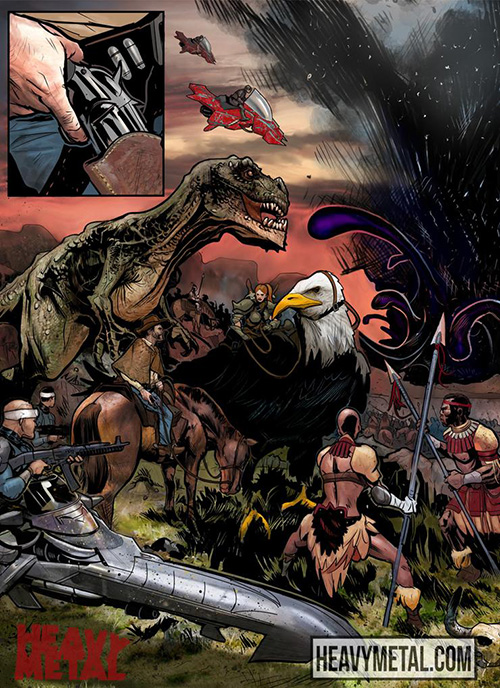 Forte: The HM job has always been a work at home gig, so not much changed. I have been able to be more creative and work on my own projects since the start of the pandemic.
Llarena: But I do miss meeting readers and new talent at cons.
Illidge: We're living in a time that has rendered the term "dystopia" obsolete, which means our stories, especially in the science fiction space, have to outline our future, the path to our better selves, and a better world. A future beyond a single world.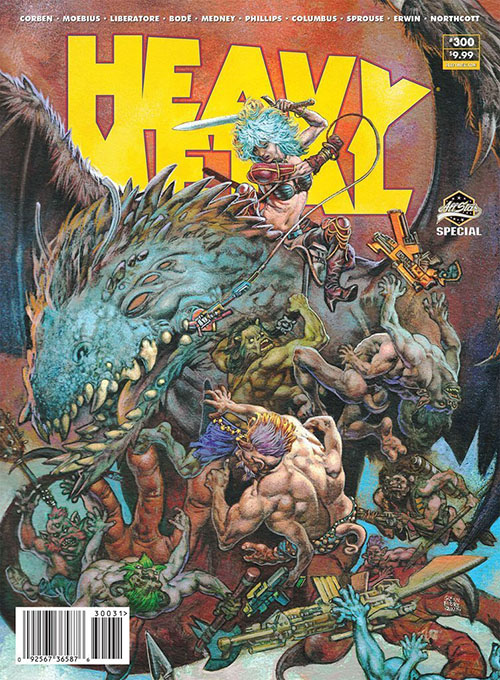 PREVIEWSworld: Who on your creative team has made your 2020 smoother?
Llarena: Everyone! Both the talent with who I work with (artists from all over the world!) and my teammates have been a constant light for me in these dark times.
Illidge: All of them. Every creator I'm working with has made my job smoother by working well with each other and always striving to do better work, to honor the Heavy Metal brand.
Forte: HM's CEO Matt Medney has brought in talented editors and a production staff where we now have delegated a lot of the work to experts and specialists. Before this, HM has worked with a thin staff where everyone did a little bit of everything, editing, marketing, production. It's nice to be able to focus on the creative. Tim Seeley and Joe Illidge bring a wealth of knowledge and creators to the table, which is nice. R.G. Llarena has some serious foreign creator connections, creator diversity is something HM has always been known for.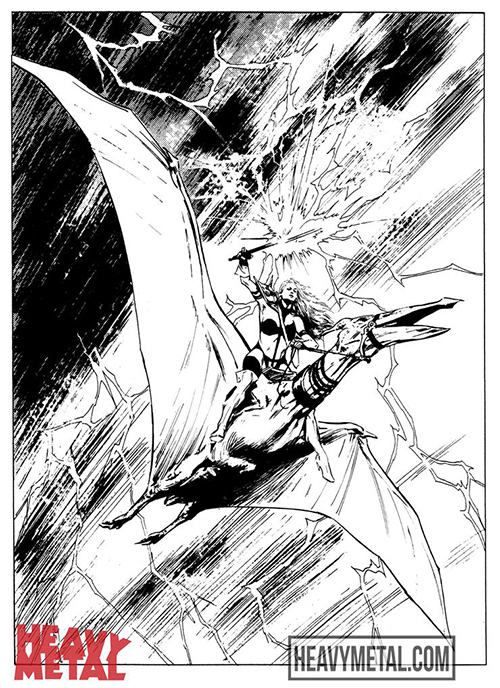 PREVIEWSworld: Finally, where do you think Heavy Metal is going in 2021. A lot of upheavals occurred in comics. Any hopes or predictions next year and beyond?
Forte: To infinity and beyond, baby!! Seriously, we have some amazing talent lined up for the coming issues. HM was always known for thrilling, eclectic, and sometimes shocking content, we want to push the boundaries even further. We are now monthly, so we encourage comic stores and fans to put us on your pull lists, you will not be disappointed.
Illidge: Heavy Metal will continue to lead the way, so where we're going is forward, attracting great creators and daring ideas with our gravitational pull.
Llarena: I can say that in general comics will prevail. And in particular, speaking about Heavy Metal, we will strive hard to honor what HM represents and continue the "good fight" in comics.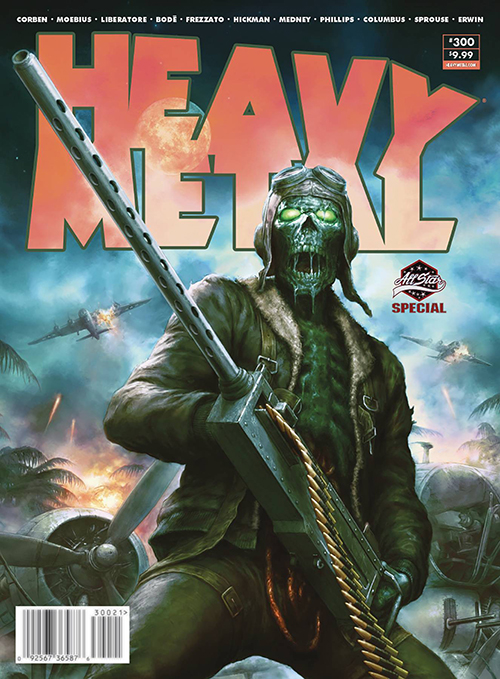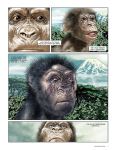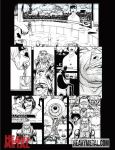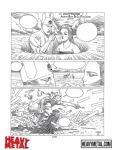 Click to View

Heavy Metal Magazine is available every month at your local comic shop.
****
Troy-Jeffrey Allen is the producer and co-host of PREVIEWSworld Weekly. His comics work includes BAMN, Fight of the Century, the Harvey Award-nominated District Comics, and the Ringo Awards-nominated Magic Bullet.