Before 'King in Black': A Quick Look Back At When The Symbiote Went Cosmic!
Dec 04, 2020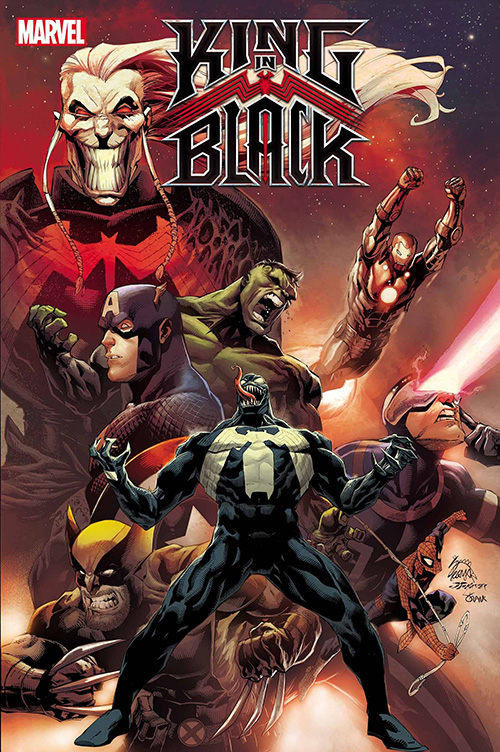 by Troy Jeffrey Allen
One of the things I love about superhero comics is connecting dots. And when I say "connecting the dots," I don't necessarily just mean clear, cut-and-dry continuity links. I love that stuff, too (of course!), but I also just love it when happy accidents occur. Creating associations years or decades apart that readers can build upon if they want. With all the press around Marvel's King in Black crossover event this week, I couldn't help but think about a previous mini-arc from Amazing Spider-Man #430 and #431, released over two decades ago. This two-issue throwdown by writer Tom DeFalco and artist Joe Bennett featured a sort of soft version of what King in Black seems to revel in: A cosmic threat, symbiotic chaos, and Marvel heroes way in over their heads.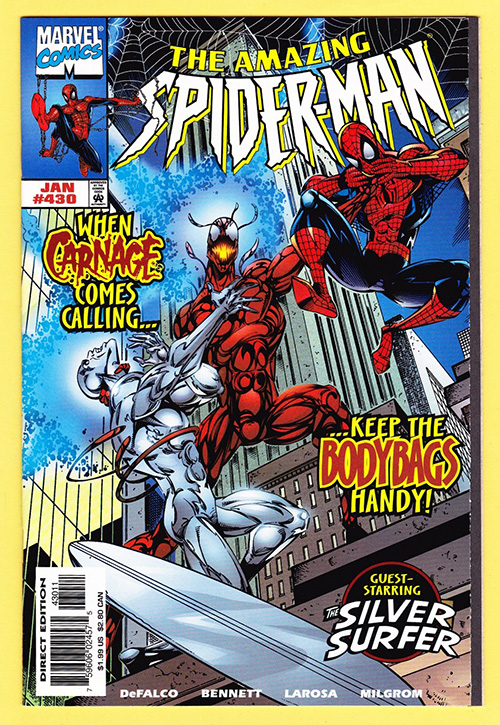 Amazing Spider-Man 430 takes place on the heels of Marvel's then line-wide Heroes Return push. A marketing campaign that was Marvel's way of saying to fans "our bad" after they rebooted their continuity with Heroes Reborn (since this is PREVIEWSworld.com and not comicbook.com, I'll assume you know the story behind Heroes Reborn already). That's a somewhat important detail because the comic starts off with Spider-Man eager to retire from crime-fighting (yeah, again). His assumption is that now that New York's Avengers and Fantastic Four are back, Spider-Man can chill on swooping in to save the day. Simultaneously, in his own stoic way, the Silver Surfer is also excited to hear that his Earth buddies have returned to continuity. Meanwhile, Carnage has escaped the Ravencroft Institute. And if you hadn't guessed by looking at the cover, this puts all three characters on an inevitable collision course.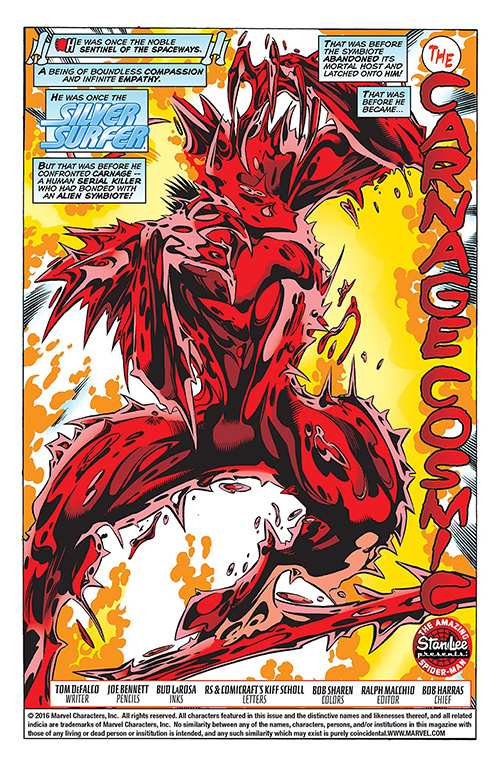 Spider-Man and Carnage get into it first -- quipping and fighting through the streets. Issue 430 ends with Surfer swooping in for the assist as the symbiote recognizes him. Immediately, the typically dedicated Carnage symbiote hops bodies. Turning the chromium cosmic-powered Silver Surfer into...COSMIC CARNAGE! It's exactly at this point that Spider-Man and sixteen-year-old me both had a "holy $#!+" moment.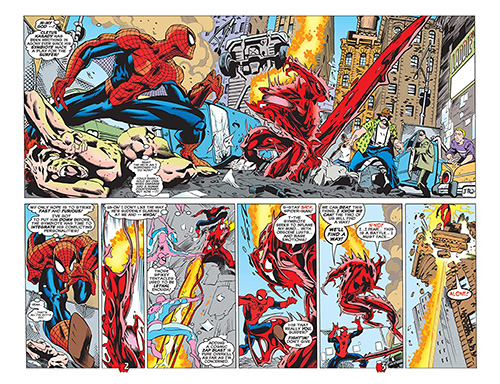 For readers of King in Black, the fact that the symbiote recognizes Surfer is pretty interesting. Especially since prior to this there'd been no connection between the two. A little over two decades after ASM 430, Marvel would tease their KiB event with a book called Silver Surfer: Black in 2019. In it, Surfer has a time-displaced scrap with Knull, God of the symbiotes, and the main opposition behind Donny Cates and Ryan Stegman's current crossover. Jump back to 1997 with Amazing Spider-Man #431, however, and it looks like Tom Defalco and Joe Bennett had predicted the conflict early...but also later. I'll explain...
In ASM #431, Silver Surfer explains that the symbiote recognized Surfer from when Surfer served as a herald of Galactus. The sentinel of the spaceways led Galactus to a symbiote infested planet. Galactus is a world-devourer. So...he devoured that world! But, because the symbiote is part of a collective that feeds on hosts, other symbiotes remember that planet-ending event. And they hadn't gotten over it.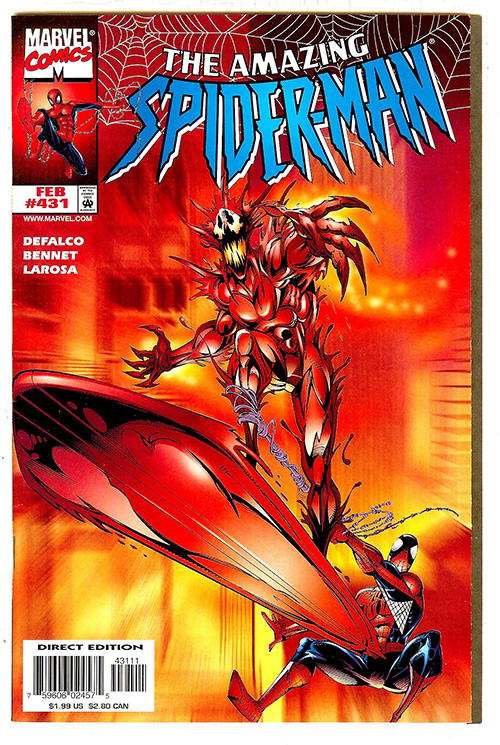 Look, I can't assume or claim that King in Black writer Donny Cates and artist Ryan Stegman read this two-parter from 1997 or that it served as the nugget of an idea that would become his 2020 Marvel event. But for longtime readers, this detail makes Knull -- and by extension -- his symbiotes disdain's for Surfer two-fold. In terms of the order, technically, Knull's cosmic throwdown with Surfer happened first in Silver Surfer: Black. Then, some light years later, Surfer, as the herald for Galactus, recognized a planet infested by symbiotes and gave Galactus the go-ahead. I say "technically" because there is some time-travel tomfoolery happening in Silver Surfer: Black that makes the timeline of this series of events murky. Regardless, it's these fun little details that make comic book collecting worthwhile. At least to me.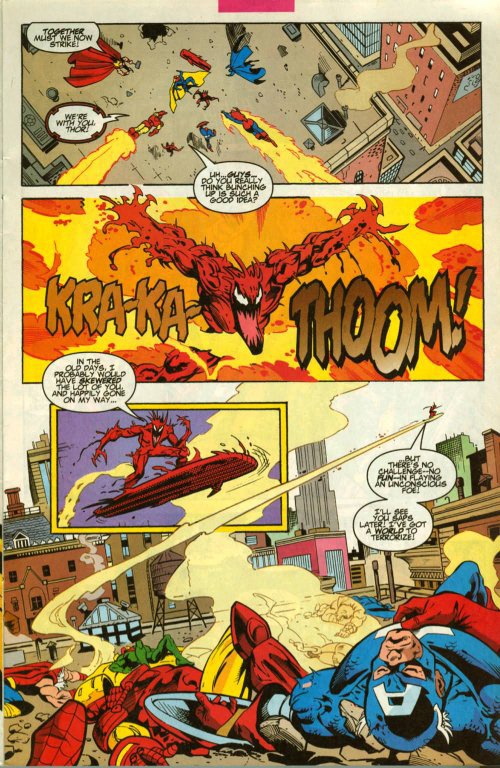 Bonus: Even if Donny Cates didn't see Amazing Spider-Man 430 and 431 as inspiration, someone did. Tom DeFalco. One year later, Defalco revisited his story (this time with artist Sergio Cariello) in the pages of What If... #108. There, he asks what if Cosmic Carnage had beat the Avengers? Which, from appearances, seems to foreshadow aspects of the King in Black even more. Things come down to Thor and Carnage in What If... Of course, this isn't an in continuity event. But it could become reality soon for the Marvel U. We'll just have to find out when King in Black concludes in March. And while you're along for the ride, be sure to connect the dots yourself with these KiB adjacent titles. At your comic shop now.
****
Troy-Jeffrey Allen is the Content Marketing Manager for PREVIEWSworld.com and Diamond's pop culture network of sites. His comics work includes BAMN, Fight of the Century, and the Harvey Award-nominated District Comics.