Indie Edge Creator Spotlight: Robert Kirkman
Oct 02, 2020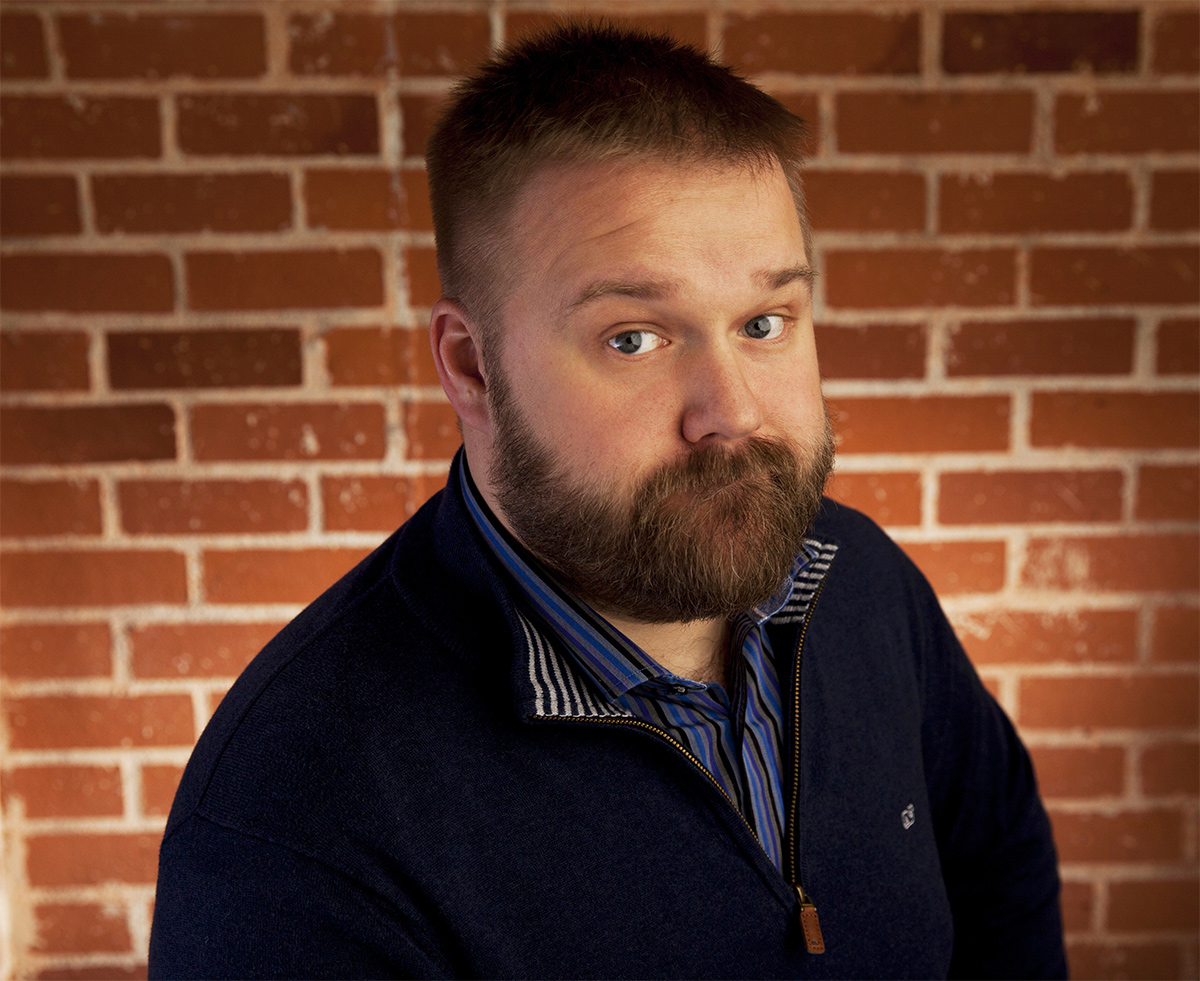 PREVIEWSworld: Please tell us a bit about yourself!
Robert Kirkman: I'm Robert Kirkman. I'm from a small town in Cynthiana, Kentucky and I'm the son of a welder. I've eaten so many cheeseburgers early in life that I can no longer eat cheeseburgers, which is a drag. There's very little in this world I enjoy more than old toys and '90s comics, more specifically, the early Image Comics line.
My work on Invincible and The Walking Dead coupled with being an all-around cool guy led to me eventually becoming a partner at Image Comics. The Walking Dead was turned into a TV show that's become so successful I've nearly lost all touch with reality. I still make new comics because that's my passion, I've recently launched the new series Oblivion Song (Vol. 1 / JUL180159), DIE!DIE!DIE! (Vol. 1 / MAY190041) and Fire Power (Vol. 1: Prelude TP / FEB200019) and there are many more to come.
If you prefer to read my old stuff, we're re-releasing The Walking Dead in color — with all kinds of cool bells and whistles — as The Walking Dead Deluxe (Cover A / AUG200027). If comics aren't your thing (shame on you!) we're hard at work adapting Invincible into a rad new animated series for Amazon Prime. It's rad. The cartoon... and Amazon Prime (shill).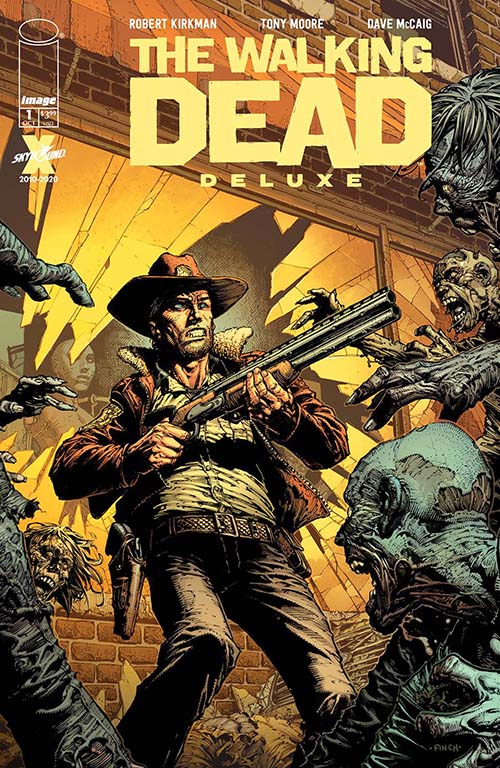 PREVIEWSworld: What are your favorite projects you've contributed to over the past decade?
Robert Kirkman: I'll always have a soft spot in my heart for Super Dinosaur (Vol. 1 / SEP110433), the all-ages series I created with Jason Howard (launching BIG GIRLS soon!). It was a lot of fun to try my hand at something that wasn't overly violent or full of cursing... and as far as world-building went, I think Jason and I were able to make something really unique and dynamic. Design-wise Jason just absolutely knocked it out of the park. I highly recommend readers of all ages check it out. It's great for kids but not just for kids.
On the flipside, Paul Azaceta and I are wrapping up a series called Outcast (Vol. 1 / OCT140637) this October, and I really am excited to see how people respond to this long 48-issue journey we've been on. I think you can't find a better horror artist than Paul, and I think we were able to make something together that was far creepier than I ever thought possible in comics form. There are panels I have a hard time looking at for too long and I wrote the dang thing!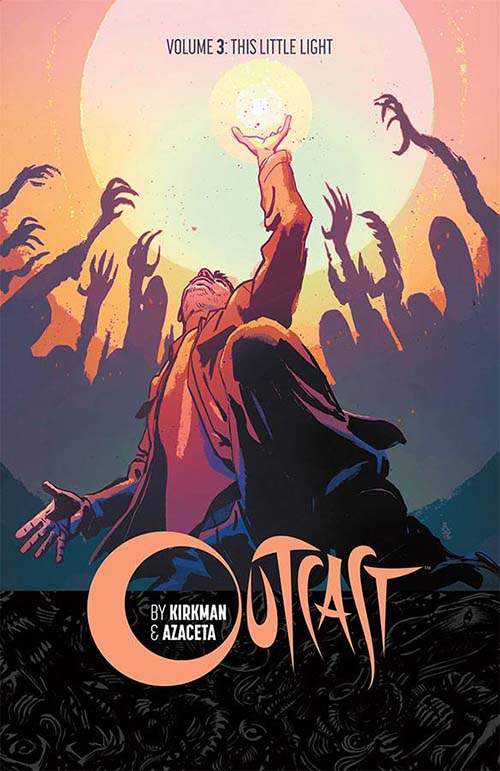 PREVIEWSworld: What are you currently working on?
Robert Kirkman: The aforementioned Fire Power with the esteemed Chris Samnee just launched. It's another new genre I've never explored before. There haven't been a ton of Martial Arts comics, so I feel like we've got the room to dig in and do something unique with the artform. Working with Chris and his partner in crime, Matthew Wilson, is a tremendous honor. Oblivion Song with Lorenzo De Felici and Analisa Leoni and Die!Die!Die! with Scott M. Gimple, Chris Burnham and Nathan Fairbairn rounds out my current output.
Oblivion Song is Sci-Fi and Die!Die!Die! is... mature, political, fantasy... action... it's a weird one. I've heard people say the fact that all my projects are so different is a detriment, that it's hard for people who love The Walking Dead to get into my other work, that I should just do horror comics. Frankly, I could never do that. Personally, I enjoy action, horror, romance, sci-fi, fantasy, drama and whatever other genres of entertainment there are. If I were only doing one type of comic I would be miserable. I make sure all my projects are different by design so that I can try to reach as big an audience as possible, even though... at the end of the day, I'm really only trying to entertain myself.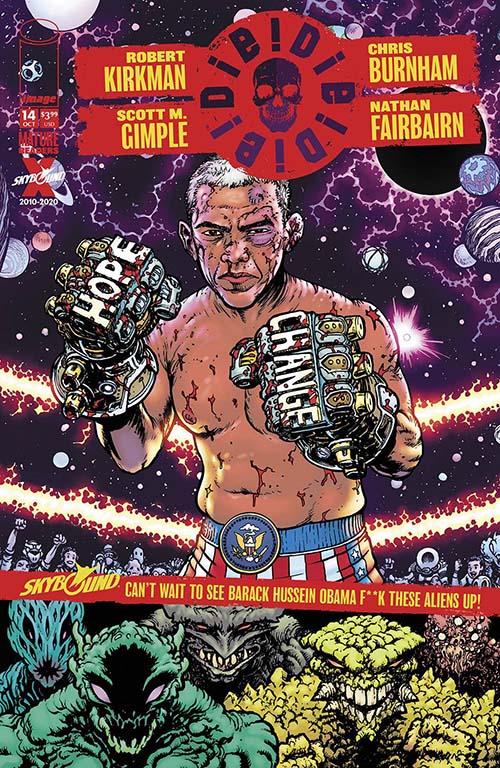 PREVIEWSworld: What fun titles are you reading?
Robert Kirkman: I think Sean Phillips and Ed Brubaker are doing the work of their careers right now. Their recent books Bad Weekend (MAY190040) and My Heroes Have Always Been Junkies (AUG190092) are a master class of two great creators absolutely dominating a format. PULP (HC / MAR200016) on the other hand, is my favorite work of theirs to date. It's such a great character study, infinitely compelling but I think the thing I loved about it the most is that it's a complete package. You open the book, go on a journey and when you close the book you're satisfied and done. I'm as guilty of this as anyone, but not every comic needs to be a years-long epic... maybe one day I'll take that advice.
Decorum (See Issue #7 on page 55!) from Jonathan Hickman and Mike Huddleston is just stunning, STUNNING work! It stands among the best work that pushes what comics can be. Mike's wildly changing style from scene to scene works to keep you engaged and Jonathan's tight plotting and creative vagueness makes you yearn for more details, keeping you hungry for more. The cherry on top being Sasha Head's great design work throughout which really makes for a gorgeous overall package. It's a lesson in what comics can be.
My love for Rob Liefled and G.I. Joe collide with Snake Eyes: Deadgame (#1 2nd Printing / JUN208405) from IDW. Any time you can take a character as old and beloved as Snake Eyes and throw a fresh coat of paint on them, making them seem vibrant and new, it's something to be commended. Rob's plot is insane in all the best ways. Snake Eyes fighting a sword-wielding mummy? Did I just see Thor in this comic? Is that the original G.I. Joe who just showed up? It's the bizarre Snake Eyes story I never knew I wanted. And the scripting from Chad Bowers is on point. Just great stuff!
EDGE ESSENTIALS
Pick up these books to learn more about Robert Kirkman's Indie Edge style!
IMAGE COMICS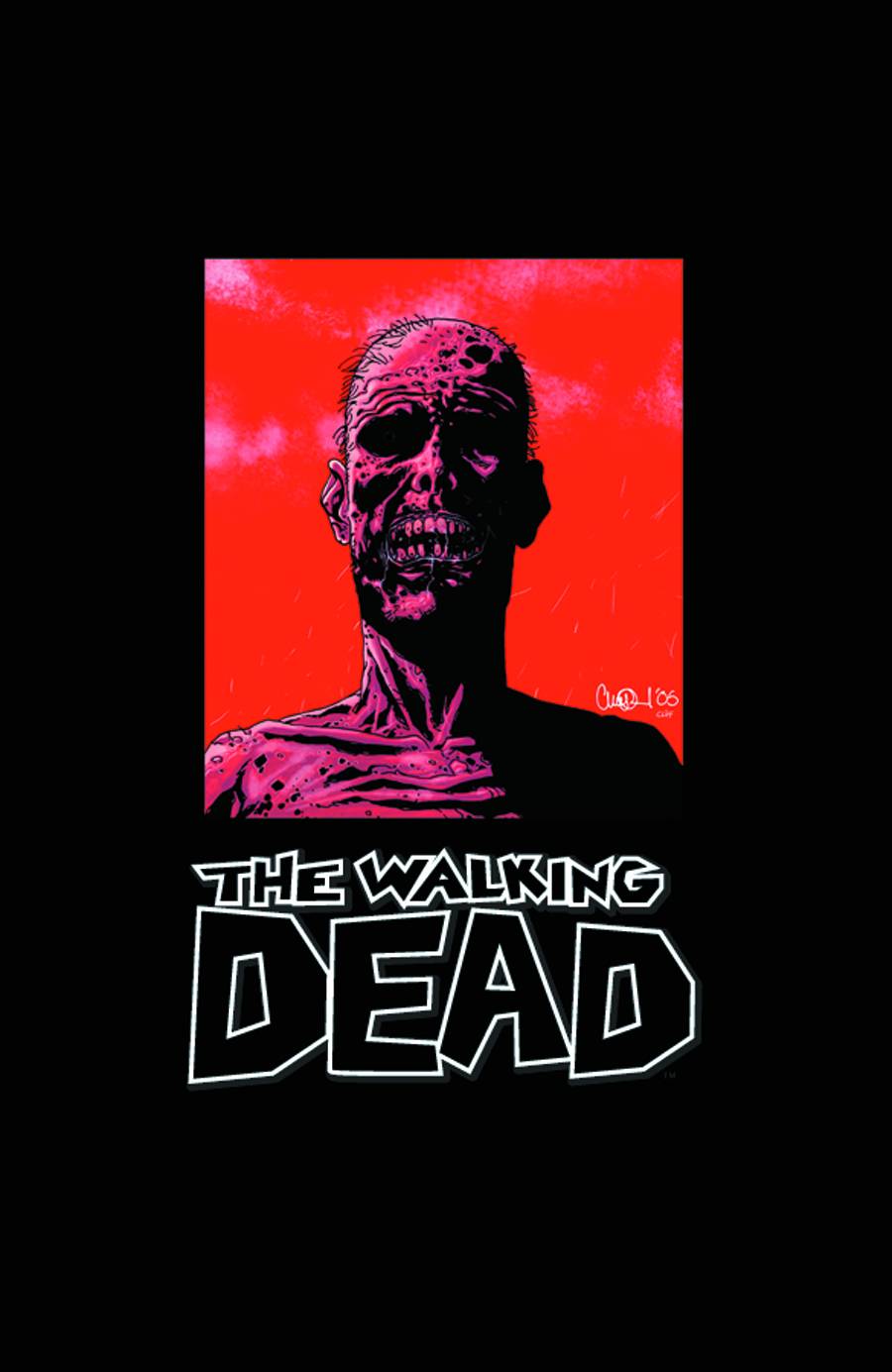 (W) Robert Kirkman (A) Tony Moore (A/CA) Charlie Adlard
BACK IN PRINT! This hardcover features the first 24 issues of the hit series along with the covers for the issues, all in one oversized slipcased hardcover volume. Perfect for long time fans, new readers and anyone needing a slightly heavy object with which to fend off the walking dead. Collects THE WALKING DEAD #1-24. RETAILER WARNING: MAY NOT BE SUITABLE FOR ALL AGES!
In Shops: Nov 30, 2011
SRP: $100.00
PREVIEWS Page #188
IMAGE COMICS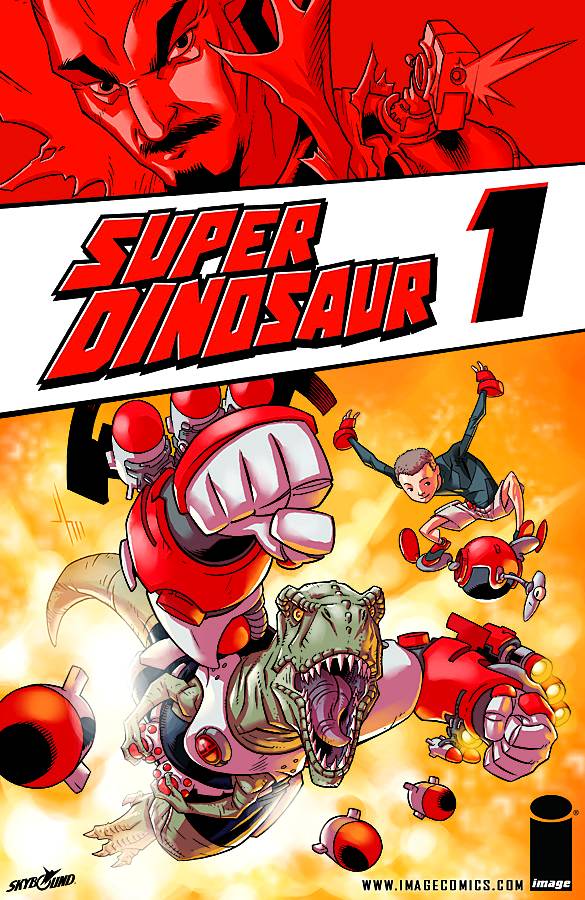 (W) Robert Kirkman (A/CA) Jason Howard
This is where it begins! The Evil Max Maximus wants to get to Inner-Earth! He wants the dinosaurs that live there! He wants the powerful DynOre mineral that originates there! SUPER DINOSAUR and DEREK DYNAMO are the only ones who can stop him! The fate of the world rests on the shoulders of a ten year-old kid and his best friend, a nine-foot tall Tyrannosaurus Rex who loves to play video games.

Collects SUPER DINOSAUR #1-5 and SUPER DINOSAUR ORIGIN SPECIAL #1
In Shops: Nov 23, 2011
SRP: $9.99
PREVIEWS Page #187
IMAGE COMICS
(W) Robert Kirkman (A) Annalisa Leoni (A/CA) Lorenzo De Felici
A decade ago, 300,000 citizens of Philadelphia were suddenly lost in Oblivion. The government made every attempt to recover them, but after many years, they gave up. Nathan Cole...won't. He makes daily trips, risking his life to try and rescue those still living in the apocalyptic hellscape of Oblivion. But maybe...Nathan is looking for something else? Why can't he resist the siren call of the Oblivion Song?

This hardcover features the first twelve issues of the hit comic book series, along with covers and a sketchbook, in one oversized hardcover volume. Perfect for long-time readers and new fans.

Collects OBLIVION SONG #1-12
In Shops: Jul 15, 2020
SRP: $39.99
PREVIEWS Page #61