Got It Covered: Todd McFarlane's Spider-Man/Spawn Team-Up!
Sep 03, 2020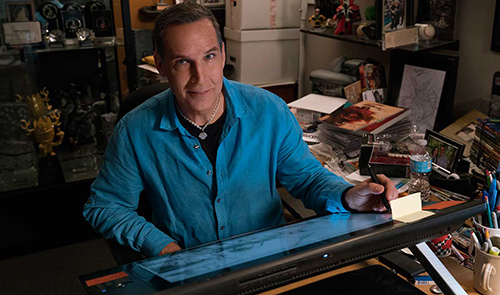 by Troy-Jeffrey Allen
"I've never put those two characters on the same page," artist Todd McFarlane admits about his cover art to The Overstreet Comic Book Price Guide 50. The "two" he's referring to are his record-breaking, creator-owned vigilante Spawn and Marvel's world famous web-slinger Spider-Man. "Steve Geppi, a dear friend of mine, asked me to do this as a personal favor," McFarlane continues, "and since he's been a good man to me over all these decades, I was more than happy to oblige and put this together."
The fact that McFarlane has never drawn "Spidey" and "Spawny Boy" (respectively) together -- not even a doddle or a commission – is pretty surprising. For no other reason than the fact that McFarlane is undeniably synonymous with both.
In 1988, comic writer David Michelinie and a 27-year-old artist named Todd McFarlane introduced the world to the Spider-Man antagonist known a Venom. When Venom debuted in Amazing Spider-Man #300 it created an insatiable appetite for the villain. An appetite that fans still carry to this day. Two years later, in 1990, McFarlane went solo by writing and drawing Spider-Man #1. That first issue moved 2.65 million copies, sending collector's scrambling! Then, in 1992, his creator-owned work on Spawn became the best-selling comic of its time. This put McFarlane and his contemporaries in the midst of a massive speculator boom. A period of indulgence but also prosperity for the comic book industry.
When you factor all that in, it makes sense that Todd McFarlane would grace the cover of the annual The Overstreet Comic Book Price Guide's 50th volume. He has galvanized the collector's market for 32 of Overstreet's 50 years of existence. "I thought I put in a lot of time doing Spawn for the last 27 years, but they've doubled that," McFarlane notes. "It also means geekdom has been alive and well for longer than anyone thought. It was just hidden in the shadows before coming to the forefront."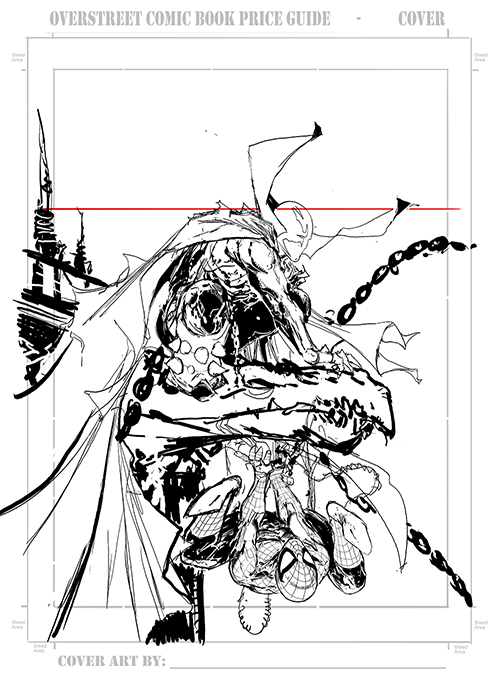 And here we have the artist who has reenergized geekdom more than a few times, drawing two symbols of nerd culture meeting for the first time. A "team-up" that demanded both characters be visibly balanced. Even when perched on a ledge. "[It was] intentional that I gave [the viewer] a side view to the gargoyle. The biggest challenge was trying to give equal value to these two characters," McFarlane says before noting that Spawn's cape alone could overwhelm the image if unchecked. "My initial idea was to have Spidey swinging in front of Spawn, but then I thought he might get lost because Spawn has red on his costume and a cape and Spider-Man has a lot of red on his costume. If I designed it in a way that they are overlapping, all of the red would just mush together."
Surprisingly enough, the most difficult part of making this cover a reality wasn't crossing over a Disney owned Marvel character with McFarlance's more HBO-friendly Spawn. It was McFarlane's own familiarity with the the two dogged heroes. "Both characters move completely different and react to the world differently," says McFarlane. Ultimately, he decided to not have the characters interact at all. If Spawn and Spidey don't mingle then they are free to be expressive in their own unique way. "So it was the 'what if' they could both be on the same building, on the same ledge, on the same gargoyle and not know the other one was there. When you look at it, you're not sure Spawn even knows Spider-Man is there and visa versa."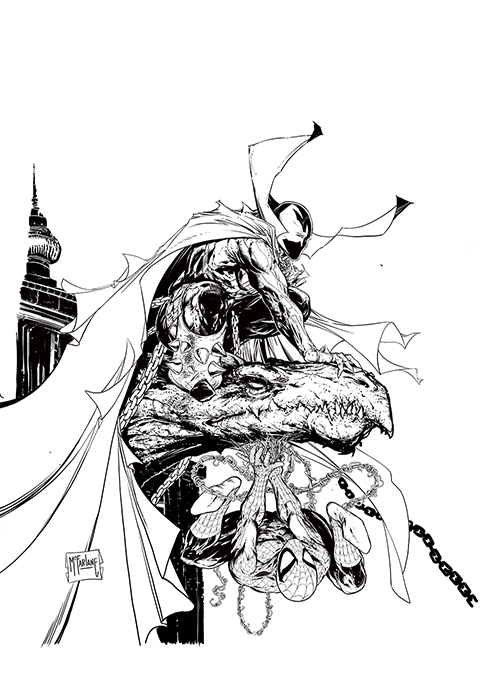 Once the concept was locked in, McFarlane went back to the digital drawing board. "I started inking digitally then printed it out and inked some on paper," McFarlane describes. "Then back to digital to finish it up. So, tying together some 'old school and new school' techniques to get to the finish product."
From there, it's on to colors, some finishes, and straight to the cover to The Overstreet Comic Book Price Guide 50. But now the question is…is this the start of a potential comic book with Al Simmons and Peter Parker? "Anything's possible," McFarlane teases. "But as I've said before, if I ever was to do work for Marvel or DC, it would have to include Spawn. The simple answer, is yes, it's possible."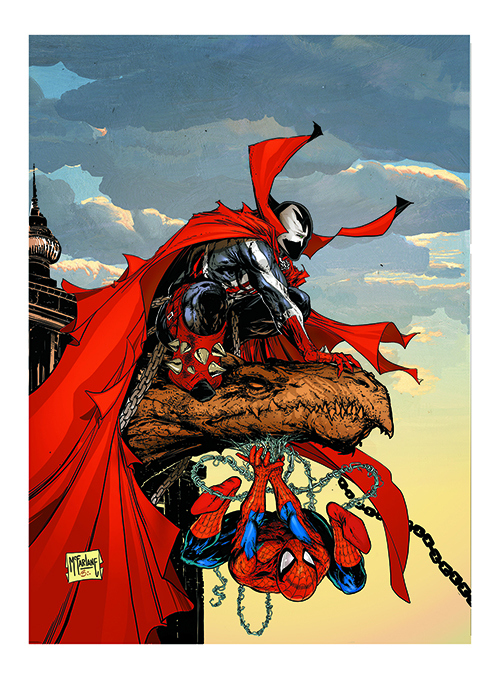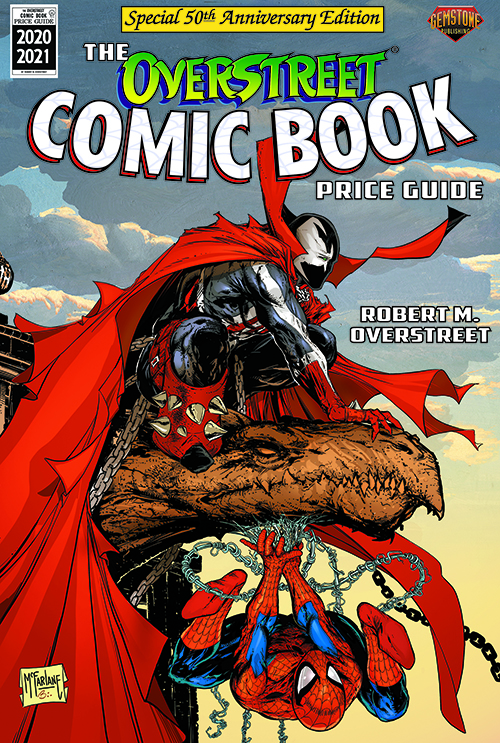 Special thanks to Carrie, Carmen, Jeff, and Shannon.
The Overstreet Comic Book Price Guide #50 is available at comic shops now in hardcover (APR201863) and softcover (APR201862).
****
Troy-Jeffrey Allen is the producer and co-host of PREVIEWSworld Weekly. His comics work includes BAMN, Fight of the Century, the Harvey Award-nominated District Comics, and the Ringo Awards-nominated Magic Bullet.