SyFy Reveals Trailer For Todd McFarlane Documentary
Jul 23, 2020
Image Comics founder and recent Guinness Book of World Records subject, Todd McFarlane, prides himself on wearing many hats. If you need proof of that, then an upcoming documentary from SyFy is here to underline why he is one of the hardest working men in comics, and how McFarlane has amassed a comic book empire outside the Big Two.
From SyFy: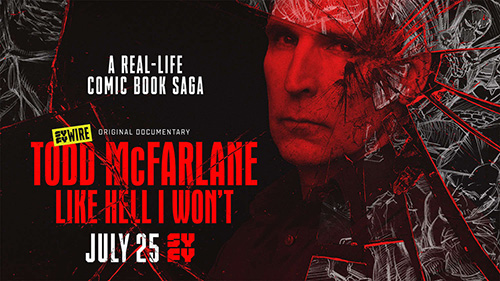 Todd McFarlane: Like Hell I Won't details the legendary comic book artist and entrepreneur's obstacle-ridden career leading up to the milestone release of the 300th issue of Spawn - McFarlane's hit horror-fantasy series. Find out how he literally "raised hell" to push boundaries and build an empire Saturday July 25th at 11/10c on SYFY.
Take a look at the trailer above, and then be sure to tune into the SyFy Channel on Saturday, July 25th to discover more about the genesis of Spawn, McFarlane's time at Marvel, his venture into the toy industry, and so much more.
For more from McFarlane, keep an eye on PREVIEWSworld.com's Twitter, Facebook, YouTube, or Instagram.
{FULLDETAIL-JAN130486}
{FULLDETAIL-APR201863}
{FULLDETAIL-FEB209188}