Top 25 Toys: March 2020
Apr 29, 2020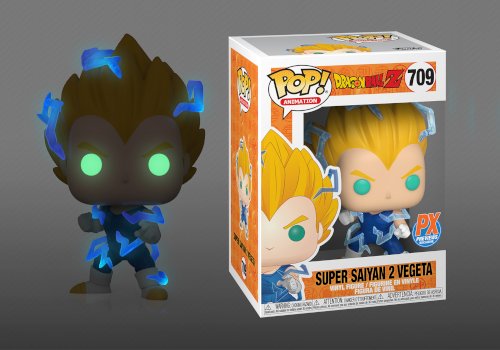 Funko's POP! Dragon Ball Z: Super Saiyan 2 Vegeta Vinyl Figure, a PREVIEWS Exclusive, was the best-selling toy of March.
Also from Funko, the PREVIEWS Exclusive POP! Marvel: Spider-Man Into the Spider-Verse: Casual Miles Morales Vinyl Figure ranked #3.
Good Smile had two video game toys in the top ten: the Persona 5: Futaba Sakura Figma ranked #2 and the Overwatch: Pharah Figma ranked #8.
Diamond Select Toys had two products in the top ten: the Marvel Select: Spider-Man Figure, based on Sony's best-selling Spider-Man PlayStation 4 video game, ranked #4, and the Disney Select Classic Figures ranked #6.
Based on the beloved animated film, 1000 Toys' The Iron Giant 1/12-Scale Die-Cast Figure ranked #5 and The Iron Giant (Battle Mode) 1/12-Scale Die-Cast Figure ranked #7.
Hasbro's Transformers Generations: Ghostbusters Ectotron Action Figure, a unique crossover that turns the famous ECTO-1 into an Autobot, ranked #9.
Finally, DC Collectibles' Batman vs. Harley Quinn Battle Statue (Second Edition) ranked #10.
TOP 25 TOYS
Based on Total Retail Dollar Sales of Products Invoiced in March 2020
DOLLAR
RANK
QTY
RANK
ITEM
CODE
DESCRIPTION
PRICE
VENDOR
1
1
JAN199073
POP ANIMATION DBZ SUPER SAIYAN 2 VEGETA PX VIN FIG
$11.99
FUNKO
2
7
MAR198472
PERSONA 5 FUTABA SAKURA FIGMA AF
$94.99
GOOD SMILE COMPANY
3
2
JAN199071
POP MARVEL INTO SPIDERVERSE CASUAL MILES MORALES PX VIN FIG
$12.99
FUNKO
4
4
AUG192734
MARVEL SELECT SPIDER-MAN VIDEO GAME PS4 AF
$29.99
DIAMOND SELECT TOYS LLC
5
14
JAN188313
IRON GIANT DIECAST 1/12 SCALE ACTION FIGURE
$79.80
1000 TOYS INC.
6
28
AUG192721
DISNEY SELECT CLASSIC FIGURE ASST
$179.94
DIAMOND SELECT TOYS LLC
7
17
JUN199052
IRON GIANT BATTLE MODE VERSION DIECAST 1/12 SCALE AF
$73.15
1000 TOYS INC.
8
19
NOV188215
OVERWATCH PHARAH FIGMA AF
$114.99
GOOD SMILE COMPANY
9
74
SEP198051
TRANSFORMERS GEN GHOSTBUSTERS ECTOTRON AF CS
$180.00
HASBRO TOY GROUP
10
105
AUG190702
BATMAN VS HARLEY QUINN BATTLE STATUE SECOND EDITION
$375.00
DC COMICS
11
3
DEC188715
POP DC HEROES BATMAN DAMNED PX VINYL FIGURE
$11.99
FUNKO
12
32
JAN198006
OVERWATCH MERCY FIGMA AF
$114.99
GOOD SMILE COMPANY
13
10
JUN198762
HELLRAISER PINHEAD ULTIMATE 7IN AF
$35.99
NECA
14
40
FEB198424
ONE-12 COLLECTIVE IT 2017 PENNYWISE AF
$72.00
MEZCO TOYS
15
23
AUG190704
BATMAN BLACK & WHITE STATUE BY DOUG MAHNKE
$90.00
DC COMICS
16
29
MAR198516
ONE-12 COLLECTIVE MARVEL MOON KNIGHT AF
$56.00
MEZCO TOYS
17
84
SEP198358
FANTASTIC FOUR LEGENDS 6IN AF ASST 202001
$131.20
HASBRO TOY GROUP
18
141
JUL192672
MARVEL MILESTONES GHOST RIDER COMIC STATUE
$299.99
DIAMOND SELECT TOYS LLC
19
204
JUN198623
TMNT TURTLES IN TIME 7IN ACTION FIGURE ASST
$377.86
NECA
20
5
JUN192566
POP DC HEROES RED DEATH PX VINYL FIGURE
$11.99
FUNKO
21
55
OCT192545
MARVEL PREMIER COLLECTION MILES MORALES STATUE
$150.00
DIAMOND SELECT TOYS LLC
22
100
SEP192493
MARVEL PREMIER COLLECTION ICEMAN STATUE
$199.99
DIAMOND SELECT TOYS LLC
23
113
SEP198386
MY HERO ACADEMIA WV2 7IN AF ASST
$119.50
MCFARLANE TOYS
24
69
SEP190615
DC DESIGNER SER BATMAN BY OLIVIER COIPEL STATUE
$155.00
DC COMICS
25
9
JUL178319
MUPPETS SELECT AF SER 2 STATLER & WALDORF AF
$29.99
DIAMOND SELECT TOYS LLC
This information may not be reproduced in any format without the express permission of Diamond Comic Distributors.
How does Diamond calculate the charts? It all starts at the comic book shop.
Data for Diamond's sales charts — which includes the monthly market shares and all top product charts — are compiled by Diamond Comic Distributors from sales made to thousands of comic book specialty shops located in North America and around the world. Additional sales made to online merchants and other specialty stores may be included as well.
Unit and dollar market shares are calculated based upon orders for comic books, graphic novels, and magazines invoiced and shipped to Diamond customers during any given month, which comprises pre-orders, advance reorders, and reorders, minus any copies that are distributed free of cost.