Top 25 Toys: February 2020
Mar 16, 2020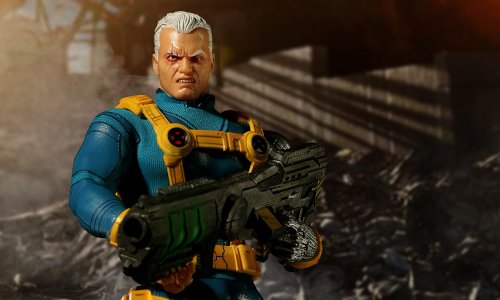 Mezco's One:12 Collective: Marvel: Cable (X-Men Edition) Figure, a PREVIEWS exclusive release that depicts the time-traveling mutant in a blue-and-yellow X-Men uniform, was February's best-selling toy product.
Also in the top ten from Mezco, the PREVIEWS exclusive One:12 Collective: DC: Green Lantern Hal Jordan Figure ranked #2.
DC Collectibles' DC Designer Series: Harley Quinn & Poison Ivy by Emanuela Luppachino Statue ranked #3.
1000 Toys had two Devil May Cry 5 Deluxe 1/12-Scale Statues in the top ten; the Dante statue ranked #4 and the Nero statue ranked #7.
January's best-selling toy, Funko's PREVIEWS exclusive POP! Marvel Heroes: Thanos Snap 6-Inch Deluxe Vinyl Figure, returned tot he charts and ranked #5 for the month.
Diamond Select Toys had three products in the top ten: the Godzilla Gallery: Godzilla (1991) Deluxe PVC Figure ranked #6, the Marvel Select: Avengers Endgame: Iron Man Mk. 85 Figure ranked #8, and the Marvel Premier Collection: Carnage Statue ranked #10.
Finally, ThreeZero's Transformers: Optimus Prime Deluxe Scale Figure ranked #9.
TOP 25 TOYS
Based on Total Retail Dollar Sales of Products Invoiced in February 2020
DOLLAR
RANK
QTY
RANK
ITEM
CODE
DESCRIPTION
PRICE
VENDOR
1
4
OCT188681
ONE-12 COLLECTIVE MARVEL PX CABLE X-MEN EDITION AF
$72.00
MEZCO TOYS
2
3
NOV188570
ONE-12 COLLECTIVE DC PX GREEN LANTERN HAL JORDAN AF
$56.00
MEZCO TOYS
3
25
JUL190677
DC DESIGNER SER HARLEY & POISON IVY BY LUPPACHINO STATUE
$280.00
DC COLLECTIBLES
4
13
APR198276
DEVIL MAY CRY 5 DANTE PX DELUXE VERSION 1/12 SCALE AF
$99.75
1000 TOYS INC.
5
1
MAY198251
POP MARVEL HEROES THANOS SNAP 6IN PX DELUXE VINYL FIGURE
$28.99
FUNKO
6
8
MAY192385
GODZILLA GALLERY 1991 GODZILLA DLX PVC FIG
$69.99
DIAMOND SELECT TOYS LLC
7
37
MAY198059
DEVIL MAY CRY 5 NERO PX DELUXE VERSION 1/12 SCALE AF
$99.75
1000 TOYS INC.
8
2
SEP192494
MARVEL SELECT AVENGERS 4 IRON MAN MK85 AF
$29.99
DIAMOND SELECT TOYS LLC
9
71
MAY198120
TRANSFORMERS OPTIMUS PRIME DLX SCALE FIG
$142.29
THREE A TRADING COMPANY LTD
10
73
JUN192392
MARVEL PREMIER CARNAGE STATUE
$199.99
DIAMOND SELECT TOYS LLC
11
78
JUN198163
MARVEL GHOST RIDER ARTFX PREMIER STATUE
$116.50
KOTOBUKIYA
12
43
JUL190676
DC COVER GIRLS BATGIRL BY FRANK CHO STATUE
$130.00
DC COLLECTIBLES
13
48
FEB198526
MARVEL PREMIER AVENGERS 4 CAPTAIN AMERICA STATUE
$150.00
DIAMOND SELECT TOYS LLC
14
55
JUN198122
GI JOE BARONESS BISHOUJO STATUE
$83.75
KOTOBUKIYA
15
5
JAN198860
KINGDOM HEARTS 3 SELECT SERIES 2 HERCULES & PEARL DUSK AF
$29.99
DIAMOND SELECT TOYS LLC
16
6
JAN198861
KINGDOM HEARTS 3 SELECT SERIES 2 TS SORA & G HEARTLESS AF
$29.99
DIAMOND SELECT TOYS LLC
17
7
JAN198862
KINGDOM HEARTS 3 SELECT SERIES 2 GF SORA & G HEARTLESS AF
$29.99
DIAMOND SELECT TOYS LLC
18
101
SEP198350
DC COLLECTOR 7IN SCALE WV1 AF ASST
$116.18
MCFARLANE TOYS
19
21
NOV188574
OVERWATCH LUCIO NENDOROID AF CLASSIC SKIN VER
$59.99
GOOD SMILE COMPANY
20
106
JUL188822
FATE GRAND ORDER SABER FRANKENSTEIN 1/7 PVC FIG
$189.99
GOOD SMILE COMPANY
21
42
JUL190678
HARLEY QUINN RED WHITE & BLACK STATUE BY JOSHUA MIDDLETON
$90.00
DC COLLECTIBLES
22
67
JAN198532
MY LITTLE PONY TWILIGHT SPARKLE BISHOUJO STATUE
$73.00
KOTOBUKIYA
23
83
APR198275
DEVIL MAY CRY 5 DANTE PX STANDARD VERSION 1/12 SCALE AF
$83.13
1000 TOYS INC.
24
102
MAY192383
NBX SELECT SERIES 8 FIGURE ASST
$179.94
DIAMOND SELECT TOYS LLC
25
70
JAN199191
MARVEL DOMINO BISHOUJO STATUE
$73.00
KOTOBUKIYA
This information may not be reproduced in any format without the express permission of Diamond Comic Distributors.
How does Diamond calculate the charts? It all starts at the comic book shop.
Data for Diamond's sales charts — which includes the monthly market shares and all top product charts — are compiled by Diamond Comic Distributors from sales made to thousands of comic book specialty shops located in North America and around the world. Additional sales made to online merchants and other specialty stores may be included as well.
Unit and dollar market shares are calculated based upon orders for comic books, graphic novels, and magazines invoiced and shipped to Diamond customers during any given month, which comprises pre-orders, advance reorders, and reorders, minus any copies that are distributed free of cost.