Start Here: Five New Comics for February 19th
Feb 17, 2020
With a week this packed with new releases it can be hard to decide what pick up on new comics day. Well if you're looking for something new to jump into, look no further! Here's our list of a few choice titles you can start reading this week!
Every week, PREVIEWSworld collects five titles with new number ones or fresh story arcs perfect for readers looking to get into a new series. These new releases are available to purchase at your local comic shop and feature comics from any genre or publisher.
This week: Wolverine makes a comeback, DC Villains fight to save the world in DCeased: Unkillables, get a glimpse at an alternate world where US elections are decided by combat, Matt Kindt and Wilfredo Torres make a BANG!, and Team Ash takes on the Army of Darkness!
These series are ready for new readers to enjoy - all you have to do is Start Here.
Wolverine #1 (DEC190753)
The Best is Back!
Wolverine been through a lot. He's been a loner. He's been a killer. He's been a hero. He's been an Avenger. He's been to hell and back. Now, as the nation of Krakoa brings together all Mutantkind, he can finally be... happy?
With his family all together and safe, Wolverine has everything he ever wanted... and everything to lose. Writer Benjamin Percy (X-Force, Wolverine: The Long Night) and legendary artist Adam Kubert (X-Man, Avengers) bring the best there is to his new home! Plus: The return of Omega Red! DCeased: Unkillables #1 (DEC190413)
The blockbuster DC series returns to answer this question: What did the villains do when the heroes failed and the world ended? Spinning out of the dramatic events of 2019's smash hit, writer Tom Taylor returns to this dark world with a street-level tale of death, heroism and redemption.
Led by Red Hood and Deathstroke, DC's hardest villains and antiheroes fight with no mercy to save the only commodity left on a dying planet of the undead-life!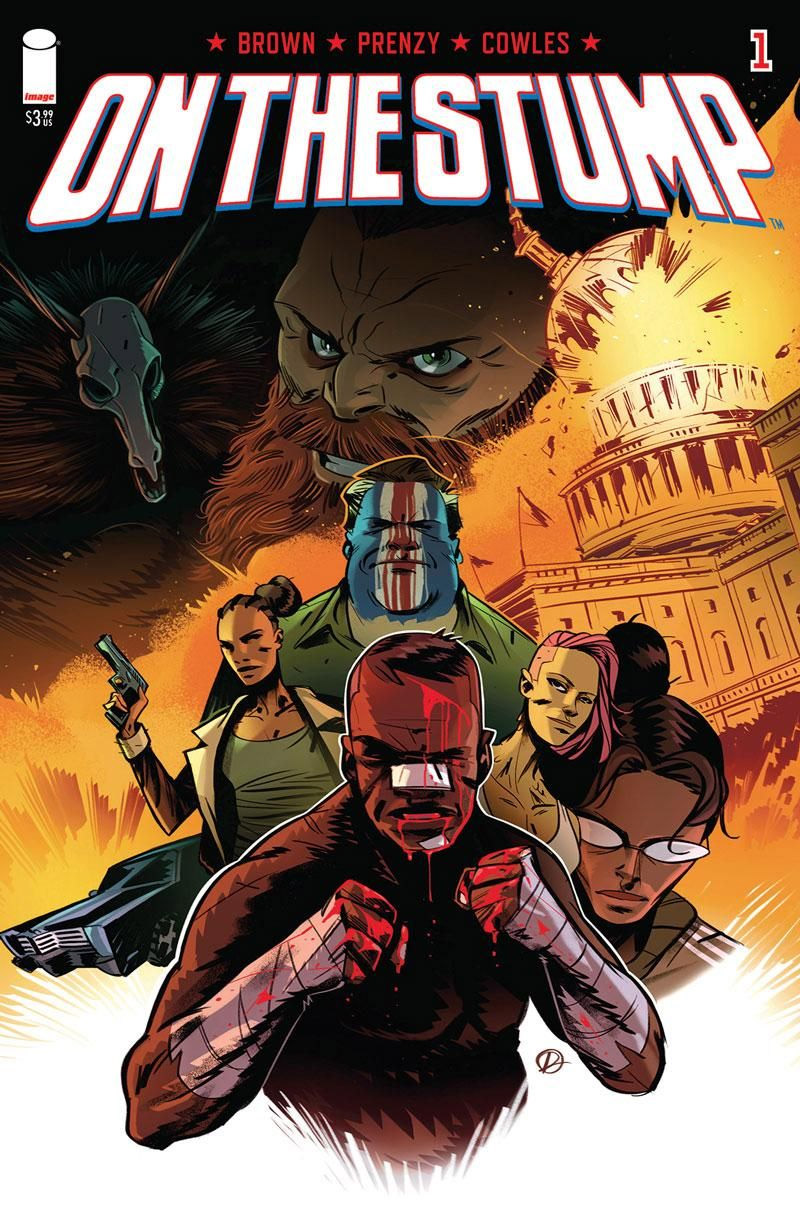 On the Stump #1 (DEC190065)
The campaign trail is paved with blood and broken bones. History diverged in 1868 when a pivotal presidential debate turned violent. Today, elections are decided by highly publicized hand-to-hand combat in arenas called Stumps. Unfortunately, the violence doesn't end in the ring, and powerful people can still get away with murder. Senator Jack Hammer and FBI Agent Anna Bell Lister are teaming up to bring it all down.
Eisner-nominated writer Chuck Brown (Bitter Root) joins forces with Italian artist Prenzy (#Like4Like) and letterer Clayton Cowles to create a hyper-violent tale full of countless injustices-and people who have to fight for their place in it. Each issue of arc one features a connecting variant cover by Sanford Greene! BANG! #1 (DEC190209)
A best-of-the-best secret agent with memories he couldn't possibly possess, a mystery writer in her 60s who spends her retirement solving crimes, a man of action with mysterious drugs that keep him ahead of a constant string of targeted disasters, a seemingly omnipotent terrorist organization that might be behind it all.
And they're all connected to one man: a science-fiction author with more information than seems possible, whose books may hold the key to either saving reality or destroying it. Jump into this action-packed mind-bending mystery set in an altered reality that ties in with past Kindt works (Revolver). Death to the Army of Darkness #1 (DEC191018)
An all-new series by Ryan Parrott (Mighty Morphin Power Rangers) and Jacob Edgar (Red Sonja)!
It's been six months since the events of the Army of Darkness film...Ash is just trying to settle down and get back to his groovy ways. But dammit, deadite-possessed strangers keep attacking him at every turn. Why is evil following everywhere he turns, and what happens when an awful splinter spell causes Ash to become...TEAM ASH!?