Exclusive: 2019's Top 100 Best-Selling Toys
Jan 12, 2020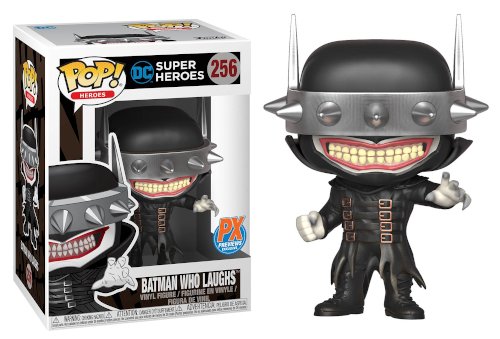 Inspired by DC Comics' Dark Nights: Metal event, Funko's POP! DC Heroes: The Batman Who Laughs Vinyl Figure, a PREVIEWS exclusive, was the best-selling toy of 2019.
Funko had a strong year in 2019 with six of the top ten best-selling. In addition to the POP! Batman Who Laughs figure, Funko's top performers for 2019 were the POP! Marvel Heroes: Thanos Snap 6-Inch Vinyl Figure at #2, the POP! DC Heroes: The Red Death Vinyl Figure at #3, the POP! Marvel Heroes: Spider-Punk Vinyl Figure at #4, the POP! DC Heroes: Harley Quinn with Boombox Vinyl Figure at #8, and thePOP! Dragonball Z: Super Saiyan 2 Vegeta Vinyl Figure at #9, all PREVIEWS exclusives.
Diamond Select Toys' Marvel Gallery: Avengers Endgame: Iron-Spider PVC Figure, a depiction of Spider-Man in his armor from Marvel Studios' third Avengers film, ranked #5 for the year.
Good Smile's Overwatch: Torbjorn "Classic Skin" Nendoroid Figure, based on the team shooter from Blizzard Entertainment, ranked #7.
Also in the top ten, Mezco Toys' One:12 Collection: Marvel Heroes: Cyclops Classic Costume, another PREVIEWS exclusive, ranked #10 for the year.
Also of note, DC Collectibles' best-selling product in 2019, the Batman Animated: Batcycle and Action Figure Set, ranked #16 for the year.
TOP 100 TOYS
Based on Total Retail Dollar Sales of Products Invoiced in Calendar Year 2019
RANK
DESCRIPTION
PRICE
ITEM
CODE
VENDOR
1
POP DC HEROES BATMAN WHO LAUGHS PX VINYL FIGURE
$11.99
JUN188595
FUNKO
2
POP MARVEL HEROES THANOS SNAP 6IN PX DELUXE VINYL FIGURE
$28.99
MAY198251
FUNKO
3
POP DC HEROES RED DEATH PX VINYL FIGURE
$11.99
JUN192566
FUNKO
4
POP MARVEL SPIDER-PUNK PX VINYL FIGURE
$11.99
SEP188215
FUNKO
5
MARVEL GALLERY AVENGERS 3 IRON SPIDER-MAN PVC FIGURE
$49.99
JUN182325
DIAMOND SELECT TOYS LLC
6
OVERWATCH TORBJRN NENDOROID AF CLASSIC SKIN VER
$74.99
SEP188531
GOOD SMILE COMPANY
7
HELLBOY STANDARD VERSION 1/12 SCALE AF
$105.00
MAY189233
1000 TOYS INC.
8
POP DC HEROES HARLEY QUINN W/BOOMBOX PX VINYL FIG
$11.99
AUG188545
FUNKO
9
POP ANIMATION DBZ SUPER SAIYAN 2 VEGETA PX VIN FIG
$11.99
JAN199073
FUNKO
10
ONE-12 COLLECTIVE MARVEL PX CLASSIC CYCLOPS AF (NET)
$72.00
SEP188229
MEZCO TOYS
11
POP MARVEL INTO SPIDERVERSE CASUAL MILES MORALES PX VIN FIG
$12.99
JAN199071
FUNKO
12
ONE-12 COLLECTIVE MARVEL PX IRON MAN STEALTH ARMOR AF (NET)
$58.50
JUN178877
MEZCO TOYS
13
ONE-12 COLLECTIVE DC PX SOVEREIGN KNIGHT BATMAN BLUE AF (NET
$56.00
JUN188303
MEZCO TOYS
14
MARVEL GALLERY CARNAGE COMIC PVC FIGURE
$49.99
JAN192550
DIAMOND SELECT TOYS LLC
15
POP MARVEL NOVA PRIME PX VINYL FIGURE
$12.99
OCT188711
FUNKO
16
BATMAN ANIMATED SERIES BATCYCLE & AF SET
$60.00
JAN190709
DC COMICS
17
MARVEL GALLERY SPIDER-MAN PS4 PVC FIGURE
$49.99
JAN192552
DIAMOND SELECT TOYS LLC
18
MARVEL GALLERY AVENGERS 3 HULKBUSTER DLX PVC FIG
$79.99
JAN192549
DIAMOND SELECT TOYS LLC
19
OVERWATCH REAPER FIGMA AF
$104.99
MAR188251
GOOD SMILE COMPANY
20
MARVEL GALLERY AVENGERS 4 IRON MAN MK85 PVC FIG
$49.99
FEB198521
DIAMOND SELECT TOYS LLC
21
MARVEL SELECT CARNAGE AF
$29.99
NOV142179
DIAMOND SELECT TOYS LLC
22
OVERWATCH WIDOWMAKER FIGMA AF
$104.99
JAN188448
GOOD SMILE COMPANY
23
CASTLEVANIA GALLERY TREVOR BELMONT PVC FIGURE
$49.99
JAN192540
DIAMOND SELECT TOYS LLC
24
POP DC HEROES BATMAN DAMNED PX VINYL FIGURE
$11.99
DEC188715
FUNKO
25
FALLOUT X-01 POWER ARMOR QUANTUM VAR PX ED 1/6 SCALE FIG (NE
$271.70
NOV188441
THREE A TRADING COMPANY LTD
26
MARVEL GALLERY AVENGERS 3 THOR PVC FIGURE
$49.99
APR182164
DIAMOND SELECT TOYS LLC
27
JOHN WICK SELECT AF
$29.99
SEP182329
DIAMOND SELECT TOYS LLC
28
MARVEL SELECT DEADPOOL AF
$29.99
MAR101468
DIAMOND SELECT TOYS LLC
29
POP HEROES DC BATWOMAN PX VIN FIG
$11.99
JAN199072
FUNKO
30
MARVEL COMICS EAA-077 SPIDER GWEN PX AF
$80.00
OCT188103
BEAST KINGDOM CO., LTD
31
STAR TREK TNG PICARD FACEPALM PX BRONZE BUST (THINK GEEK) (N
$24.50
SEP189000
ICON HEROES
32
X-MEN LEGENDS 6IN AF ASST 201901 (NET)
$122.00
NOV188066
HASBRO TOY GROUP
33
MARVEL SELECT UNLEASHED HULK AF
$29.99
AUG118205
DIAMOND SELECT TOYS LLC
34
DC PRIME BATMAN ACTION FIGURE
$125.00
MAR190627
DC COMICS
35
DC GALLERY BATMAN DARK KNIGHT MOVIE JOKER PVC FIGURE
$49.99
NOV182293
DIAMOND SELECT TOYS LLC
36
BATMAN BLACK & WHITE STATUE WHITE KNIGHT BY SEAN MURPHY
$80.00
SEP180641
DC COMICS
37
MARVEL GALLERY AVENGERS ENDGAME CAPTAIN AMERICA PVC FIG
$49.99
JUL192669
DIAMOND SELECT TOYS LLC
38
SPIDER-MAN LEGENDS 6IN AF ASST 201902 (NET)
$122.00
MAY198658
HASBRO TOY GROUP
39
DC DESIGNER SER NIGHTWING BY JIM LEE STATUE
$150.00
JAN190712
DC COMICS
40
MARVEL SELECT ROGUE AF
$29.99
SEP182338
DIAMOND SELECT TOYS LLC
41
DC GALLERY BATMAN COMIC PVC FIGURE
$49.99
FEB192439
DIAMOND SELECT TOYS LLC
42
MARVEL MILESTONES AVENGERS 4 ARMORED THANOS STATUE
$500.00
OCT188304
DIAMOND SELECT TOYS LLC
43
DC ESSENTIALS RED HOOD ACTION FIGURE
$26.00
FEB190631
DC COMICS
44
OVERWATCH D.VA FIGMA AF
$89.99
JUL188939
GOOD SMILE COMPANY
45
MARVEL SELECT THANOS AF
$29.99
MAY052331
DIAMOND SELECT TOYS LLC
46
X-FORCE LEGENDS 6IN AF ASST 201901 (NET)
$122.00
APR198748
HASBRO TOY GROUP
47
DC DESIGNER SER BATMAN BY FRANK MILLER STATUE
$150.00
APR190585
DC COMICS
48
FCBD 2019 POP DC HEROES JOHN CONSTANTINE PX VINYL FIG
$11.99
NOV180015
FUNKO
49
DC DESIGNER SER SUPERGIRL BY STANLEY LAU STATUE
$150.00
NOV180595
DC COMICS
50
BATMAN BLACK AND WHITE BY MARC SILVESTRI STATUE
$80.00
FEB190627
DC COMICS
51
MARVEL SELECT CAPTAIN MARVEL MOVIE AF
$29.99
JAN192554
DIAMOND SELECT TOYS LLC
52
MARVEL VENOM ARTFX+ STATUE (NET) (O/A)
$182.00
OCT188699
KOTO INC.
53
ST TOS TRICORDER
$60.00
MAY084717
DIAMOND SELECT TOYS LLC
54
INFINITY WAR THANOS ARTFX+ STATUE
$99.99
MAR188569
KOTO INC.
55
MARVEL LEGENDS GEAR ENDGAME POWER GAUNTLET (Net)
$74.25
JAN199285
HASBRO TOY GROUP
56
MARVEL SELECT PSYLOCKE AF
$29.99
FEB192448
DIAMOND SELECT TOYS LLC
57
DC GALLERY METAL RED DEATH PVC FIGURE
$49.99
OCT182228
DIAMOND SELECT TOYS LLC
58
DC DESIGNER SER WONDER WOMAN BY JENNY FRISON STATUE
$150.00
DEC180680
DC COMICS
59
MARVEL SELECT RED HULK AF
$29.99
MAR088262
DIAMOND SELECT TOYS LLC
60
MARVEL GALLERY AVENGERS 4 TRACKSUIT HULK DLX PVC FIG
$69.99
FEB198523
DIAMOND SELECT TOYS LLC
61
DARK KNIGHTS METAL BATMAN THE RED DEATH STATUE
$90.00
APR190588
DC COMICS
62
MARVEL SELECT INCREDIBLE HULK AF
$29.99
DEC074356
DIAMOND SELECT TOYS LLC
63
MARVEL GALLERY AVENGERS 3 THANOS PVC FIGURE
$49.99
APR182161
DIAMOND SELECT TOYS LLC
64
DARK KNIGHTS METAL BATMAN THE DEVASTATOR STATUE
$130.00
FEB190623
DC COMICS
65
MOTU FAKER PX 1/6 SCALE COLLECTIBLE FIGURE
$160.00
NOV188738
MONDO TEES LLC
66
MARVEL GALLERY THANOS COMIC PVC FIGURE
$49.99
MAY192386
DIAMOND SELECT TOYS LLC
67
AQUAMAN MOVIE GALLERY AQUAMAN PVC FIGURE
$49.99
AUG182575
DIAMOND SELECT TOYS LLC
68
DC COVER GIRLS WONDER WOMAN BY JOELLE JONES STATUE
$125.00
OCT180633
DC COMICS
69
MARVEL SELECT JUGGERNAUT AF
$29.99
JUN101512
DIAMOND SELECT TOYS LLC
70
AVENGERS 4 LEGENDS 6IN AF ASST 201902 (NET)
$122.00
NOV188896
HASBRO TOY GROUP
71
PREDATOR GALLERY CLASSIC MOVIE PVC FIGURE
$49.99
APR192538
DIAMOND SELECT TOYS LLC
72
IT CHAPTER 2 GALLERY PENNYWISE PVC FIGURE
$49.99
JUN192381
DIAMOND SELECT TOYS LLC
73
POP POWER RANGERS LORD DRAKKON PX VINYL FIGURE
$11.99
JUN188596
FUNKO
74
DC GALLERY BATMAN COMIC WHO LAUGHS PVC FIGURE
$49.99
MAY182303
DIAMOND SELECT TOYS LLC
75
ONE-12 COLLECTIVE MARVEL THOR RAGNAROK GLADIATOR HULK AF (NE
$87.75
OCT178172
MEZCO TOYS
76
MARVEL GALLERY DEADPOOL PVC FIG
$49.99
JUN162394
DIAMOND SELECT TOYS LLC
77
FCBD 2019 MARVEL GALLERY SYMBIOTE SPIDER-MAN PVC STATUE
$45.00
AUG188000
DIAMOND SELECT TOYS LLC
78
DC DESIGNER SERIES NIGHTWING & BATGIRL BY SOOK STATUE
$250.00
JUL180809
DC COMICS
79
MARVEL SELECT SANDMAN AF
$29.99
MAR192448
DIAMOND SELECT TOYS LLC
80
HELLRAISER 3 HELL ON EARTH PINHEAD BISHOUJO STATUE (NET) (O/
$80.00
JUL189121
KOTO INC.
81
FINAL FANTASY VII AC PLAY ARTS KAI CLOUD STRIFE & FENRIR AF
$369.99
MAY188937
SQUARE ENIX INC
82
MARVEL GALLERY SQUIRREL GIRL COMIC PVC FIGURE
$49.99
AUG182582
DIAMOND SELECT TOYS LLC
83
MARVEL SELECT AVENGERS 3 IRON SPIDER-MAN AF
$29.99
JAN188710
DIAMOND SELECT TOYS LLC
84
MARVEL GALLERY VENOM COMIC PVC FIGURE
$49.99
MAY182304
DIAMOND SELECT TOYS LLC
85
DC ESSENTIALS JOKER AF
$26.00
AUG180676
DC COMICS
86
MARVEL MILESTONES THOR RAGNAROK GLADIATOR HULK STATUE
$500.00
MAY182309
DIAMOND SELECT TOYS LLC
87
ONE-12 COLLECTIVE DC DARKSEID AF (NET)
$123.50
MAR188264
MEZCO TOYS
88
DC BOMBSHELLS BATGIRL & SUPERGIRL CELEBRATION STATUE
$250.00
FEB190626
DC COMICS
89
GI JOE A REAL AMERICAN HERO SCARLETT BISHOUJO STATUE (NET) (
$90.25
JAN198529
KOTO INC.
90
JOHN WICK GALLERY RUNNING PVC FIGURE
$49.99
MAR192443
DIAMOND SELECT TOYS LLC
91
DC ESSENTIALS NIGHTWING AF
$26.00
AUG180673
DC COMICS
92
MARVEL PREMIER HOBGOBLIN STATUE
$150.00
OCT182224
DIAMOND SELECT TOYS LLC
93
ONE-12 COLLECTIVE MARVEL IRON MAN AF (NET)
$58.50
NOV178601
MEZCO TOYS
94
BATMAN FAMILY BATMAN MULTI PART STATUE
$80.00
AUG180672
DC COMICS
95
BATMAN BLACK & WHITE STATUE BY JOE MADUREIRA
$80.00
APR190587
DC COMICS
96
JOHN WICK 2 GALLERY PVC FIGURE
$49.99
JUN182313
DIAMOND SELECT TOYS LLC
97
DC GALLERY JOKER COMIC PVC FIGURE
$49.99
MAY192387
DIAMOND SELECT TOYS LLC
98
MARVEL SELECT AVENGERS ENDGAME HERO SUIT HULK AF
$29.99
JUL192664
DIAMOND SELECT TOYS LLC
99
DARK KNIGHTS METAL BATMAN THE DAWNBREAKER STATUE
$85.00
OCT180626
DC COMICS
100
SPIDER-MAN LEGENDS 6IN AF ASST 201901 (NET)
$122.00
NOV188096
HASBRO TOY GROUP
This information may not be reproduced in any format without the express permission of Diamond Comic Distributors.
How does Diamond calculate the charts? It all starts at the comic book shop.
Data for Diamond's sales charts — which includes the monthly market shares and all top product charts — are compiled by Diamond Comic Distributors from sales made to thousands of comic book specialty shops located in North America and around the world. Additional sales made to online merchants and other specialty stores may be included as well.
Unit and dollar market shares are calculated based upon orders for comic books, graphic novels, and magazines invoiced and shipped to Diamond customers during any given month, which comprises pre-orders, advance reorders, and reorders, minus any copies that are distributed free of cost.