Interview: Dynamite Introduces Team Ash in New Army of Darkness Series
Dec 13, 2019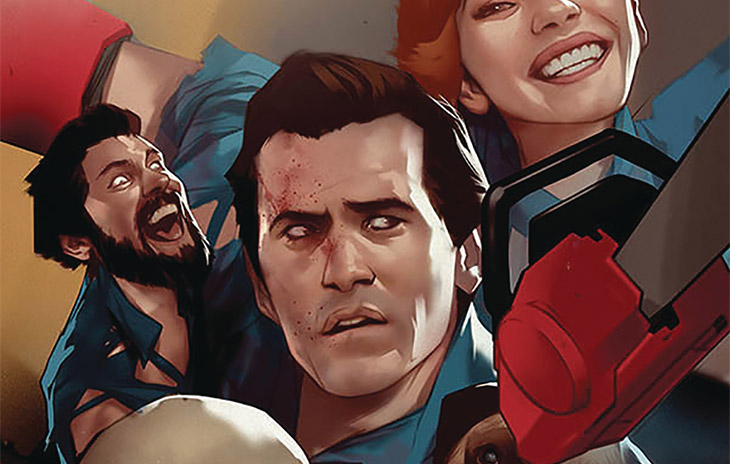 Ash Williams is back in a new series in February from Dynamite - but wait, there are more Ash Williams?!
The "Chosen One" has had enough of that nonsense, but gets way more than he bargained for when Ashley Joanna Williams suddenly splinters into multiple differing clones. And each is packing the same over the top personality as the original! Writer Ryan Parrott has concocted this comedy-horror extravaganza alongside artist Jacob Edgar. PREVIEWSworld talked with the creative team about Death To The Army of Darkness #1 (DEC191018).
**********
PREVIEWSworld: What's your history with Ash Williams as a fan?
Ryan Parrott: Let's just say, I play exclusively with Ash in the horror game "Dead by Daylight" and I've read Bruce Campbell's memoir "If Chins Could Kill." I think that qualifies me as a fan. Most heroes are crippled by doubt and responsibility, but the thing I've always loved about Ash as a character is his blissful arrogance and complete lack of self-awareness. It makes him wonderfully unique and a joy to write.
Jacob Edgar: I think I knew Bruce Campbell from "Brisco County Jr." before anything else, then "Hercules" and "Xena." So I was later than most on Evil Dead and Army of Darkness. I think Ash is an easy character to love, which is impressive because if you actually knew Ash in reality, I don't think he'd be in your MySpace Top 8. Remember that? Anyway, I don't know if any character has ever more begrudgingly saved the world. Ash isn't exactly a hero, but I wouldn't call him an anti-hero either...he's something special in between that's a lot of fun.
PREVIEWSworld: This series picks up shortly following the end of the Army of Darkness film. Where is Ash at that leads him on this unexpected journey?
Ryan Parrott: He's the same Ash we all hate to love. Arrogant, brash and desperate to just eat, drink and be left alone. But it's been six months since those events and he's still being hounded by the Deadites at every turn. So Ash takes the Necronomicon to a local community college professor in the hopes of freeing himself from his hero responsibilities. Unfortunately, you get what you pay for and, well... things obviously don't go exactly as planned.
PREVIEWSworld: As fans can see from the beautiful covers, this wild series is effectively a team book with all these different versions of Ash. As the current architect of the Power Rangers comics, you have some experience with juggling a sizable cast. What has been your approach in differentiating all these similar yet different characters? Besides the one and only, which Ash has been your favorite to write?
Ryan Parrott: I've always had a soft spot for "found families" and misfit stories. And Ash is sorta the ultimate misfit hero. With "Team Ash," since all the members are actually facets of Ash's psyche, the hard part was making sure they all felt like Ash, but weren't just five brash, arrogant jerks. They had to all have different desires and points of view. And incidentally, figuring that out made Ashley, Ash's badass feminine side, probably my favorite of the group to write. Who knew Ash even had a feminine side?
PREVIEWSworld: This series marks the "main stage" debut of artist Jacob Edgar, following acclaimed shorter showings. How has it been seeing him bring your scripts to the page?
Ryan Parrott: The absolute best moment in the comic book process for a writer is when you start getting the first pages of art and you get to see what was only in your head laid out before you. Army of Darkness is such a unique title in that it combines both grizzly horror and insane comedy, but Jacob's grounded, moody style really does a fantastic job of balancing the two. I can't wait to see him tackle some of insane ideas we've got coming up. It's gonna be wild!
PREVIEWSworld: Jacob, you've got quite the task drawing six distinct versions of Ash in this series. How are you going about defining these characters on the page? Do you have a favorite among the gang?
Jacob Edgar: Yeah, besides their visual differences, which are pretty extreme across the board, Ryan has given them all a dominant personality trait of Ash's that's really helpful for me to pull from. We've got a skeleton who embodies Ash's fears, for one. Which is a fun thing to play with. Typically if you're seeing a living skeleton in a story like this, odds are they're some kind of evil killing machine. But in our story he's going to be the most vulnerable and frightened of the bunch. I'm a big time dog person though, so Dash is probably my favorite by default.