'Butcher of Paris' Interview: Serial Killers In Nazi-Occupied France
Nov 05, 2019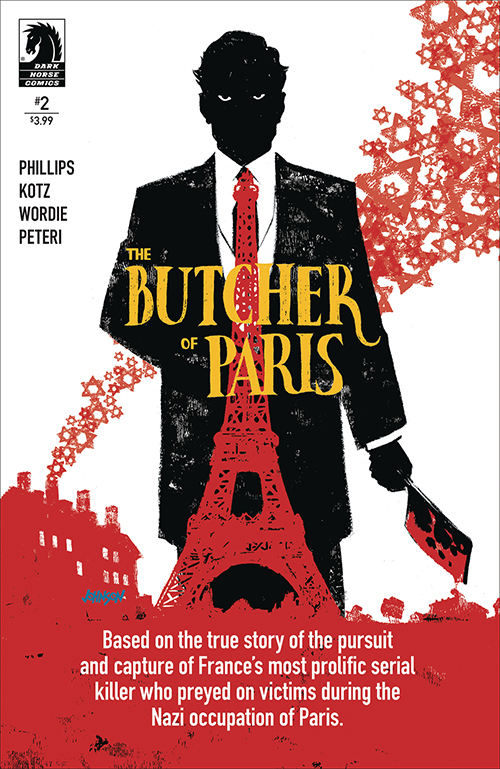 by Troy-Jeffrey Allen
World War II is filled with many great, terrifying, thrilling, and down-right bizarre tales. But have you heard this one before?
Writer Stephanie Phillips (Descendent, Devil Within) has uncovered a slice of World War II history that you'll never read about in school. It involves Nazis (of course), Paris (sure!), and a serial killer (?!). At the heart of this chiller is detective Georges-Victor Massu, a true life player attempting to solve a very real string of murders.
Travel back to 1944 with Phillips and PREVIEWSworld as the writer tell us where the bodies are buried, who not to trust, and what it took to bring this wartime mystery to light.
Butcher of Paris #1
(
OCT190298
) is in comic shops on December 4th!
****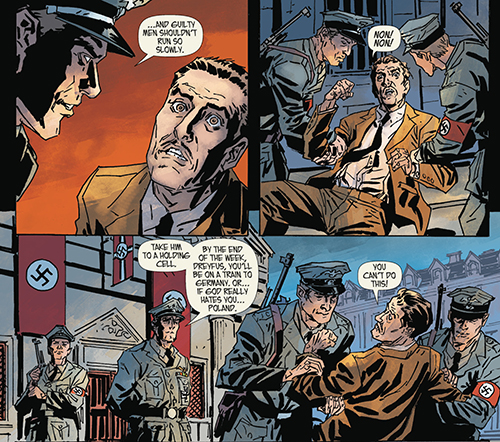 PREVIEWSworld: Catch us up to speed. What is the setting for Butcher of Paris?
Stephanie Phillips: Butcher of Paris takes place in 1944 during the Nazi occupation of Paris. The city is particularly volatile at this moment because the allied troops are getting closer to the city each day. Historically, Hitler gave the directive to level the city before the allies arrived. Should the Nazis lose the city, he wanted there to be little left standing for the allies to liberate. So, this is a city experiencing both the horrors of war and Nazism on a daily basis. Now, add a serial killer…
PREVIEWSworld: Tell us about the French detective at the center of this mystery? Is this a real-life character?
Stephanie Phillips: Georges-Victor Massu was a real-life French detective. He was often considered the French Sherlock Holmes and, at the time of the story, Massu is a veteran detective working with his son to find the killer. Massu's son, Bernard, often accompanied his father to crime scenes to serve as a kind of sounding board for the cases. At the center of this war-torn city with a serial killer running loose, a father and son are trying to maintain a "normal" relationship. I really liked the idea of centering the story around Massu and Bernard to really show the impact of occupation on family life and relationships. No matter what, Massu is a father before anything else.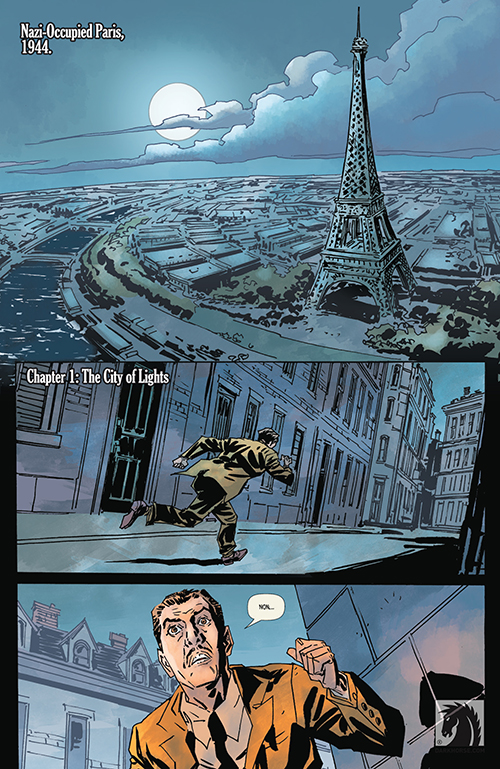 PREVIEWSworld: For those just jumping in, what separates this particular story from other World War II stories?
Stephanie Phillips: I am really interested in historical stories that focus on a really personal aspect of an event. In this case, you could go read about Petiot and the Nazi occupation on Wikipedia, but I think you would miss a lot of the personal elements that help us connect with people and events during the time period. While our entire team works to be as historically accurate as possible, this is more a story about a father and his son and a city struggling under occupational rule. I want this book to look at how people in Paris at the time are reacting to the occupation, how fathers and sons are continuing relationships, how young couples are making unthinkable sacrifices to escape Nazism.
PREVIEWSworld: How did the Butcher of Paris come about? When was the moment when you realized this was THE story to tell?
Stephanie Phillips: I couldn't get the story out of my head. It's a story about a city under Nazi occupational rule with a serial killer running loose. Not only was the content just fascinating, but I really think it shows a side of WWII that we don't see very often.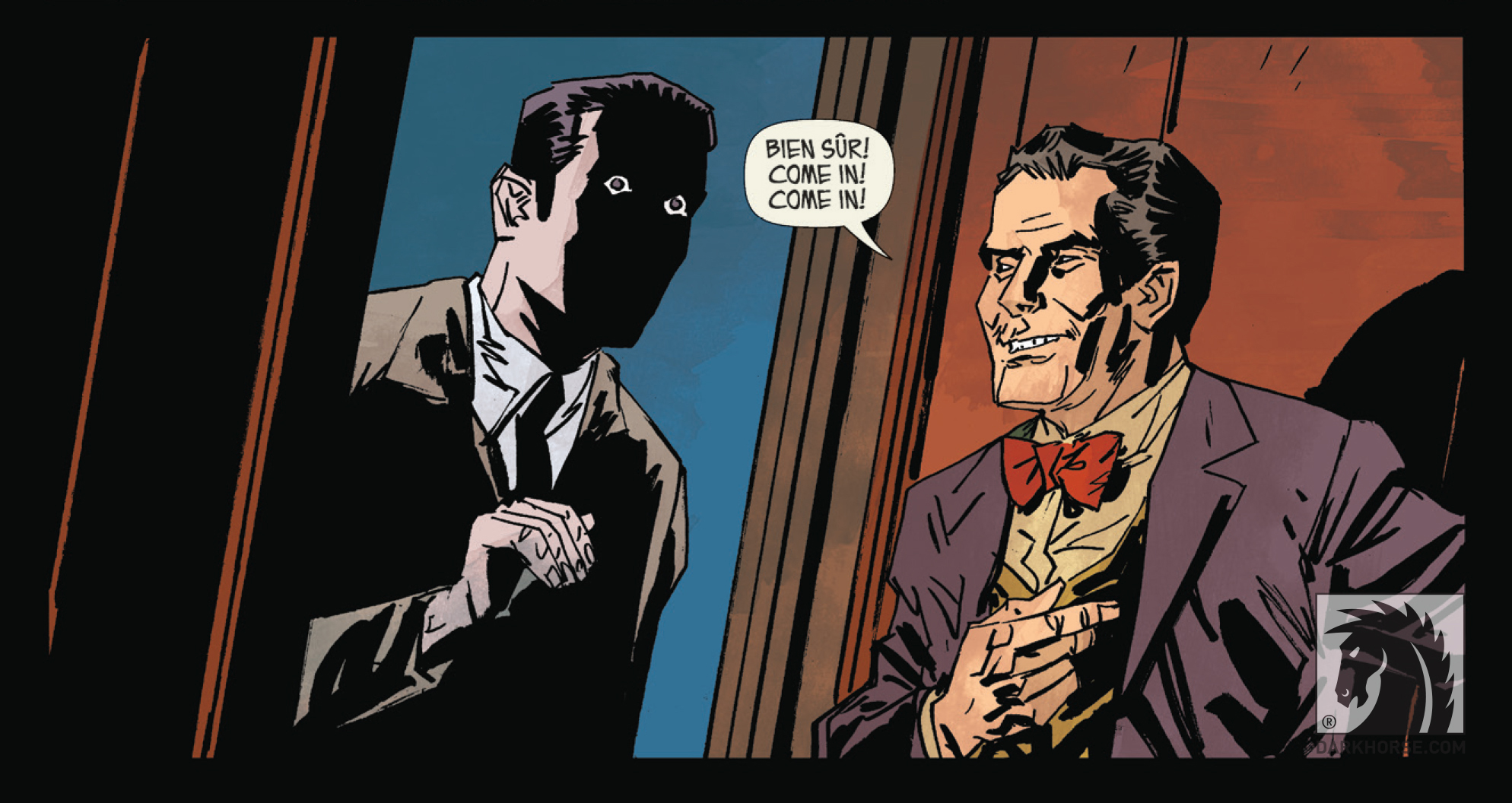 PREVIEWSworld: What's the creative process like between you and Dean Kotz? How do you navigate creative liberties when working with an artist?
Stephanie Phillips: I think our process is really collaborative. I trust Dean to tell this story and take liberties from the script given. He's an incredible storyteller, so I really try to allow for a lot of room on his end to create this story with me. Just the other day Dean and I were having a conversation about the best kind of gun for one of our characters to hold. We are both committed to getting each scene just right. We are also very lucky to have Jason Wordie coloring the book and Troy Peteri adding letters.
PREVIEWSworld: Looking forward, what can readers expect from Butcher of Paris?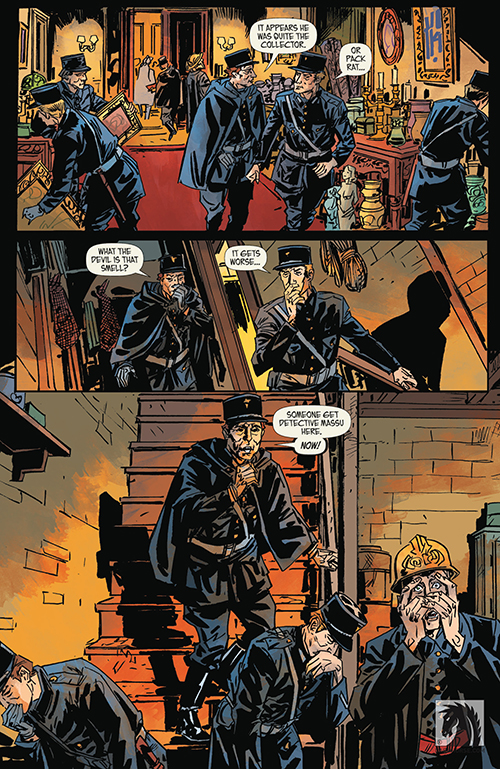 Stephanie Phillips: The story is dark, but it's also offering an exploration of empathy during one of the darkest periods in history. We definitely hope to entertain, of course, but I think we're also hoping to leave the reader asking questions about how we study history, how we interact with one another in times of crisis, and how important empathy is, especially today.
PREVIEWSworld: This clearly required plenty of research. What are some good follow-up materials for those interested in finding out more after the series ends?
Stephanie Phillips: The Unspeakable Crimes of Dr. Petiot by Thomas Maeder offers a far more academic approach to the case. For those interest in other, personal approaches to WWII, Erik Larson's In the Garden of the Beast looks at the American ambassador and his family living in Nazi Germany. I really admire Larson's approach to writing about history.
DARK HORSE COMICS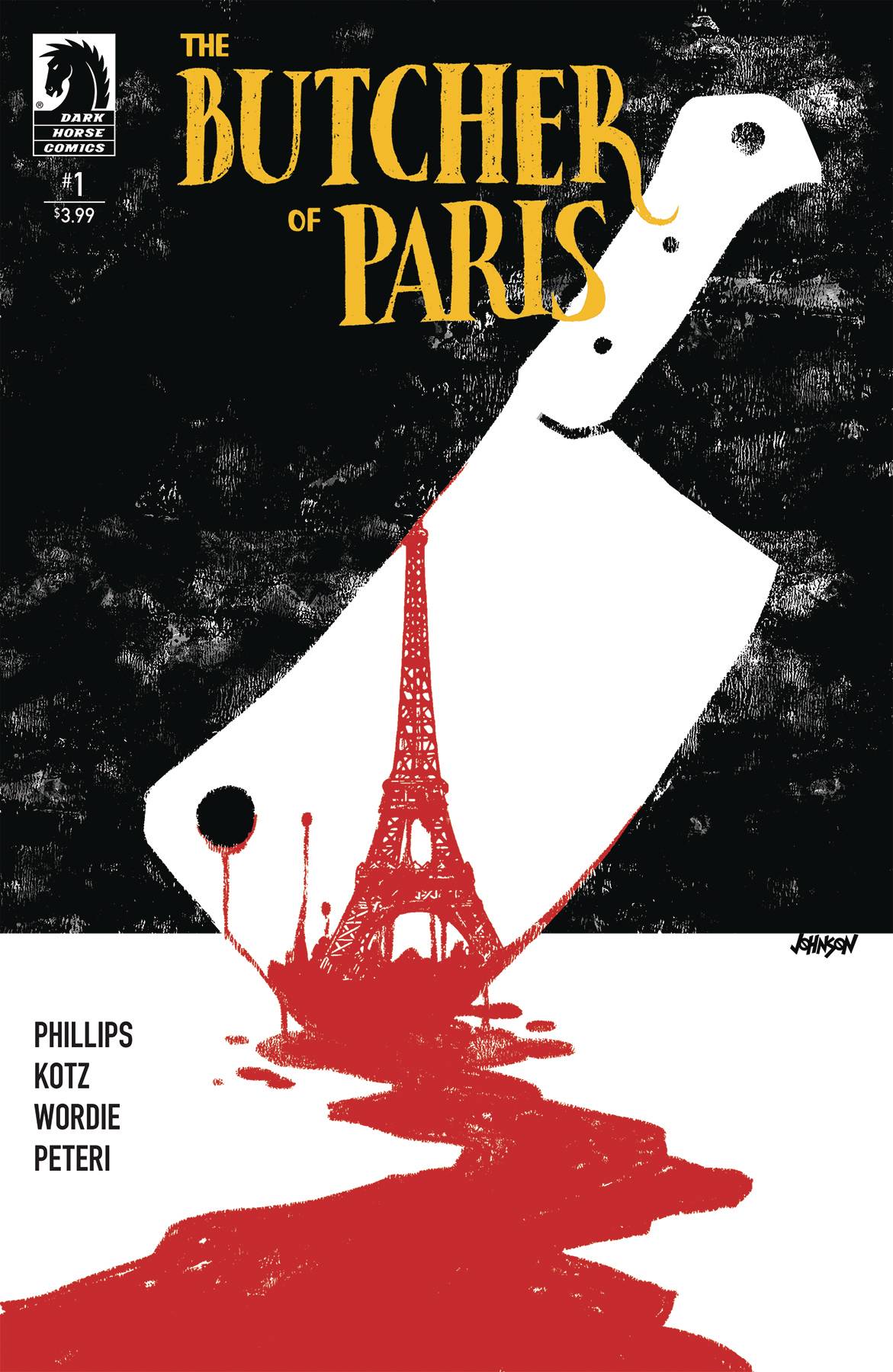 (W) Stephanie Phillips (A) Dean Kotz (CA) Dave Johnson
In 1944, as Swastikas flew over Paris, one of the most notorious and prolific serial killers in history turned the occupied city into his personal hunting ground.

Under the guise of opportunity and freedom, a killer preys on those desperate to flee . . . until a gruesome discovery alerts the police. In a city on the brink of war, the hunt for a serial killer begins as a French detective races to catch the villain before the Nazis beat him to it.

Written by Stephanie Phillips (Descendent, Devil Within) with art by Dean Kotz (Mars Attacks), The Butcher of Paris is a historical, true crime thriller about a killer wanted by both the Nazis and allied forces for the death of nearly two hundred victims.
In Shops: Dec 04, 2019
SRP: $3.99
PREVIEWS Page #101
****
Troy-Jeffrey Allen is the producer and co-host of PREVIEWSworld Weekly. His comics work includes BAMN, Fight of the Century, the Harvey Award-nominated District Comics, and the Ringo Awards-nominated Magic Bullet.