Start Here: Five New Comics For October 9th
Oct 07, 2019
Looking for something new to get into? Here are five new comics with fresh jumping on points you can read this week. Just start here.
Every week, PREVIEWSworld collects five titles with new number ones or fresh story arcs perfect for readers looking to get into a new series. These new releases are available to purchase at your local comic shop and feature comics from any genre or publisher.
This week: Doctor Doom becomes Marvel's most wanted, The Flash is fading fast, East of West saddles up for its final arc, Buffy takes on the Hellmouth, and a security officer discovers a secret society beneath the retail outlet they've sworn to protect!
These series are ready for new readers to enjoy - all you have to do is Start Here. Doctor Doom #1 (AUG190992)
From Christopher Cantwell (Halt and Catch Fire, She Could Fly, Everything) comes a new monthly ongoing series.
Victor Von Doom - scientist, sorcerer, disfigured face, twisted soul - has been spending much of his time warning against a trillion-dollar global effort to create the first "artificial" black hole. Wrestling with visions of an entirely different life...a better future...Doctor Doom finds himself at a crossroads. (What is he questioning?)
A catastrophic act of terrorism kills thousands, and the prime suspect is... Doom? Victor will have to push his unexplained thoughts aside and focus on remaining alive as the title of "Most Wanted Man" is thrust upon him. Left with no homeland, no armies, no allies, indeed, nothing at all, will the reign of Doctor Doom come to an abrupt halt?

Flash #80 (AUG190514)

"The Hunter and the Hunted" part one! Barry Allen is hurt, and his connection to the Speed Force is fading fast. With the Speed Force dying, the only person who can save it is...Hunter Zolomon? Hunter has returned to prove he's the one, true Flash, and he doesn't care who gets in his way. But who is left to deal with the Rogues? Captain Cold has assembled the newly amped-up Rogues to tell them about Lex Luthor's offer...but are they all willing to take it?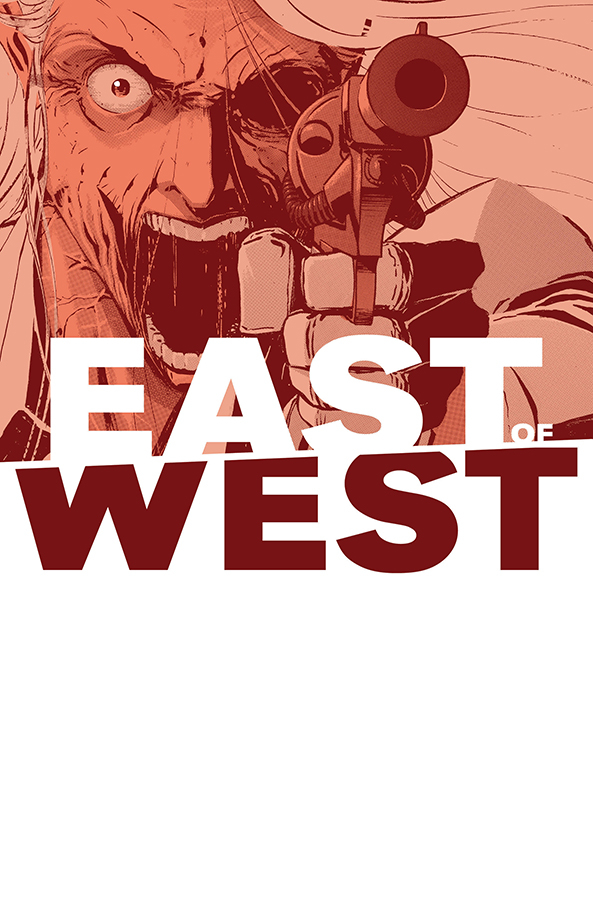 East of West #43 (JUL190125)
New Story Arc: "Famine." Five years of storytelling have led to this! The final arc of East of West begins now. You wanted the End Times - well, here they come! Buffy Vampire Slayer Angel Hellmouth #1 (AUG191366)
The first event of the all-new Buffy universe starts here! Buffy Summers, the Slayer, has one job... keep the forces of hell from coming to Earth through the Hellmouth. Here's the bad news. She might have failed. The Mistress Drusilla and her ally, Spike, have found a weapon to open the Hellmouth and unleash unspeakable evil across the town and the world.
With time running out, Buffy must team up with a new ally that she doesn't fully trust, the vampire vigilante known as Angel! Can these two find a way to work together before the Hellmouth opens or will these two decide they might be each other's greatest enemy?
From Eisner Award-nominated writer Jordie Bellaire and rising star Jeremy Lambert (Doom Patrol) and Eleonora Carlini (Go Go Power Rangers) comes the first massive event of the Buffyverse. One that threatens to shake the entire fabric of reality. This is an absolute must read from the mind of creator Joss Whedon! Shoplifters Will Be Liquidated #1 (AUG191499)
The largest retailer in the world requires the best-trained loss prevention staff, and Security Officer Nussbaum defends the company interests at any cost. Life, human rights, rational thought are all secondary concerns. But his world is upended when he finds a society living under the retail outlet - a culture that challenges his notions about consumerism and sense of self. Is he ready for the message? Imagine Judge Dredd working for Amazon, and you've got a hint of what you're in for.

From Patrick Kindlon (Patience! Conviction! Revenge!) and Stefano Simeone (Clankillers) comes Shoplifters Will Be Liquidated - a satirical take on the consumer society.