'Powers of X' 'House of X' Interview: Marvel's Jordan D. White Answers Your Questions
Aug 07, 2019

by Troy-Jeffrey Allen
Twelve weeks. Twelve comics. One unforgettable moment in comic book history.
Writer Jonathan Hickman's current X-Men run needs no fanfare. Search anywhere online and you'll discover tons of speculation over the events in this series. And we're only three issues in!
Over the weekend, PREVIEWSworld took to our various social media platforms and asked readers to toss us their wildest theories and craziest questions. What we didn't tell them is that X-Men Senior Editor Jordan D. White would be responding.
With House of X #2 hitting comic book shops today, we caught up with Jordan for his spoiler-free answers surrounding House of X #1 and Powers of X #1. Read on to find out what secrets he's cleared to unlock...
****
PREVIEWSworld: How much time has passed between Age of X and House of X?
Jordan D. White: As much as you want.
People get really worked up about how much time has passed in comics, and look… none of it makes any sense. Cyclops is about 27-28 years old because he was the same age as Peter Parker when he debuted, and Peter is about 27-28. That means about 12-13 years have passed in the Marvel Universe since 1962. So people get really upset about that. They insist Cyclops is in his late 30s. But we're not making documentary comics chronicling the actual true adventures of heroes from another universe—it's all fiction and it doesn't actually work over long periods of time. If Cyclops was 15 years old when he debuted, he should be 71 years old. That's like twice as old as Magneto would have been in 1963. So why is it reasonable to say that 25 years passed over the last 56 years, but saying 12 passed is unreasonable? The deal I have made is that I plan to stop all X-Men from saying their actual ages for as long as I am working on the books. Sorry, I get asked about this stuff A LOT.
That said, back to your question. How much time has passed? Honestly, there are cases to be made for different interpretations. But in the end, however much you feel is necessary as a reader to believe what occurred, and then we will try not to contradict you.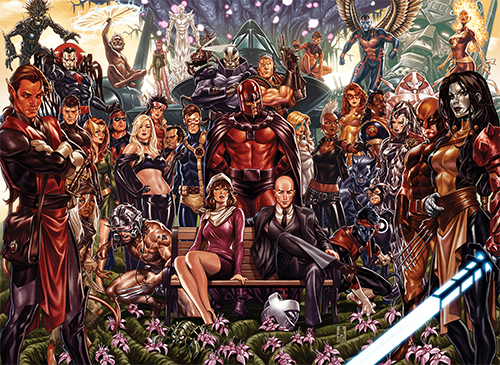 PREVIEWSworld: There's an unpredictability surrounding these first few issues. It really creates a sense of uncertainty around characters we've known for years. As if we're in the shoes of every non-mutant in the Marvel U. Was that the intended goal?
Jordan D. White: The goal was to change how people see the X-Men and their place in the Marvel Universe. That definitely makes the non-mutants of the Marvel Universe uncomfortable. The readers are just hitting the edges of that change, so… let's see where they end up by the end of the 12 issues.
PREVIEWSworld: Can we expect more Fantastic Four interactions in the future?
Jordan D. White: They're the first family of the Marvel Universe, and their son is a mutant. Seems likely at least in part.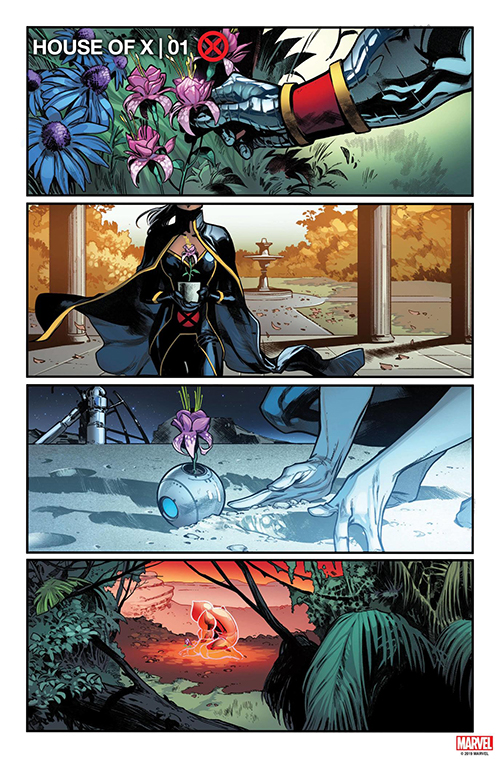 PREVIEWSworld: There's plenty of plant imagery in these new books. Krakoa is definitely a major part of the plot, but do these plant visuals speak to a larger theme?
Jordan D. White: Well, I don't think it's my place to tell the audience how to interpret the symbolism of the book. I know there has been a lot of stuff written so far about what the imagery means, and it's really thoughtful and interesting stuff.
PREVIEWSworld: It's stated that only the leaders of these "habitats" can grant a human entry. Who makes up the current leadership?
Jordan D. White: You'll see!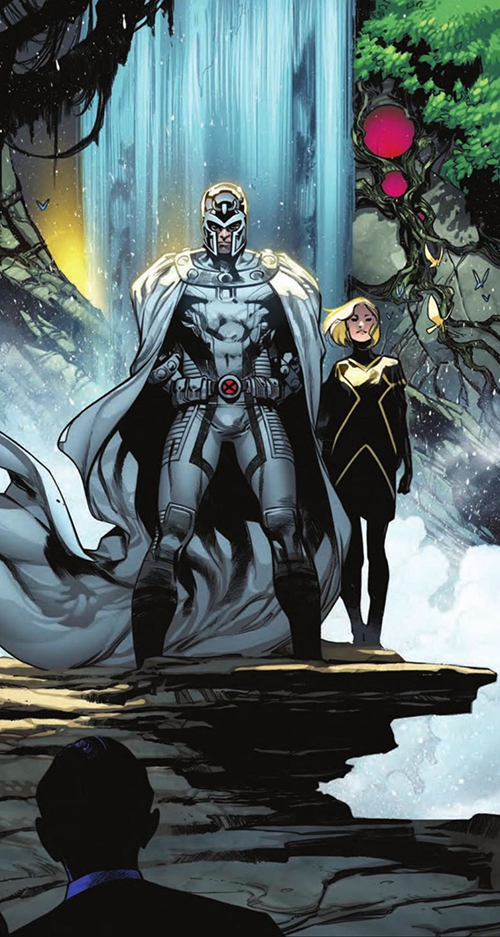 PREVIEWSworld: Magneto has already made an appearance, but can we expect other major X-Villains to also take up residence inside these Krakoan habitats?
Jordan D. White: You'll see!
PREVIEWSworld: Powers of X introduces us to four specific periods in time. Can we expect more of that moving forward? What was the idea behind doing this?
Jordan D. White: Well, it's the whole concept of the book. The four time periods are 1, 10, 100, and 1000 years into the history of the X-Men, powers of ten.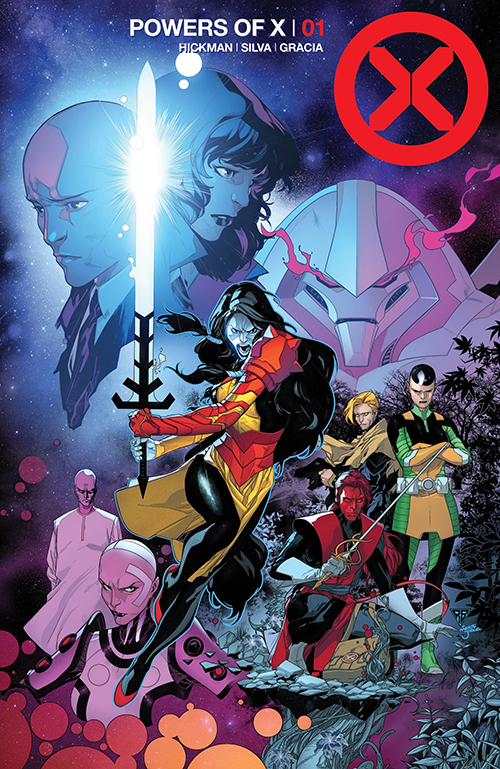 PREVIEWSworld: Is "Rasputin" the daughter of Kitty and Colossus? Is it safe to say she is brandishing Illyana's sword?
Jordan D. White: Rasputin is a chimera mutant created in Mister Sinister's breeding camps. She does have DNA from Colossus and Kitty, but also from Unus, Kid Omega, and X-23. She does appear to have the Soul Sword as well, and as to why and how… that is a story for another time.
PREVIEWSworld: The chapter breaks in each issue – are they from the Orchis database, Damage Control, or something else?
Jordan D. White: The text in them is from all of the above, but the design is just the terrific design work of Tom Muller and Jonathan Hickman.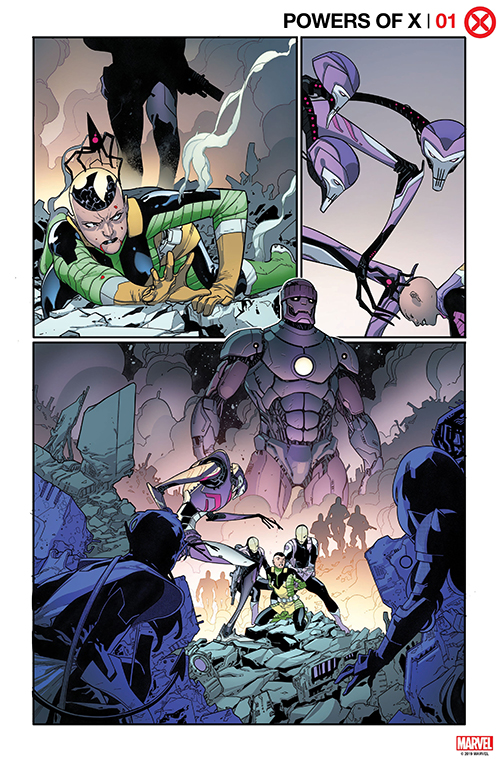 PREVIEWSworld: Is Nimrod The Lesser genuine in his shame over hunting mutants?
Jordan D. White: Again, I think that is a question for the reader to make their own mind up about. Judge him as thou wilt.
PREVIEWSworld: The opening page of Powers of X provides a timeline of X-Men events. Are we to understand that only ten years have passed between X-Men #1 in 1963 and Powers of X #1 in 2019?
Jordan D. White: Again, going back to the concept of powers of ten, of orders of magnitude, when you are using those to estimate something what matters is whether it is closer to 10 or 100. It hasn't been 10 years exactly, but it's in the order of magnitude.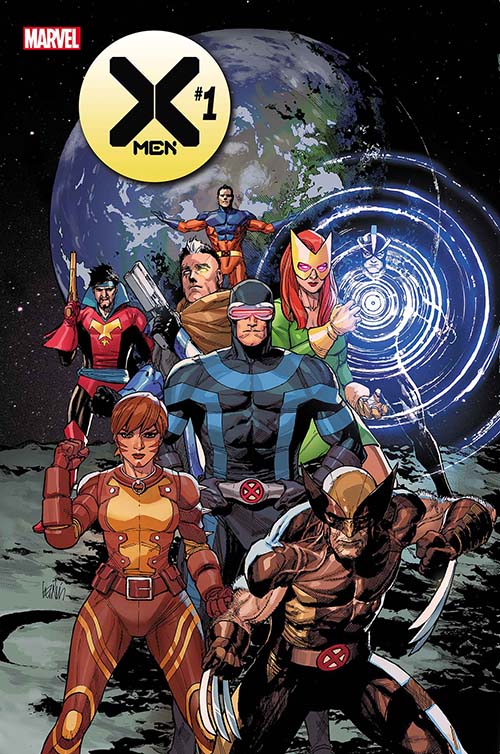 PREVIEWSworld: Now that the X-Men #1 (AUG190845) with Leinil Yu has been announced, can we expect Hickman to be on board for quite some time?
Oh yes. Jonathan has a long term plan, and we're committed to seeing it through. He's overseeing the line for the foreseeable future, working intimately with the creators we've announced on the Wave One books, and also on the Wave Two books that are still cooking. How many Waves will there be? Time will tell, but perhaps it's as foolish that we started counting them as if we tried to count waves in the sea.
PREVIEWSworld: Does any of this have roots in Hickman's previous Marvel runs?
Jordan D. White: Jonathan always puts in Easter Eggs relating to his past work, but this is definitely a separate epic from the overarching tale he told that culminated in Secret Wars. It's a whole new idea… and I think one that will be even bigger and longer reaching.
***
Look for the House of X #2 at your local comic shops now! Then head back there on August 14th for the continuation of this Marvel epic in Powers of X #2.
MARVEL COMICS (W) Jonathan Hickman (A/CA) Pepe Larraz
Learn the truth about one of the X-Men's closest allies...and then begin the fight for the future of mutantkind! Superstar writer Jonathan Hickman (AVENGERS, SECRET WARS, FANTASTIC FOUR) continues reshaping the X-Men's world with Marvel Young Gun artist Pepe Larraz (EXTERMINATION, AVENGERS)!
Rated T+
In Shops: Aug 07, 2019
SRP: $4.99
MARVEL PREVIEWS Page #18
MARVEL COMICS (W) Jonathan Hickman (A/CA) R. B. Silva
As Xavier sows the seeds of the past, the X-Men's future blossoms into trouble for all mutantdom. Superstar writer Jonathan Hickman (NEW AVENGERS, INFINITY, FF) continues reshaping the X-Men's past, present and future with breakout artist R.B. Silva (UNCANNY X-MEN)!
Rated T+
In Shops: Aug 14, 2019
SRP: $4.99
MARVEL PREVIEWS Page #20
****
Troy-Jeffrey Allen is the producer and co-host of PREVIEWSworld Weekly. His comics work includes BAMN, Fight of the Century, the Harvey Award-nominated District Comics, and the Ringo Awards-nominated Magic Bullet.