Toy Talk: Dark Horse's Chris Gaslin
Jul 14, 2019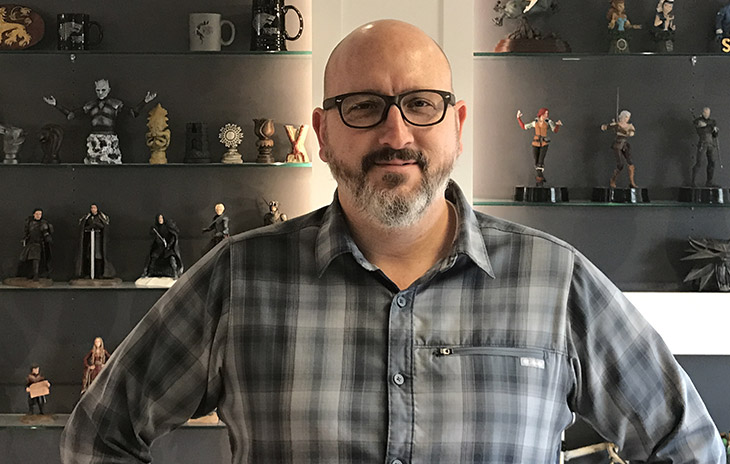 Toys, Statues and other collectibles don't just magically appear on store shelves. A lot of work goes into the concept, design, sculpting and final production of these items, and many of the people who work behind-the-scenes with companies like Diamond Select, DC Collectibles and Gentle Giant, among others, remain mostly unknown to their appreciative audience: the final consumer.
With Toy Talk, we hope to introduce you to the artisans behind some of your favorite collectibles, and to let them enjoy their well-deserved moment in the spotlight!
This month, we welcome Dark Horse Director of Product Development, Chris Gaslin for this PREVIEWSworld interview!

**********
PREVIEWSworld: What's your origin story? How did you get involved in the toy and collectible industry?
Chris Gaslin: I'm born and raised in Portland, Oregon and had always contemplated working for Dark Horse Comics. I didn't read a ton of comics growing up, but I did always have a bit of a collector in me when it came to toys and figures. When I graduated from PSU with an art degree, I was hunting for a job, and there just happened to be an opening in the sales department at Dark Horse. Sales would not have been my first choice, but it was a way to get my foot in the door. I always envied the people that produced the amazing products we were selling, and always told myself, if there was ever an opening in the product development department, I would go for it, because I really craved getting into something that would let me show a bit more of my creative side. After a couple of years cutting my teeth in the sales department, I finally had my chance. I was brought on board by the legendary David Scroggy, and that was over 10 years ago now!
PREVIEWSworld: Dark Horse has licenses for some huge properties like GAME OF THRONES and WITCHER. What are some other licenses Dark Horse has that collectors can get excited about?
Chris Gaslin: Umbrella Academy, Hellboy, Anthem, we additionally have a number of really exciting new video game licenses that have not been announced as of yet, but if you like the Witcher line of figures, and our Mass Effect and Halo ships, then you should be excited about what is to come from Dark Horse!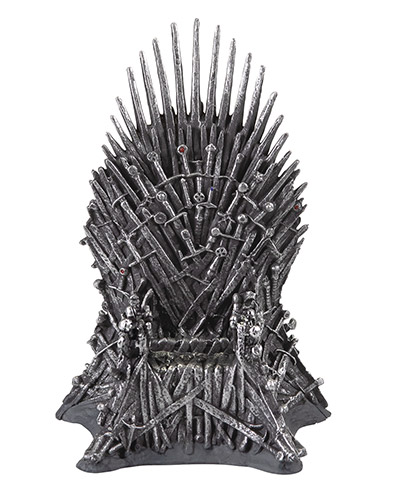 PREVIEWSworld: With GAME OF THRONES signing off, what are some products from Dark Horse that you would recommend to anyone missing Westeros?
Chris Gaslin: The 7-inch Iron Throne Replica has been a constant seller, and now we also feature a smaller, more affordable 4-inch Iron Throne as well. We have a great new Premium Jon Snow Figure that is a bit larger, and really nails the character likeness even more so than our previous Game of Thrones figures. Look for more key character figures going forward! We will also have a really cool collectible Dragonstone Stein, as well as an Iron Throne Business Card Holder!
PREVIEWSworld: Dark Horse makes awesome replica ships from properties like MASS EFFECT and HALO… what is the design process on these? How do you bring these to life?

Chris Gaslin: Working with great companies like Bioware and 343 Industries is fantastic when it comes to the type of in-game files they're able to provide to us. This really makes the digital sculpting and 3D printing process a lot smoother than it would be otherwise. The sculptor is able to know exactly what Dark Horse and the game studio is looking for in regards to the overall design and look to each ship replica, and then is able to alter the game files into a 3D printable prototype. The process with CD Projekt Red and the sculpts for the Witcher figures is also very similar in this regard. When you are able to use game files created by amazing developers, it just helps in capturing the character likeness and other finer details in the sculpting process.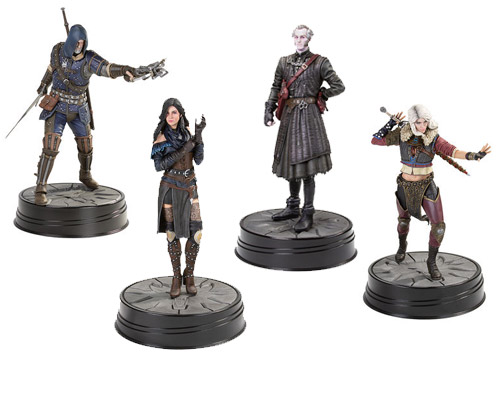 PREVIEWSworld: What are some of your personal favorite Dark Horse products?
Chris Gaslin: The whole Witcher figures line, the multiple series of Domo Qee blind-box figures we produced, Mass Effect Ship Replicas, the Disney Classic Characters, and Uncle Scrooge line of syroco-style statuettes that we did, the Umbrella Academy comic figure set (best packaging!), then of course there's some of my favorite Game of Thrones collectibles over the years like The Night King Bust, The Hound Bust, the Tyrion Statue, and the Direwolf Bookends!
PREVIEWSworld: Any future plans collectors should be looking forward to?

Chris Gaslin: Look for lots of great Umbrella Academy and Hellboy collectibles to be released into the world for sure! Also, even though Game of Thrones has ended, and the Witcher 3: Wild Hunt game is a few years old now, these both continue to sell strong for Dark Horse, and our plan is to release more exciting new collectibles from these franchises into the foreseeable future! Lots of other great new licenses that we are still in the process of signing so can't really talk about yet, but we are really pumped about!