(May 1, 2019) - SDCC 2019 PREVIEWS Exclusives Announced
Jun 26, 2019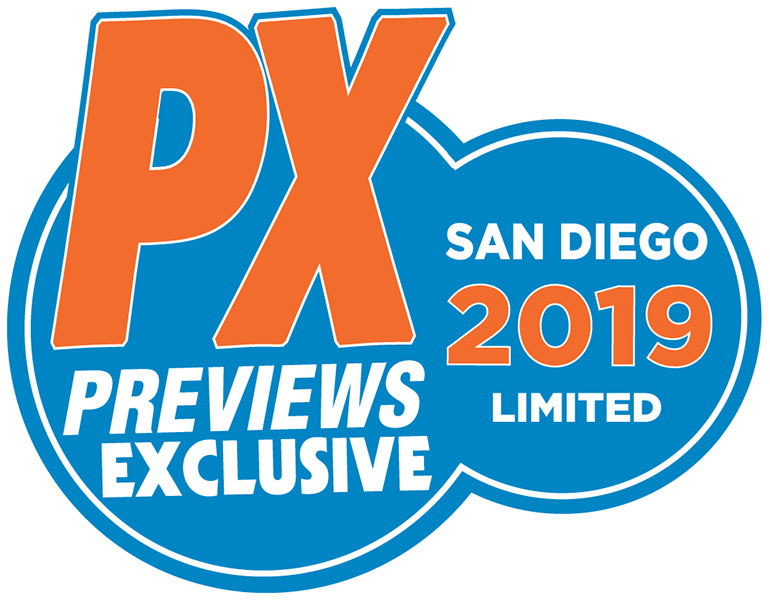 Diamond Comic Distributors is offering nineteen extremely limited PREVIEWS exclusives for this year's Comic-Con International: San Diego (July 17-21). The list includes variants of several popular Marvel titles, including The Amazing Spider-Man, Immortal Hulk, and Venom, a DC Heroes Batman Damned Batman Statue to commemorate his 80th birthday, an assortment of PVC and PX statues, and more! Comic-Con attendees will be able to preview the items at the Diamond PREVIEWS Booth #2401 and purchase from participating retailers on the show floor.

"Diamond is excited to present this year's extremely limited con exclusives," said Diamond's Director of Marketing, Dan Manser. "We'll showcase these items at the PREVIEWS booth and then guide fans to retailers who'll have the exclusives available for purchase on the show floor. Fans who look forward to attending Comic-Con International: San Diego for the exclusives won't be disappointed with this year's selection."

For more information and to pick up our one-sheet listing retailers on the show floor where you can purchase our SDCC PREVIEWS Exclusives, make sure to visit the Diamond PREVIEWSworld Booth #2401.
---
2019 SDCC PREVIEWS EXCLUSIVES
Comics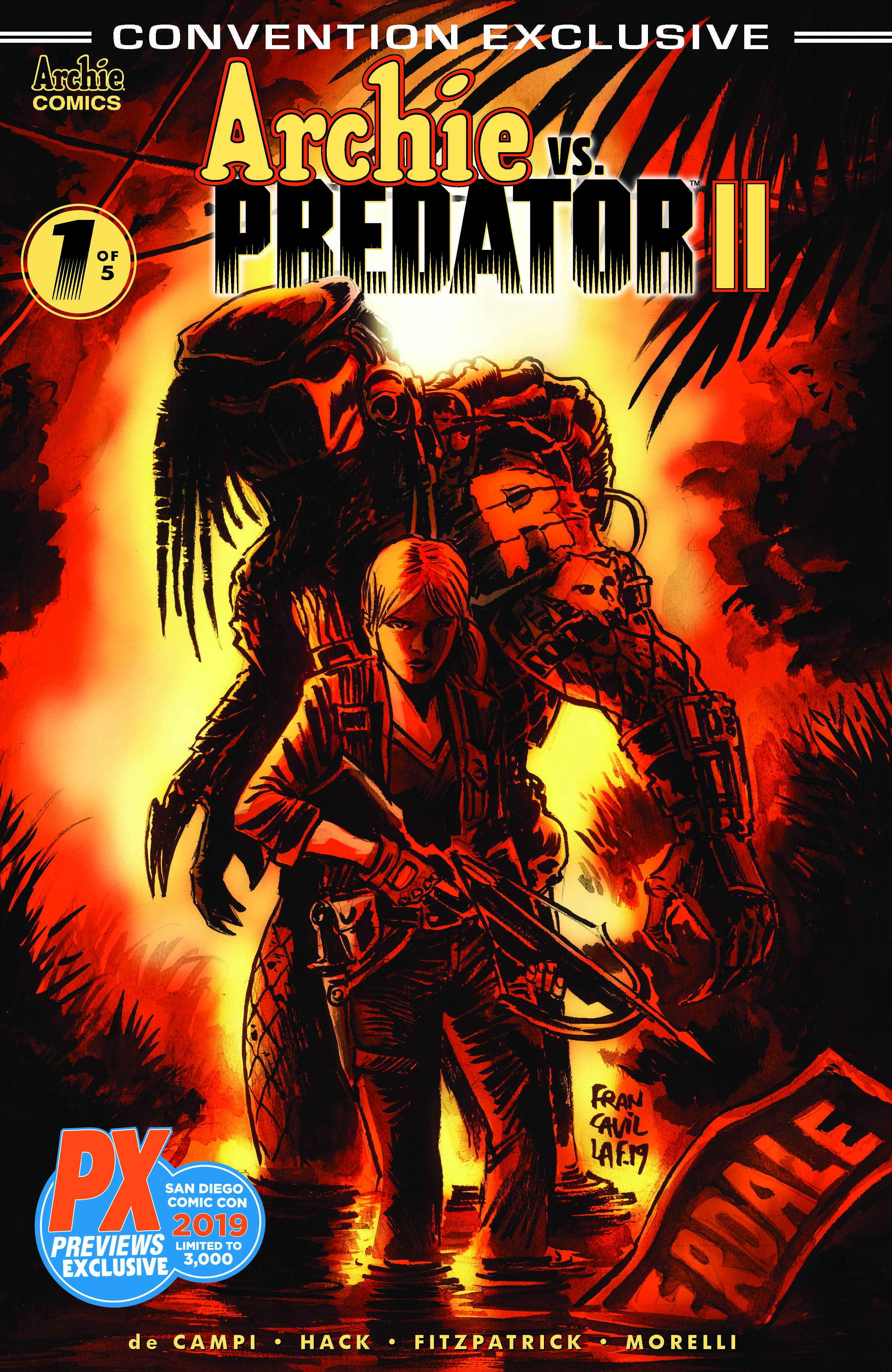 SDCC 2019 ARCHIE VS PREDATOR 2 #1
From Archie Comics! Betty, Veronica, and Predator-Archie have been left in the wreckage of their town, all their friends dead. Normally, they'd just go down Memory Lane and get home again where everything's okay, but that's no longer an option. It isn't until they find an undamaged car and drive it down a different road where they can finally return to Riverdale-but their hometown feels different. And it's made even more bizarre when they come face-to-face with a few people they'd never expect: themselves. Only different, newer versions. Little do they know, Predators on Mars are watching them-planning their next attack.
Limited to 3,000.
SDCC 2019 MIGHTY MORPHIN POWER RANGERS #40
From BOOM! Studios! Last year, Shattered Grid made comic book history-this year NECESSARY EVIL changes what you think you know about the Power Rangers with a reveal that will have everyone talking!
The Power Rangers comic book event of 2019 begins here with the first appearance of the Power Ranger everyone's been asking about-the fan favorite White Ranger!
The all-new team of creators from record breaking Power Rangers; Shattered Grid; Ryan Parrot and Daniele Di Nicuolo present the return of the Mighty Morphin Power Rangers-but what happened to the universe after the defeat of Lord Drakkon, and what do our Rangers remember?
Limited to 3,000.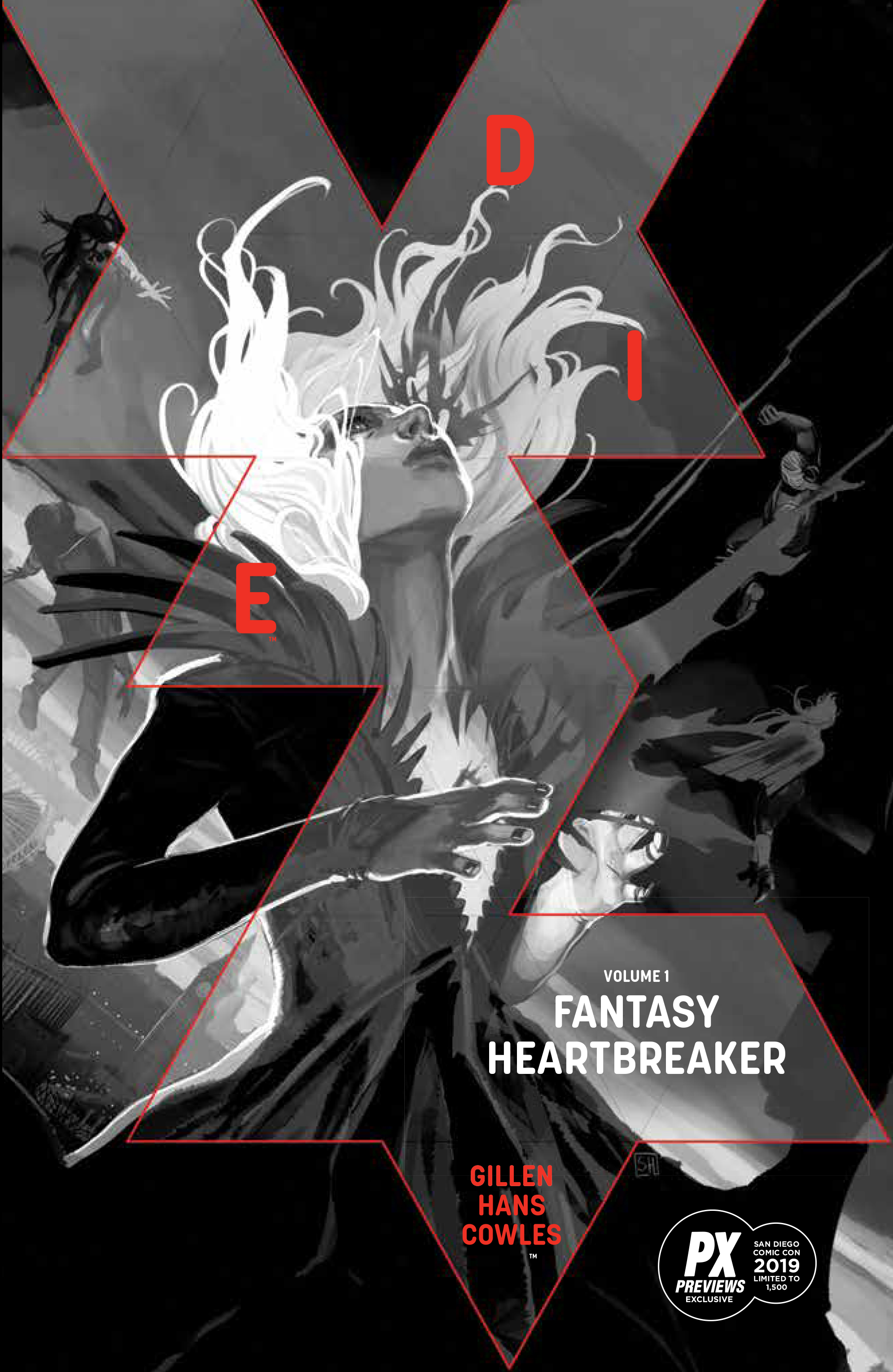 SDCC 2019 DIE TP VOL 01 FANTASY HEARTBREAKER
THE WICKED + THE DIVINE writer KIERON GILLEN teams up with artist supernova STEPHANIE HANS (THE WICKED + THE DIVINE, Journey Into Mystery) for her first ongoing comic! DIE is a pitch-black fantasy where a group of forty-something adults have to deal with the returning, unearthly horror they only just survived as teenage role-players. If KIERON's in a rush, he describes it as "Goth Jumanji", but that's only the tip of this critically acclaimed obsidian iceberg. Collects DIE #1-5 from Image Comics!
Limited to 1,500.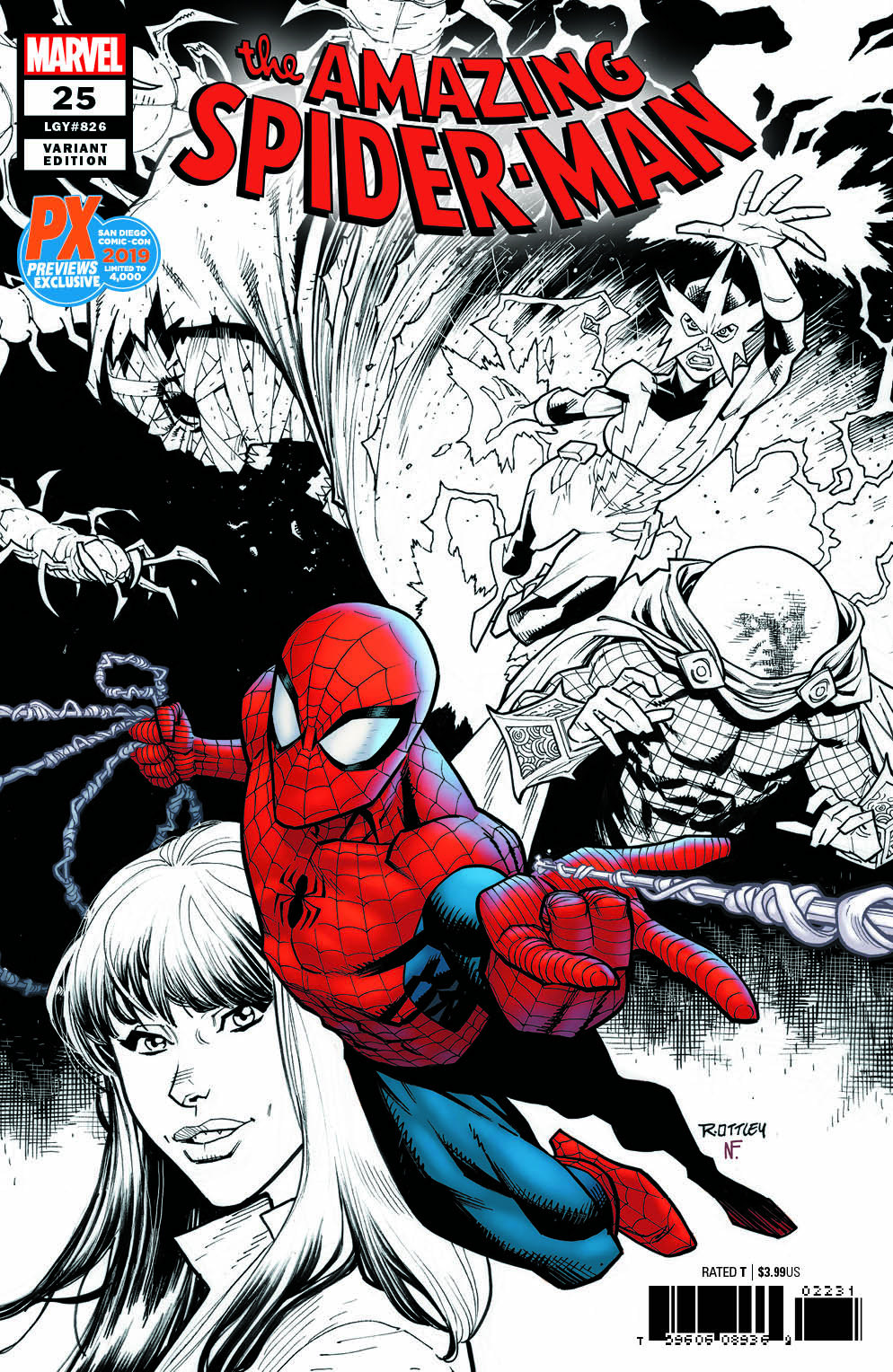 SDCC 2019 AMAZING SPIDER-MAN #25
From Marvel Comics! Year two of Nick Spencer, Ryan Ottley and Humberto Ramos' run on ASM begins here! In the giant-sized main story, Spider-Man and Mary Jane find themselves in an INCREDIBLY tough situation, thanks to Electro. Can Spidey save MJ? CAN MJ SAVE SPIDEY? What is Mysterio cooking, and what does it have to do with the bandaged villain who has been on the periphery since #1?! All this, plus a story by Dan Hipp (TEEN TITANS GO! Art Director), internet sensation Keaton Patti and MORE!
Limited to 4,000.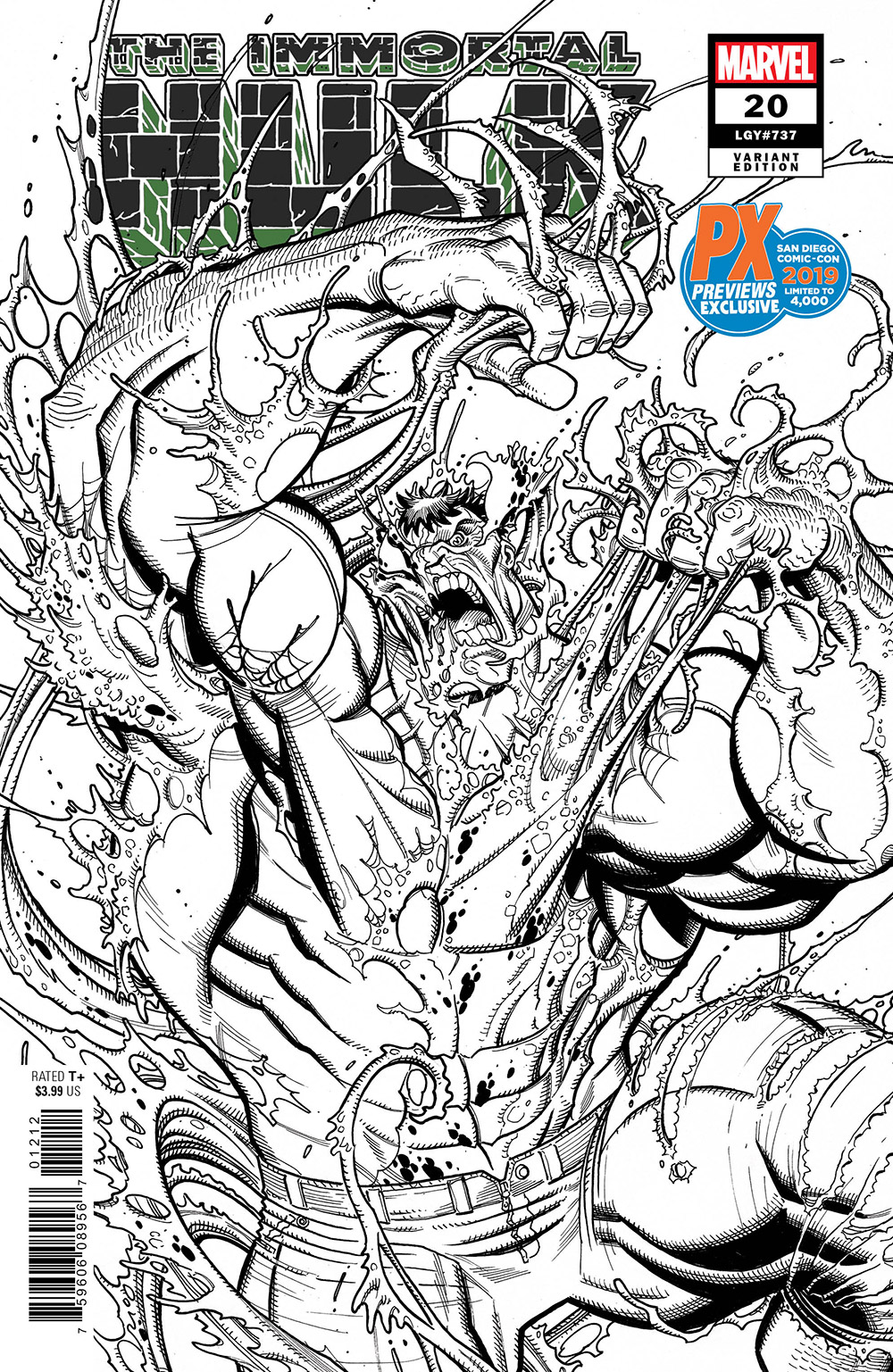 SDCC 2019 IMMORTAL HULK #20

From Marvel Comics! Bruce Banner is being hunted on two fronts by two dead loved ones turned nightmarish, implacable foes. The stage is set for a brutal three-way confrontation between the ABOMINATION... the HARPY ...and the IMMORTAL HULK.
Limited to 4,000.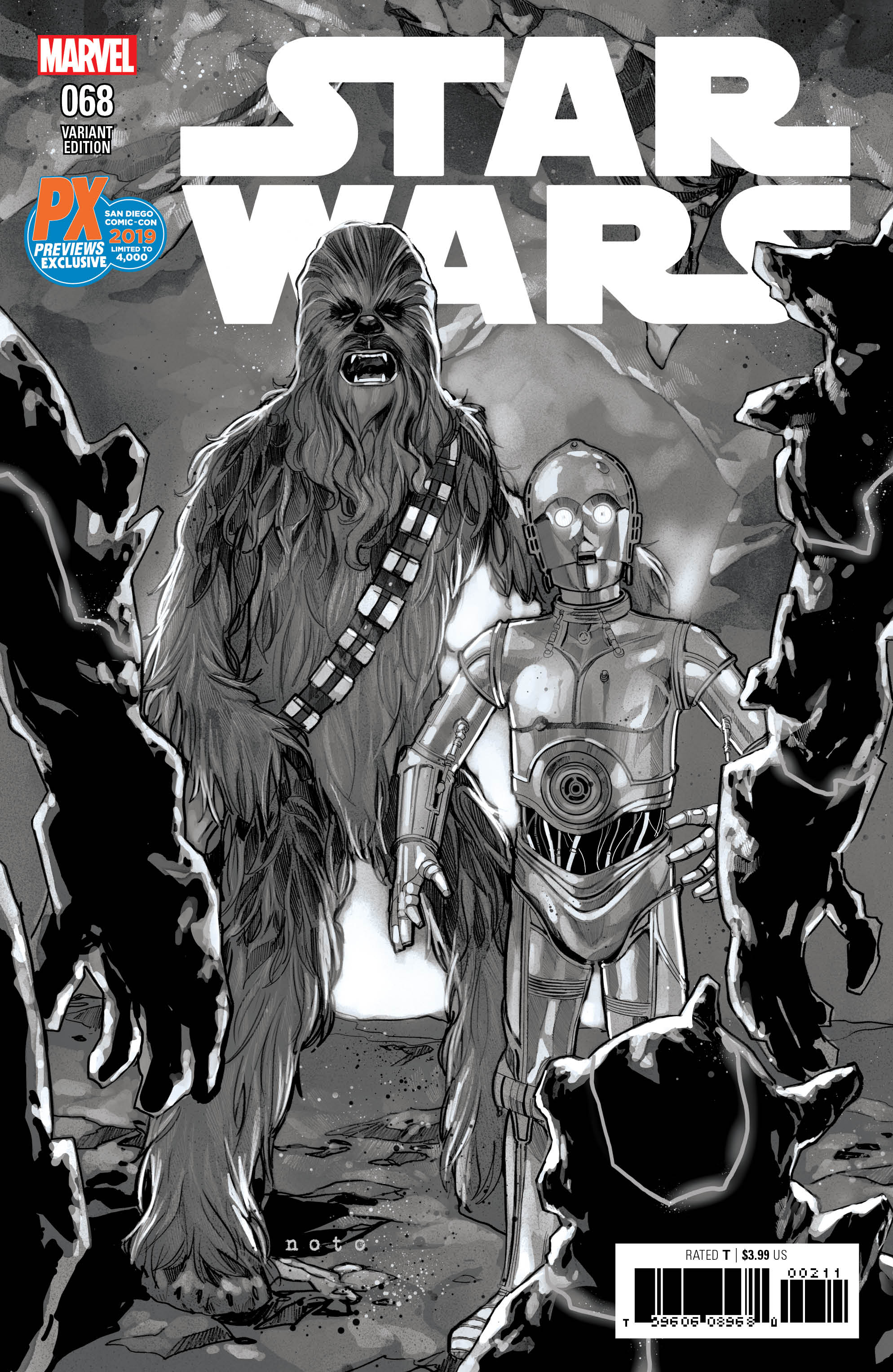 SDCC 2019 STAR WARS #68

From Marvel Comics! REBELS AND ROGUES! "The evil lord Darth Vader, obsessed with finding young Skywalker, has dispatched thousands of remote probes into the far reaches of space..." That's right - you remember the opening titles of The Empire Strikes Back. Now find out what happened just before, as Luke and his friends launch a desperate, three-pronged mission of deception to keep the Empire from finding their new rebel base in a brand-new epic from the new ongoing team of Greg "PLANET HULK" Pak and Phil "POE DAMERON" Noto! Featuring Han and Leia undercover in a noir world of romance and danger! Luke and R2 facing off against the Executor in a single X-Wing! And Chewie and Threepio, the greatest team-up you never knew you always needed!
Limited to 4,000.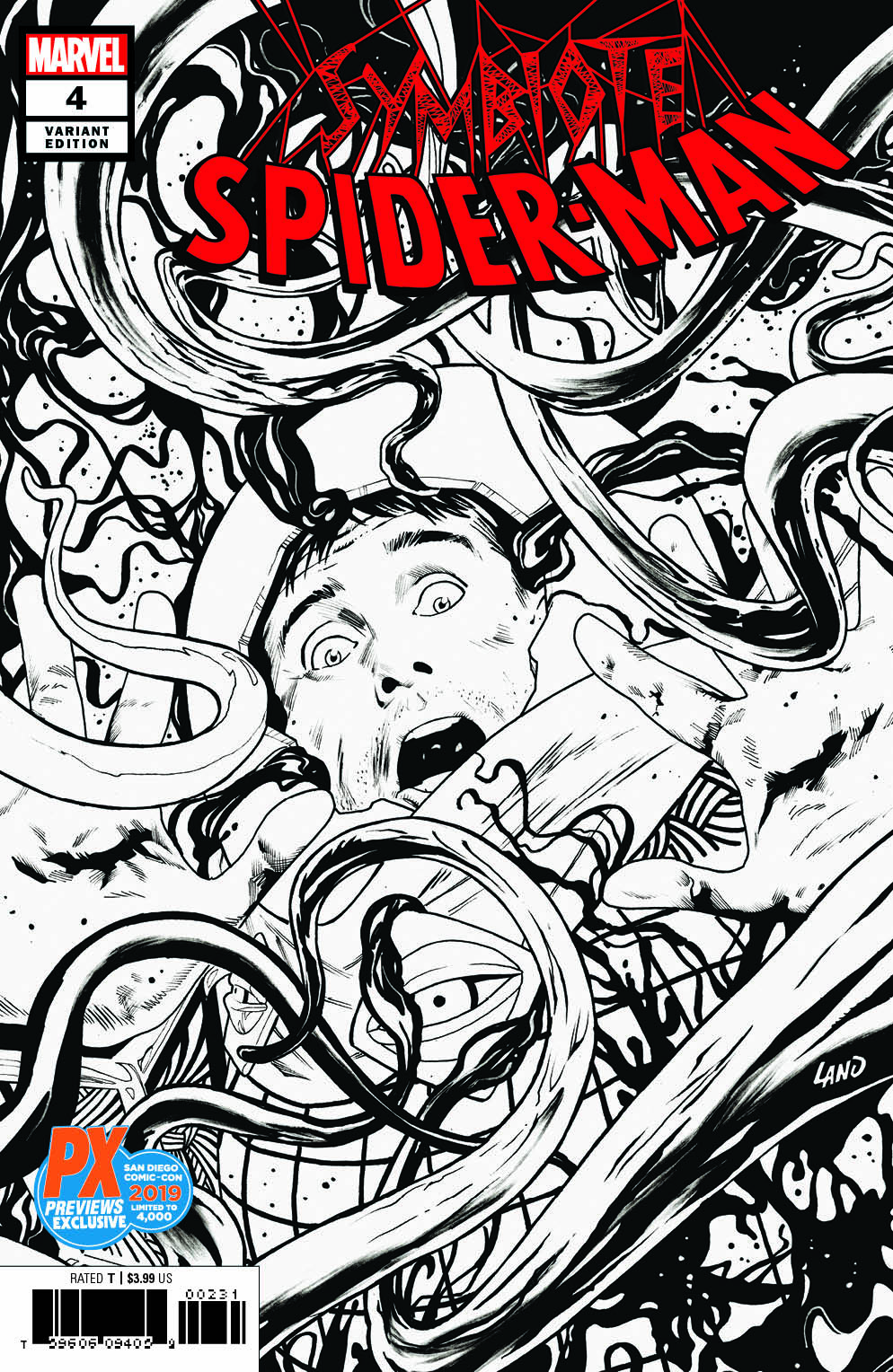 SDCC 2019 SYMBIOTE SPIDER-MAN #4
From Marvel Comics! PETER DAVID and GREG LAND continue their tale that takes place during the original Alien Costume Saga! Mysterio finds himself in possession of a sliver of the black costume, unaware of its true nature... Then, tensions continue to mount between Peter Parker, A.K.A. SPIDER-MAN, and his girlfriend, Felicia Hardy, A.K.A. THE BLACK CAT, as she's been keeping something from him - something that threatens to tear apart their relationship!
Limited to 4,000.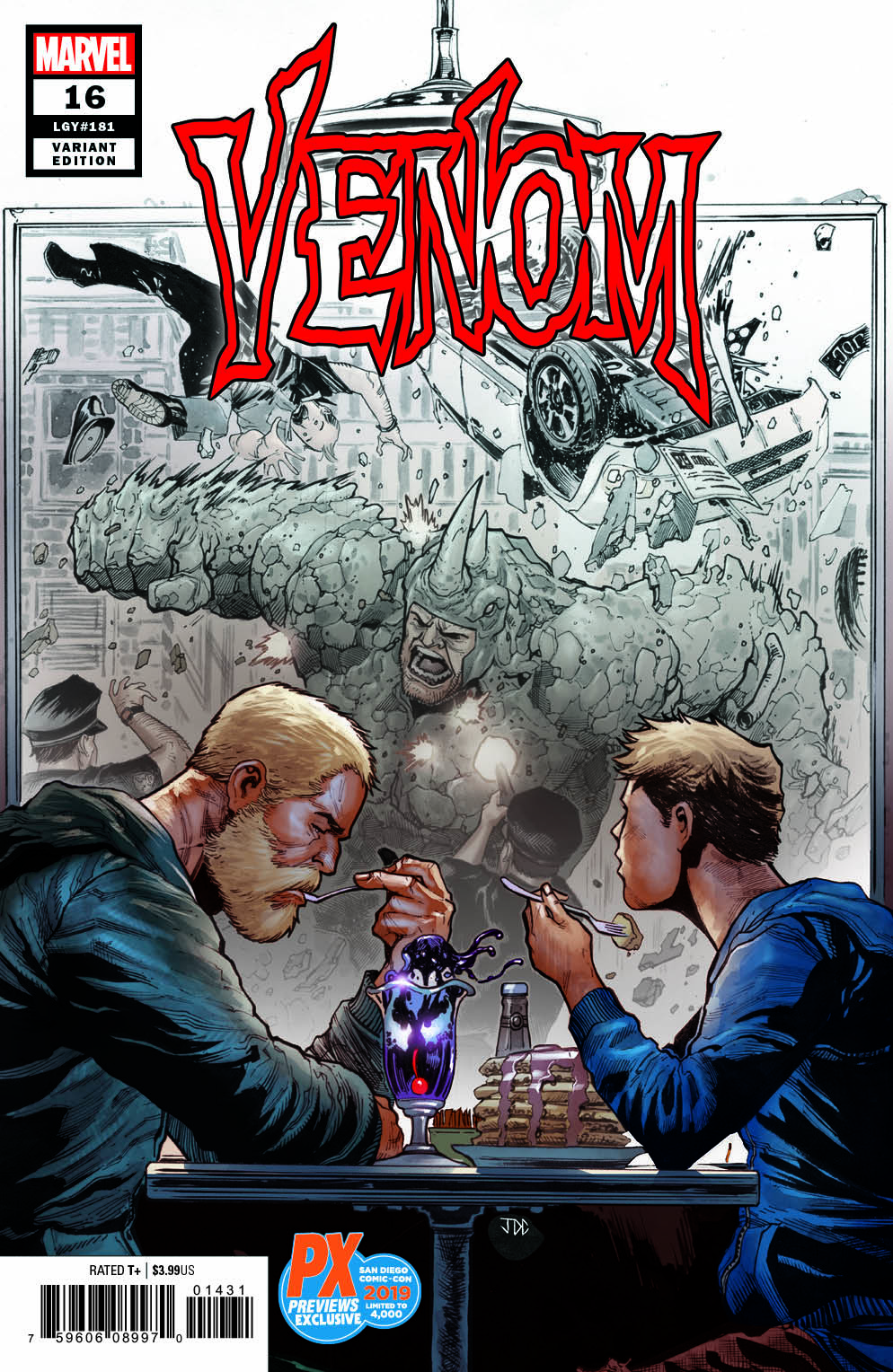 SDCC 2019 VENOM #16

From Marvel Comics! After weeks on the run and battling the monsters of Asgard through the WAR OF THE REALMS, Eddie Brock finally has a moment to catch his breath. But without his symbiote, getting even the basic necessities will become a challenge for Eddie Brock. Which means that keeping his son, Dylan, alive will be too!
Limited to 4,000.
---
Merchandise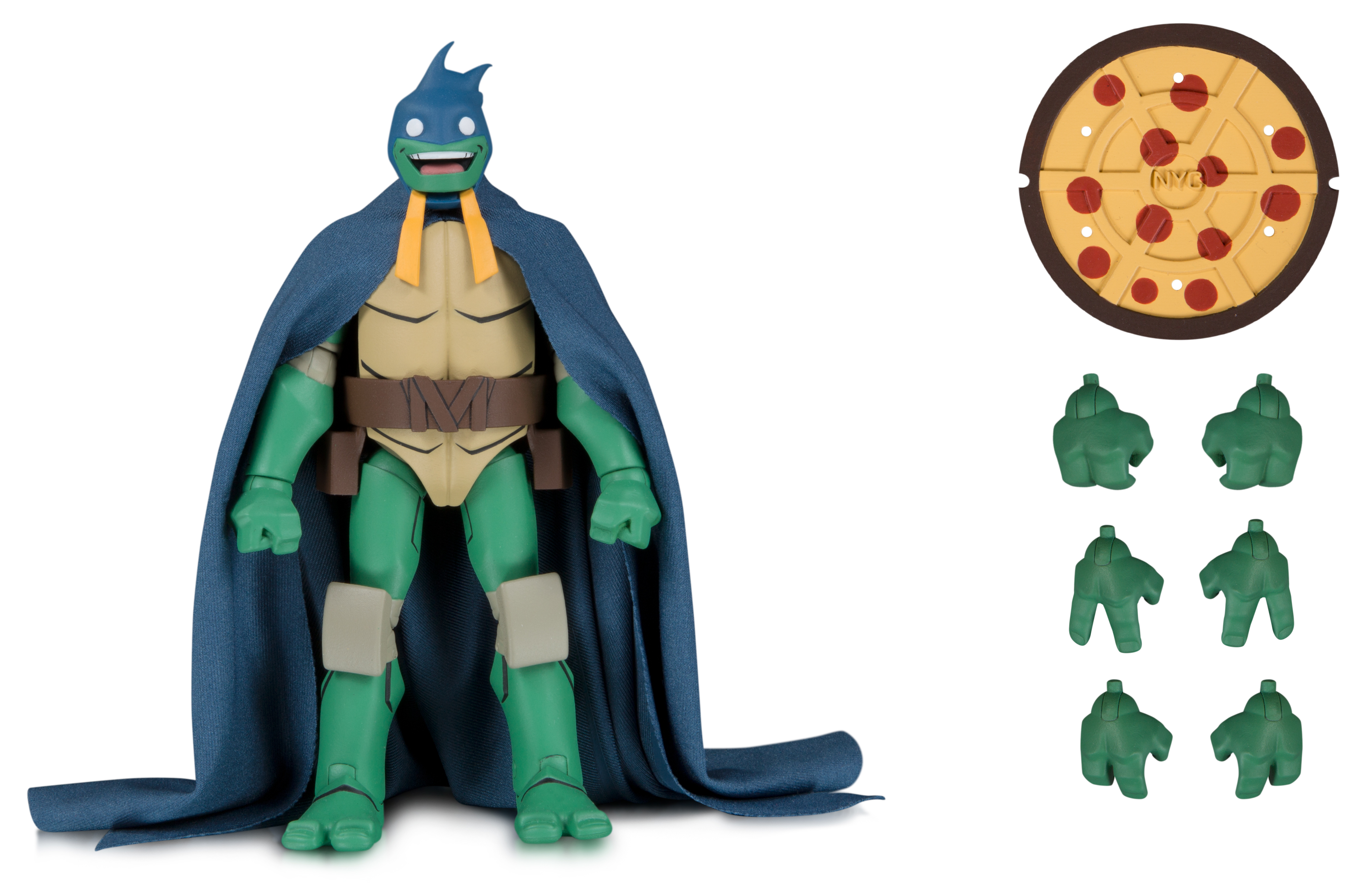 SDCC 2019 DC TMNT MICHAELANGELO AS BATMAN AF
Based on the hit DC Comics crossover, Batman vs. Teenage Mutant Ninja Turtles, Mikey is decked out in Batman's iconic cowl and cape in this awesome 2019 San Diego Comic-Con exclusive. Accessories include a sewer lid, pizza and extra sets of hands. This figure from DC Collectibles is limited to 10,000 pieces. (SRP: $30.00)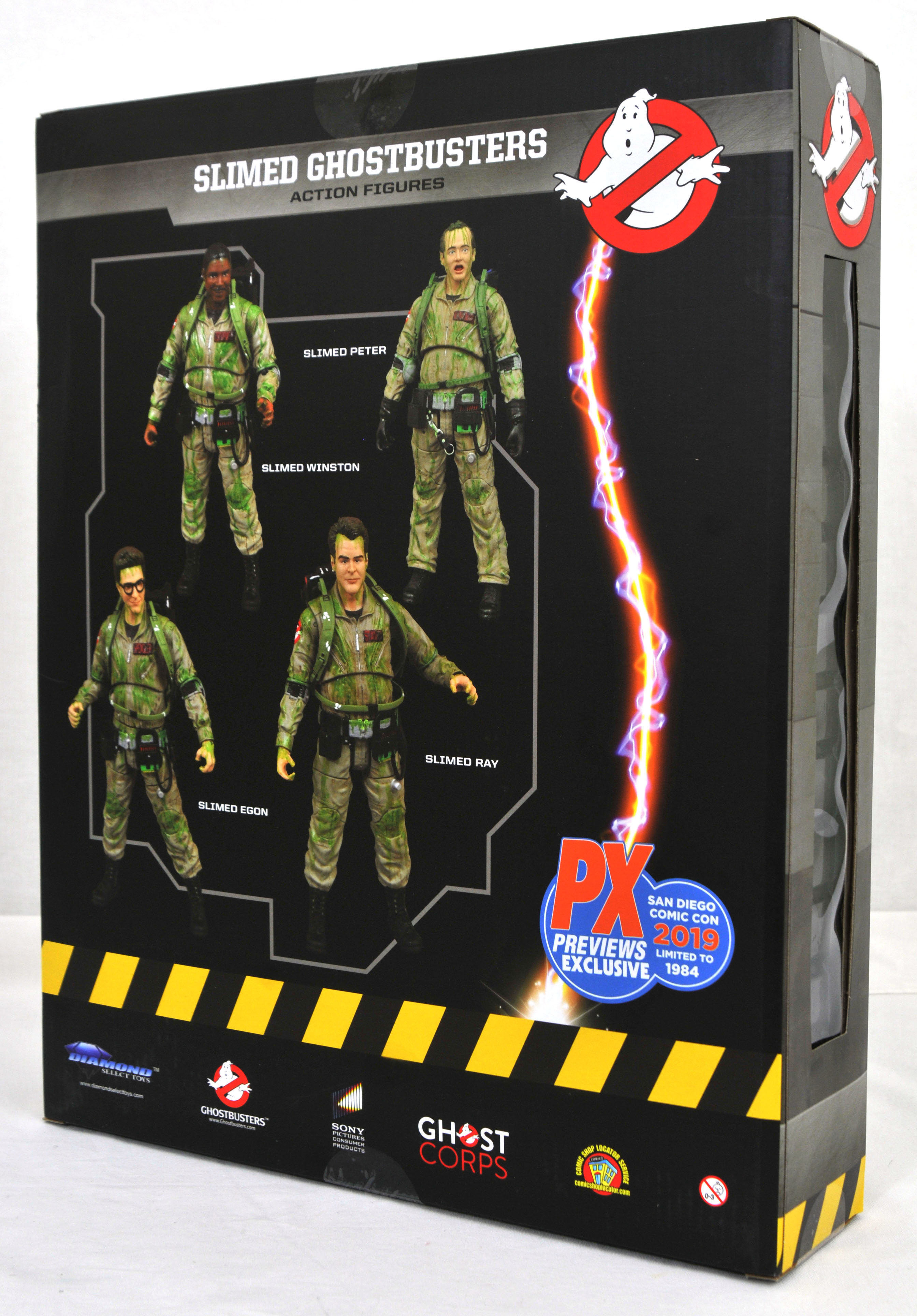 SDCC 2019 GHOSTBUSTERS ACTION FIGURE BOX SET
(JUL189180, $79.99)
They feel so funky! To celebrate the 35th anniversary of the classic horror-comedy Ghostbusters, Diamond Select Toys has created the ultimate movie collectible – the slimed action figure 4-pack! Featuring Peter, Ray, Egon and Winston in their slimed appearances, each action figure features approximately 16 points of articulation, as well as interchangeable hands, removable walkie-talkies and more. Packaged in a full-color window box with a fifth-panel door, this set is limited to only 1984 pieces! Designed by Yuri Tming, sculpted by Gentle Giant Studios. A Diamond Select Toys release! (SRP: $79.99)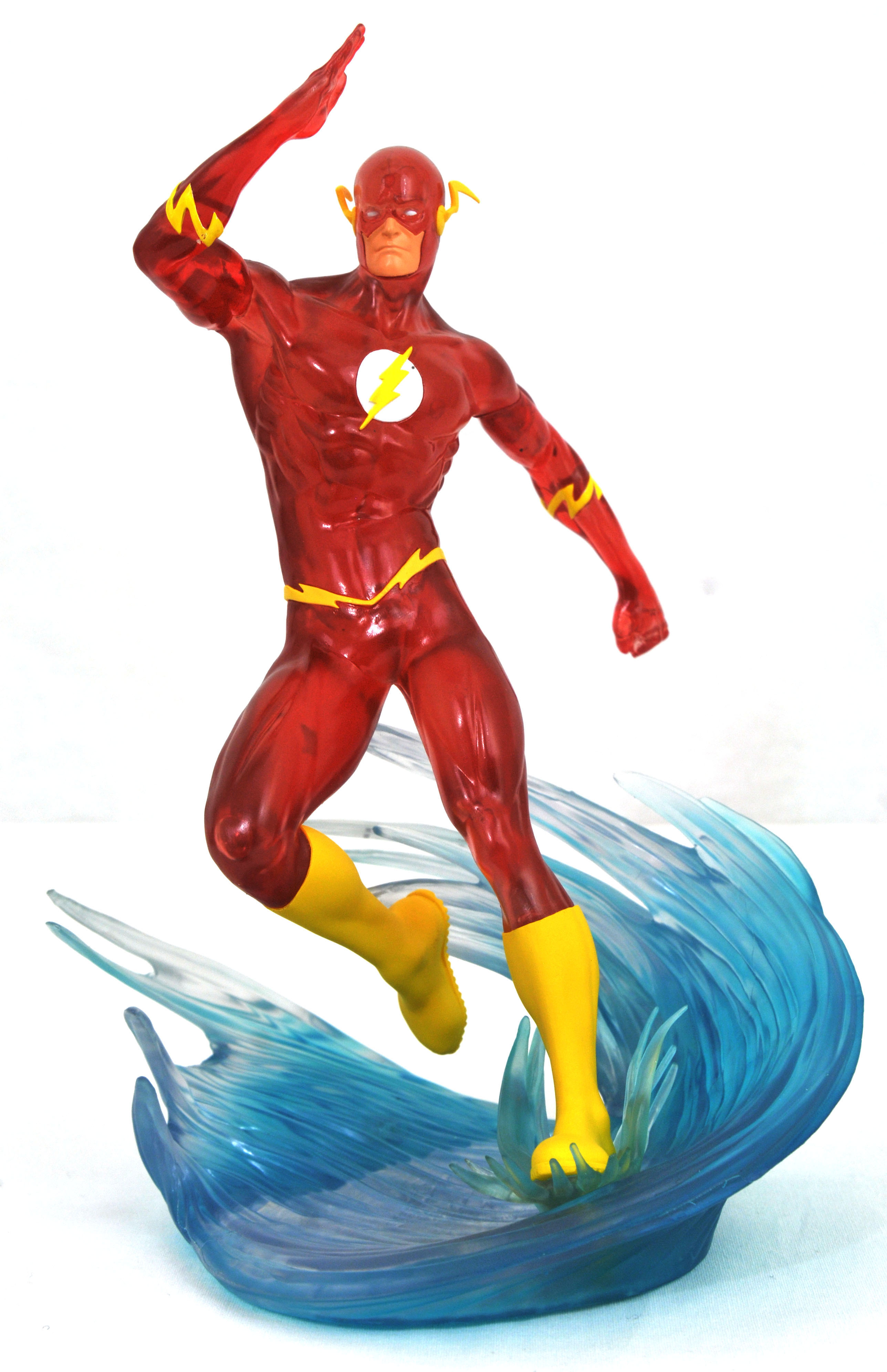 SDCC 2019 DC GALLERY SPEED FORCE FLASH PVC STATUE
Time to enter the Speed Force! This exclusive 9-inch scale PVC diorama of the Flash racing across a wave is the latest in the DC Gallery line. Made from high-quality plastic, this detailed translucent sculpture delivers the look of a resin statue at a fraction of the price, and is in scale to all Gallery and Femme Fatales PVC dioramas. Flash Fact: It comes packaged in a full-color window box, and is limited to only 7,000 pieces! Designed by Caesar, sculpted by Joe Menna. A Diamond Select Toys release! (SRP: $50.00)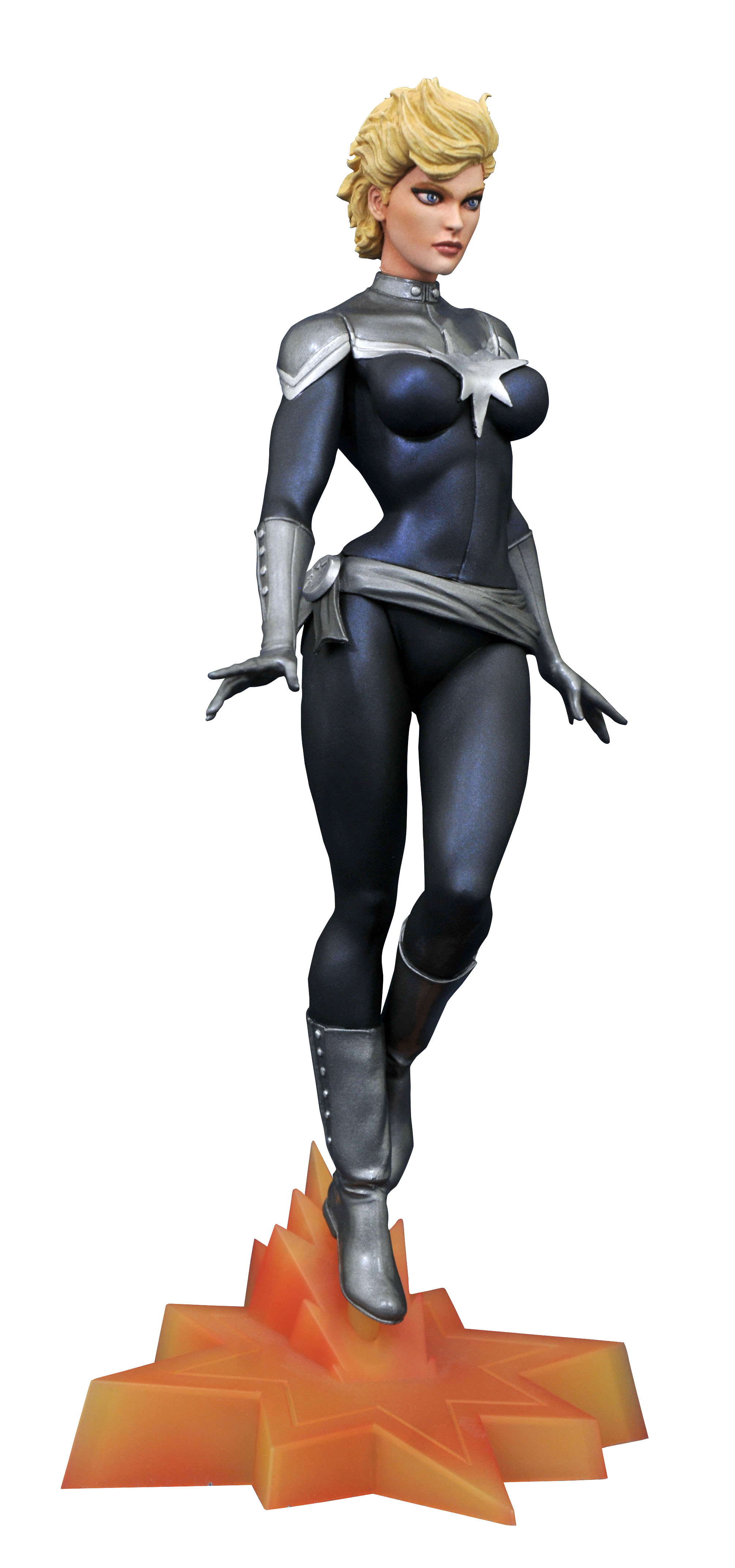 SDCC 2019 MARVEL GALLERY SHIELD CAPTAIN MARVEL STATUE

She's Carol Danvers, Agent of SHIELD! Captain Marvel dons the black and silver of a SHIELD operatice in this SDCC-exclusive Marvel Gallery PVC Diorama. Striking a graceful pose in her new uniform, Carol stands approximately 10 inches tall atop a logo base, and comes packaged in a full-color window box. Designed by Uriel Caton, sculpted by Alejandro Pereira. Limited to 4,000 pieces. A Diamond Select Toys release! (SRP: $50.00)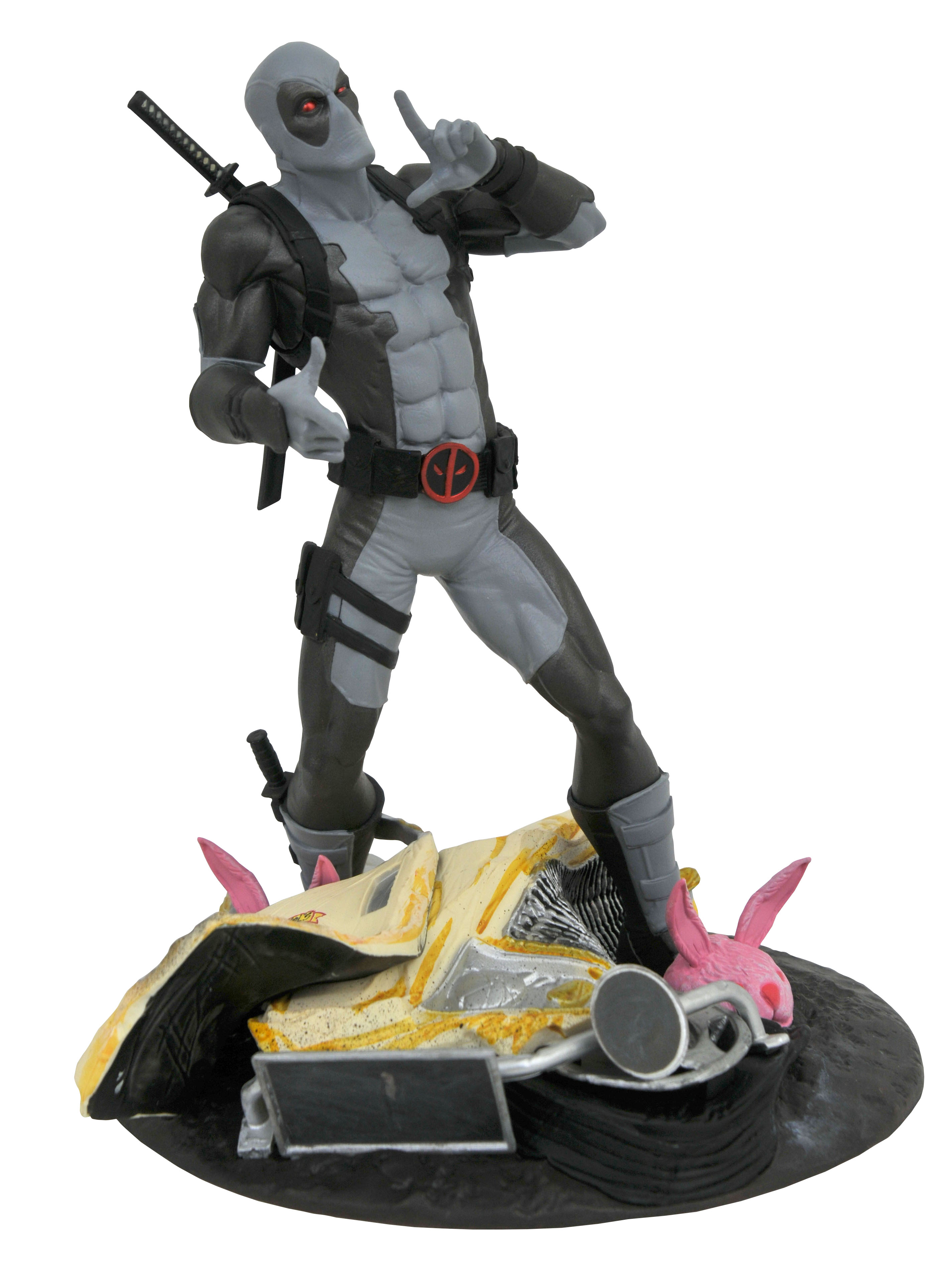 SDCC 2019 MARVEL GALLERY X-FORCE TACO TRUCK DEADPOOL STATUE

Deadpool returns to SDCC in style! Unfortunately, his ride got trashed along the way, and Deadpool is posed atop a destroyed taco truck base, sporting bunny slippers and wielding twin finger guns with the safeties off! This exclusive X-Force Edition of Deadpool stands approximately 10 inches tall and is made of high-quality PVC with collectible-quality paint applications. Packaged in a full-color window box. Designed by Caesar, sculpted by Cortes Studios! Limited to 10,000 pieces. A Diamond Select Toys release! (SRP: $50.00)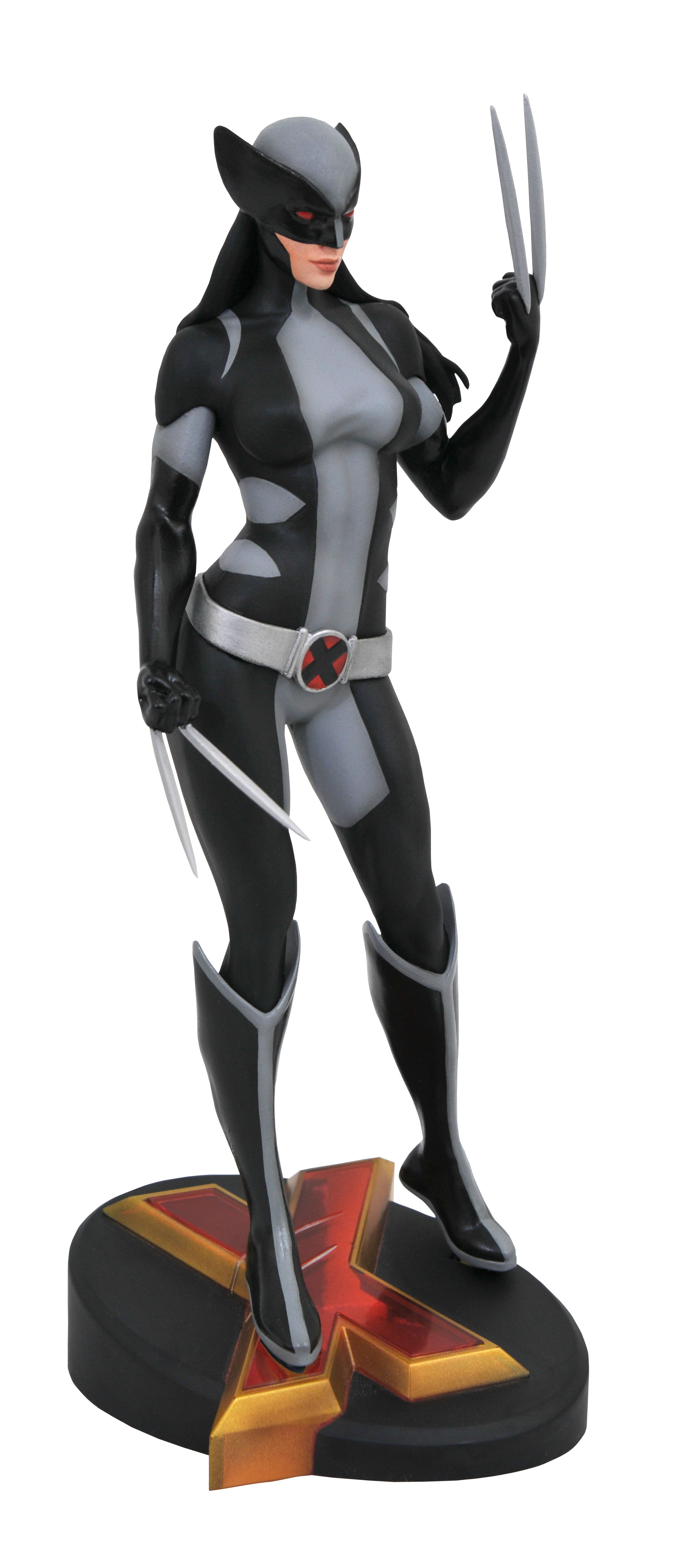 SDCC 2019 MARVEL GALLERY X-FORCE X-23 PVC STATUE

She's back in black – and grey! Laura Kinney, a.k.a. X-23, a.k.a. the all-new Wolverine, changes her clothes in this Comic-Con-exclusive Marvel Gallery PVC Diorama. Striking a menacing pose in her grey-and-black X-Force uniform, Laura stands approximately 9 inches tall atop an X-logo base, and comes packaged in a full-color window box. Designed by Uriel Caton, sculpted by Sam Greenwell. Limited to 6,000 pieces. A Diamond Select Toys release! (SRP: $50.00)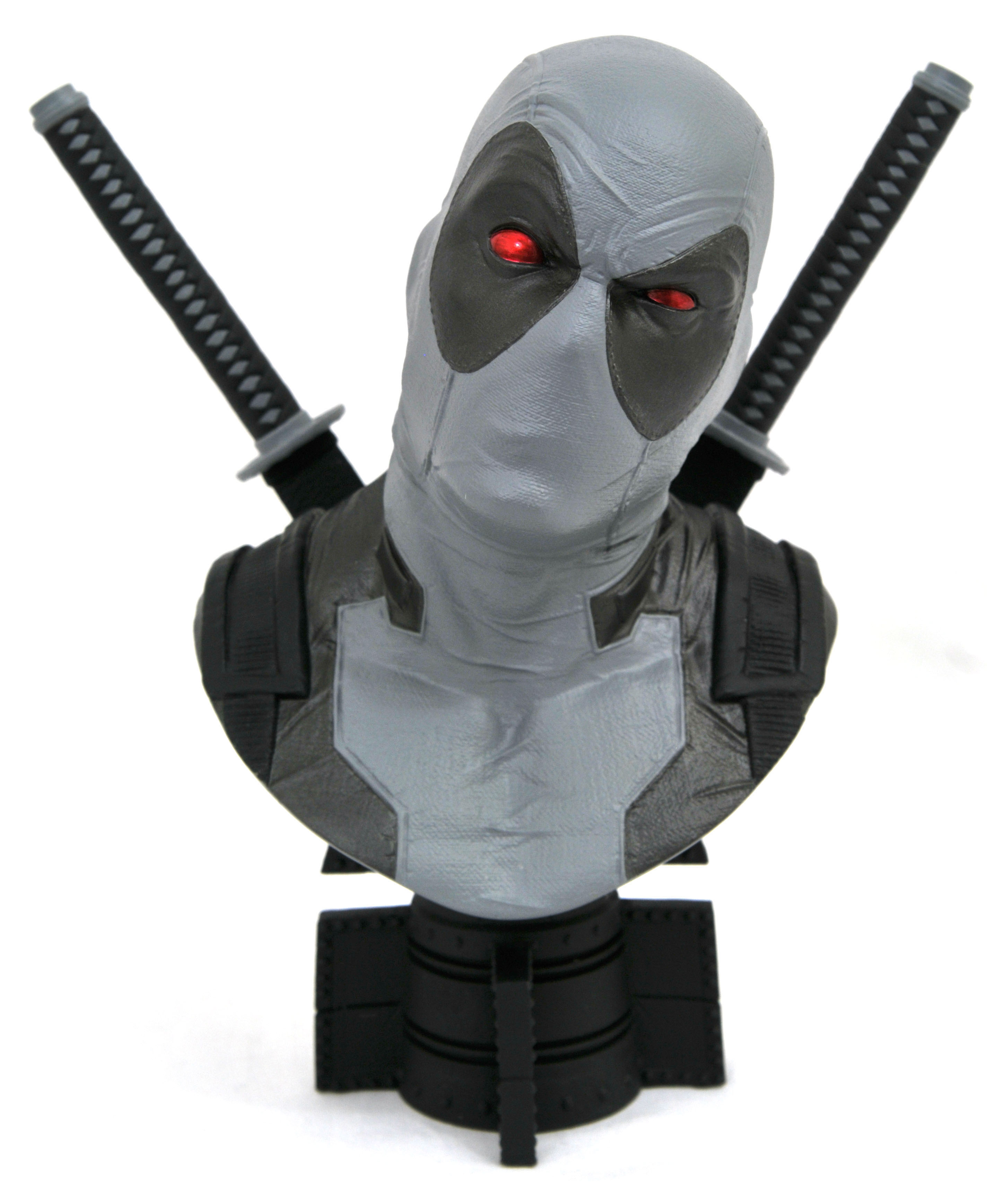 SDCC 2019 MARVEL LEGENDS 3D X-FORCE DEADPOOL 1/2 SCALE BUST
X-Force Assemble! This exclusive ½ scale bust of the Merc with a Mouth in his X-Force colors measures approximately 10 inches tall with exacting sculpted details and the highest level of paint applications. Limited to only 1,000 pieces, this hand-numbered resin bust comes with a numbered certificate of authenticity in a full-color, hand-numbered box. Designed by Joe Allard, sculpted by Rocco Tartamella! A Diamond Select Toys release! (SRP: $150.00)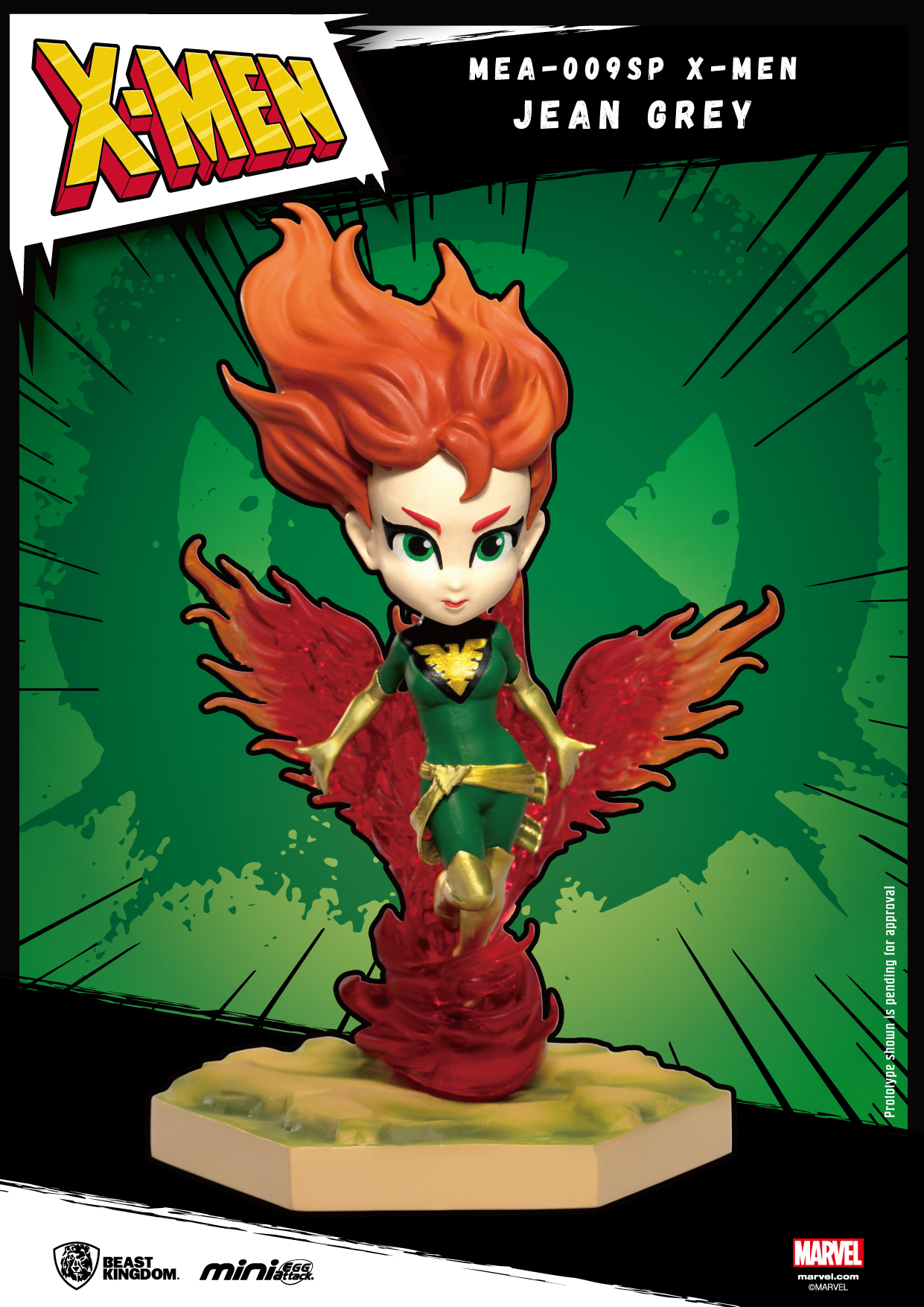 SDCC 2019 X-MEN MEA-009SP PHOENIX PX FIG

From Beast Kingdom! With the debut of Marvel Comics' X-Men in 1963 the world was introduced to one of the most infamous superhero groups that ever existed. The 1992 hit TV series has since become a staple of classic animation.
Cyclops, leads the pack with his laser eyed beams, which he contains with a special optical visor. Wolverine the unpredictable, wild card assists the X-Men with his adamantium claws. On the opposite end, Magneto is the regular foe of the team, who controls metallic elements with his mind, who uses levitation to soar above his enemies!
Finally, in the middle stands the great Phoenix. The on-off love interest of Wolverine, Jean Grey becomes arguably the most powerful mutant in the series, with near godlike abilities.
Limited to just 3,000 pieces worldwide! (SRP: $16.99)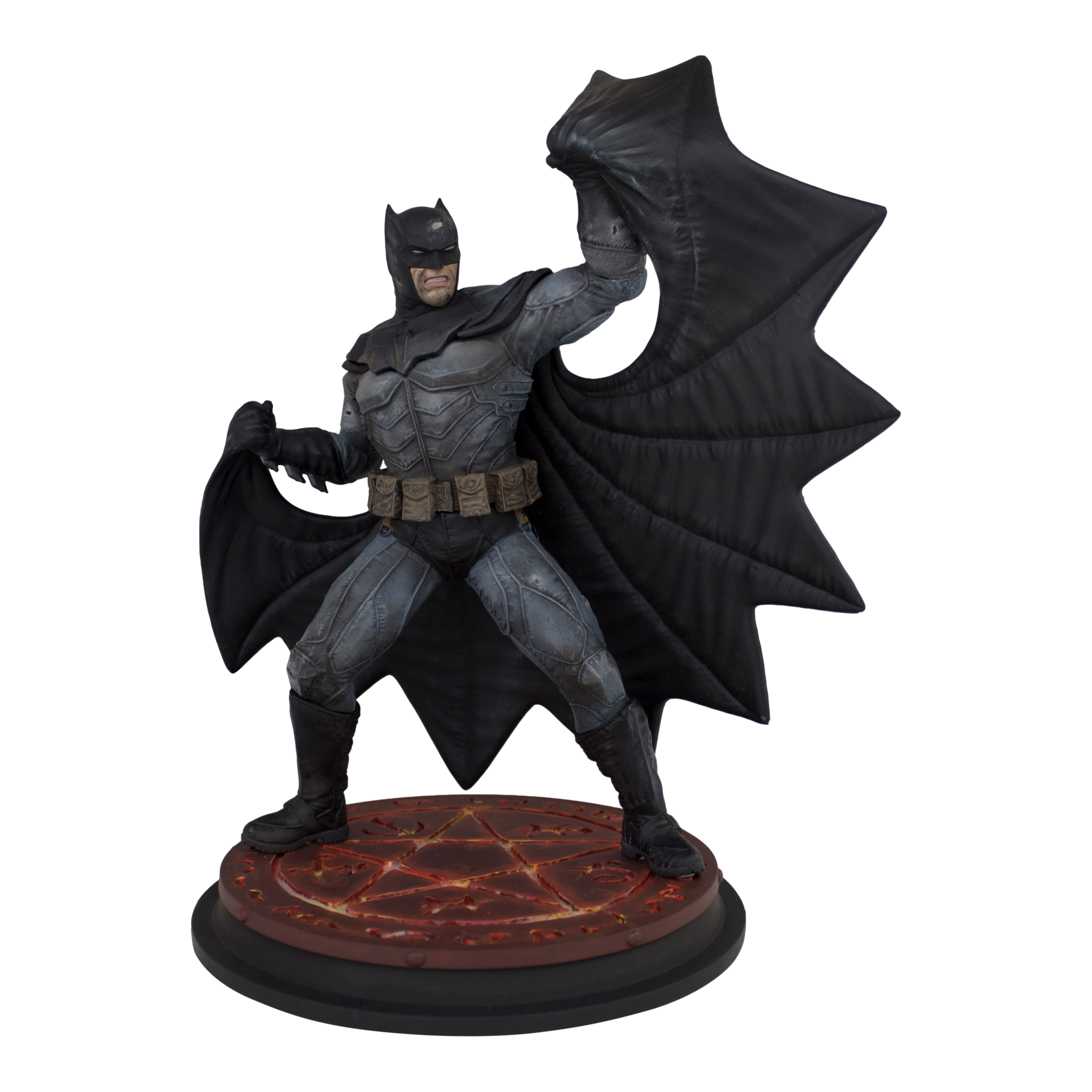 SDCC 2019 DC HEROES BATMAN DAMNED BATMAN STATUE
From the hit DC Comic written by Brian Azzarello and illustrated by Lee Bermejo comes this Batman Damned statue! Fans of the DC Comics hero will be in awe of the details put into this new statue that has been expertly crafted to feature Batman's intricately texturized suit and accurately captures the illustrations of Lee Bermejo in stunning 3D! This collectible polystone statue stands about 6" inches tall, is hand painted, individually numbered, and includes a Certificate of Authenticity. This statue from Icon Heroes is limited to 3000 pieces worldwide, so don't miss out! (SRP: $60.00)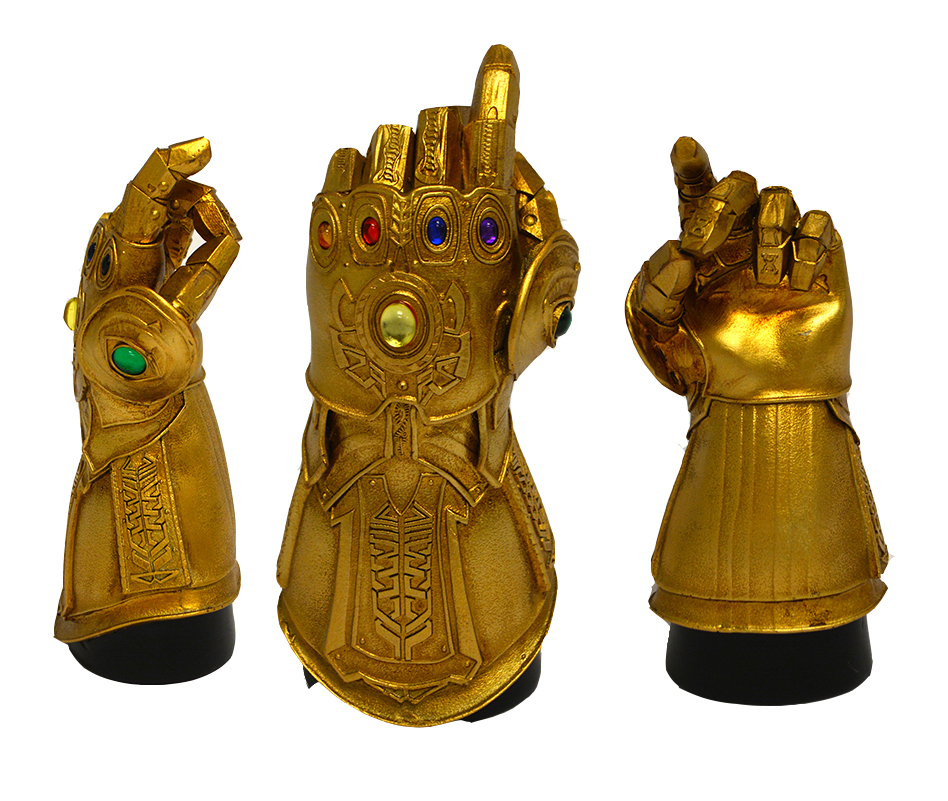 SDCC 2019 MARVEL INFINITY GAUNTLET SNAP PX DESK MONUMENT
The Infinity Gauntlet, the powerful glove wielded by Thanos and bejeweled by the six Infinity Gems, can decorate your office with this statue! You won't need to scour the universe to collect the Gems, as they are already affixed to the monument. This stunning reproduction of the Marvel Universe's powerful artifact may not have the power to reshape the universe, but it will look magnificent in your office or at home! This Con-exclusive version of the monument from Surreal Entertainment features the gauntlet at the critial moment Thanos snaps his fingers and is limited to 2500 pieces worldwide, so don't miss out! (SRP: $19.99)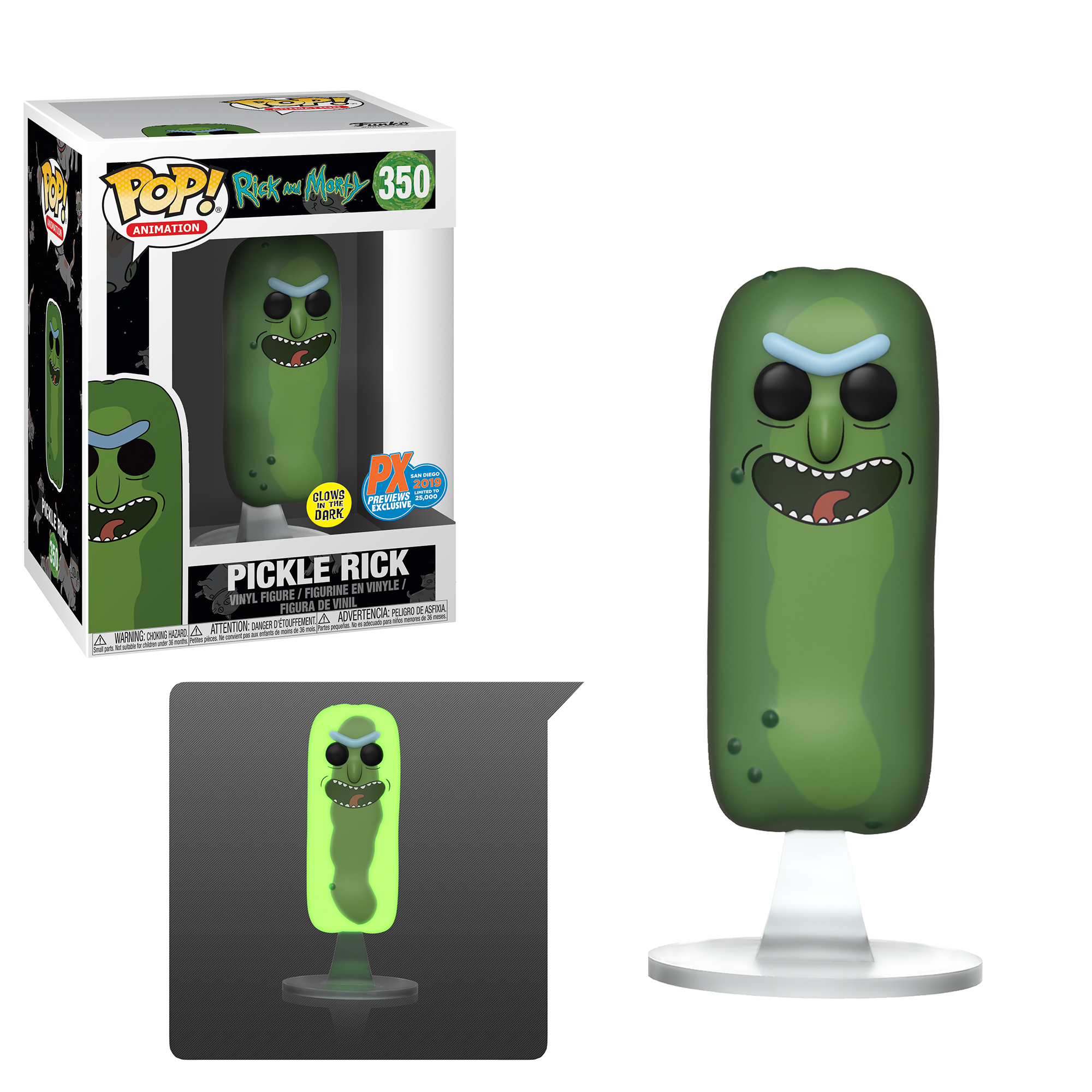 SDCC 2019 POP RICK & MORTY PICKLE RICK GID PX VINYL FIGURE
I'm A Pickle Morty! In the third episode of Rick and Morty Season 3, Rick transforms himself into a pickle... basically to get out of a Family Counseling session with Beth and the kids. We all know how that worked out for him... This special Glow-in-the-Dark San Diego Comic Con Exclusive Pop! figure from Funko depicts Rick Sanchez in his earliest pickle form, free of limbs and reveling in his pickleness! Pickle Rick stands 3 3/4" tall and comes with a display base. Window box packaging. Limited to 25,000 pieces. (SRP: $11.99)