Staff Picks (April): The No Ones #1
Apr 15, 2019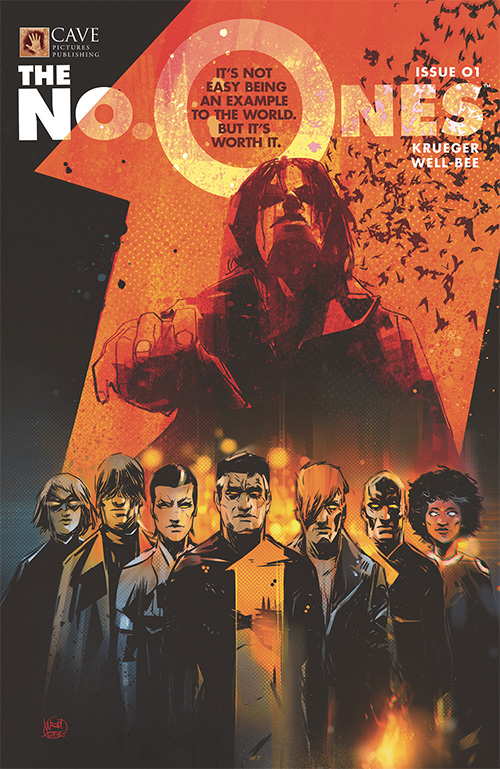 I am very jaded when it comes to new super hero comics, particularly when it comes to Super Team comics which is why I was quite pleasantly surprised by Cave Pictures' new no. 1, The No Ones. Jim Krueger lays out this solid post-Watchmen meditation on super-heroes with spare and efficient prose. Norwegian artist Well-Bee's illustration has the dark brooding of a Bergman film. This is Umbrella Academy with the Wes Anderson turned down and David Simon's The Wire turned way up.
We are deftly introduced to our team by their action figures, the Facebook profiles of super-heroes, caricatures of their heroic personas. Distilled brand and talking points. The story launches from here told swiftly and skillfully. We see our heroes in action, they've been a team for a while. They are well trained, and efficient. Little things go awry but they are not easily flustered. They snipe at each other like officemates who have let petty annoyances get under their skin over the years. Distracted but competent.

We recognize this in ourselves, we see this every day in our institutions. The drone of a career where we have found our level, middle management and at the glass ceiling. So mundane. So commonplace. It happens to everyone, but when it happens to first responders like police, when the risk and danger of the job is muted by the boredom of just another work day tragedy and the decisions around it can become minimized, almost mundane. Just another work problem. We see this almost daily in the news. Shots fired but then turns out the suspect did not have a gun. A bad choice made in panic by heroes. A cover up. Sweep it under the rug then get it behind us. The public will forget. We lose track of how many. The victims blend together. We don't remember their names. There are too many. To us in their numbers they become No One.

The No Ones is a great start. I'm looking forward to seeing where Krueger and Well-Bee take us.
— Jim Fallone
Publisher: Cave Pictures Publishing
Item Code: APR191614
SRP: $3.99
In Comic Shops: 6/26/2019