Exclusive Reveal: Valiant's 'Fallen World' Glass Variant Cover
Apr 04, 2019
Exclusive Reveal!
Valiant Entertainment is excited to offer a first look at the FALLEN WORLD #1 Glass Variant, which features a dynamic Doug Braithwaite illustration of the series' main character, Rai, set against a red mirrored background, all on tempered glass. It was crafted by Valiant Director of Design and Production, Travis Escarfullery, and even sports the illusion of a 3D effect, making it look like Rai is reaching out to the reader!
"Doug created this great dynamic image of Rai so I wanted to make it pop, making it look like the character was emerging from the glass," said Escarfullery. "The red mirror effect in the background helps to achieve the effect. Credit also has to go to our printer, Avenue 4, who helps us achieve these crazy ideas."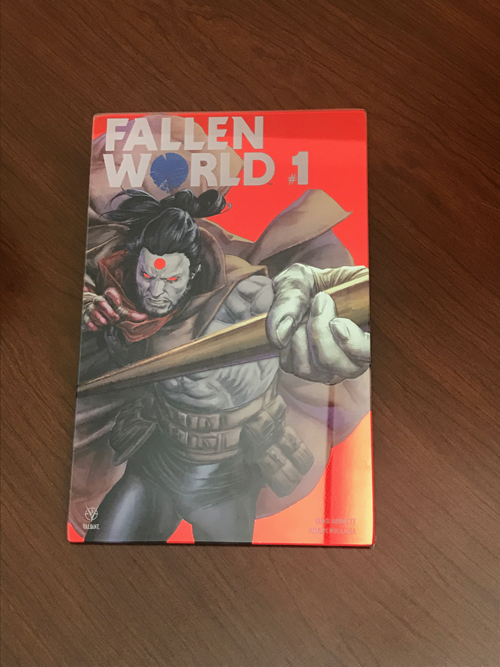 The first issue in the four-issue series is available to pre-order now at comic book stores everywhere in advance of its May 1, 2019 premiere date. Along with the Glass Variant Cover, FALLEN WORLD #1 features covers by Jonboy Meyers, AJ Jothikumar, and Koi Turnbull. A Pre-order Edition cover by David Mack and a blank cover are also available.
In FALLEN WORLD, it is the year 4002. A cyborg samurai named Rai struggles to find his morality, while the nanite-filled supersoldier Bloodshot is on a mission to save the citizens of Earth. Will they work together for the greater good? (All signs point to no.) Plus, there are dinosaurs on the loose and powerful animal-human hybrid mutants! If you love smart sci-fi and engrossing world-building, writer Dan Abnett (Aquaman) and artist Adam Pollina's (X-Force) FALLEN WORLD has you covered.