Independent Publisher A Wave Blue World Makes Key Hires
Mar 25, 2019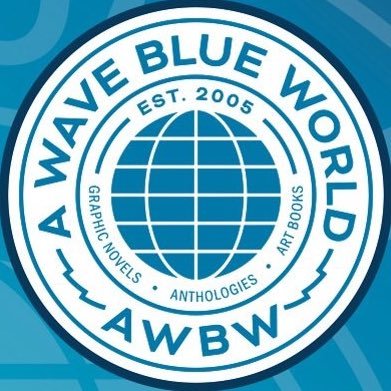 A Wave Blue World, an independent publisher is expanding its staff to continue connecting people through storytelling and provide a platform for a multitude of creative voices. In their mission to use comics and graphic novels as a medium for change, they have appointed Lisa Y. Wu as Vice President of Sales and Marketing and Joe Illidge as Editorial Director.
"Joe and Lisa have proven themselves as leaders in their respective fields, and they've done it all with a genuine love of comics," said Tyler Chin-Tanner, President/Co-Publisher. "We're lucky to have them work for AWBW as we make the next step forward."
"A Wave Blue World addresses the needs of an evolving market with engaging and resonant stories," Lisa added. "I have enormous respect for the team and look forward to bringing more awareness to a publisher that fits my core values in being a retailer and fan advocate."
Experienced in community outreach for diverse organizations and leveraging innovative dynamic marketing strategies to maximize brand awareness, Lisa previously utilized her skills to impact audience and sales growth as Director of Retailer Relations at AfterShock Comics. Among other roles, Lisa also worked as Social Media/Promotions for Saga Communications and Marketing Coordinator for Dave & Busters. Lisa holds a B.A. in English and M.A. in Teaching from The Citadel and is an M.B.A. candidate at Fordham University's Gabelli School of Business.
Creator Steve Orlando (Martian Manhunter, Wonder Woman) upon hearing the news of her hire stated, "Working with A Wave Blue World for their Broken Frontier anthology, I saw from start to finish an upstart publisher looking to innovate with impressive, professional content both aggressive and artful. Adding Lisa Wu's own innovation and verve for the comics industry to the team guarantees that content is going to reach more readers than ever before - it's an exciting moment and a great step forward!"
As Editorial Director for A Wave Blue World, Joe will work with creators from the comic book and global entertainment industries to develop groundbreaking books celebrating inclusion and heroism. "We're in a renaissance of entertainment! I'm excited to work as a member of A Wave Blue World's team to continue the company's mission, of providing a home where writers and artists create personal and imaginative books that collectively serve as the roadmap for a better world."
In his career, Joe served as an editor on the Batman for DC Entertainment, Senior Editor for Lion Forge Comics, and Executive Editor for Valiant Entertainment. Joe's first job in the industry was at Milestone Media, Inc., a publisher of inclusive superhero stories, best known for the award-winning animated series "Static Shock" from Warner Bros.
"Joe is the kind of person who strives to elevate things to their highest potential, which goes for the projects he works on, others as creators, and ultimately himself. I anticipate him bringing that same drive to AWBW, and I can't wait to see what he does there!" says This Nightmare Kills Fascist contributing artist Vita Ayala (Livewire, Shuri)
Executive Director/Co-Publisher, Wendy Chin-Tanner states, "Bringing Lisa and Joe on board the AWBW team represents a new era of growth for our company. Their gifts are precisely what we need for marshaling our collective resources towards a future where we can each do what we do best to create visionary comics and graphic novels of exceptional quality and deliver them to new audiences."
Katie Proctor, owner of Books with Pictures in Portland, Oregon, commented on A Wave Blue World's mission and expansion: "A Wave Blue World has been an incredible partner to retailers dedicated to stocking diverse content. Their recent anthology work, including This Nightmare Kills Fascist and All We Ever Wanted, has been elevating new voices and untold stories in the comics medium. Lisa Wu is a powerhouse with serious retailer relations skills and will be a great addition to their team. We are thrilled to see their expansion and look forward to their ongoing success."