Back In Print: Maximum Carnage, Battle Angel Alita, And More!
Mar 21, 2019
Trade paperbacks and graphic novels are the best way for collectors and new readers to keep up to date on comics in one sitting. Here is a quick checklist to consult for some of the hottest titles now back in print or back in stock and ready to be ordered at your local comic shop.

If you're looking to replace those worn out copies on your bookshelf or looking for a new series to read, here's the perfect checklist! To find your nearest shop, check out the Comic Shop Locator Service.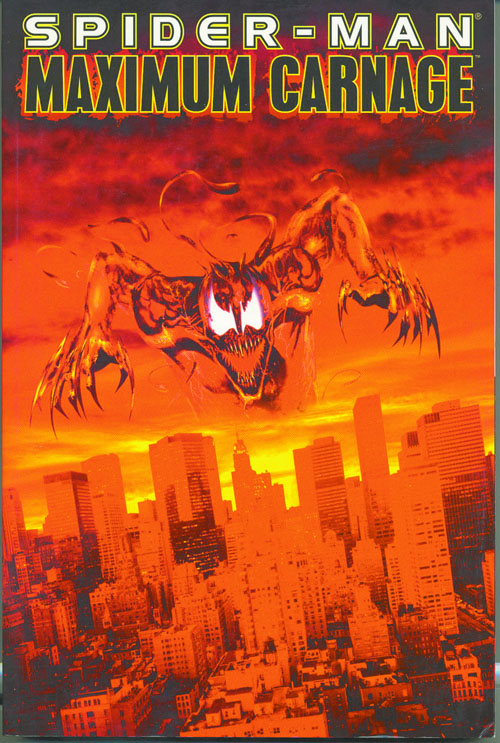 PREMIER PUBLISHERS
ITEM CODE
DESCRIPTION
PRICE
BOOM! STUDIOS
OCT181263
AMORY WARS GOOD APOLLO TP VOL 03
$14.99
DEC138297
MOUSE GUARD HC VOL 01 FALL 1152 DUST JACKET
$24.95
DARK HORSE COMICS
SEP180287
POLAR HC VOL 01 CAME FROM THE COLD SECOND EDITION
$19.99
MAR180023
SHAOLIN COWBOY START TREK HC
$24.99
AUG180314
UMBRELLA ACADEMY HOTEL OBLIVION #1 CVR A BA
$3.99
SEP180251
UMBRELLA ACADEMY HOTEL OBLIVION #2 CVR A BA
$3.99
OCT180302
UMBRELLA ACADEMY HOTEL OBLIVION #3 CVR A BA
$3.99
NOV180221
UMBRELLA ACADEMY HOTEL OBLIVION #4 CVR A BA
$3.99
DEC180364
UMBRELLA ACADEMY HOTEL OBLIVION #5 CVR A BA
$3.99
IDW PUBLISHING
NOV180715
CORTO MALTESE GN THE SECRET ROSE
$19.99
SEP180731
DUNGEONS & DRAGONS EVIL AT BALDURS GATE TP
$17.99
JUN180664
TRANSFORMERS LOST LIGHT TP VOL 03
$19.99
IDW PUBLISHING
APR170539
BATMAN TMNT ADVENTURES TP
$19.99
MAY170442
DUNGEONS & DRAGONS FROST GIANTS FURY TP
$19.99
MAR178782
METAL GEAR SOLID OMNIBUS TP (NEW PTG)
$29.99
SEP170480
MONSTROUS COLL STEVE NILES & BERNIE WRIGHTSON TP
$24.99
MAY140489
MY LITTLE PONY TP VOL 03 RETURN OF HARMONY
$7.99
NOV170495
STAR TREK NEW VISIONS TP VOL 06
$17.99
IMAGE COMICS
FEB148357
IMAGE FIRSTS BLACK SCIENCE #1 (MR)
$1.00
FEB148358
IMAGE FIRSTS DEADLY CLASS #1 (MR)
$1.00
MAR170794
IMAGE FIRSTS SNOTGIRL #1
$1.00
MARVEL COMICS
SEP150876
DEADPOOL VS THANOS TP
$16.99
SEP181001
MMW DAREDEVIL HC VOL 13
$75.00
OCT042110
SPIDER-MAN MAXIMUM CARNAGE TP
$29.99
MAR171129
STAR WARS DOCTOR APHRA TP VOL 01 APHRA
$17.99
COMICS & GRAPHIC NOVELS
| | | |
| --- | --- | --- |
| ITEM CODE | DESCRIPTION | PRICE |
| MAR171981 | 5 WORLDS GN VOL 01 SAND WARRIOR | $12.99 |
| MAR128292 | AMULET SC VOL 02 STONEKEEPERS CURSE NEW PTG | $12.99 |
| NOV182245 | ANCIENT MAGUS BRIDE GN VOL 10 | $12.99 |
| SEP171728 | BATTLE ANGEL ALITA DELUXE ED HC VOL 01 | $29.99 |
| NOV171734 | BATTLE ANGEL ALITA DELUXE ED HC VOL 02 | $29.99 |
| AUG182520 | BATTLE ANGEL ALITA HOLY NIGHT & OTHER STORIES HC GN | $29.99 |
| DEC131204 | BATTLE ANGEL ALITA LAST ORDER OMNIBUS VOL 03 | $19.99 |
| OCT141532 | BATTLE ANGEL ALITA LAST ORDER OMNIBUS VOL 05 | $19.99 |
| SEP138279 | BLACK BUTLER GN VOL 01 (NEW PTG) | $13.00 |
| NOV172101 | BLACK BUTLER GN VOL 25 | $13.00 |
| DEC182250 | BLACK CLOVER GN VOL 14 | $9.99 |
| JUL111144 | CODENAME SAILOR V TP VOL 01 | $10.99 |
| JUN171722 | DOG MAN GN VOL 03 TALE OF TWO KITTIES | $9.99 |
| APR162108 | DRAGON BALL 3IN1 TP VOL 13 | $14.99 |
| SEP128214 | DRAGON BALL Z SHONEN J ED GN VOL 04 | $9.99 |
| SEP168888 | DRAGON BALL Z VIZBIG ED TP VOL 05 | $19.99 |
| MAY148103 | FAIRY TAIL GN KODANSHA ED VOL 02 | $10.99 |
| APR151804 | FRAGMENTS OF HORROR HC JUNJI ITO (MR) | $17.99 |
| DEC171996 | GIRLS LAST TOUR GN VOL 04 | $15.00 |
| JUN151639 | JOJOS BIZARRE ADV 1 PHANTOM BLOOD HC VOL 03 | $19.99 |
| NOV161967 | JUNJI ITOS DISSOLVING CLASSROOM GN (MR) | $12.95 |
| JAN182042 | KAGUYA SAMA LOVE IS WAR GN VOL 01 | $9.99 |
| DEC162118 | KONOSUBA GOD BLESSING WONDERFUL WORLD GN VOL 02 | $13.00 |
| MAY120999 | LADY DEATH (ONGOING) HC VOL 02 SIGNED ED (MR) | $34.99 |
| APR171966 | LIFE CHANGING MANGA OF TIDYING UP | $14.99 |
| NOV182251 | MADE IN ABYSS GN VOL 05 | $13.99 |
| DEC181947 | MEG JO BETH & AMY MODERN RETELLING LITTLE WOMEN GN | $12.99 |
| JUL161632 | MIGHTY JACK GN VOL 01 | $14.99 |
| JAN181088 | MOTOR GIRL OMNIBUS SC | $27.99 |
| MAR171184 | MOTOR GIRL TP VOL 01 REAL LIFE | $15.99 |
| APR181587 | MR WOLFS CLASS GN VOL 01 | $9.99 |
| JUN151643 | MY HERO ACADEMIA GN VOL 01 | $9.99 |
| DEC182240 | MY HERO ACADEMIA GN VOL 17 | $9.99 |
| MAY138014 | NAUSICAA VALLEY WIND GN VOL 01 | $12.99 |
| OCT128166 | NAUSICAA VALLEY WIND GN VOL 07 | $12.99 |
| MAR138190 | ONE PIECE GN VOL 21 | $9.99 |
| MAY171540 | PALOOKAVILLE HC VOL 23 (MR) | $22.95 |
| JAN161830 | PRISON SCHOOL GN VOL 03 (MR) | $20.00 |
| SEP111140 | SAILOR MOON TP KODANSHA ED VOL 02 | $10.99 |
| APR141267 | SAY I LOVE YOU GN VOL 02 | $10.99 |
| NOV138139 | SOUL EATER TP VOL 02 NEW PTG | $13.00 |
| FEB171443 | SPONGEBOB COMICS TP VOL 01 SILLY SEA STORIES | $10.95 |
| JUN171754 | THAT TIME I REINCARNATED SLIME GN VOL 01 (MR) | $12.99 |
| JAN181757 | TRUMPS TITANS TP VOL 01 SICK OF WINNING (MR) | $16.99 |
| OCT181419 | TURNBUCKLE TITANS #1 NIKOLAI VOLKOFF | $3.99 |
| DEC182253 | URUSEI YATSURA GN VOL 01 | $19.99 |
| DEC182252 | WE NEVER LEARN GN VOL 02 | $9.99 |
| DEC181895 | WINGS OF FIRE SC GN VOL 02 LOST HEIR | $12.99 |
| AUG181660 | WORLD OF WARCRAFT HC GN BOOK 03 | $14.95 |
| DEC171793 | YOUR BLACK FRIEND AND OTHER STRANGERS HC (MR) | $20.00 |