DC Reveals Trailer For "Super Sons: The PolarShield Project"
Mar 18, 2019
How do you get kids to read? Give them something they want to read about, like superheroes.
This spring, DC is launching an all-new middle grade graphic novel line, DC Zoom, that will star Batman, Superman, Wonder Woman and many more favorite DC Super Heroes. The new imprintlaunches April 2, 2019, with the release of Super Sons: The PolarShield Project (DEC180509), and today, DC revealed a new trailer for the upcoming graphic novel.
Super Sons: The PolarShield Project is the first installment of a three-part series written by New York Times bestselling author Ridley Pearson (Kingdom Keepers). This is Pearson's first graphic novel and he is joined by artist Ile Gonzalez (The Heroes Club) in this epic debut that follows the sons of Superman and Batman as they struggle to find their place in a rapidly changing world. Set against a backdrop of an ecological disaster, Pearson and Gonzalez take readers ages 8-12 (grades 3-7) on a thrilling adventure filled with themes of friendship, teamwork and courage.
"Writing Super Sons was akin to learning how to build a log home from the ground up. I knew logs were involved, and that there would be a chimney, but it took the brilliant Ile Gonzalez to create something worth looking at," stated Pearson. "I grew up with the black-and-white Superman TV series on WPIX channel 11 out of New York City. And Batman? Wham. Pow. It was Adam West's Batman that owned me, and I was fortunate to call Adam a friend, late in his life. So, to reimagine the two young sons of those iconic superheroes is a pinch-me project that I'm hoping will keep me writing for years. I'm enthralled. I'm honored. I'm having the time of my life."
Super Sons: The PolarShield Project also marks Gonzalez's first work with DC.
"This is my first printed project and for it to be something this BIG is exciting and a bit scary!" said Gonzalez. "Working with Ridley has been so much fun! He has such a refreshing take on Super Sons, and it's been great learning from each other to bring this story to life. I wanted the art to be simple and easy to follow but eye-catching for the younger audience. Something that encourages them to keep reading. I hope young fans are as excited to read this book as we were to create it!"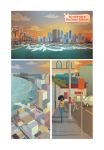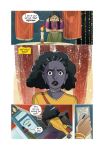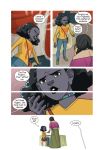 Click to View