New Agents of Atlas Enters Marvel's War of the Realms
Feb 15, 2019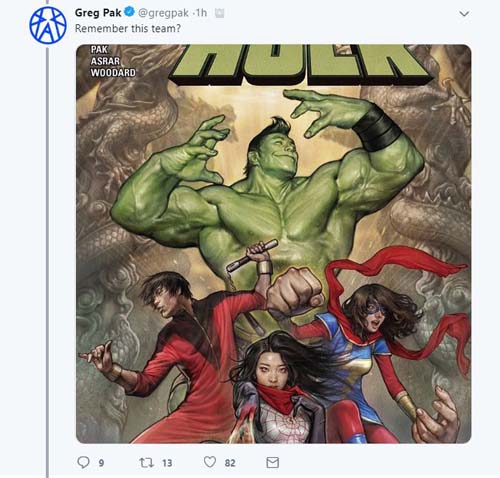 Earlier today on Twitter, multi-award winning writer Greg Pak (World War Hulk, Mech Cadet Yu) teased of an all-new take on Marvel's Agents of Atlas. However, readers of Totally Awesome Hulk may find this particular line-up somewhat familiar. With a few new additions.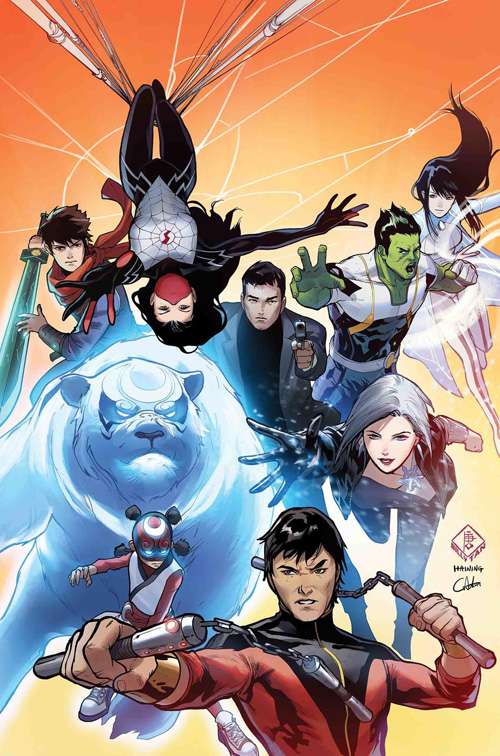 From Marvel:
After a shock-and-awe invasion, the Accursed splits the globe into provinces set to be ruled by his dark and damned collaborators. As Sindr, Immortal Queen of Muspelheim, and her legions of Fire Demons march on Asia, a new band of heroes must unite to protect the Pacific Rim...
Introducing the NEW AGENTS OF ATLAS!
Written by Greg Pak with art by Gang-Hyuk Lim and a cover by Billy Tan, WAR OF THE REALMS: NEW AGENTS OF ATLAS #1 unites new and classic heroes to kick off the four-issue WAR OF THE REALMS tie-in series this May!
Featuring the Marvel Comics debut of the Super Heroes called Wave, Aero, and Sword Master, the story sees Amadeus Cho reassemble his "protectors" to save the world from incineration. Cho has successfully led a ragtag team of heroes to defend the Earth from an alien invasion in the past, but can he do it again this time?
Shang-Chi, Silk, and Jimmy Woo quickly join Brawn in the fight...but where is Kamala Khan? Meanwhile, new heroes Crescent, Io, and Luna Snow are making their own entrance into the Marvel Universe, so how will they impact the global conflict?
Keep an eye on PREVIEWSworld.com's Twitter, Facebook, YouTube, or Instagram for more Marvel announcements and pre-order details.
MARVEL COMICS
(W) Jeff Parker, Don Glut (A) Leonard Kirk, Roger Cruz, Benton Jew, Carlo Pagulayan, Gabriel Hardman, Clayton Henry, Alan Kupperberg (CA) Leinil Francis Yu
The spy. The spaceman. The goddess. The robot. The gorilla. During the 1950s, FBI Agent Jimmy Woo forged a handful of unlikely heroes into a team of espionage operatives. Now, half a century later, the Agents of Atlas return to take the Marvel Universe by storm! Woo, Marvel Boy, Venus, the Human Robot and Gorilla Man battle the Yellow Claw, face down Norman Osborn's Dark Reign, and encounter Spider-Man, Wolverine and the X-Men! Plus: The Agents' amazing Atlas Era debuts! Collecting AGENTS OF ATLAS (2006) #1-6; X-MEN: FIRST CLASS (2006) #8; WOLVERINE: AGENT OF ATLAS #1-3; AGENTS OF ATLAS (2009) #1-5; WHAT IF? (1977) #9; AGENTS OF ATLAS: MENACE FROM SPACE; and material from SPIDER-MAN FAMILY (2007) #4, SECRET INVASION: WHO DO YOU TRUST?, DARK REIGN: NEW NATION, MARVEL MYSTERY COMICS #82, VENUS #1, MARVEL BOY (1950) #1, MEN'S ADVENTURES #26, MENACE #11 and YELLOW CLAW #1.
Rated T+
In Shops: May 02, 2018
SRP: $39.99
MARVEL PREVIEWS Page #102
MARVEL COMICS (W) Greg Pak (A) Luke Ross, German Peralta, Mahmud A. Asrar (CA) Stonehouse
Protectors Assemble! When an intergalactic threat targets the Big Apple, Amadeus Cho joins an alliance of Asian and Asian-American adventurers to save its populace - including Ms. Marvel, Silk and Shang-Chi, Master of Kung Fu! But who brings them together, and what can they do in the face of a mass alien abduction? Start spreading the news, a bunch of people are leaving today - it's up to you, Protectors, to save New York, New York! Plus our socially awesome Hulk makes another new pal - basketball superstar Jeremy Lin! But when they double team a classic Marvel villain upgraded for an all-new era, will it be a slam dunk? Or will they suffer a blowout against the robot menace QUASI/MO/DO? This is how to win friends and influence people, Cho style!
Rated T
In Shops: Jul 12, 2017
SRP: $17.99
MARVEL PREVIEWS Page #113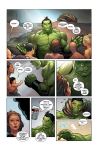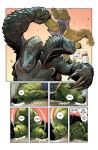 Click to View