Exclusive: Valiant Unveils Glass Variant For The Life And Death of Toyo Harada #1
Feb 12, 2019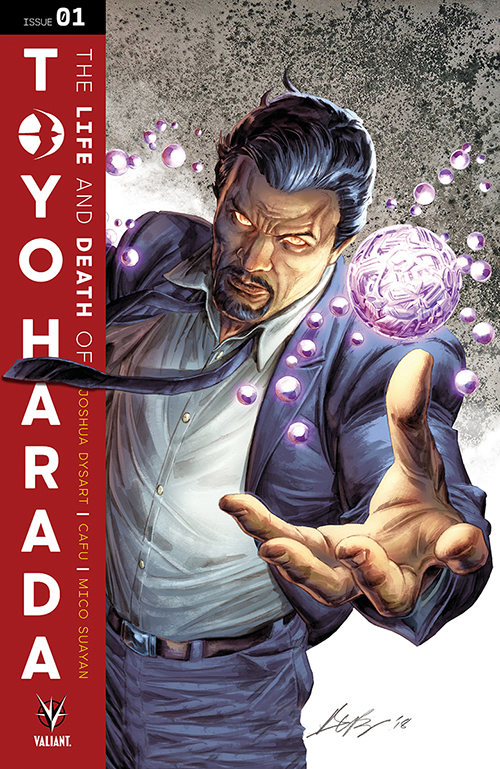 Valiant Entertainment is thrilled to reveal a first look at THE LIFE AND DEATH OF TOYO HARADA #1 Glass Variant, which features a dynamic image illustrated by extraordinary artist Doug Braithwaite and a design created by Valiant Director of Design and Production, Travis Escarfullery. The cover is meant to mimic an antique mirror and features a reflective surface!
"I thought, how could I translate the title of the book into an effect on glass? So I said, What if we gave the glass a patina texture on half the cover. That way you have the clean mirror as 'Life' and the decayed section as 'Death,'" explained Escarfullery. "You can get real nerdy with the idea looking into the normal section that shows life and the textured section that shows decay on the person's face – a sign of death or dying."
Valiant first broke new ground with last November's BLOODSHOT RISING SPIRIT #1 Glass Variant, becoming the first-ever publisher to print a comic book with a tempered glass cover. The initiative was a tremendous success, helping to make the issue the highest-selling comic in 2018 by a non-premier publisher. Valiant followed that up one month later with the LIVEWIRE #1 Glass Variant, featuring a stunning design that featured a special UV ink printing process that allowed it to glow under a black light.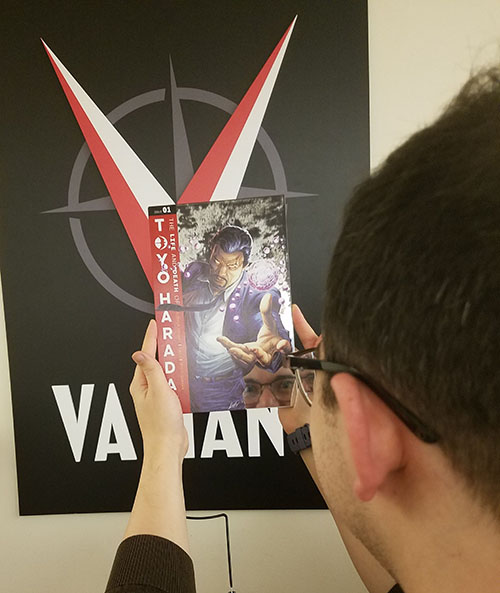 In THE LIFE AND DEATH OF TOYO HARADA, Eisner Award-nominated writer Joshua Dysart (HARBINGER, HARBINGER WARS) returns to the Valiant Universe to continue crafting Harada's controversial mission to save humanity from itself. Presented in an oversized format and featuring a lineup of all-star artists – including CAFU (RAI), Mico Suayan (BLOODSHOT SALVATION), Butch Guice (Captain America), Adam Pollina (SECRET WEAPONS), Diego Yapur (Priest: Purgatory), Kano (QUANTUM AND WOODY!), and Doug Braithwaite (INCURSION) – the first issue in the six-issue series is available to pre-order now at comic book stores everywhere in advance of its March 13, 2019 premiere date! THE LIFE AND DEATH OF TOYO HARADA will place the planet's most powerful man in the spotlight as he strives to control the course of history. But with the menacing mastermind's resources dwindling after the downfall of the Harbinger Foundation and a target on his head, will the formidable psiot re-emerge as humanity's greatest hero...or its most dangerous villain?
Retailers should note that one copy of THE LIFE AND DEATH OF TOYO HARADA #1 Glass Variant Cover can be obtained for every qualifying order of 250 copies of THE LIFE AND DEATH OF TOYO HARADA #1. There is no limit per store – 250 copies ordered will net one glass cover, 500 will net two glass covers, and so forth. Final orders are due to Diamond Comics on Monday, February 25th, but please note the Glass Variant Cover will ship directly from Valiant Entertainment. For any questions, please contact Valiant's dedicated sales team at sales@valiantentertainment.com.
Beside the Glass Variant Cover, THE LIFE AND DEATH OF TOYO HARADA #1 features covers by Mico Suayan, Ben Harvey, and David Mack. A blank cover is also available.
Plus: Don't miss THE LIFE AND DEATH OF TOYO HARADA #1-6 PRE-ORDER EDITION BUNDLE – six massively expanded editions of Valiant's thrilling series that can only be ordered as a set through your local comic shop by the final order cut-off (FOC) date of February 25th, 2019!

Released monthly from March 2019 through August 2019, each 48-page PRE-ORDER EDITION issue comes packed with trade paperback-style extras and bonus content – including creator commentary, behind-the-scenes looks at the creation of the comics, process character designs, first looks at upcoming issues, and exclusive covers by interior artist CAFU that can't be found anywhere else – and for no additional cost!