Series 10 Ghostbusters Select Action Figures, PX Egon Figure Arriving at Comic Shops
Feb 11, 2019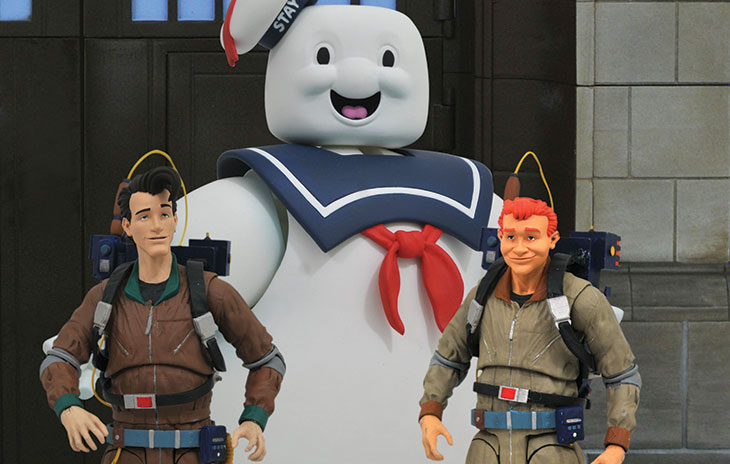 Diamond Select Toys is on call for the latest and greatest Ghostbusters toys around!
Series 10, the latest in DST's Ghostbusters Select action figures line, and the PREVIEWS Exclusive Marshmallow Egon Spengler action figure arrive at comic shops February 13.
Take a look below at the details and be sure to head to your local comic shop to pick up these figures.
GHOSTBUSTERS SELECT AF SERIES 10 ASST (SEP182330)
What did you do, Ray? The newest wave of Ghostbusters action figures continues to build the world of the Real Ghostbusters - and the firehouse diorama - with three new figures of Peter, Ray and the Stay-Puft Marshmallow Man! Based on their animated appearances with new jumpsuits, new head sculpts and new gear, Peter and Ray measure approximately 7 inches tall while the first-ever fully articulated Mr. Stay-Puft measures approximately 8 inches tall! Plus, these three figures complete the firehouse diorama started in Series 6, so pick them up and complete the iconic front doors!
GHOSTBUSTERS MARSHMALLOW EGON AF PX (NOV182296)
The 1984 horror-comedy classic Ghostbusters is as beloved now as it ever was, and this action figure captures one of its most iconic moments! The most serious and strait-laced of the Ghostbusters, Egon Spengler gets covered with marshmallow in this 7-inch scale action figure inspired by the film's final scenes. This figure features newly sculpted parts and 16 points of articulation, plus alternate hands, proton pack, neutrino wand and display base.