Mateus Santolouco's Got It Covered: The Art of 'Shredder in Hell'
Jan 18, 2019
by Troy-Jeffrey Allen
Kevin Eastman and Peter Laird's Teenage Mutant Ninja Turtles endure. From comics to TV to film -- Michelangelo, Donatello, Leonardo, and Raphael have cemented themselves in the consciousness of popular culture. However, their exploits would be a lot less interesting without opposition. Enter: The Shredder ("Um, maybe all that hardware is for making coleslaw.") A.K.A. Oroku Saki, the adorned in metal master ninja that leads the dreaded Foot Clan.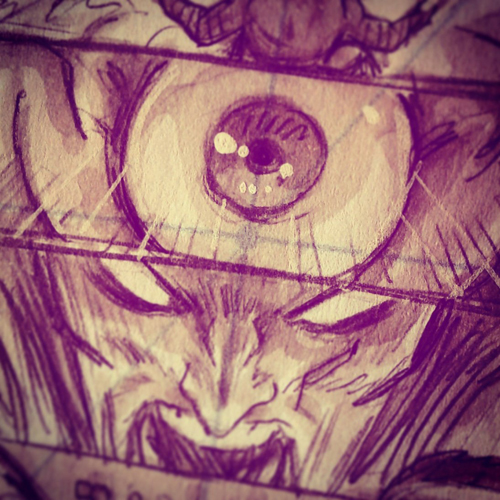 Brazilian artist-writer Mateus Santolouco sees the value in Shredder's villainy. His new mini-series Shredder in Hell has arrived in comic shops with the explicit purpose of bringing one of comic book's most recognizable evildoers back to the forefront. "I had just finished my latest story arc on the ongoing title and [Group Editor] Bobby Curnow wrote me asking me what I wanted to do," Mateus explains to PREVIEWSworld. "If I would rather do more interior art for the ongoing or if I wanted to try a pitch for a story about Shredder in Hell."
Two years had passed since Shredder's demise in TMNT #50. During that time, Santolouco had been patiently lobbying for a shot at Oroku Saki's return. Despite the editorial team telling him that the Ninja Turtles' premiere villain was permanently dead, Mateus wasn't buying it. "Come on, man! This is comics! Everybody comes back from the dead."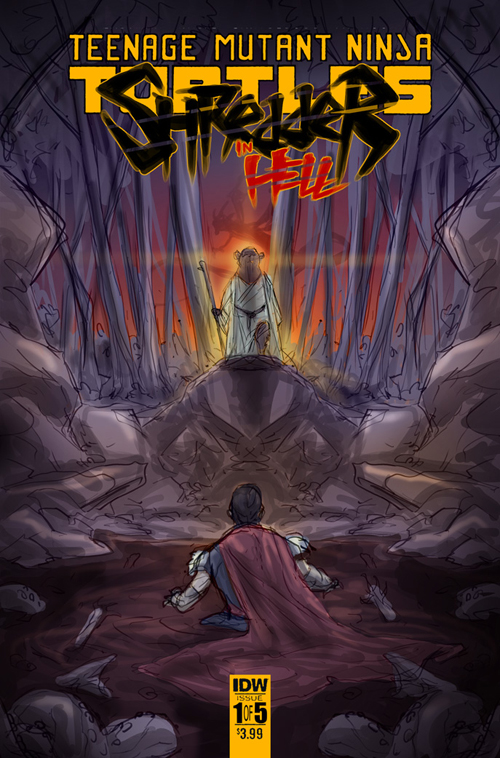 It would be almost another year before the book would hit store shelves. In between, Santolouco would be busy constructing a visual journey for Shredder's soul through the underworld. At one particular point, a key stop in that journey was intended to be highlighted on the original cover art (above). "The first concept I created for this cover was more story orientated, portraying an important moment of this issue," Santolouco says while dancing around spoilers. "Although I had IDW's approval on that, Nickelodeon asked for a new version highlighting Shredder in full armor, which makes sense."
It was at that point that Mateus pivoted to something mysterious yet aggressive. Fitting for a razor-sharp character with his face concealed. "My goal [with the final cover] was to make something generic about the story in general. Basically, a defiant Shredder arriving in a hellish place. Still, I've managed to give glimpses of what's to come on this first issue."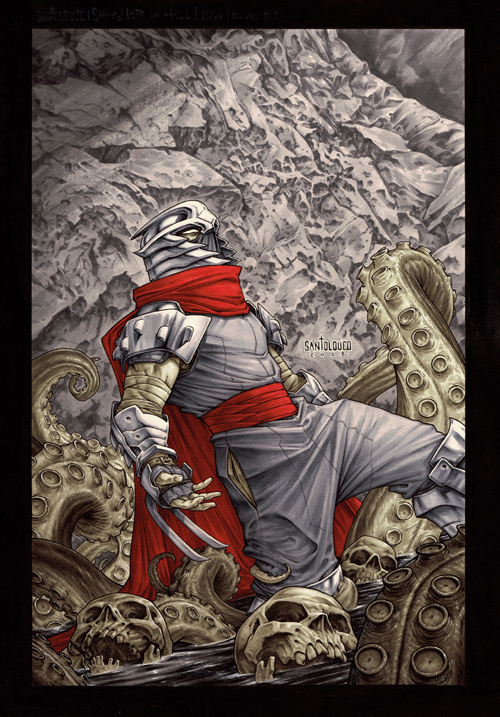 It turns out that dealing with the Viacom-owned Nickelodeon was the part that sounded the least exhausting. "I did a digital layout on Photoshop, drawing in my Cintiq," Mateus begins. "Then I printed the layout with the lines converted into a very light green on 11 X 16, 200 grams, cream Canson paper. Over that, I did traditional inks with Micron pens and brush pens and rendered the volumes of the art with Copic markers," he continues. "[I] added some highlights with a white Posca pen. Then, I went back to Photoshop to color everything digitally."
Like, I said...exhausting. Especially, when you consider that that was only the cover.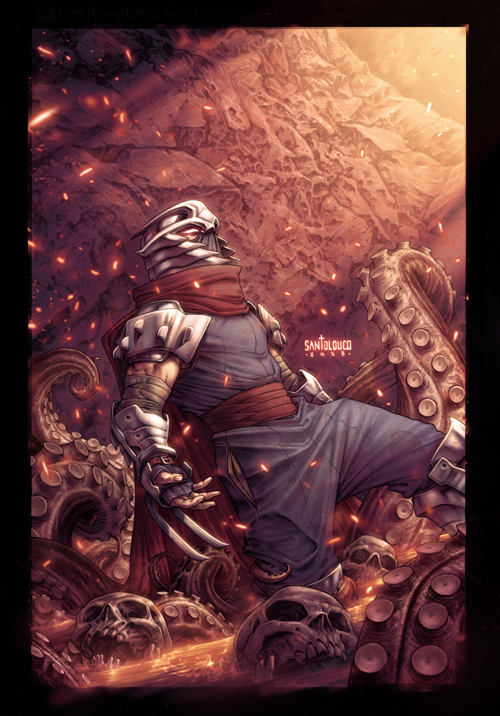 "I think the hardest part is the volumetry with the Copics. I've spent a good amount of hours on that rocky wall in the background," adds Mateus. "Though, I have to say, for some reason the digital colors always drains my time away. Maybe it's the going back and forth in the process, adding infinite layers, always being able to fix little details." He adds: "Maybe I'm really just too slow but damn you, Ctrl+Z!"
And why does Mateus Santolouco do all this? For the reader. "I've been working on this mini for more than a year now, so I'm really hoping to make fans happy."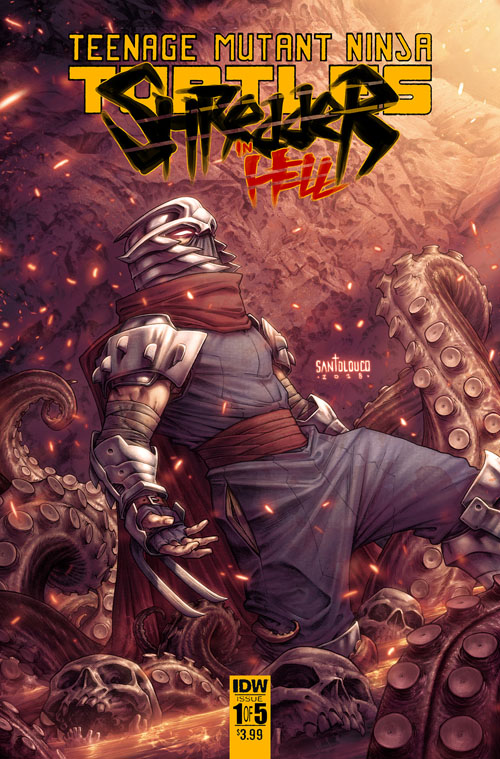 About Shredder in Hell:
Abandon all hope...The Shredder returns in this brand-new mini-series! Oroku Saki's death is just the beginning, and his journey through the depths of the underworld proves to be anything but a divine comedy. How much of Shredder's soul will remain after he's faced the horrors of hell?
Shredder in Hell #1 (NOV180656) is available now at your local comic shop.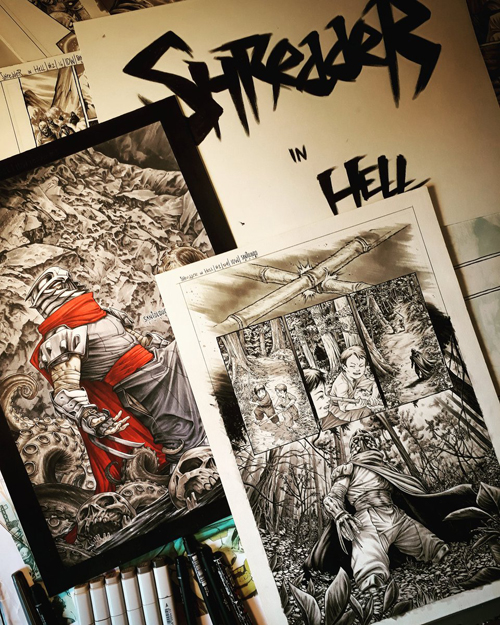 ****
Troy-Jeffrey Allen is the producer and co-host of PREVIEWSworld Weekly. His comics work includes BAMN, Fight of the Century, the Harvey Award-nominated District Comics, and the Ringo Awards-nominated Magic Bullet.