Gems of the Month for PREVIEWS January 2019
Jan 11, 2019
Little Bird #1 (JAN190099)
Image Comics
In the spirit of East of West and Saga, Little Bird follows a young resistance fighter battling against an oppressive American Empire while seeking her own identity in a world on fire!
Assassin Nation #1 (JAN190122)
Image Comics
Written by two-time Eisner nominee Kyle Starks (Rick and Morty) in the vein of his action-comedy cult-classics Sexcastle and Kill Them All, Assassin Nation is the bombastic, adrenaline-fueled murder-fest you've been waiting for!
Invisible Kingdom #1 (JAN190409)
Dark Horse Comics
In this epic new sci-fi series set in a in a far-flung star system, two women — a young religious acolyte and a hard-bitten freighter pilot —uncover a vast conspiracy between the leader of the system's dominant religion and the mega-corporation that controls society!
Hellboy: The Art Of The Motion Picture HC (JAN190452)
Dark Horse Comics
A gorgeously designed hardcover collecting a dozen chapters of concept art and set photography, offering a behind-the-scenes look at the most anticipated paranormal action thriller of 2019!
Detective Comics #1,000 (JAN190542)
DC Comics
After 80 years, it's here — the one thousandth issue of Detective Comics, the title that literally defines DC! This 96-page issue features an unbelievable lineup of talent taking us on a journey through Batman's past, present and future!
Dial H For Hero #1 (JAN190556)
DC Comics/Wonder Comics
When a teen daredevil named Miguel finds the Hero Dial — the magical device that grants anyone who dials "H-E-R-O" random superpowers for one hour — he's faced with the awesome responsibility that comes with the dial.
Transformers #1 (JAN190714)
IDW Publishing
Cybertron, untouched by civil war, has begun to reach toward the stars. And two would-be leaders — Optimus Prime and Megatron — vie for the hearts and minds of a populace on the brink of change. When a third path emerges, can the Cybertronians come together to find a new path forward?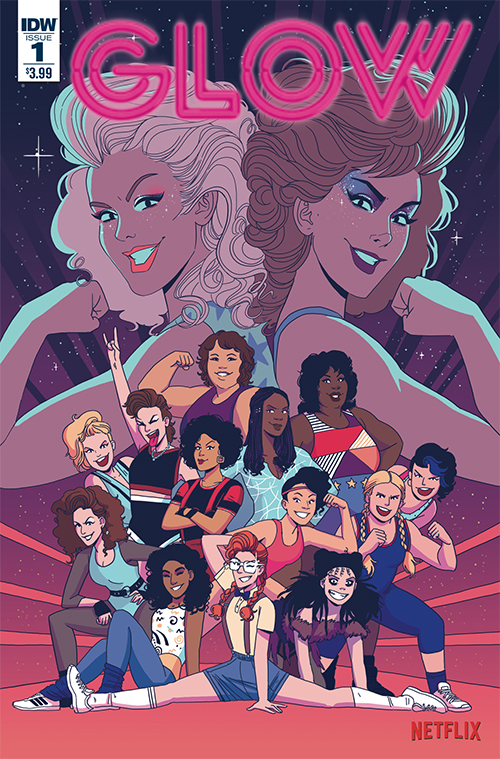 Glow #1 (JAN190741)

IDW Publishing

The Gorgeous Ladies of Wrestling are ready to take on the world–or at least LA!–in this new ongoing series based on the hit Netflix show! GLOW #1 enters the ring this March thanks to the tag team of writer Tini Howard (Assassinistas) and artist Hannah Templer (Jem and the Holograms)!
Age Of Conan: Bêlit #1 (JAN190904)
Marvel Comics
The Age of Conan kicks off with one of Conan's most formidable — and memorable — female compatriots, in an all-new story revealing how she became the undisputed Queen of the Black Coast!
The Six Million Dollar Man #1 (JAN191131)
Dynamite Entertainment
Christopher Hastings and David Hahn present a story from a time when there wasn't internet, but there were cyborgs, taking Steve Austen to Japan for a secret mission to help stop a madman with missiles!
Ronin Island #1 (JAN191363)
BOOM! Studios
Award-winning writer Greg Pak and artist Giannis Milonogiannis present a story that examines how we move forward when our past divides, set against the backdrop of a post-disaster 19th century Japan!