Kings Clash In A Dynamite Crossover
Jan 08, 2019
If you're late to the party, check out how two cult classics are about to clash for the first time in a bombastic crossover mini-series that kicks off with Army Of Darkness VS. Bubba Ho-Tep #1 (DEC181088). Ash embarks on a soul-searching road trip to Texas on a hunch that Elvis Presley may still be alive and kicking, and from there it just goes downhill…fast! Want to know more? Read Dynamite's interview with series writer Scott Duvall and get issue #1 on February 13th at your local comic shop!
**********
Dynamite: The King vs. The King! Where'd the idea come from?
Scott Duvall: This idea has been gestating in the back of my mind for a few years. I have been a fan of Army of Darkness since I was first introduced to it as a kid. Being a huge fan of the character of Ash, and by extension, actor Bruce Campbell, I was instantly drawn to the movie Bubba Ho-Tep, based on an original story by the great Joe R. Lansdale, and starring Campbell as Elvis. Immediately upon release, I added it to my DVD collection, and I would group it with Army of Darkness, because it felt like a companion piece to it. Often viewing them in close succession, I knew the Ash and Elvis team-up would go together like peanut butter and banana. These two worlds already fit so well together in tone, it made it totally plausible that they could co-exist on the same plane. Wanting to see what it would be like if Ash and Elvis interact is a big part of what sparked this, and so I'm thrilled we'll get to finally see that in these pages.
Dynamite: Ash is headed to Texas for a mid-life crisis, anyone going with him?
Scott Duvall: Ash is traveling solo on this journey, trying to find Elvis... but also himself. Elvis was someone who he looked up to as a kid, who seemed like he had it all. The King lived hard and paid the price of dying young, and now Ash is starting to approach that age and examine his own mortality. So when Ash reads in a tabloid about how the real Elvis is supposedly living and retired in East Texas, he goes off in search of him to see if it's really him. If it is, maybe he has the answers he's looking for.
Dynamite: Necronomicon Ho-Tep must contain some scary stuff, what's in store?
Scott Duvall: Without giving too much away, it doesn't look like the Necronomicon we're used to seeing so that immediately sets it apart. But as you can imagine, in the hands of the wrong person, it can unleash terrible evil. It's up to our heroes to protect it and make sure that doesn't happen!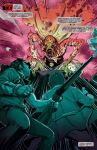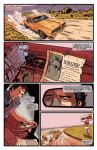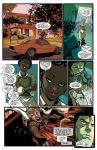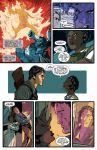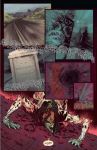 Click to View



Dynamite: How's your process been with artist Vincenzo Federici?

Scott Duvall: I loved his take on both Ash and Elvis from the moment I saw them and knew right away he'd be perfect! We're still pretty early into the process, but I'm excited for fans to see more of his art as it comes in, and I can't wait in particular, to see what he does with one of my favorite action scenes involving three mummies, one of which may be Ho-Tep himself.

Dynamite: Anything else you'd like to add?

Scott Duvall: Army of Darkness and Bubba Ho-Tep are two things I've always wanted to play with so getting the opportunity to tell this story is still pretty mind-blowing to me. We're going to try and deliver a crossover worthy of these characters and I hope fans of both will check it out and come along for this ride because it's going to be a fun one!